Hi there, how you doing? If you read my last post on beach holiday essentials, then you know I went to Bali, Indonesia and just came back after spending a whole week there. Beach holidays are always the best getaway from our busy life. I'm obviously refreshed and more inspired to get into work. But for everything I wanted to share my trip to Bali with you guys! This is going to be my first travel blog … exciting… ha ha!
We wanted to visit Bali 2 years back but this year finally got time to escape, So…
First of all, we took Malaysian Airways, found that they're cheaper than any other domestic airlines, for example, Air Asia. Bigger jet, cheap freight, no headache of luggage weight and so Malaysian Airlines it is.
We did book our hotel in Nusa Dua for 7 days and 8 nights (approx 700,0000) but I don't want to talk about that because I hated their service and food. We choose the hotel because of the sea view but it wasn't the way we expected either.
We also pre-booked a car (Toyota Agya, airport pickup, and drop) for the whole time (for 1300,000IDR) to avoid all the taxi hassle. And who needs a guide when Google Boss is there. We realized over the time, hiring a car was the best decision of this trip, thus we were able to roam around the whole city with an ease.
We choose to stay in Nusa Dua because the area is less crowdy and not far from the beaches. Driving in Bali felt a bit critical to my husband because of the busy traffic, motorbikes all around and narrow roads but he got used to after a while.
Bali is an island so it is unnecessary to say that sea is everywhere. A week is definitely not enough to explore the whole island. From 9 am to 7 pm every day we kept exploring. We didn't spend much time in the most popular beaches like Kuta or Seminyak beach because those were over crowdy, we could hardly breathe there… phew! Other than that we used very wisely each and every precious minute of our stay in Bali.
Let me give you a highlight of the places…. Alert, it's about to be picture heavy! Click the picture on the gallery to enlarge if you're keen to have a better view 🙂
Tanah Lot Temple: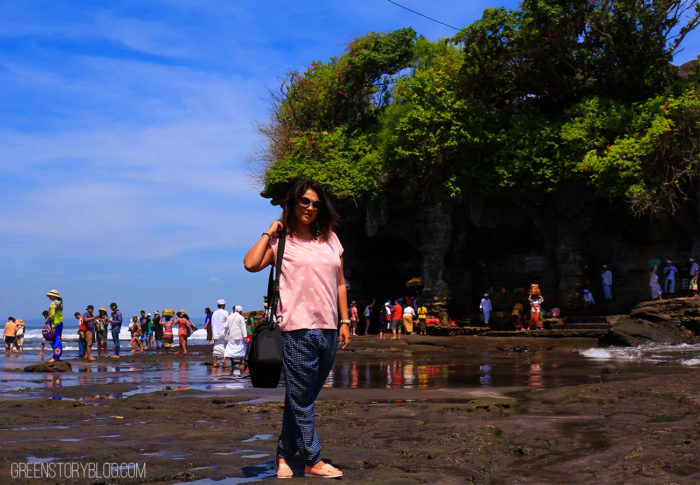 This is one of the most popular tourist attraction in Bali. The way to get into the temple only arises in low tide so you must visit there at low tide. However, you actually won't be able to get into the temple or even go up. If you only wash your face with the Holy Spring water (and give a donation) then they'll allow you to climb two steps of the stairs that are on the side of the temple. We did wash our faces and thought there we will get some better view but no, it's nothing there actually. Nevertheless, the view of whole Tanah Lot area is beautiful!
Uluwatu Temple:
Tegenungan Waterfall, Ubud:
If you visit Bali you must visit this waterfall. It's in Ubud, just an hour drive from Kuta. The waterfall is huge and powerful, water is super chilling.
Mount Batur Volcano & Natural Hot Spring:
Mount Batur, the sleeping volcano is very popular to adventurous people for tracking. We are not that adventurous so we stayed with the view only. There is also a natural hot spring down in the base of Mount Batur. We were very excited to visit the spring, however, we came back disappointed. There are a few companies that operate the area. They actually made a few little pool and runs the spring water into the pool. You can bathe in the warm water there with safety. But the feeling of getting into the actual spring is far away from that. Moreover, entry fees to there are 1500,000IDR each.
Water Blow, Nusa Dua: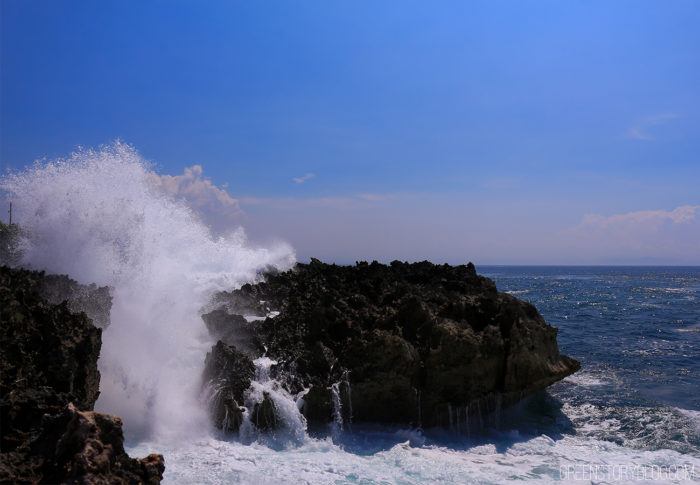 Within this one place, there are two things to enjoy. One is how the big wave crashes on the rocks and on the other side there is a nice golden beach. On the beach, you can just lounge with a coconut or can get playing with you surf board and high wave.
Sanur Fishing Bay:
If you get here in the time of low tide you'll enjoy the view most. In low tide, all fisherman gets into the seashore to catch fishes. There is a few nice restaurant by the beach, you can have your lunch while enjoying the view and wind blow.
Geger Beach, Bali:
This is the beach just in front of the most popular Mulia resort. Before visiting Bali picture of the Mulia resort and the white beach caught my eye. Needless to mention, Mulia is expensive to stay but I didn't want to miss the beach. But when we got there the beach did disappoint me. It's not white by any means (as you can see in the picture) and quite dirty as well.
Blue Point Beach:
This beach was our favorite of all, so blue, so clear, less crowd and one of the best places for surfing. There you'll need to climb down a bit to reach the sea level. If you don't surf and stay at the shore level you might get lucky and meet some sea snakes (I did), coral base and small fishes will mesmerize you without diving underwater.
Green Bowl and Nyang Nyang Beach:
Both of these beaches are amazing, crystal clear water, high waves, and with less crowd. People goes there to surf. However, to reach the shore of both you'll need to climb down pretty high. Where Nyang Nyang beach doesn't even have any proper stairs to climb down.
Black Sand Beach:
Did you know that there is a black sand beach in Bali just within the town? I didn't! There is also another one called Lovina Beach which is far from the town, almost in the other part of the island. We kind of accidentally found this black sand beach. It's in the Sanur area, we were looking for Sanur fishing bay and found this one. The beach doesn't come on the tourist list, it felt kinda abandoned but trust me it is exotic. I've never seen any black sand beach before. When we arrived at the beach I thought, 'what?! why is it so dirty?' Once we got close then I got stunned seeing the shiny black sand. The sparkly black sand and blue horizon will give you another level of indulgence.
For the location just google, Kebun Bunga, Sanur, there you'll find an empty field and a narrow road marking beach. Follow the road and you'll find the Black Sand Beach of Bali.
The city of Bali and other activities:
If you roam around the city you'll see the whole city of Bali is adorned with gates and statues. you'll find a lot of shops and places that make stone, wood, glass and sand sculpture. Those fine creation of sculpture surely blow your mind away and you'll want them to bring back with you but those are huge to bring back hehe.
If you want to get familiar with Balinese culture you must watch their cultural shows, have some local Balinese food. Nightlife is also happening part of the city but only in the beach area. Like Kuta beach or Seminyak area stays awake for pretty long. Some restaurant and clubs have the beach facing terrace, you can relax the with a drink. You can also discover the malls and local handicraft markets.
As a souvenir you can pick anything you like, I picked up a dream catcher (50,000IDR), a few fridge magnet(15,000IDR each), a couple of shell tray(30,000IDR) and as a makeup lover I also picked up some makeup.
Apart from beaches, the island is also very popular for temples. There was also another twin waterfall that we wanted to visit. Lembongan island, dolphin spot were calling us so badly but we couldn't manage time. Although we weren't able to visit every possible spot but we did enjoy this trip to fullest.
Tips on saving money:
Don't forget to bargain for whatever you buy except the fixed priced mall/stores. We bought water bottles from 45,000IDR to 2500IDR. The asking price of the dream catcher was 250,000IDR and my husband was too shy to call 50,000IDR for that but ultimately without any word they sold it on 50K!