This month I have been trying out a box of DocLab Face Ampoule. A skincare product with high concentration of Hyaluronic Acid definitely something new to me. Not to mention, at the age on late 20s when you started having facial lines, anything with anti-aging benefit will attract you for sure because you won't want those pesky lines to settle down in your face.
What is DocLab Face Ampoule?
Ampoules are actually airtight glass container (we often see these little bottles in the hospital, don't we?) filled with a concentration of highly active ingredients without any preservatives or such other chemical.
The company says about the product:

DocLab's Hyaluronic Acid Face Ampoule is one of the best ampoule you can find in Malaysia. This ampoule is formulated in South Korea and is also certified by Malaysia's Ministry of Health.
DocLab Face Ampoule helps to boost skin moisture and deep hydration with our Hyaluronic Acid technology. With Collagen and Ginseng Extract as ingredients, our Ampoule able to restore skin suppleness, elasticity, retexturize skin and suppleness, making your skin smooth and protecting your skin from excessive chemical from other cosmetic products.
In short,
-Skin moisture boost and deep hydration with Hyaluronic Acid
-Restore skin suppleness and elasticity with Collagen
-Retexturizes skin, smoothes fine lines and reduce wrinkles with Ginseng Extract
-Natural antioxidant and skin protection with Vitamin E
-Powerful skin whitening and lightening with Arbutin
-Skin soothing and refining with Witch Hazel Extract and Aloe Vera Leaf Extract
These ampoules are made of natural ingredients, alcohol-free, paraben free, silicone free and animal ingredients free.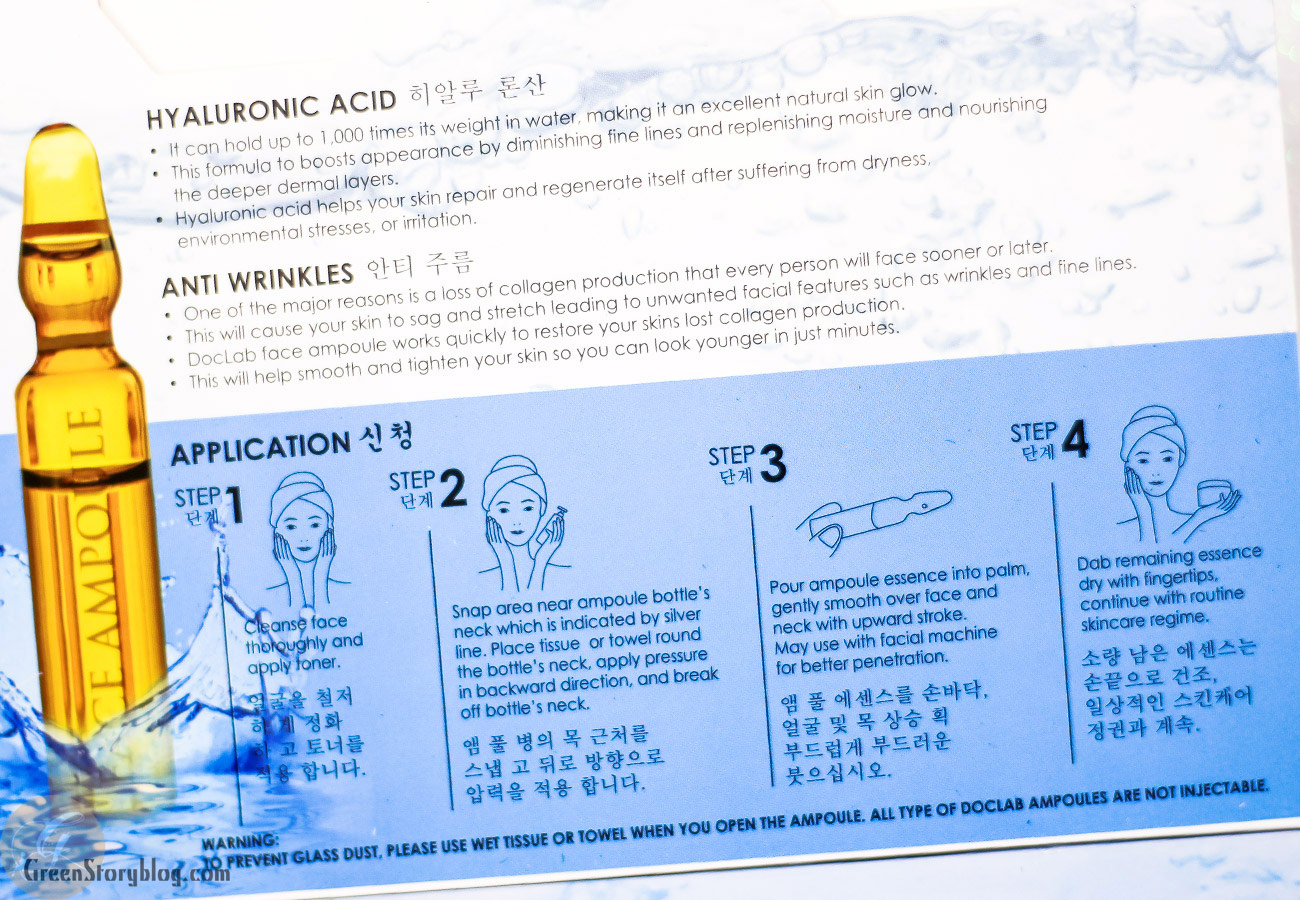 Before talking about the product, I would like to say a few words on Hyaluronic Acid as because this is the main active ingredient in this ampoule.
Hyaluronic Acid (anything acid sounds harsh, isn't it?) is a powerful moisture binding ingredient that is kind to skin and helps to keep skin plumped, hydrated and young-looking. This is proven to be the NO.1 wrinkle preventing ingredient. This one ingredient works on every skin type, also works well with acne prone skin.
When used topically, Hyaluronic Acid can improve the appearance of fine lines, promote younger looking skin and help repair past skin damage.
I did read a lot about this particular ingredient and its benefit thus, DocLab Face Ampoule made me interested.
So, a pack of DocLab Face Ampoule comes with 5 bottles, each contains 2ml of liquid in it. To use the product, you'll need to snap off the neck of the ampoule. As because there is no preservative in it so one bottle is for one-time use only.
I have been using them five days in a row, at night after applying toner and before using my night cream. The liquid feels very much water like and sinks into the skin very fast, I took the product out and gently dab the product into skin using palm. I normally use facial oil or other facial serum in my night time skin care but for these days I totally skipped those.
How does it feels upon application?
-Literally nothing, it feels you just dabbing some water into the face. However, it gives the feeling that your skin is instantly filled with necessary moisture.
I don't have any facial problems, such as acne or anything else, at the moment so it was hard for me to justify the visual benefit of DocLab Face Ampoule within this 5 use (that's why I titled the post as my first impression). However, I didn't face any problem while using it either but my skin felt great thus I tempted to continue using them more.
As because this is a high concentration of Hyaluronic Acid, I'm sure the benefit of using this product will be visible only if I use it for the long term.
In a nutshell, I did enjoy using DocLab Face Ampoule so far and tempted to continue. It feels like I'm taking an extra step for my skincare routine which is going to be proven as a good step in future.
Hey, have you tried this product or anything similar? How is your experience? Please let me know in the comment box below….!
Shopping Info:
A box of DocLab Face Ampoule | RM138
Shop: DocLabkr.com
***Product was sent to me by the company. However, that doesn't influence my opinion in any way.