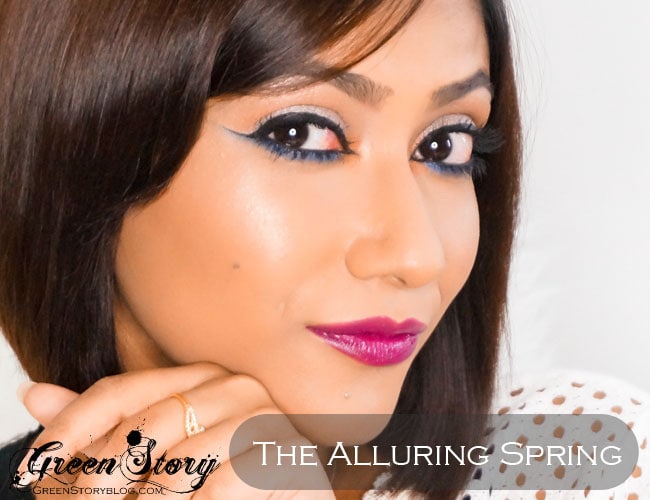 Hello guys,
Its Spring time though Malaysia is all about summer. However, I did this spring eye makeup thinking of spring as everywhere its spring now and I call it 'The Alluring Spring'.
Actually this is a very special video collaboration with Fayre Network, a platform for Malaysian Beauty/Fashion YouTuber. In this collaboration we were inspired to show you different looks using only drugstore product.

The tutorial below:
What you guys think? Hope you liked the look. If anyway you wear this look then don't forget to let me know. I would love to see your recreation. Just use #greenstoryblog on Instagram or Twitter 🙂

Product Used:
Makeup Revolution Eyes Like Angel 32 Shadow Palette
Maybelline Tough As Taupe Collor Tattoo
Maybelline Hypersharp Liner in Black
Essence Go Wild Lashes Mascara
Eco Tools and Costal Scents Brushes
Oh by the way, there was many more different looks created by my Malaysian friends of Fayre Network. They all carried a deferent theme. Have you noticed?
'THE EXECUTIVE' by Farisha Nadia
'THE INNOCENT' by Alyia Bubbles
THE NIGHT BIRD' by Maya Hanum
'THE TECH NERD' by Puteri Zatil Aqmar
'THE SWEETHEART' by Mira Cikcit
'THE GLITTER GLAM' by IzzatiXO
'HOLLYWOOD SIREN' by Wiida Ribbon
You'll find all their link in my video description box. For last note, If you are a Malaysian Beauty YouTuber then don't forget to join the amazing Fayre Network community 🙂