I have been crawling over a shopping site called SammyDress (visit HERE) recently and I found it really interesting. They offer a wide variety of product within a budget price. Clothing, Shoes, Bags, Accessories, Wigs, Cosplay Costumes, Toys, Home & Living, Lifestyle Products and many more options are there to shop. They claim to provide high-quality products at a competitively low price. Looking at the price level I can't really deny the price range, they are cheap, I'm also attracted to their wide collection. When I was browsing through I was able to find every single product, from clothing to home decor, that I could think of. Great, isn't it? Can be a one stop shopping site if it turns out good.
[wp_ad_camp_3][/wp_ad_camp_3]
So, yes… as I found this site quite interesting thought that why not share the find with you too :) In this post, I just want to give you guys a little view of the site, a few words on those products/classification that I think you guys might be interested on.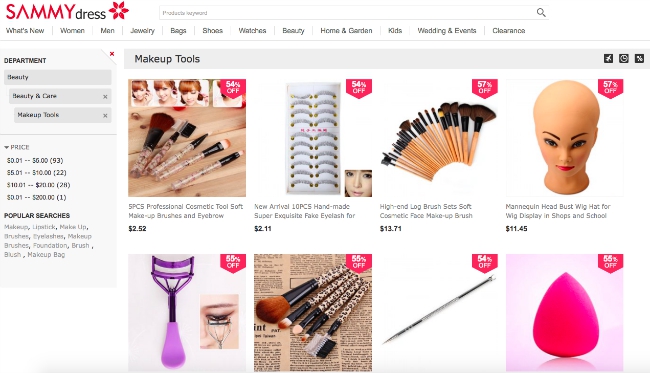 First of all, as you know I'm a makeup-holic so as usual makeup related item attract me the most.
Small little makeup tools (check HERE ) that are must have, but we often don't want to spend much for those and this is why you need such shopping site like SammyDress. Falsies, makeup sponges, makeup brushes, some basic skin tools, even mannequin display head everything is there. Needless to say, they are all non-brand product, but you know for some stuff we don't really need a brand but we need cheaper rice.
[wp_ad_camp_4][/wp_ad_camp_4]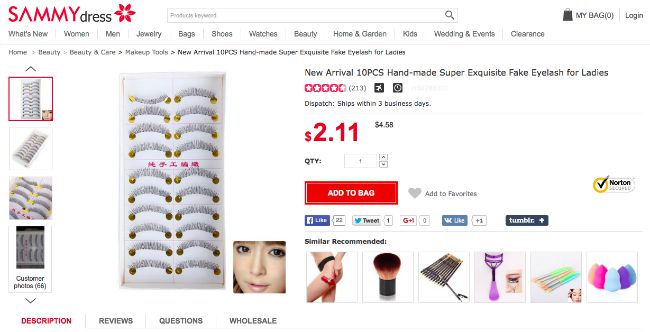 Like this eyelash set above (shop HERE), a pack of 10pcs that comes with only a $2.11 price tag! A rare eyelash wearer like me at least wouldn't go for any branded lashes but would be happy enough to play and experiment with these non-brand lashes. After all, these won't make me bankrupt even if I overplay and spoil some due to carelessness 😜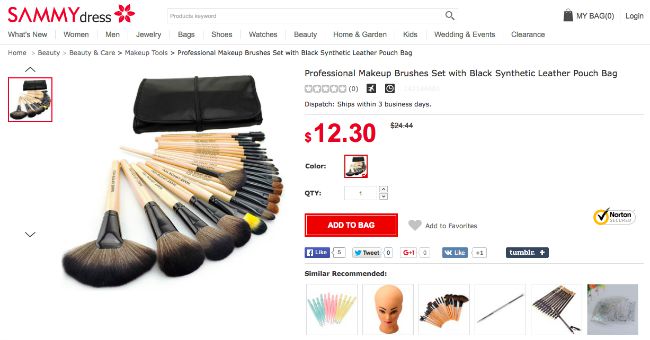 There is this another thing, 24 piece brush set with pouch (shop HERE) for $12.30. Such brush set is a must-have for any makeup beginner, there all kind of brushes in one set so it makes it easy to play and learn. However, if you're not a beginner then you might need some specific collection than a set.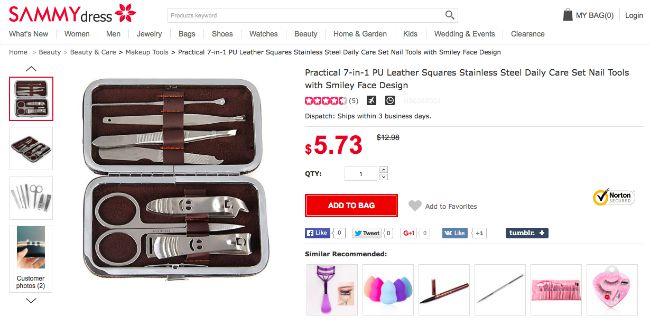 They also got few essential things, like this set of manicure tools which comes with only a $5.73 price tag! Quite interesting where a normal cuticle pusher costs around $8-10. They look top-notch quality in website picture, I won't lie, I'm a bit skeptical about the quality.
[wp_ad_camp_5][/wp_ad_camp_5]
SammyDress.com is a global shopping site so it ships internationally. They offer various payment option and their shipping rates (based on location) are also reasonable. They claim to provide safe and fast shipping, but I'm not sure of that as because I haven't shopped yet but if I do then I'll definitely update you guys. However, it's good that they have a return policy.
In a nutshell, So far within my research I found the site really worth checking out because of their product variety, price point as well as shipping flexibility. I'm actually planning to place my order soon.
….so now you guys tell me if you shopped from this site before. I'm eager to know your experience, did it went well??? Please share your experience in the comment box below so that me and all other reader get to know a bit more about the site :)
*** Sponsored Post. 
[wp_ad_camp_2][/wp_ad_camp_2][signoff][/signoff]