Meena Herbal miracle mask was sent to me by the company for reviewing purpose. I guess its been in market for 6 month now yet as a ready mask it is a new product which is manufactured by a Bangladeshi company.
Available in any good cosmetic shop or superstore.
60g tube costs BDT 150/-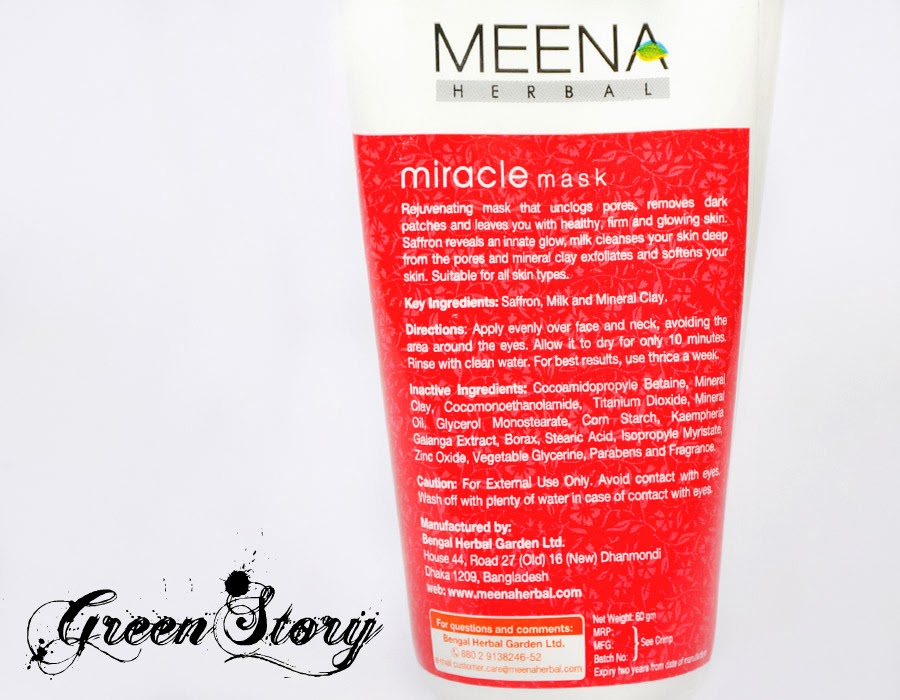 Product comes in a plastic tube packaging with crimson red printing design in it.
This clay based mask claims to contain goodness of saffron and milk, promises to unclog pores, deep clean skin, remove dark patches and many more.
This mask is smooth liquidy paste in texture, off white in color. Has really nice but quite strong fragrance in it.
My experience with this mask wasn't really exciting, not bad either. Applies very smoothly. While applied, for first minute it gives burning/irritating sensation, my skin isn't sensitive so didn't understand this fact. Dries quite fast than my other mask, takes only 5/7 minute to dry out completely. Leaves white cast of clay if you wash up only with water, though I always use facewash to clean my face no matter what mask I use. Good thing is, skin feels clean and smooth afterward yet it doesn't work on tightening skin.
I used this mask alone and also sometimes mixed with fullers-earth(multani mati). I have a secret love for multani mati. I believe it helps to tighten skin so tend to mix that with any mask i use. Surprisingly found that when I used Miracle mask with multani mati it didn't gave that burning sensation.
Overall, haven't found anything bad about this new miracle mask by Meena Herbal. Didnt cause me breakout or else. I wont say this is a miracle product yet its a convenient pack of skin care item for your rush time which is pocket friendly as well as easily available in BD. I, myself, already used up 2 pack of this mask including the pack was given by the company, in this point you can say I quite like it.
Have you tried this yet???
What was your experience???
——————————————————————————————-
———————————————————————————————————-