It's been raining since morning and I've been feeling lazy whole day. So now at this afternoon I slathered some jelly mask on my face, felt instantly refreshed and relaxed as always and though to finally write down my thoughts on the mask that is on my face right now 🙂
Well, yeah I'm going to talk about ePure Membranous Jelly Masque now.
ePure Membranous Jelly Masque is developed by the renowned Dr. Yulong Moy, USA.
The Company claims,
[color-box]
It is the first-of-its-kind facial mask with ACF (Active Cellular Factor). This unique mask retains 70% more moisture than other sheet mask, it forces the skin pores to fully absorb the nourishing ingredients while drawing out the impurities instantaneously. It also inhibit melanin synthesis, which lightens pigmentation, balances uneven skin tone, leaves your skin brighter and supple with dewy fresh vibrance
[/color-box]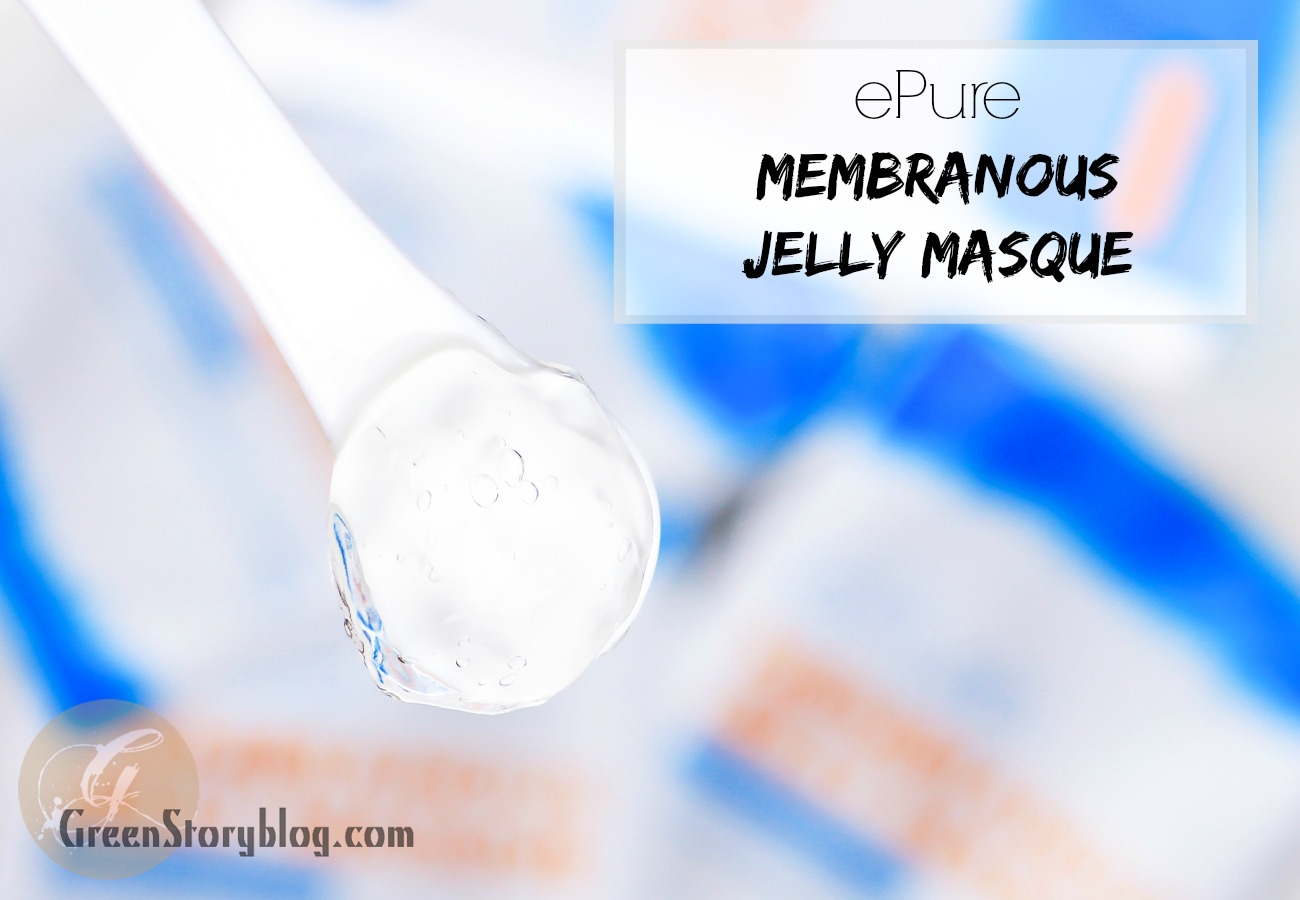 This mask comes in two type of packaging, one is in 30g packs with three of them, another is in a jar. I got the 3 packs one. Each pack gave me 2 uses ( I guess my face is small in size… ha ha).
The mask is thick crystal jelly texturewise, almost has no scent to it yet I do smell something refreshing, gives cooling and refreshing sensation immediately to the skin. I love the fact that it also comes with a scraper for application convenience.
[wp_ad_camp_4][/wp_ad_camp_4]
ePure Membranous Jelly Masque claims to be enriched with four key ingredients.
Hyaluronic Acid: Infused triple concentration of hyaluronic acid helps to assist in penetration, replenishes the skin's moisture reservoir, minimizes the skin pores and stimulates the skin's natural production of hyaluronic acid. Also protects against elastin degradation to maintain the skin's firmness, regulates and repair cell growth, helps wound heal faster and minimizes the look of scars.
Algae Extract: Algae is a plant from the sea, a seaweed actually. It is high in anti-bacterial properties to detoxify the skin whilst promoting circulation, high in vitamins B1, B2, B3, B6 and B12 to reduce inflammation and redness. Packed with high concentrations of minerals such as fluorine, magnesium and calcium to maintain the skin's moisture balance – which is neither too dry or too oily.
Jojoba Leaf Extract: A powerful antioxidant to defend against skin damage. Rich in vitamin A, D, E to smoothen the skin and gets rid of excessive dryness. Also helps to reduce fine lines & wrinkles.
Alpha Arbutin: Its a skin whitening agent for skin de-pigmentation that helps to reduce melanin from reacting to sunlight, treats allergic inflammation, sunburn marks and regulates melanogenesis. Protects the skin against damage caused by free radicals.
[wp_ad_camp_5][/wp_ad_camp_5]
Looking at the ingredient, in one word you can tell this mask is full of goodness! Now let me tell you how is my experience…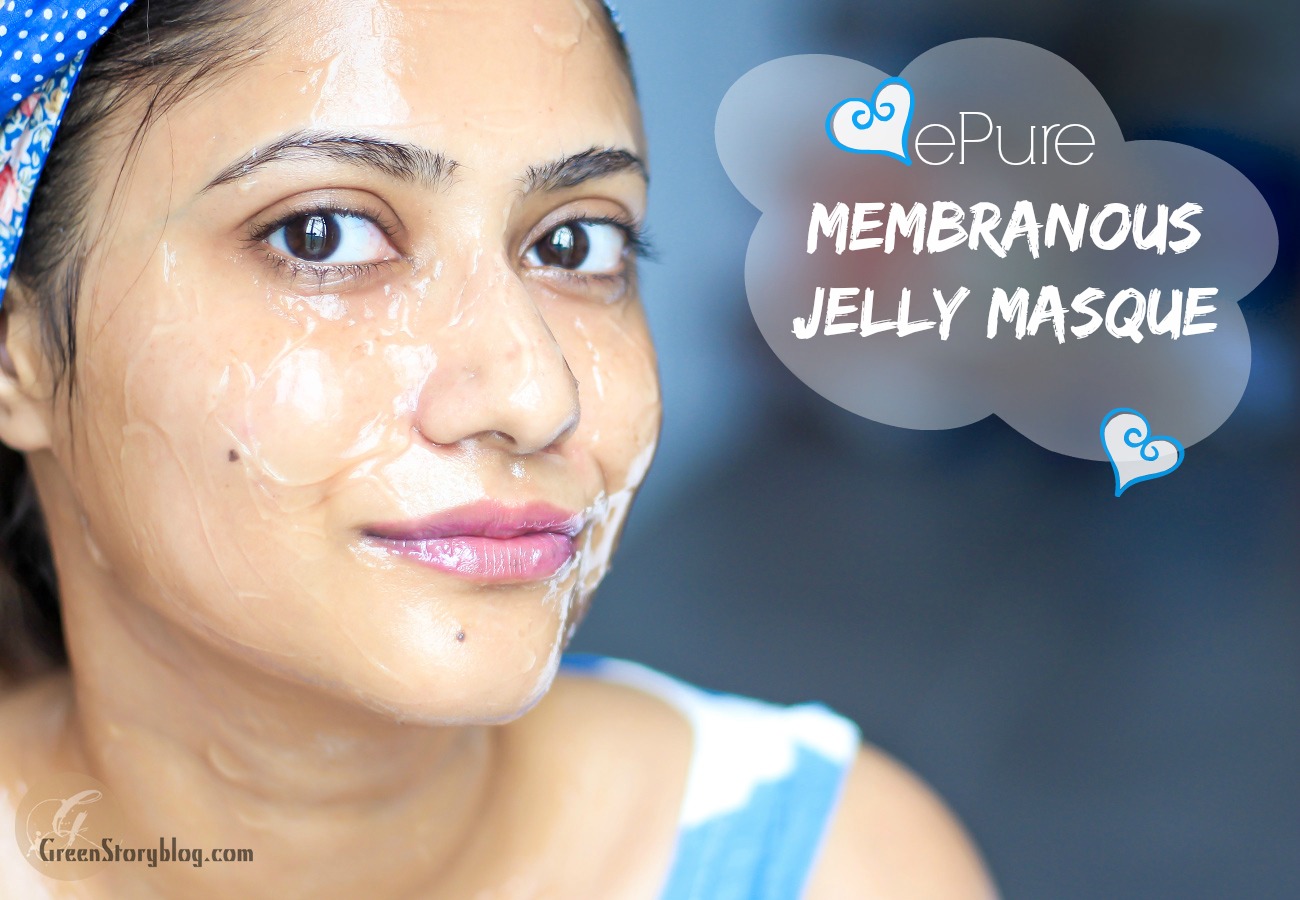 So first of all how I use it…
I layer the jelly with the thickness of approx -3cm, as suggested, on my clean face and relax. The mask instantly calms down my skin and any inflammation that I might have due to a hot humid weather. I also find it very soothing to my skin if I exfoliate skin earlier. I let the mask sit on my skin for 30/40 min and do some random task while enjoying my relaxed face. The mask is not sticky, feels watery but quite thick, it doesn't slide off from the face. The jelly doesn't get fully dry within 30/40 minute yet gets a bit thicker so it's not easy to remove thus I prefer using it before shower.
I truly started loving ePure Membranous Jelly Masque since my first use. Can't say how it is going to benefit my skin in the long term but the instant refreshed and plumped skin it gives me after every use I can't deny that. It does hydrate and nourish deeply, my skin looks brighter afterward because I believe the mask actually helps to restore skin health. Moreover, I can feel this mask totally replacing all my sheet mask because it is more effective and hassle free to use ( using a mask before shower feels more easy to me than applying and keeping the paper sheet on in my face).
In a nutshell, I love this mask and probably going to stop using all my sheet mask but putting ePure Membranous Jelly in a regular use. I f you haven't tried it yet then do give it a try.
Hey, what is your current favourite face mask? Let me know in the comment box below 🙂
[color-box]
Shopping Info:
A pack of three (30g X 3) ePure Membranous Jelly Masque – RM 69.90
A pack of six (30g X 6) –  RM99.90
A jar of 250ml – RM149.90
*Not widely available in every store but in my knowledge available in VitaCare Pharmacy, MY
For more info, you can check on ePureskin.com
[/color-box]
*** Product was sent to me by the company. However, that doesn't influence my opinion in any way.
[wp_ad_camp_2][/wp_ad_camp_2][signoff][/signoff]