I always get confused about day cream because of my Combi-skin. When its summer my skin tends to get partly oily and in winter its seriously dry. I cant use same day cream all the season. So i often change my day cream or daily moisturizer.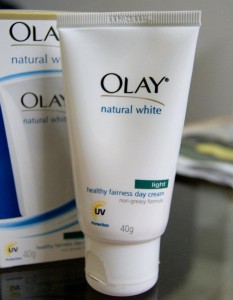 Starting of this summer(2012) i bought 'OLAY natural white healthy fairness day cream' to try on. It comes in a tube form in BD local retails. Also available in bigger jar which are imported from other countries.
A 40g tube cost BDT 200/-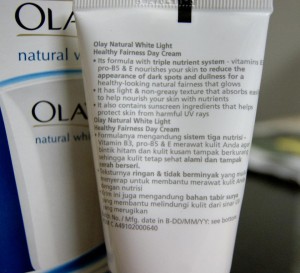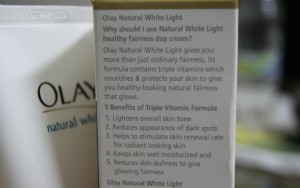 Product claims to have triple nutrient system which 'll help to nourish skin and prevent dark spot. also claims to give a non-greasy light texture and protection from sun ray.
[wp_ad_camp_3][/wp_ad_camp_3]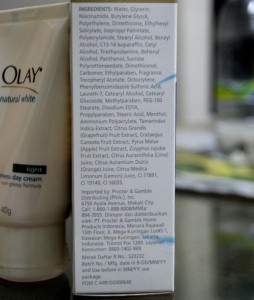 From the packaging… This cream contains some of the healthy whitening and moisturizing agents like water, glycerin, tamarinds extract, grape fruit extract, apple extract,lime juice, orange juice and lemon juice.
My experience:
Just to remind you again, I've combine skin. I've been using this cream for almost 2 month.
Firstly, this product smells really good. leaves a mild fragrance which i love as um a fragrance freak. i don't like product without fragrance.
Cream is very light peachy in color which i also like.
Pretty sleek packaging specially for travel purpose or to keep in handbag.
It is light weight to wear and moisturize skin properly.
Has a creamy texture but absorb quickly.
Doesn't leave any white residue.
Good for water based makeup as it contain water.
Has UV protection which is really good to have in a day cream. Though its not mentioned anywhere in the packaging about the ratio of UV protector or SPF scale.
A small amount is enough to cover whole face and neck.
40g seems to last long
Not expensive and available everywhere.[wp_ad_camp_4][/wp_ad_camp_4]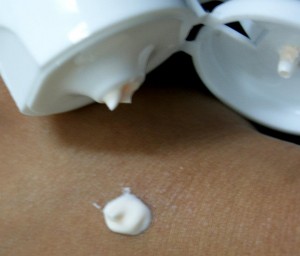 Now, those are the good side of this products. According to my skin type i got some unpleasant word aswell.
This cream absorb quickly but i feel greasy after few minute. and time on my skin gets oily. i think its because of glycerin its contains.
At the beginning makeup seems flawless but after few hours its start creasing cause of over moisturizing.
My skin did break out few times while i was using this product… not sure though, is it for this cream or for other product i use.
A big NO for any kind of fairness, even out skin tone, preventing spots or lighting spots. Nothing changes in my skin.
[wp_ad_camp_5][/wp_ad_camp_5]
Recommendation:
If you have combi skin like me or oily skin, this is definitely a wrong product to use in summer. But i thik its gonna be a good product to use in winter. As um planning to use it in winter.
Who people have dry or normal skin this might be the right summer product for them than winter.

after applying…
Disclaimer: 
I'm not any pro of skin care or makeup. Whatever i'm saying is my own experience. I wont suggest you to follow my words. I will say, take my words just as a suggestion. Research more what others are saying or experience your own then decide…. 🙂
….Do not forget to comment and follow because you readers are the inpiration of my blogging.



[wp_ad_camp_2][/wp_ad_camp_2][signoff][/signoff]