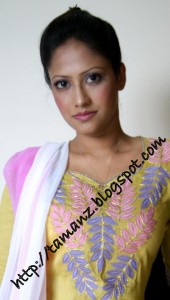 I was asked to do a post on daytime summer look.
So, here it is…..For pinky lovers(like me) its a perfect day time look i think.
When its a Summer day,weather is extra hot and you gotta go for work you don't wanna put a load of makeup on you face. You cant go with a naked face either… So then you'll need to pick you makeup very wisely. Which will be a polished look, also wont be a disaster end of the day.
Normally, i dont use shadows on my working day but sometimes i do, just to get some change in my look.
This makeup looks very natural and clean on day light with a bit of pink freshness.
here's what i used….
FACE:
*Everyday moisturizer(currently um using OLAY)
*Neutrogena sport face sunblock
*MUA face primer
*Revlon color stay concealer
*Revlon color stay translucent powder
*Keya Seth's umbrella sun powder
*MUA bronzing powder in shade 2
*Fashionista blush in shade 9
*BeautyUK stripey as highlighter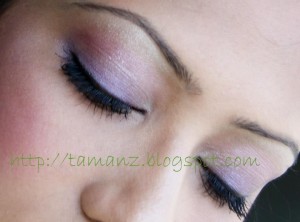 EYE's:
*from MUA immaculate palette(shade 8,17n18)
*Lakme khol liner
*Miss Sporty brown liner
*Rimel london day 2 night mascara
*MUA transparent mascara for brows
LIP's:
*LA Gitl's endless kisses lipstic

I haven't applied any foundation or eye primer here to avoid feeling heavy. I cleaned and moisture my face first and put some sunblock. Used primer and no foundation with a bit of concealer (..I do wanna hide redness and unwanted spots) and obviously translucent powder to prevent sweating.
I kept very easy on eyes here but applied some extra coat of mascara. Light touch of blush n bright pinky lip did rest of the job here.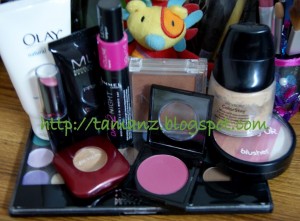 products mostly I've used for this look
Readers…i hope you like this post and let me know what you think….
keep connected by following me…. 🙂 🙂