Today I'll be talking/writing about My Skin Care Routine. First of all, as you can see from the title, I have combination skin, also it's quite tough I guess! I haven't faced any massive skin issue in my entire life except one or two acne occasionally, especially when I'm using a really bad product! Yes, I do have blemishes/ freckles caused by sun damage from my teen-age!
Products I'm going to write about today are in my regular skincare routine for more than six months. None of them broke me out ever or made me disappoint in any way yet I do get one or two pimples/cyst once in a month caused by makeup stuff!
I won't be reviewing products in detail here, it's just a post naming those products which are in my skincare routine at this moment. Do keep in mind everyone has different and unique skin, so what is working for me might not work for you. You should definitely know your skin before determining a product for you.
Let's start…


~Cleansing & Toning~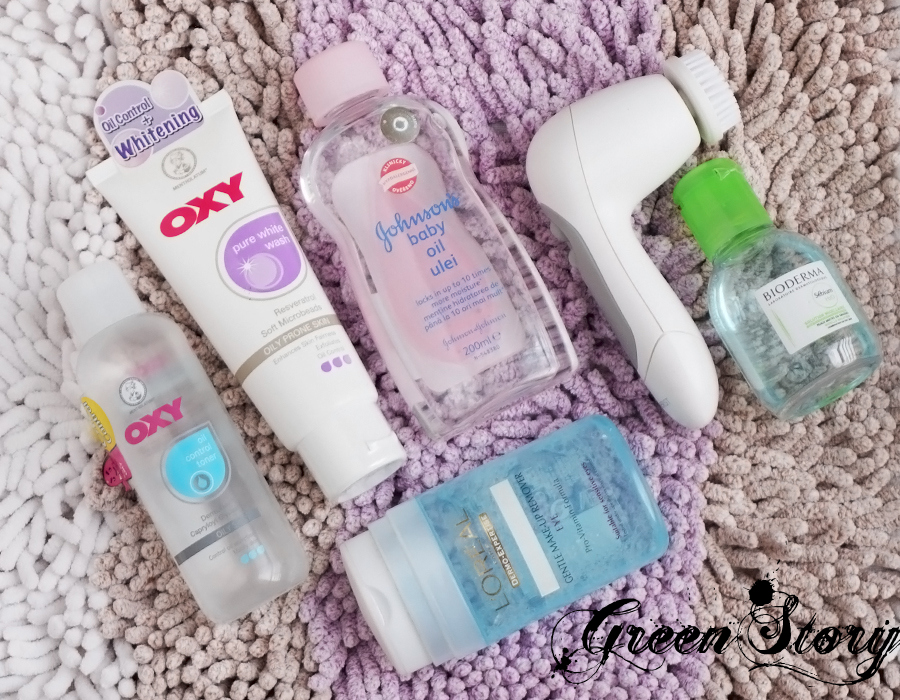 Johnson's Baby Oil: BDT375/- in Meena Bazar
My mom introduced me to this product. Yes, I have been using this since my childhood in many ways. Till this date, I swear by Johnson's Baby Oil. Right now this is my best friend to clean makeup. I normally apply a generous amount of oil in the face and spread it gently all over then wipe off with a wet tissue or makeup cleansing wipe. 80% of makeup comes off in one process without causing any harm to the skin.

Loreal Dermo-Expertise Eye Makeup Remover: 20RM in Watsons Malaysia
After Lasik surgery, my eyes show sensitivity to oil so cant use Johnson's Baby Oil to remove eye makeup. Since I had the surgery I'm using Loreal Dermo-Expertise Eye Makeup Remover to remove eye makeup and it works wonderfully. I just wet a cotton pad with the remover, swipe over eye makeup. It takes 2/3 swipes to remove every bit of makeup even waterproof mascara.
OXY Pure White Wash(Oily Prone Skin): 11RM in Watsons Malaysia
I'm so in love with this face wash. I have used other variations of this facewash but specifically, this one for oily prone skin is amazing. It has micro-granule in it which helps to clean and exfoliate skin at once. I use it daily in a normal way but when I'm with makeup I apply this in the face then use my Olay Regenerist cleansing brush to ensure that extra cleaning. OXY Pure White Wash(Oily Prone Skin) doesn't dry out my skin but leaves it really clean and smooth.
Olay Regenerist Cleansing Brush: 100RM(sale price) in Watsons Malaysia
Since I have this Olay Regenerist cleansing brush, I must say, makeup cleaning has become easier and effective. It literally shows instant effect. I use the brush when I'm with makeup other than that I use it 2/3 time a week only. I believe using a brush to clean face every day might make skin sensitive or prone to breakout.
OXY Oil Control Toner: 11RM(approx) in Watsons Malaysia
This toner is quite mild to skin and I love this. I wet a cotton pad with this toner and swipe that all over my face and neck. I use this toner always after I wash my face to balance out the PH level of the skin. As well as during the day whenever I feel oily.
Bioderma H2O Micellar Solution(Sensibio): BDT 500/-
Biodderma has various kind of H2O Solution, I use Sensibio which is for oily/combination skin. I count this product as a special treat for skin when I'm using makeup, use this instead of toner. This product is great to purify and clean the last bit of makeup from skin.
~Daytime Sun and Moisture Care~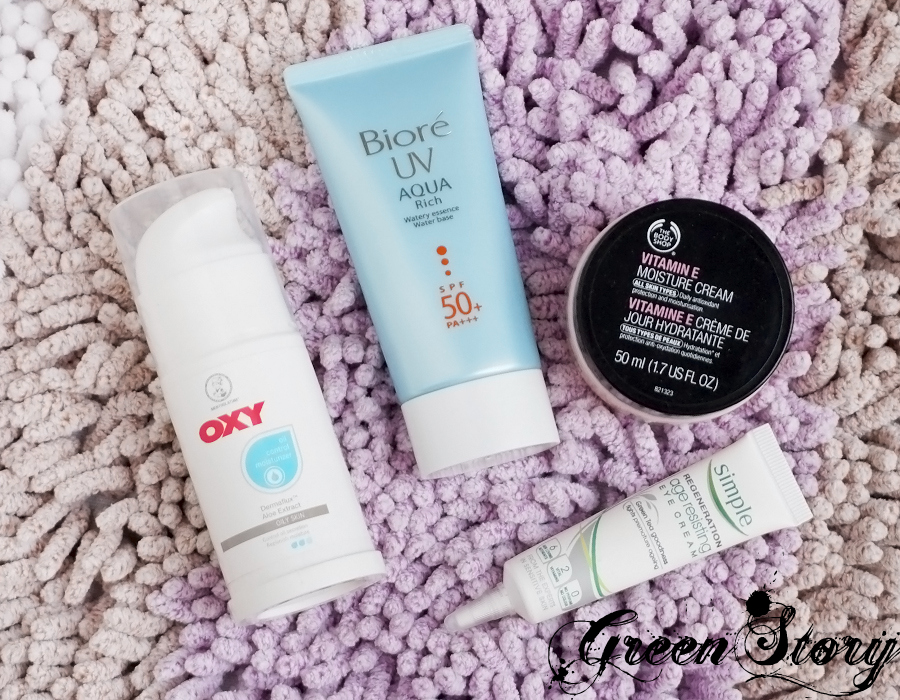 Biore UV Aqua Rich Sunscreen(SPF50+ PA+++): 20RM(approx) in Watsons Malaysia
This Sunscreen is ah-mazing!! Water-based so doesn't give any oily or greasy feeling, absorb into the skin quite fast also doesn't leave any white cast. I never looked for anything else since I'm using this. Whenever I'm going out Biore UV Aqua Rich Sunscreen is a must for my face as well as hand and feet for sun protection.
OXY Oil Control Moisturizer: 13RM(approx) in Watsons Malaysia
OXY Oil Control Moisturizer has a lightweight formula, controls oil, mild to skin keeps skin hydrated for good long time. I use this during the day or before makeup to create a moisturized base.
The BodyShop VitaminE Moisture Cream: 54RM in The body shop Malaysia
The BodyShop VitaminE Moisture Cream is a bit thick and intense than my OXY moisturizer yet quite soothing for my combination skin. I usually alter between these two.
Simple Age Resisting Eye Cream: 29RM(approx) in Watsons Malaysia
Love this Simple Eye Cream. Feels so light in under eye area, provide proper hydration. I use this 2/3 times a day, whenever I feel like adding some moisture under my eye.


~Night Care~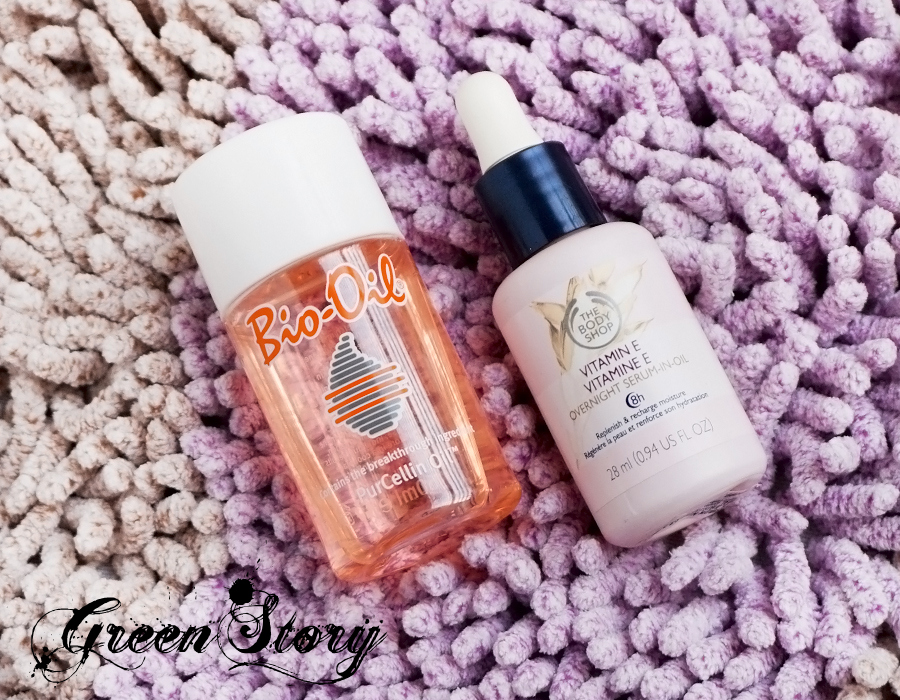 Bio oil(30RM in Watsons Malaysia) & The Bodyshop VitaminE Serum-in-oil(99RM in The BodyShop Malaysia):
This might sound crazy that I'm using oils for my kind of oily skin but yes I'm. Both of these oil are not that oily to handle. I usually alter between these two every other day or just mix both together. I apply not more than two drops of oil after cleaning and toning my face every night and leave that overnight. Next morning I get a pretty visible pampered face.


~Special Care~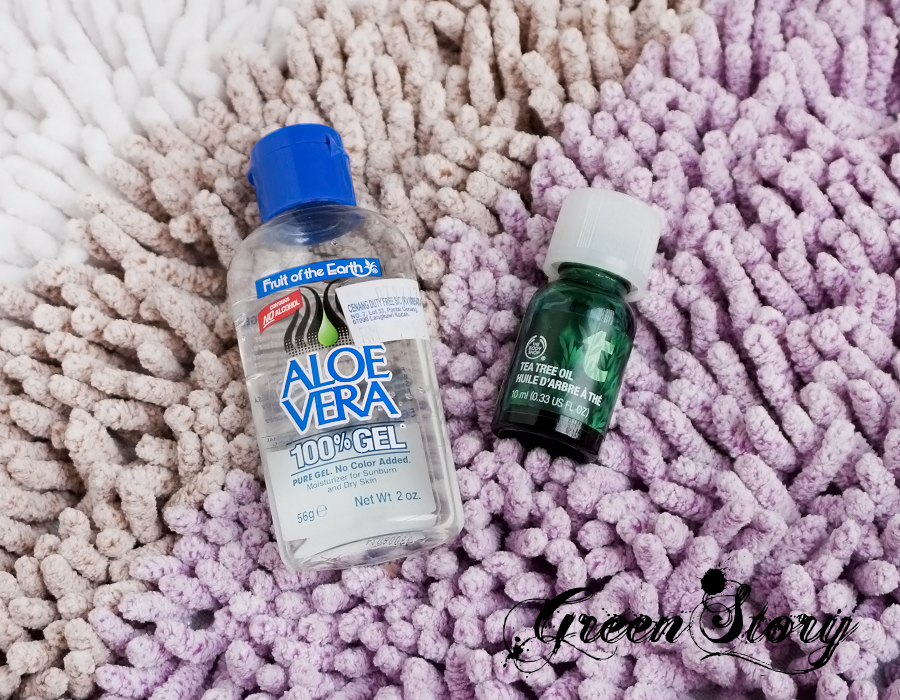 Fruit of the Earth Aloe vera Gel: 8RM in Watsons Malaysia
Sometimes open and harsh sun creates terrible burn in the skin, I use this aloe gel to cure such issue. Obviously, I don't get burned every day, it's just those rough sunny days, I use this aloe gel instead of my other moisturizer after coming back home. This gel does help to soothe and cure burns faster.
The BodyShop Tea Tree Oil: 28RM in The BosyShop Malaysia
For me, The BodyShop Tea Tree Oil works as a great antiseptic. I don't bother spots on my face but I hate bumps. This oil helps to reduce any bump and redness caused a rash or ingrowing pimple. No. it doesn't work like magic takes 2/3 days to heal such issue.



Products I mentioned above are only those which I'm using constantly according to my skin behavior. You might have noticed I haven't mentioned any exfoliating product or something for extra care like face pack!
Using Face pack or mask actually unstable in my case. I'm mostly a home remedy type person yet using a variety of readymade mask as well. I often change them so I don't count them as a routine work.
About exfoliator, as I'm using a facial brush and my regular face wash has granule particle in it so I don't use any extra scrubbing product on a regular basis. Exfoliation is necessary for skin but anything extra can harm skin for sure. However, I do use Freeman Charcoal & Black Sugar Polishing Mask once a week to clean up any remain dead cell.

***Unfortunately most of the stuff is not available in Bangladesh, I had to stock them up from abroad. But If you are interested in Bodyshop Product then Unimart, Bodyline, CosmicJovian etc shops do keep few of Bodyshop product. you can check there. To mention, OXY products are available in a most Asian country like Singapore, Malaysia, Indonesia etc.