This is not any new product of Maybelline. Probably Maybelline launched it back in 2009/08. But yeh, i got mine in last January, as my Bday gift. I've been using this through all this month and i'm so in love with this.
This mascara worth BDT 480/-
According to product disclaimer, it gives 7000 vibration per min in 7 synchronized action. I have to say i get the look of 5/10 perfect stroke of normal mascara in one stroke. So that i didn't really need not more than 3 coat to get a finished look. This mascara really defines and covers so quickly and perfectly specially when its on lower lashes. It catches each n every tiny single lashes.
wand looks like this
The wand looks pretty precise and sleek. Its tiny combs n vibrating action does help to separate lashes. Doesn't clump or smudge and gives a intense black glossy finish. About volumize or lengthening it doesn't give any extreme result if you expect so but gives the more than enough result i think.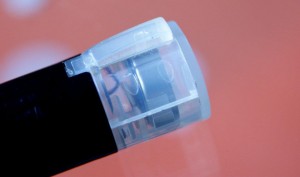 vibrating 

trigge

r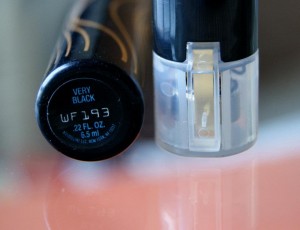 Because of the vibration it reduce effort on applying process. I don't shake the wand to catch lashes anymore. It gives the feeling of vibration, i kinda like it. It feels like I'm having smooth massage on my lashes. I think which might be helpful for blood circulation on eyelid. But everyone might not like this vibe feelings.
Who people are fancy with waterproof mascara they will defiantly love it. As its a waterproof mascara, so it is kinda hard to wear off with normal wash.
I've been using this for almost 4month… and its seems to last for quite long ;p
Overall, this is a brilliant product to have. I do recommend to give it a try 🙂
This is my 1st vibrating mascara. have you tried any other vibrating mascara ? Let me know what you think of those compare to this one.