By Wishtrend Mandelic Acid toners or the mandelic acid itself in skincare is not a new product in the market anymore. I started using my first Mandelic acid toner when By Wishtrend launched this (July 2017) By Wishtrend Mandelic Acid 5% Skin Prep Water/ Mandelic Acid exfoliating toner.
[& here I am in 2023, now updating my first review on Wishtrends Mandelic acid toner as I've been using it again right now]
I'm a regular user of AHA, BHA, and Glycolic acid toners. Mandelic Acid is known for its kind nature, anti-aging benefits, and effectiveness in removing dead skin cells, etc. With the use of Wishtrend Mandelic Acid Water/toner, I actually got introduced to the behavior of this ingredient.
What is Mandelic Acid and how does it work

?

Mandelic Acid, a different form of Alpha Hydroxy Acid (AHA) is extracted from bitter almonds. It has a larger molecular bond than regular AHA, thus, it is less harsh on the skin. However, it delivers the same benefits as AHA/BHA. It is very popular for its anti-bacterial characteristics.

It is very popular for its anti-bacterial and anti-aging characteristics. Mandelic Acid accelerates cellular regeneration rate and increases collagen production. Therefore the ingredient helps to balance melanin production. For its antibacterial properties, Mandelic Acid works effectively as an acne treatment as well.
Ingredients of By Wishtrend Mandelic Acid 5% Skin Prep Water:
Water, Mandelic Acid, Butylene Glycol, Beta-Glucan, Panthenol, Glycyrrhiza Glabra (Licorice) Root Extract, Prunus Amygdalus Dulcis (Sweet Almond) Fruit Extract, Sodium Hyaluronate, Sorbitan Sesquioleate, Centella Asiatica Extract, Houttuynia Cordata Extract, Sorbitol, Dimethyl Sulfone, Chlorphenesin, Sodium Citrate, Arginine, PEG-60 Hydrogenated Castor Oil, Ethylhexylglycerin, Hydrolyzed Collagen, Carbomer.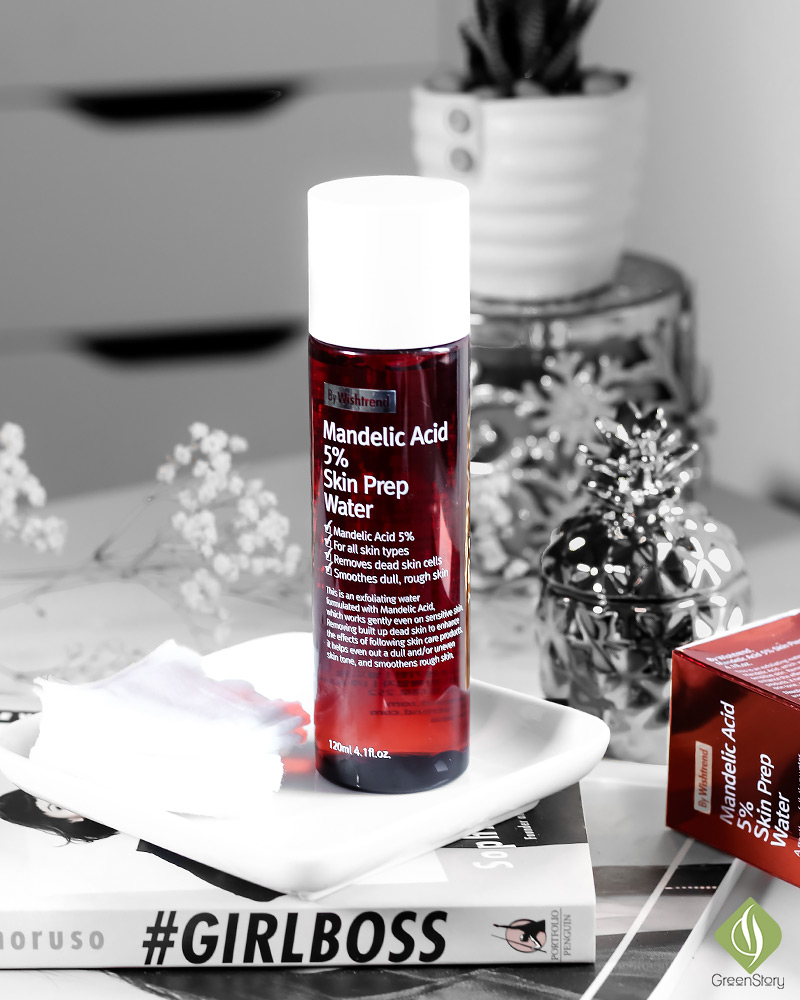 How I use Mandelic Acid Exfoliating Toner :
According to the brand, the toner is recommended for sensitive, dry, and acne-prone skin.
I have a combination skin type with no acne issue (that I could monitor) and I'm pretty much used to hardcore AHA/BHA stuff. I started using it in my morning skincare routine. After cleansing, I wipe my face with the Wishtrend Mandelic Acid-soaked cotton pad. On the bottle, it was instructed to use directly by patting it on the skin. I feel my skin needs a bit more exfoliating work thus the use of the cotton pad. Then I follow up with the rest of the skincare, moisturizer and all, and especially a high SPF sunscreen. Careful sun protection is when using an exfoliating toner for daytime even if you're just sitting at home.
It's been around two months since I've been using Wishtrend Mandelic Acid Skin Prep Water. I've given it a go for night-time skin care as well just the same way by using it after cleanser. Did took a break from it in between to see how my skin does without it.
I use exfoliating toners every day. If I'm using a mild one like this Wishtrend Mandelic Acid toner, I'm more likely to physically exfoliate my skin once a week as well.
Additionally,  I've been using retinol serums regularly in my PM skincare routine. Now that might sound a bit too much to you. But I've noticed my skin is quite tough and does completely okay with all this. Obviously, I won't suggest you follow me because I don't know how much your skin can tolerate.
[ In 2023 ]
DAMN! This mandelic acid toner works amazingly with every retinol product to date. Recently I've been using this one before my Paulas Choice Retinoid Serum (followed by the By Wishtrend Vitamin A-mazing Bakuciol Night Cream) and this toner simply works fantastic.
Products below in the picture I've been incorporating in my skincare lately with the mandelic acid toner. These By Wishtrend products come in a package called the 'Powerful Skin Smoothing Package' that is focused on better skin texture and anti-aging benefits. I'll post a review soon on the By Wishtrend Vitamin A-mazing Bakuciol Night Cream (it deserves to be reviewed). meanwhile, you can check the reel I posted about it.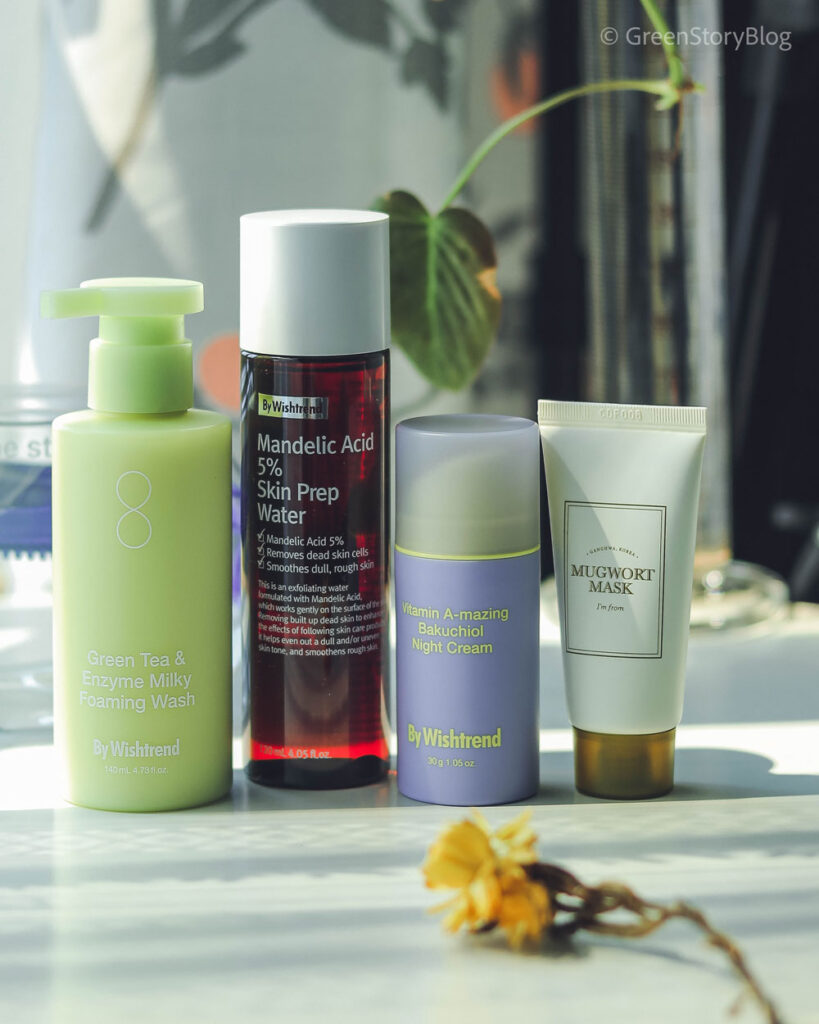 My Experience with Mandelic Acid 5% Skin Prep Water
Simply, this exfoliating toner By Wishtrend with 5% Mandelic Acid is indeed very gentle on the skin compared to AHA, BHA, or Glycolic toners. It actually gave me no irritation or redness ever but leaves my skin smooth and fuss-free after every use.
Due to its added hydrating ingredient, it is hydrating on the skin. The other BHA toners I tried earlier (e.g. Paula's Choice 2% BHA Toner) would leave my skin kinda squeaky clean but after using Wishtrend Mandelic Acid my skin feels a tad tacky. I assume it is because of the hydrating properties. It is not anything chafing though! It goes away when I follow up with a serum or next skincare product.
This mandelic Acid toner has been able to keep my skin fresh from the dead skin fuss. It was also effective in keeping up the skin's brightness. My skin texture felt maintained as well.
It's a mild toner and it gives mild exfoliation thus it's a great chemical exfoliation option for sensitive skin. During these two months of using this, I was waiting for a day when my skin would feel unusually sensitive so I could monitor how the mandelic acid worked. But, fortunately, my skin has been doing perfectly and I haven't got that chance.
To conclude,
I've no complaints about ByWishtrend Mandelic Acid toner. I actually like how gentle is this. This is a perfect option for those who face sensitivity problems with AHA/BHA.
Also, this could be a great option for those who are just starting with exfoliating toner. The kind and & gentle character it this one will surely help a new user to understand how their skin acts with such a product.