'Durga Puja 2013′ featuring Makeup: How would I celebrate…!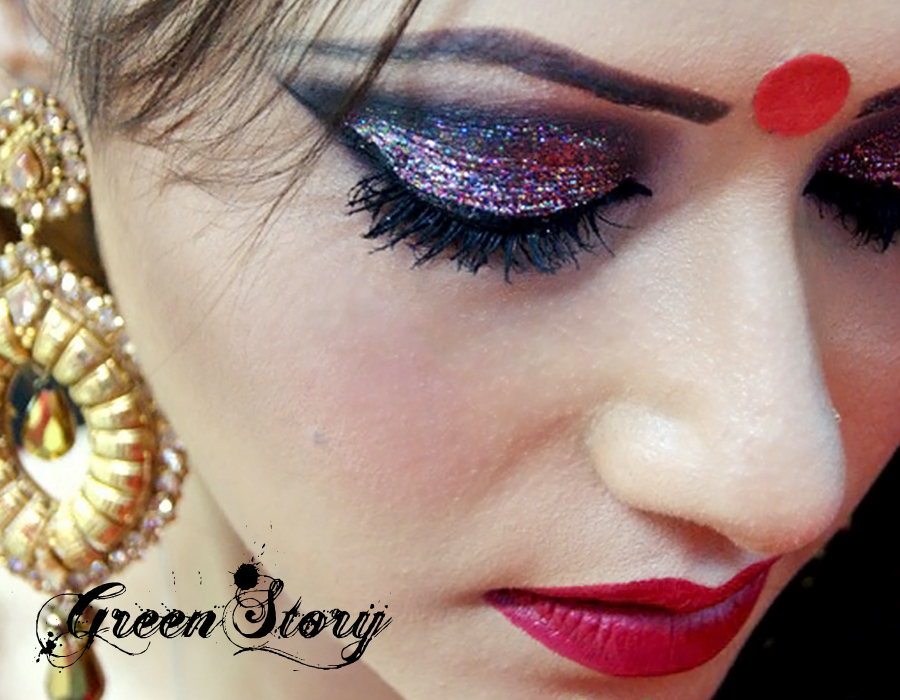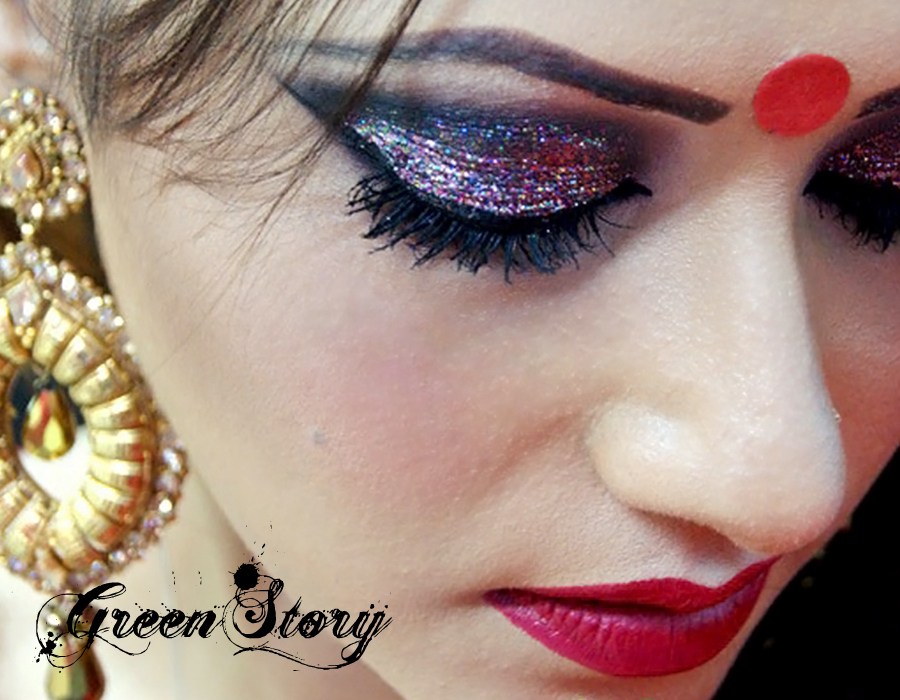 Hey there…
The biggest festival for all Hindu's around the world is 'Durga Puja/ Sharodiyo Puja' and it is in the door…. So, a very special early greetings to my all Hindu reader.
I created this look specially keeping in mind that if i were a Hindu how would I do my makeup to celebrate Durga Puja….
I wore a red saree here, picked black and brown as my eye shade and yes of course brown based multi-color glitter to add glamour and drama. When I think faces of Devi's, their defined dramatic eyes and brows comes in my mind first, so here i tried to improvise that art. And yes, a red bindi/tip, touch of sindur/vermilion(you'll see that in other picture), without these I cant imagine a Puja-makeup.
Lets get into 'Durga Puja 2013′ featuring Makeup tutorial(eye)…
1. Create a base for your eye makeup using any creamy radish brown eye shadow as shown in picture. Top up your base with a brown eye shadow.
2. Creating winged shape fill one third of your crease with black eyeshadow, highlight the brow bone area with a light golden eye shadow and blend everything nicely.
3. Tight line your upper and lower lash line connecting to the inner+outer corner with kajal/khol and blend that with black eye shadow.
4. Apply your glitter base or any clear lipgloss in the brown shadow part up to the crease as shown and lightly dab glitter on that right after. Cleanup any glitter fallout and then apply your black liquid eye liner creating winged shape.
5. Define your brows and apply reasonable amount of mascara.
Your eye makeup is done!!!
After doing eyes, start your face. Dont forget to contour lightly. I finished off with a light peach toned pink blush, red lipstick and bindi off-course.
Face:
*Mix of MAC studio fix fluid NC42 and pro-long wear NC40
*Mac studio fix powder plus foundation NC42
* Revlon colorstay pressed powder in medium
*Fashionista bronzer in shade LA
*Fashionista blush in shade London
*Fashionista eyeshadow as highlighter in shade Cafe Au Lait
Eyes:
*10tk pan reddish brown shadow as base
*BeautyUK eyeshadow palate 6 for brown and black
*LAspalash eyeshadow sealer as glitter base
*Local cosmetic glitter(10tk to 20tk one)
*Revlon khol pencil in black
*Ioni liquid eye liner
*Loreal feather lash and Maybelline volume express mascara
Lips:
*Jackelin lipliner in Red
*Fashionista double take lipstick in Red Carpet
To me, being a married lady my look would left incomplete without sindur/vermilion and a red bindi. I choose black and brown composition for eyes because i was wearing loud red everywhere and when i think of Puja I see nothing but red!! Black and brown eyes are perfect to neutralize any color yet goes with almost any attire. Note that, if you can wear false lashes then this look will be more dramatic and attractive. I suggest you, do wear false lashes if possible.
Hope you'll like this 'Durga Puja 2013′ featuring Makeup and do not forget to let me know if you are going to try this.
Any information you need, don't hesitate to buzz me 🙂


..
…Take Care Ladies & Celebrate Your Puja in Fullest…
***By the way, i'll be creating more looks featuring coming Puja & EID. So don't be upset if you don't like this one 🙂
____________________________________
_______________________________________________
~~~Many thanks for visiting my blog~~~
keep connected with me in..