EID is coming… everyone needs the best look to wear at EID
So thought to do something that might help you…
Today i attempt to create a festive eye look.
I think, this look will be perfect to wear at any time, either its daytime or night.
enjoy the picture….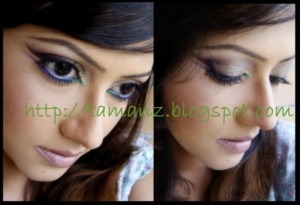 Product I've used:
*Sleek ultra matte palate V2
*Sleek original palate
*MUA heaven n earth palate
*Jackelin eyeliner: Blue n Heart Green
*Maybelline volume express mascara
Girls.. Let me know what you think of it.
If you try this look don't forget to notify me. I would love to see that 🙂
Take care till the next post… XOXO