Does the title sound a tad cheesy to you? I didn't make it up but this is how 50 MEGUMI Anti Hair Loss Treatment Essence promises to work. To simplify, when you'll have no hair loss then you'll definitely have more hair on your head. Therefore your hair will look voluminous! Isn't it?
Last month I got introduced to the 50 Megumi Anti Hair Loss Treatment. They also have two variants of shampoo and conditioner in their Anti Hair Loss range. The famous Japanese brand Rohto Pharmaceutical is the mother brand of 50 Megumi. The formula of 50 Megumi claims to reduce hair loss and recover hair volume with its 50 precious natural herbal ingredients.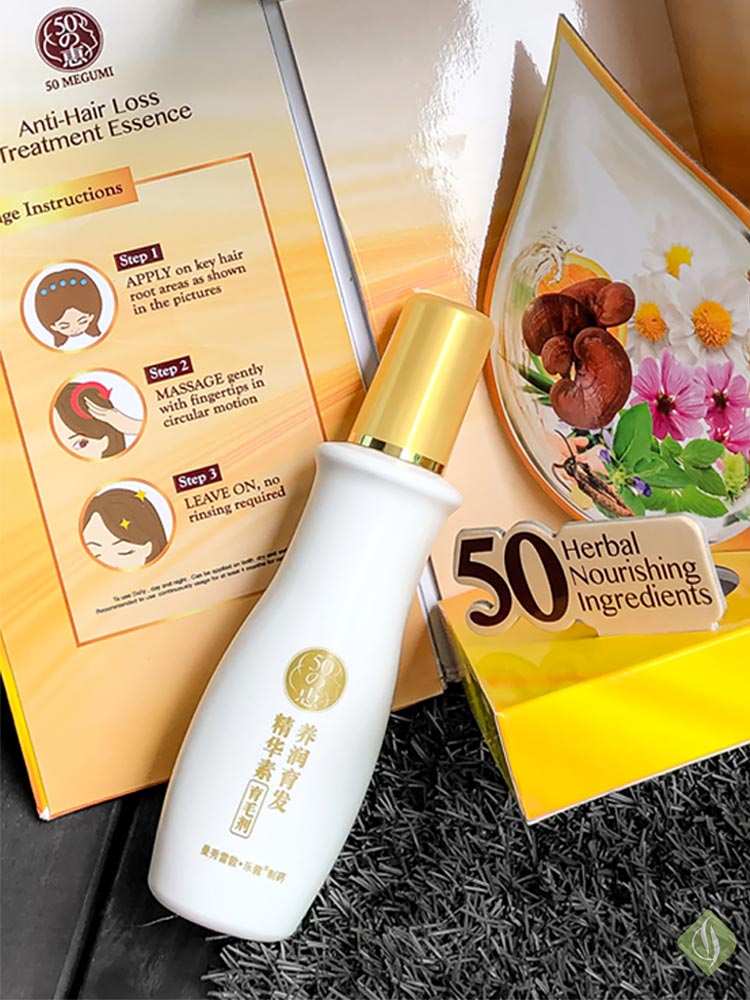 Key ingredients of 50 Megumi Anti Hair Loss Treatment Essence are…
Panax Ginseng and Ginger root extract to strengthen hair roots
Swertia Japonica extract to protect against hair fall
Hydrolyzed Collagen to prolong the hair life cycle
Natural orange and lemon extract to enhance deep penetration into the scalp
The other vital ingredients are Shea Butter, Macadamia Seed Oil, Olive Oil, Pine Cone Extract, Aloe Vera Extract, Sunflower Seed Oil, Seaweed Extract, Caffeine, Pueraria Root Extract, Rosemary Extract, and Jojoba Oil. All of these ingredients of 50 Megumi Anti Hair Loss Treatment work together to also helps prevents hair loss.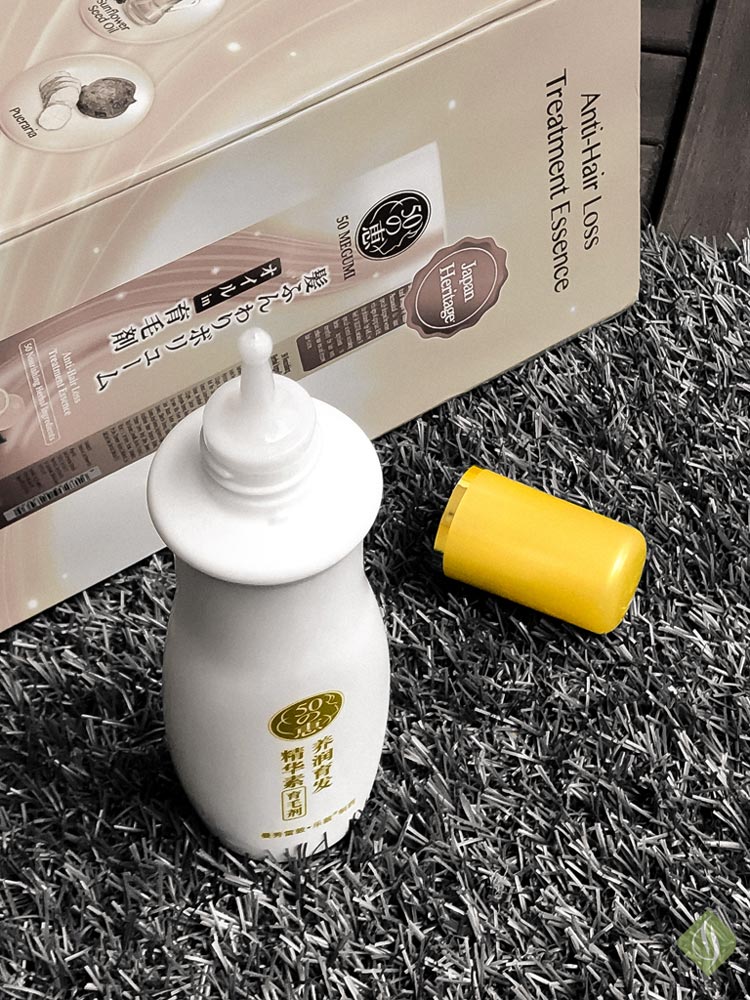 Have you ever asked yourself what causes hair loss?
Hair loss can be caused by numerous factors, for example, a poor diet, hormonal changes, psychological distress, effects of medication, wrong hair products, and so on.
Research says that hair loss can happen when more follicles than normal go from the Anagen phase (growing phase) to the Catagen phase (transition phase) and when these hairs reach the Exogen phase (shedding phase), the hair will appear thinner.

The Telogen phase (resting phase) takes place right after the Catagen phase and it is during this phase that new hair grows beneath the existing hair before it sheds. The Telogen phase lasts between three to four months.

Therefore, it is important that we ensure proper nourishment on the hair scalp during the Anagen phase to promote thicker and stronger hair.
What is this Hair Loss Treatment Essence by 50Megumi?
Just how it named, it's an essence for hair. Before trying it out I thought this treatment will be something oil. I'm happy that it's not oily but it has water-like consistency. The thin consistency of the treatment essence absorbs instantly into the scalp and hair.
The essence also smells sorta citrusy and refreshing but that's very mild.
This 50 Megumi hair treatment essence works as a leave-in-treatment. It can be applied at any time of the day or night.
How to use 50 Megumi Anti Hair Loss Treatment?
I mostly like it using after a shower or before bed. The point-drop bottle of 50 Megumi hair essence makes it so handy to dispense the essence directly in the hair root. After saturating my hair roots I massage my whole scalp for a couple of minutes and I'm good to go.
My scalp feels nicely cooling and refreshing with no greasiness after the application. In fact, I'm kinda obsessed with the cooling effect 50 Megumi hair essence gives. When I use it before bed my whole brain feels calmed down and I surely sleep better with it on.
How 50 Megumi Hair Essence worked for my hair?
This hair essence is suggested to use twice daily for four months to notice any visible result. I've been using it for a month now but not really twice a day. Assuming my 160ml bottle will last another 15 days or so.
Before use, I didn't have a hair fall issue, fortunately. Currently, I'm on prenatal vitamins so I hardly notice any hair in my hairbrush in days! Considering these facts I can't say if it was working to prevent hair loss. However, my hair is luscious at the moment even with all my hair coloring craziness!
Moreover, I absolutely love how it feels. I love the fact that it helps me sleep. I love that this doesn't make my hair greasy.
The only drawback, this hair essence is, no doubt, quite expensive. Then again if you want to invest in a hair loss treatment essence 50 Megumi won't be bad. I myself trust Japanese formulas 😉
Have you tried 50 Megumi Anti Hair Loss Treatment Essence? Or any other hair fall treatment that worked for you? Share your experience in the comments below.