Innovative beauty gadgets always attract me. Recently I've been trying out the FOREO UFO. It's an LED Thermo activated Smart Mask that looks super futuristic plus works to the rescue skin problem 101. Moreover, FOREO UFO cares for the time. A targeted and mess-free sheet mask treatment session you can have within just 90 seconds.
If you're thinking only sheet mask then you're too wrong! This is something beyond any regular sheet mask. UFO Smart Mask is packed with the latest skincare technology to give advanced clinical spa treatment at home where the small piece of sheet is just a medium. Then again, UFO activated sheet masks are also powered with Korean skincare formula, premium ingredients, and made of ultrafine microfiber to assure the ultimate result.
Have you ever thought of getting a Photofacial done?
The process of a clinical Photofacial and its cost will give you an instant heartache! Don't worry, even I don't want to talk that far because I already have a better solution here with me, FOREO UFO. This UFO Smart Mask by FOREO gives 3 targeted Photofacial that you can do by yourself at home.
Sounds interesting enough?
Thus, this article is about giving you an insight into my experience with FOREO UFO – LED THERMO Activated Smart Mask.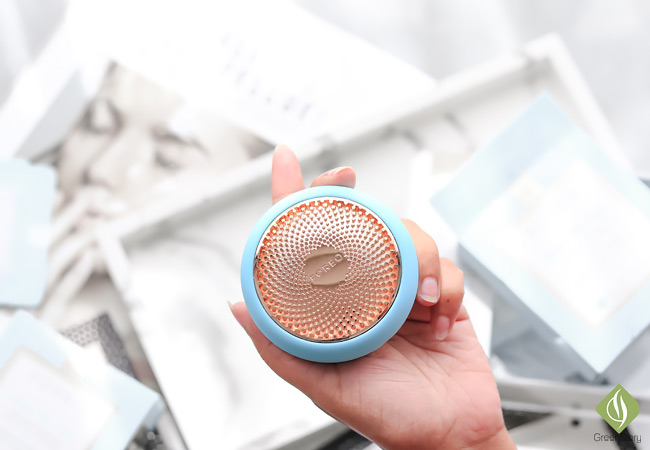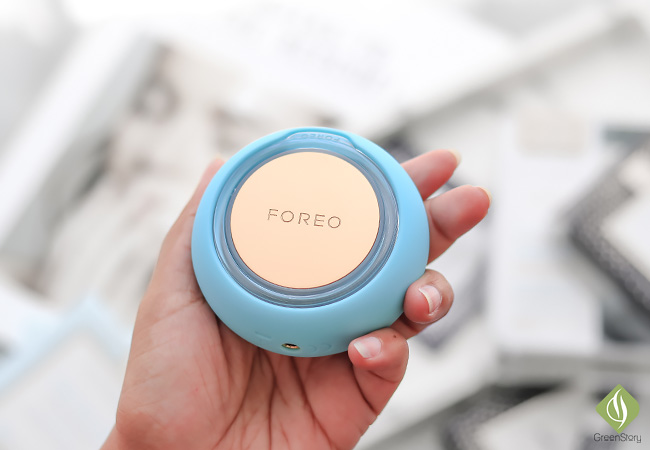 What you'll get in a new FOREO UFO box?
FOREO UFO Smart Device
One UFO Activated Mask
Stand for FOREO UFO
USB recharging cable
How to use FOREO UFO LED Thermo Activated Smart Mask Treatment?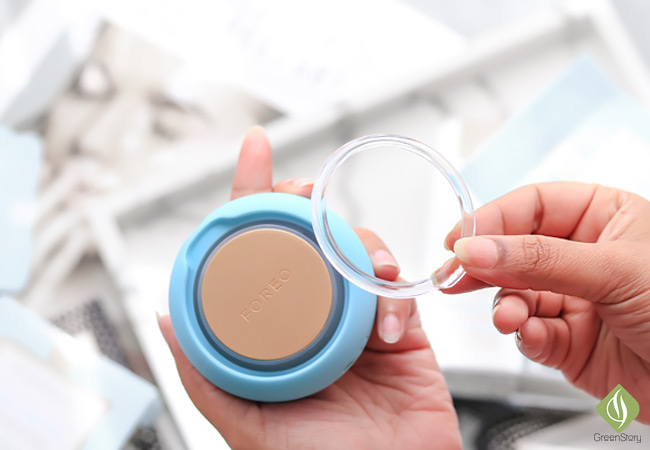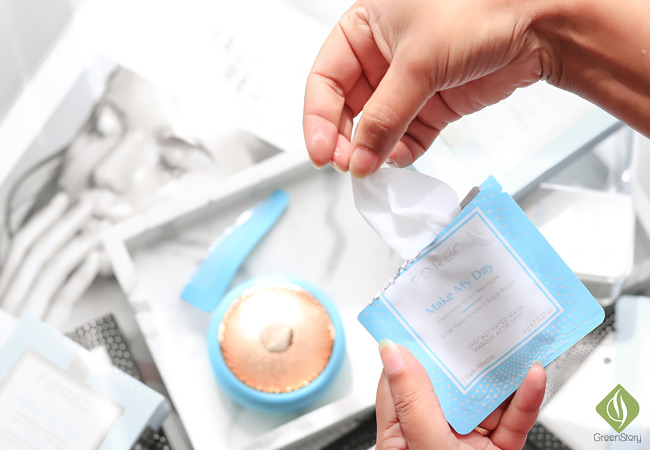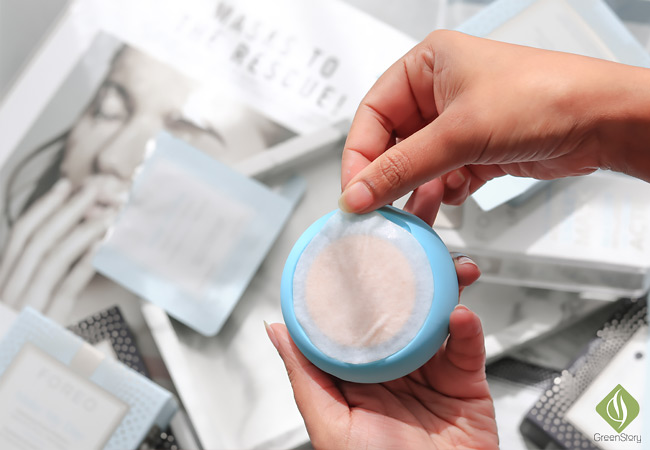 It's not anything hard but very easy to use a UFO Smart Mask. First, remove the attachment ring from UFO. Take UFO Activated Mask, that you want to use. Place the mask on the device. Place back the attachment ring by clipping it inside with the sheet mask. The attachment ring keeps the sheet mask secure with the UFO device.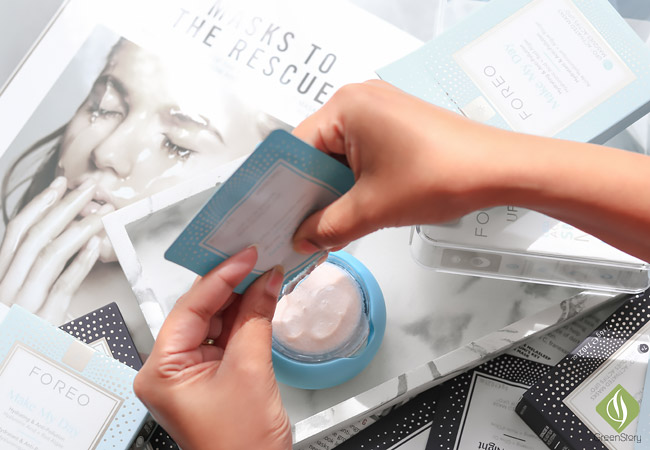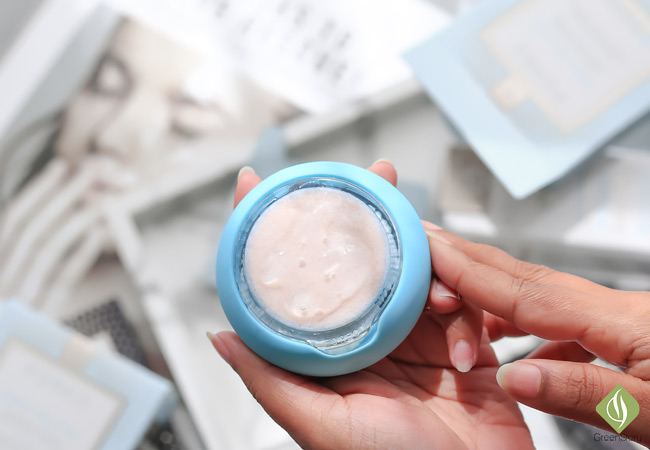 I found that there is always some extra essence remains on the sheet mask packet. I take out the remaining essence on the sheet after locking it on UFO.
Rest is simple, turn your UFO and the FOREO app (if you're using that) on. Then gently glide UFO across your clean face. Massage the formula in circular motions until the device turns off. If one treatment session (90 seconds) doesn't feel enough you can restart the same treatment by pressing the button once within 30-second after the end.
After finishing the LED Thermal activated treatment, gently pat the remaining essence into the skin. Follow with a moisturizer if needed.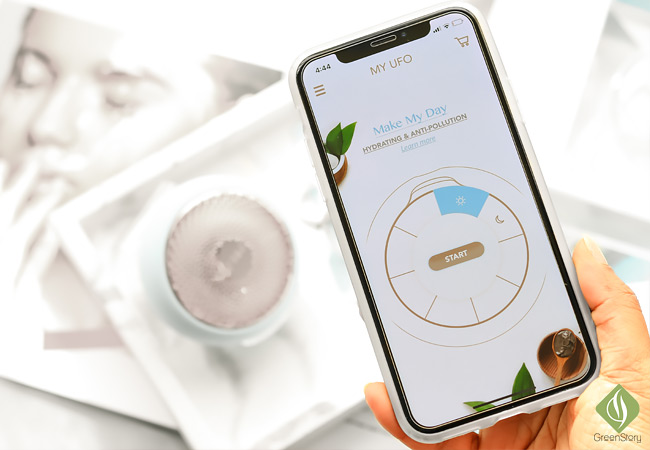 Are you wondering if you must use the FOREO app to use UFO?
FOREO has a dedicated phone app for its beauty gadgets. Once downloaded the app will guide you to pair your UFO device with the app. When you scan the mask barcode the app reads it and sync the UFO automatically for the treatment. There are a few customizing options as well within the app to set thermal, light, or pulse function according to personal preference. With the FOREO app, you can set and use UFO just the way you want, which you can not do without the FOREO app.
However, UFO is usable without the app as well. The universal button does everything and it is pre-programmed for 'Make It A Day' and 'Call It A Night' Mask. If you press the button once, it will turn the UFO on. Press again for the 'Make It A Day' mask treatment. Press twice for the 'Call It A Night' mask treatment.
Initially, FOREO offered only these two masks to use with UFO Smart Mask. Just recently FOREO launched a few more varieties of mask treatment. To activate those new masks you must use the app. Once activated then you can use the universal button accordingly.
How FOREO UFO Smart Mask works?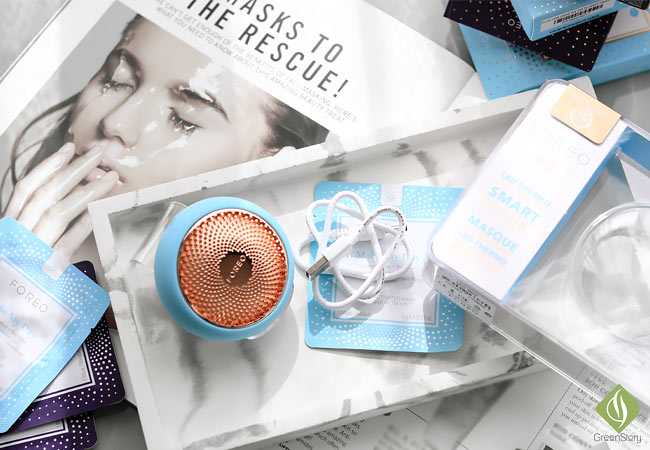 FOREO UFO features Hyper Infusion Technology which uses our skin's natural reactions to heat and cold. UFO gradually warms in Thermo-Therapy mode. The gentle heat helps to infuse active mask ingredients into the skin, making them more effective in less time. The warmth also helps to relax and revitalize the skin as well as the mind. The cooling mode of UFO, Cryo-Therapy, is an effortless way to calm the skin down. It helps to reduce the appearance of pores and puffiness.
Along with those, FOREO's signature, T-Sonic Pulsation Technology ensures that the skin gets the most out of every mask treatment.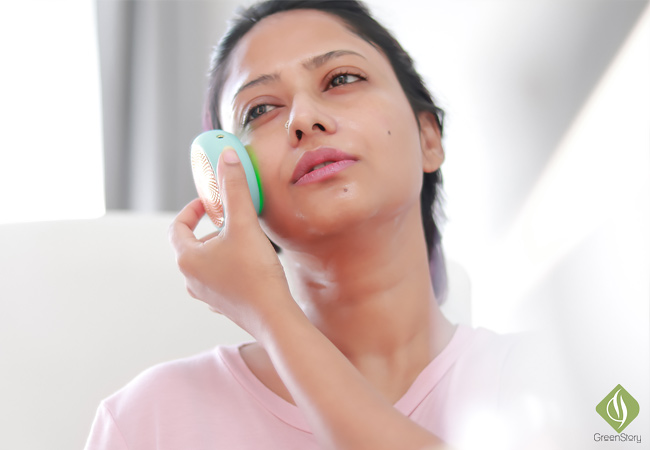 For that advanced level of face masking experience, FOREO UFO gives us the power of UV-free RGB phototherapy treatment at home. UFO's red, green, and blue LED light wavelengths effortlessly rejuvenate the skin, and each wavelength rescues you from specific aspects of skin problems.
The Red LED works from an anti-aging perspective. It stimulates blood circulation and collagen production. Green LED helps to brighten a dull complexion and even out the skin tone. Blue LED kills bacteria and works to heal acne-prone skin. Literally one UFO session gives 3 targeted photo facials at once.
My experience with FOREO UFO 90-second Smart Mask: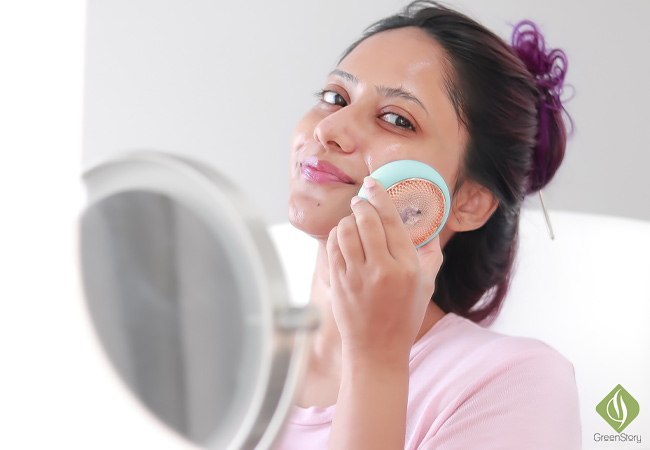 I was skeptical at the beginning and now I'm addicted to FOREO UFO.
Aesthetically this beauty device is quite pleasing, something you would want to show off! It is made of ultra-hygienic silicone and it's soft and very smooth to touch. Among 3 colors I choose the mint UFO to match and fulfill the FOREO beauty gadget army (it's a beauty addict's thing, wink) of mine.
I've been using the basic 'Make It A Day' and 'Call It A Night' Foreo Mask Treatment with my UFO. Each type of mask UFO has a different pulse, heat, and light setting pre-programmed. I'm obsessed with UFO's thermal technology. I did experience this before in a clinical skin treatment session but trust me it feels way better with the comfort of home.
Just before bed, I've been using the UFO 'Call It A Night' treatment and it feels I can sleep better after the treatment. UFO 'Make It A Day' treatment mask almost instantly revives skin health and makes me glow. Honestly, before FOREO UFO I and my skin never felt such relaxed and refreshed by any at-home mask. Plus, UFO only takes 90 seconds for that.
However, I'm never done with just 90 seconds of treatment of UFO Smart Mask. I end up longing for the thermal sensation more in my face. Besides, the amount of essence one mask sachet has is way too much for my face and neck. I go for a minimum of 2 treatment sessions (90×2) at once.
With FOREO UFO smart mask my sheet masking routine reached a whole new level. Ever since I got this beauty gadget I look for the chance to use it. Literally using it every day and I have to say it again – I'm addicted to FOREO UFO.
Cleaning, recharging and after use care for FOREO UFO Smart Mask: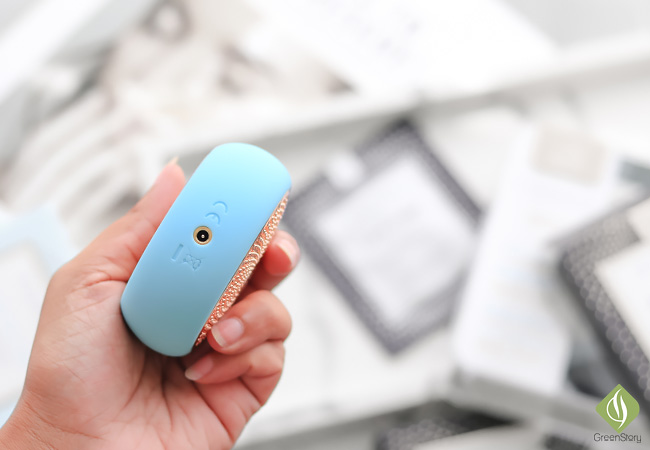 To cleaning FOREO UFO after use, simply remove the attachment ring and trash the used mask. Rinse the UFO device and the attachment ring. You can use warm water if you prefer, I think normal water is fine as well. FOREO UFO device is 100% waterproof so don't worry about the water getting into the device. But do not rinse it leaving the power on. After rinsing pat dry with a clean towel and place back the attachment ring. Store it in a suitable place. I put it on the stand placing the charging whole downside so the remaining water inside comes out and it dries faster.
FOREO UFO is rechargeable and you can charge it anywhere as you prefer using the provided USB cable. One fully charged (2.5-hour charge) UFO device gives around 40 use (90-second smart mask treatment time).
This smart mask device, FOREO UFO, comes with 2-Year Limited Warranty and a 10-Year Quality Guarantee. Which marks the device as an investment for better skin.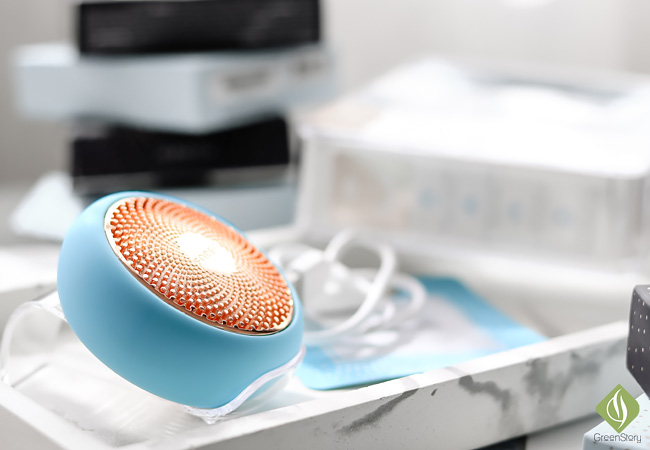 Do you really need FOREO UFO for better skin?
I won't tell you much. But, hell0… YES!
FOREO UFO is an expensive beauty gadget. Still, this hi-tech sheet mask thingy, a meld of Swedish technology and Korean beauty formula, completely worth it! Getting a UFO smart mask will be an investment in your skin. The comfort and outcome of FOREO UFO Smart Mask Treatments are simply mind-blowing. Moreover, with the regular use of UFO technology, especially LED light therapy we can surely control possible skin problems 101.
What you say?
I wouldn't deny that we do need those full-time relaxing spa sessions at home or clinically as well in our life. Despite that, can you really deny to a 90-second power-packed skincare indulgent which is available any time within the comfort of your home?
Even if you're not a face mask lover, you'll love the experience of FOREO UFO Smart Mask. You will love how the skin looks after each FOREO UFO treatment session. Furthermore, the effect of these treatments isn't anything temporary but it gives a visible improvement.
*** Sponsored post. However I've shared what I experienced as I experienced it.