Benefit Cosmetics Says:
[color-box]
It's the FIRST EVER lash-hugging gel liner in a pen! This matte black gel formula won't smudge, budge or dry out, and the innovative soft AccuFlex™ Tip hugs your lashline from corner to corner. The closer the line, the bigger the eye!
***24-hour & waterproof
*Instrumental test on 19 panelists
-91% said it was long-wearing
-88% said it hugged the lashline
-84% said eyes looked visibly larger
…Results observed in a consumer panel survey on 32 women after 2 weeks
[/color-box]
[wp_ad_camp_4][/wp_ad_camp_4]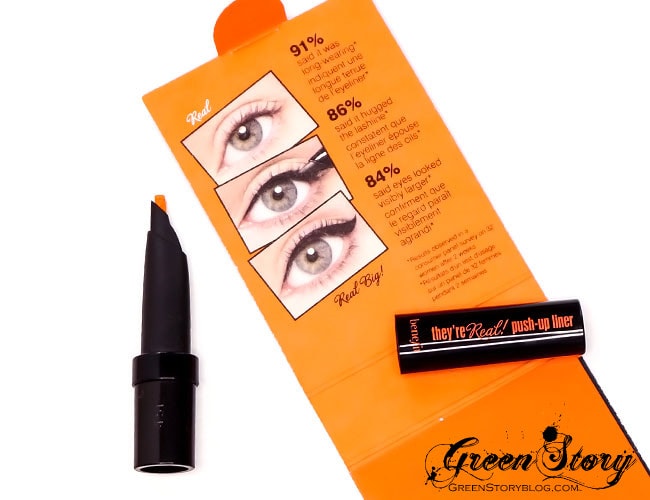 First of all, the packaging you seeing here is a miniature sample of the actual liner. I got this in a goody bag given by Benefit, Malaysia. This sample holds 0.10g of product which is quite a lot to understand the actual product. The actual Benefit They're Real Push-up Liner comes with 14g of product in a pen form with the same accuflex tip.  Travel size of Benefit They're Real Push-up Liner is also available in the market.
After you open the cap you'll see a tiny-mini orange thingy which sticks to the accuflex tip and the pen twist from the end to dispense the product. I guess, that orange thingy is to protect the product from drying out but it is actually so tiny to keep but not loosing within few days. I literally lost my one within a week. The accuflex tip is rubbery, flexible, quite thin and angled in shape. I loved how flexible the tip is that you can reach every possible angle of your eye lid and as close to lashes as possible.
[wp_ad_camp_3][/wp_ad_camp_3]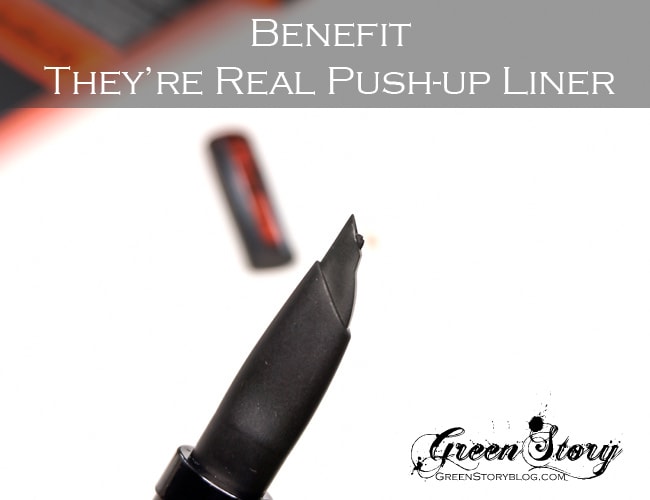 Let's talk about my experience with the product…
If I be honest then, over a year ago when Benefit launched They're Real Push-up Liner, it wasn't any new product to me. Maybelline already had a similar gel liner pen before Benefit. That time I almost got one for myself but didn't because noticed that people didn't really like how Maybelline pen liner works.
Later on, when Benefit introduced 'They're Real' Push-up Liner I was excited, thought this time it must gonna be good. I myself went through hundreds of reviews and found out that everyone is actually loving the product and only a few number saying that they don't like it. My instinct didn't allow me to buy the product.
However, when I received this sample I got really excited that finally, I'll be able to try it and if it works then it's gonna be the best liner ever. I absolutely love the idea behind this gel liner pen form and also can't deny that the pen tip is actually great to work with. My first time using this liner went great, the product was nice and creamy, applied very beautifully. The pigmentation of this black is very black and opaque.
[wp_ad_camp_5][/wp_ad_camp_5]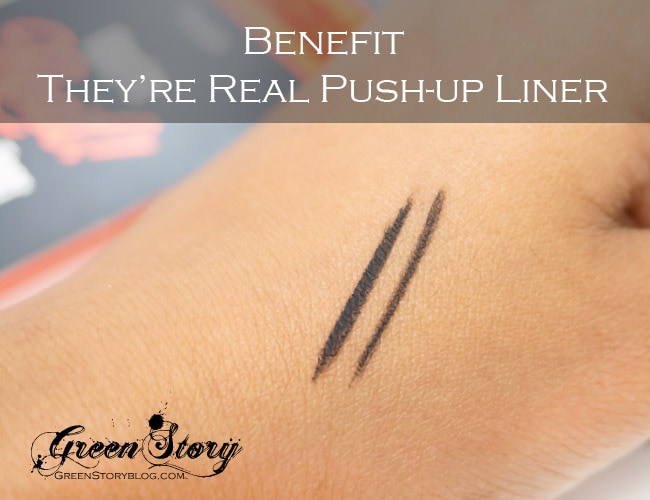 Then from my second application, I started to notice some unpleasant fact. When I was trying to dispense the product it was either dispensing a lot or nothing. It wouldn't be a problem but the gel actually dries right away once its out and you cannot apply that but left with gel bobs. Secondly, as the product dries out so fast it is literally impossible to make an even line with that. Moreover, after spending a lot of time getting your liner done within a couple of hours the liner starts to crack and flake.
Have a look at the picture below. My camera doesn't shoot pixel perfect picture but I tried to show how this liner actually looks after a while. It's dry, blotchy, not pigmented much, already cracked and flecking. Does this look satisfying to you?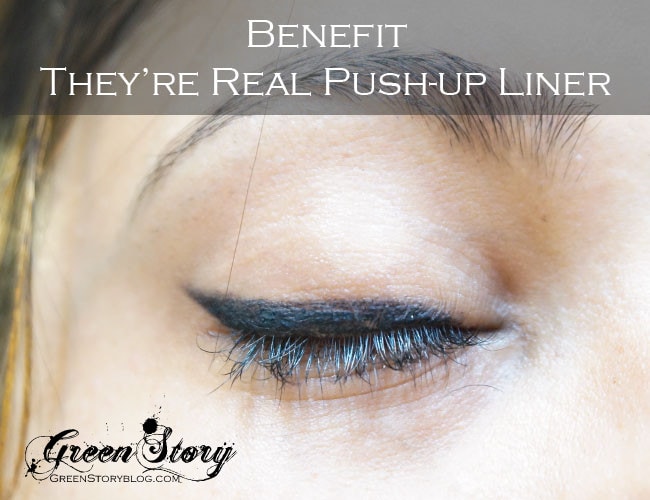 Last part, even though the liner tends to flake easily but it is hell hard to take off. I tried everything, only with the Benefit They're Real Remover it comes off easily. Otherwise, even with oil, I have had a hard time to remove the liner. You definitely don't want to be harsh on your eyes, right? If so then you must have to buy the remover along with the liner and I think this is going to be not so pleasant for many. Therefore, keep in mind that if you make any mistake applying the liner then it is almost impossible to correct it without ruining your makeup!
[wp_ad_camp_4][/wp_ad_camp_4]
Final thought???
To me, the idea behind this product is really innovative but the product itself isn't satisfactory at all. If you are a fan of this product please don't hate me! I just stated my honest opinion.
Would I purchase? Not a chance! But…
Benefit Cosmetics soon will be launching colorful version of They're Real Push-up Liner. I saw some preview and those colors are really fancy. I really hope from my heart that they are coming up with improved formula as well.
So? What is your favorite gel liner?

[color-box]
Availability:
Benefit Boutique | Sephora: RM95
Singapore: SGD38
USA: $24
[/color-box]
[signoff][/signoff]