Hydration! A major fact to take care of when it comes to skin regardless of what type of skin anyone has. Now a day's seems most skincare brands are focusing on that which is not bad but satisfying. Neutrogena now has a whole skincare range focused on hydration called 'Hydro Boost'. Months ago I bought Neutrogena Hydro Boost Water Gel moisturizer along with some other product. I was mainly drawn to this moisturizer because it contains hyaluronic acid; although, I'm not so expert on chemical substance yet just wanted to try.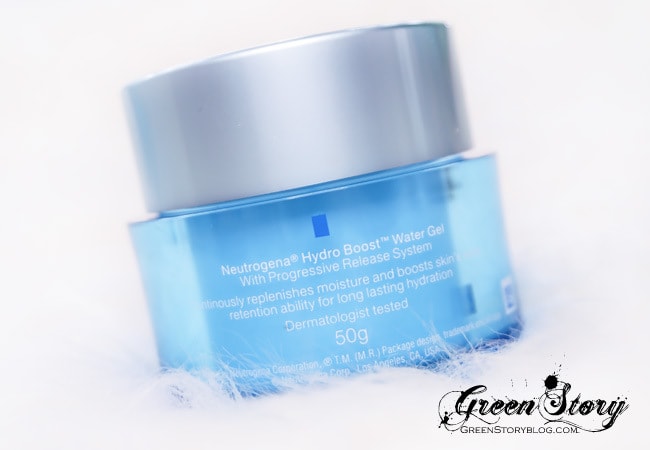 Neutrogena says…
[color-box]
Hydro Boost Water Gel instantly quenches dry skin and keeps it looking smooth, supple and hydrated day after day. The unique water gel formula absorbs quickly, like a gel, but has the long-lasting, intense moisturizing power of a cream. It boosts skin's hydration level and locks it in all day. Naturally found in the skin, hydrating hyaluronic acid acts as a sponge for dry skin cells, moisturizing with up to 1,000 times its weight in water, resulting in more supple and smooth skin.
Oil-free
Non-comedogenic
Purified Hyaluronic acid
Wearable under makeup
Ingredients make the difference:
Purified Hyaluronic Acid:
Absorbs up to 1000x its weight in water
Special formula releases hydration back into skin all day
Naturally found in skin
Olive Extract:
Strengthening, moisturizing and nutrient-rich
Helps skin's moisture barrier against moisture loss
[/color-box]
The packaging of this product is actually very attractive and luxury looking, fresh aqua blue represents the feeling of water and hydration for sure. The jar contains 50g of a product. There was also a second tap-lid apart from the screw-lid that I ended up trashing; it felt an extra hustle. I don't really feel comfortable when moisturizer comes in a jar, it feels unhygienic to dip the finger into that so I had to look for an extra spatula.
The product has very water like fluid-y, thinner than gel texture with very light aqua(almost translucent) color. What I love most is the way it smells, very soothing and fresh, somewhat close to cucumber but not really that!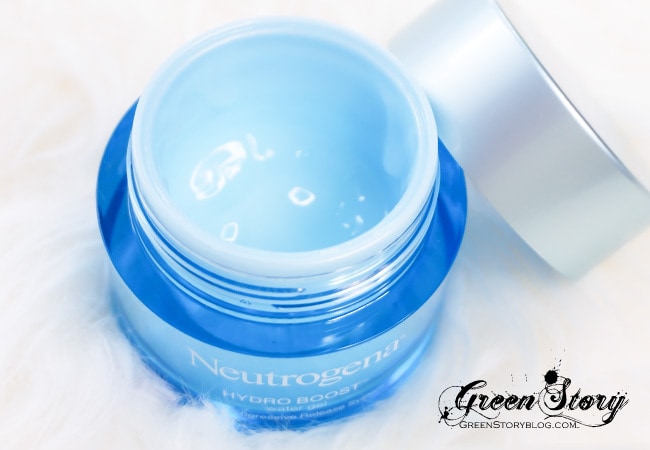 Neutrogena Hydro Boost Water Gel glides on the skin just like water and absorbs into the skin right away. Skin feels instantly hydrated, soft and refreshed once applied. Extremely lightweight on the skin and doesn't give any sort of greasy or oily feeling. It gives sort of matte finish after a while.
I was thrilled using it in the first place then I found out the effect it gives just doesn't last long. It soaks into the skin so fast and leaves no trace behind which was really impressive yet within an hour I felt I used nothing on my face. I needed to reapply the product in every couple of hour to replenish moisture. I strongly disagree that Neutrogena Hydro Boost Water Gel holds hydration for all day as Neutrogena claims. To mention, I don't even have dry skin, my skin is a combination type. I'm just about to finish the jar and so far I didn't notice any other benefit from this moisturizer either. However, it works really well as a base for makeup.
Overall, I like how Neutrogena Hydro Boost Water Gel feels on the skin but again it didn't fulfill my skincare needs. I believe this moisturizer can be very suitable for them who has oily skin for its mattifying effect yet I don't think it will be much help if you have dehydrated skin.
Additional Note: Neutrogena Hydro Boost Water Gel reminds me of The Body Shop Seaweed Mattifying Day Cream. Both felt the same just Neutrogena one feels a tad thinner.
[color-box]
Shopping Info:
Watsons | Guardian: Approx. RM60+
Singapore: Approx. S$15
[/color-box]