Past 20-ish days I've been totally into FOREO BEAR busy getting a V-shaped jawline and a toned face overall. No kidding! If you know me then you know me, Beauty gadgets are my zing. Plus, been waiting to try out this Smart Microcurrent Facial Toning Device ever since there was the whisper about it on the web. However FOREO BEAR just recently launched here in Malaysia.
What is Microcurrent facial therapy?
Microcurrent facial therapy is the application of low-level frequency-specific electrical currents to the skin that helps to create more electrons to the system which stimulates tissue and cellular repair.
Microcurrent facial mainly works on –
reducing fine lines and wrinkles by giving the face a natural lift.
re-training the facial muscles, stimulating collagen development for a v-shaped jawline.
improving blood circulation to the face while minimizing facial puffiness.
in simple words, it's a painless way to give the face a proper workout to get in to shape.
Have you ever thought of getting a Microcurrent Facial done at home?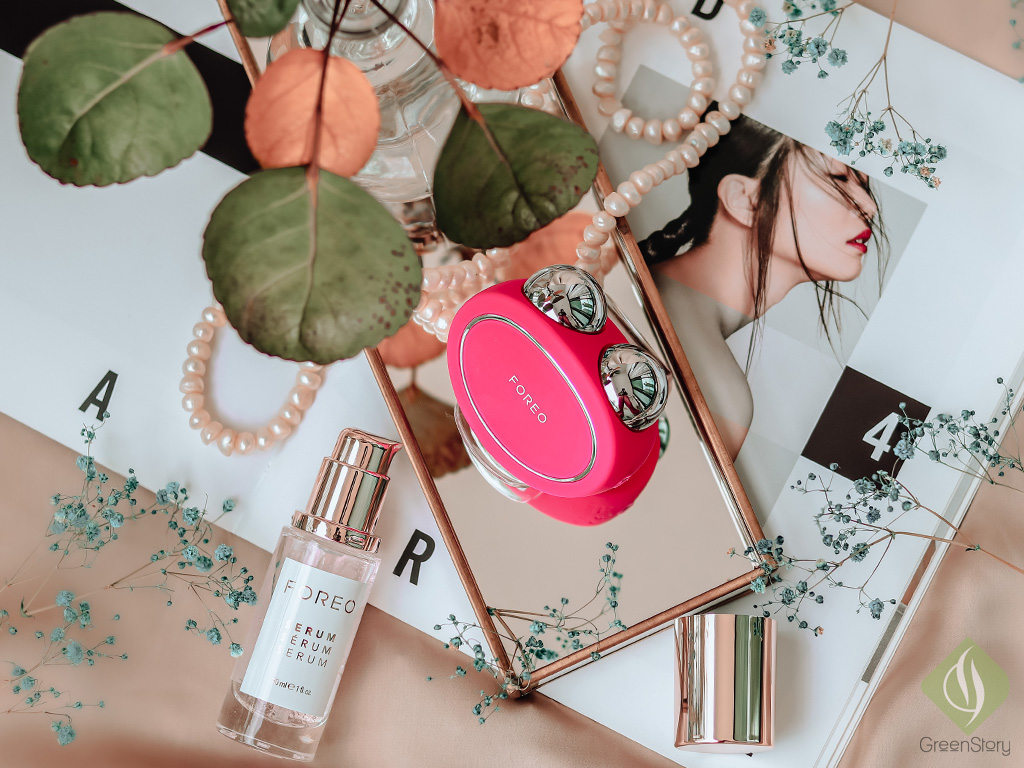 Microcurrent facial therapy has been there in the aesthetic clinics for ages with exclusive price tags. To add more, one session in the clinics is no way enough to get the result from a microcurrent therapy but you need continuity.
What if you have the solution at home?
Yass!
That's what I'm here to write about today.
This smart micro-current facial toning device, FOREO BEAR, is your way to get a v-shape jawline and firm skin in minutes that you can do by yourself at home. Moreover, this is not any one-off session but you can continue forever with a one-off price!
Doesn't it sound intriguing?
How this face lifting device, FOREO BEAR, works?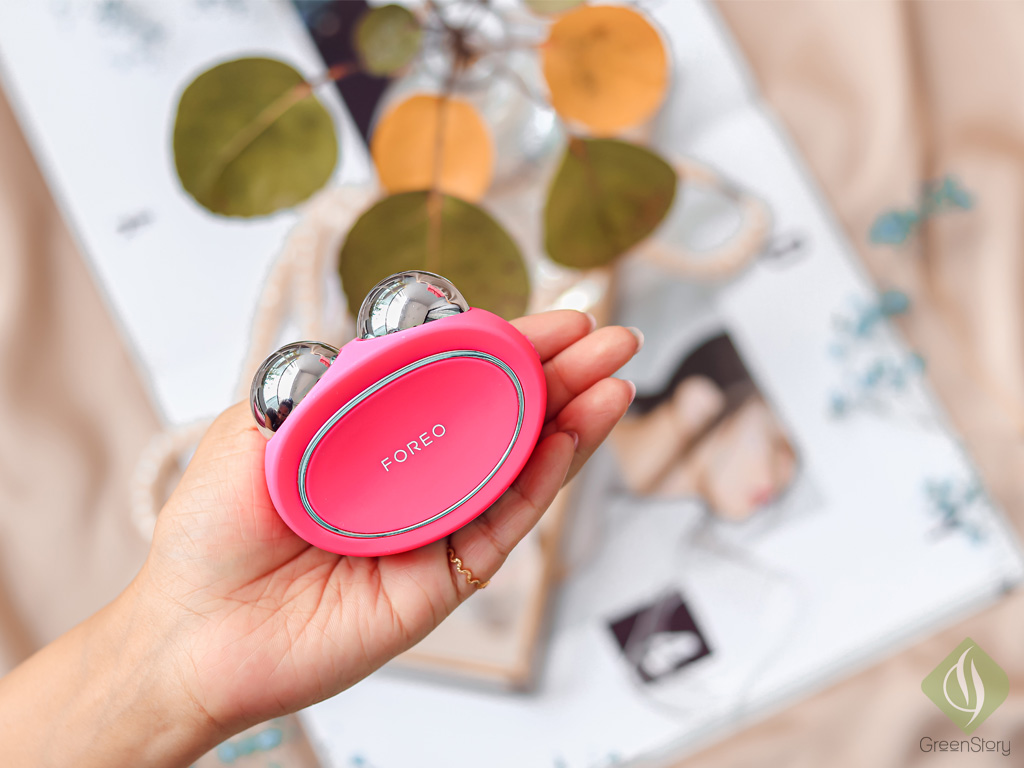 BEAR combines superior and safe microcurrent with FOREO's T-Sonic pulsations for its curated microcurrent facial. The device is app- guided. There is one (at the moment. I'm sure FOREO will come up with more in the future), duration of 2.30 minutes treatment session. The session guides you from the start of applying the microcurrent conductive serum to how you should apply(movements) the device for the best result.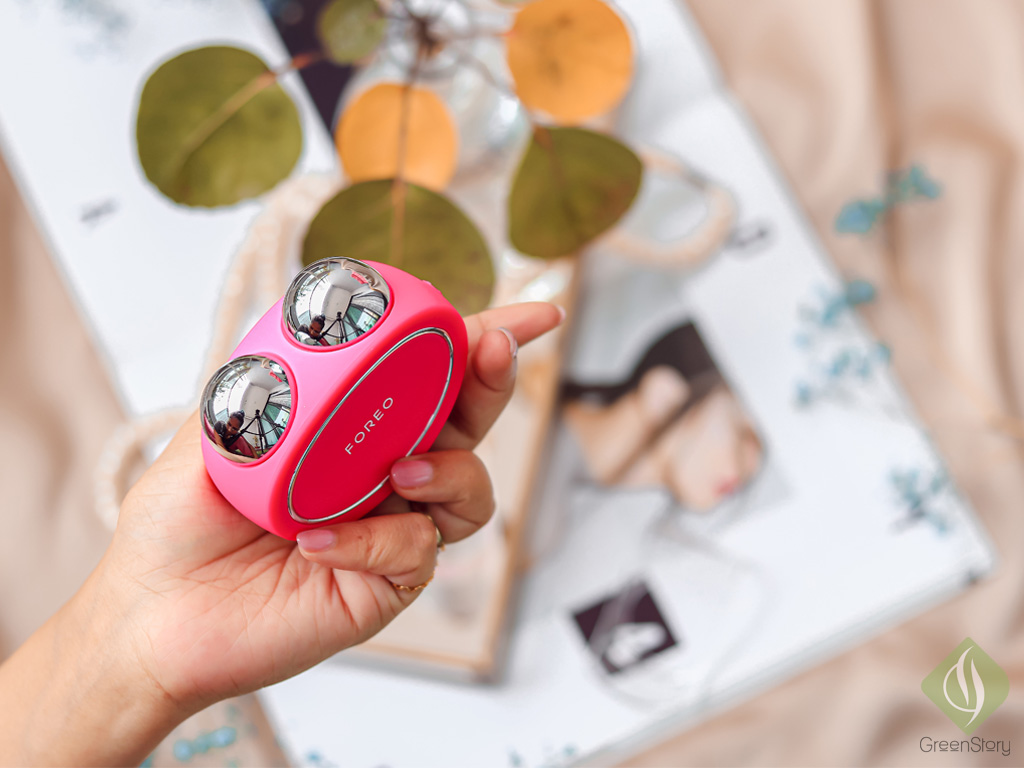 During microcurrent workouts, gentle T-Sonic pulsations massage the face to enhance the absorption of SERUM SERUM SERUM (or any other conductive serum you might want to use) that you use before the treatment as well as for the skincare products used afterward.
BEAR has an Anti-Shock System withs ultra-smart sensors to scan and measure the skin's resistance to electricity at a rate of 100x per second. So when the skin is in contact with BEAR, the microcurrent intensity will automatically adjust to best suit your skin. BEAR's Anti-Shock System eliminates any chance of the micro-current shock but effective treatment in every use.
Apart from the app, there are also 5 adjustable intensities of microcurrent that you can adjust as per your own preference. If used manually without the app, I found the BEAR stops automatically after 2minutes of a microcurrent treatment session.
How to get a toned face with FOREO BEAR?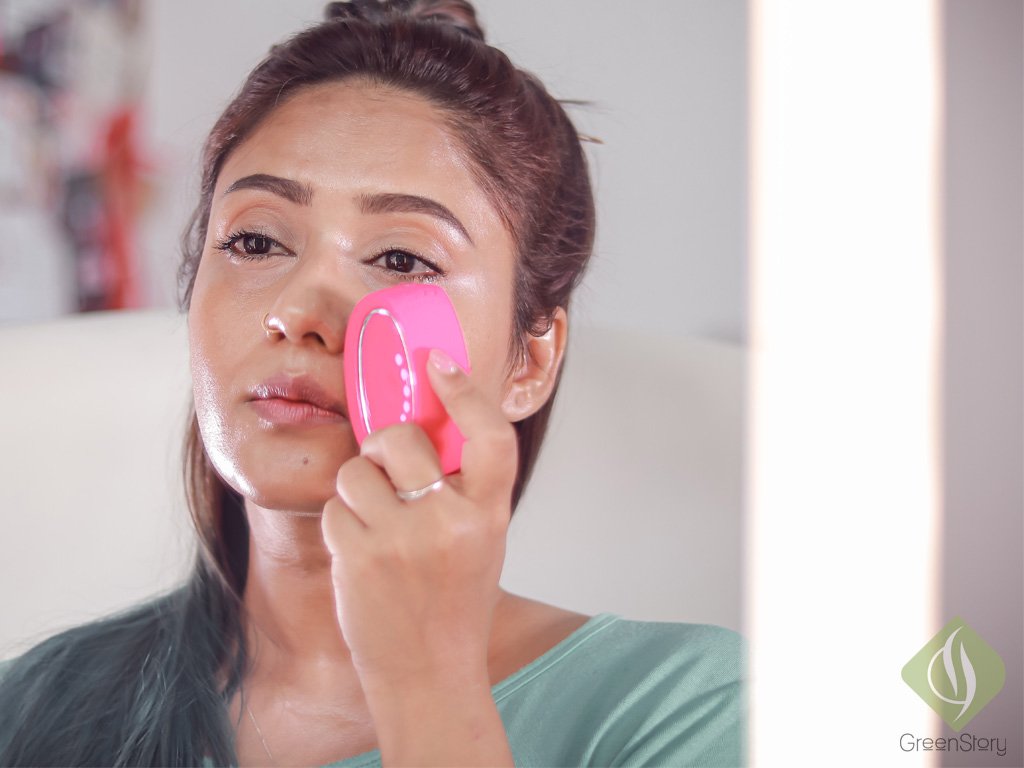 Day or night, anytime you can do a microcurrent facial toning with the BEAR.
It's recommended by FOREO to do the treatment once in 24 hours. I usually do my session at my pm skincare routine.
When the BEAR is turned on and in contact with the skin it feels a very comfortable flare of current underneath the skin. The feeling is really comforting and also recharging at the same time. I feel more awake after each session of Microcurrent Facial Toning Treatment with my FOREO BEAR.
Now…
let's talk about a conductive barrier for a micro-current device.
Why a conductive barrier & SERUM SERUM SERUM?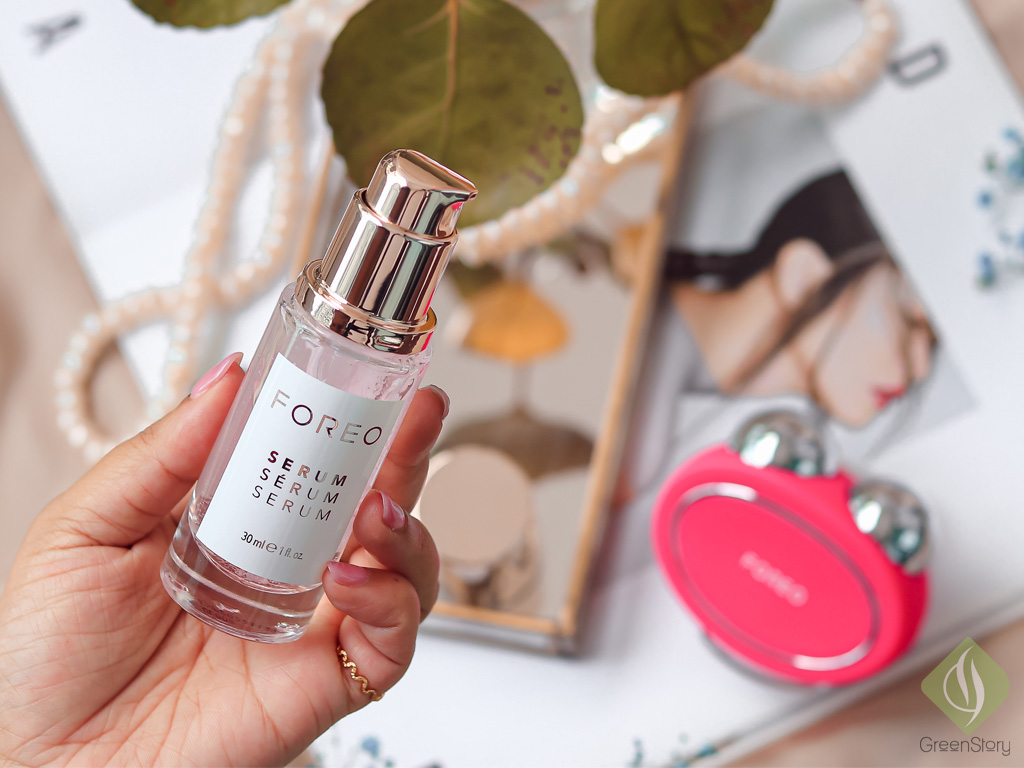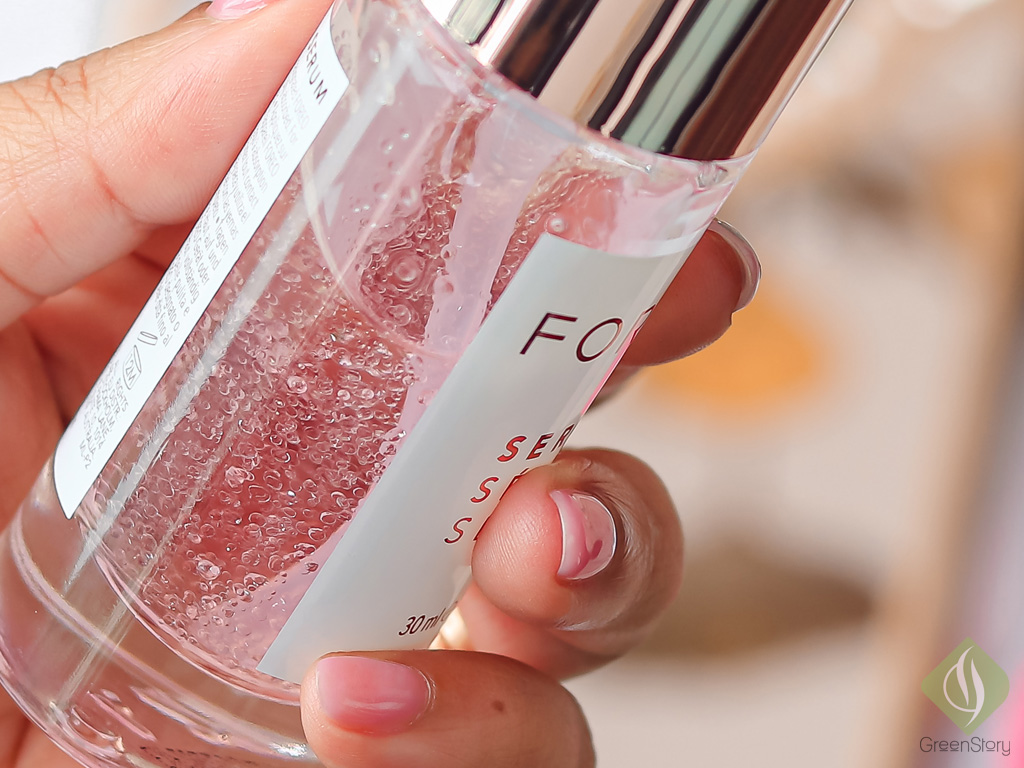 Ingredient list:


Aqua/​Water/​Eau, Glycerin, Propanediol, Cyclopentasiloxane, Diglycerin, Xylitol, Pentylene Glycol, Butylene Glycol, PEG/​PPG-17/​6 Copolymer, Glyceryl Polymethacrylate, Glycereth-26, PEG/​PPG-14/​7 Dimethyl Ether, Squalane, Hyaluronic Acid, Sodium Hyaluronate, Sodium Hyaluronate Crosspolymer, Hydrolyzed Hyaluronic Acid, Betaine, Octyldodeceth-16, Glyceryl Glucoside, Propylene Glycol, Caprylyl Glycol, Carbomer, Triethanolamine, Acacia Senegal Gum, Gelatin, Panthenol, Xanthan Gum, Trehalose, Urea, Ethylhexylglycerin, Adenosine, 1,2-Hexanediol, Sodium PCA, Serine, Glucose, Algin, Disodium Phosphate, Glyceryl Polyacrylate, Pullulan, Hydrolyzed Glycosaminoglycans, Potassium Phosphate, Red 4 (Ci 14700), Benzyl Glycol, Raspberry Ketone
Here is the thing, never ever use a microcurrent device without a compatible conductive gel/serum to safely transferring microcurrent from the device to the skin. It's a must fact to make sure.
For the BEAR, looking elsewhere isn't necessary. FOREO's SERUM SERUM SERUM is specially formulated with conductive ingredients (for instance, glycerin) that allows BEAR to work ideally and effectively.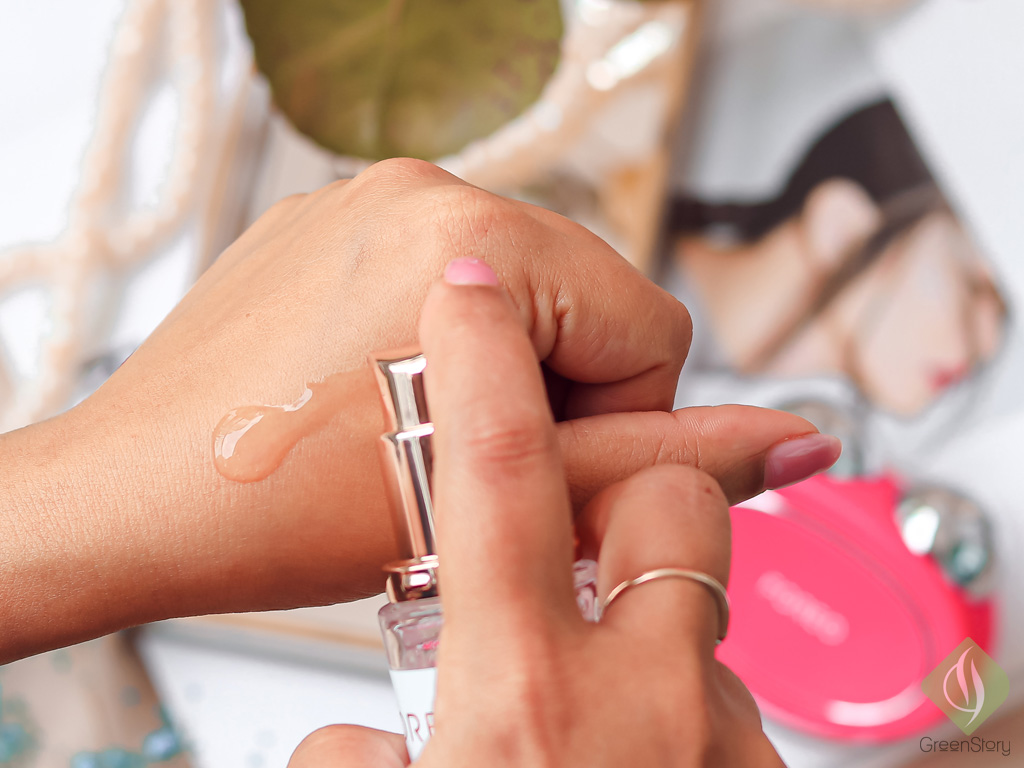 SERUM SERUM SERUM features a Hyaluronic-acid based and squalane-infused micro-capsule formula. Its antioxidant power gives a healthy, youthful look almost instantly.
This serum goes ultra-smooth on the skin that really helps the BEAR to glide on the skin without tugging. I must mention that not only with BEAR but SERUM SERUM SERUM works great alone as a moisturizing and skin reviving serum or with my LUNA 2 for a deep skin massage. Additionally, its no fragrance character felt soothing to my nose.
How I experienced FOREO's Microcurrent Device, BEAR so far?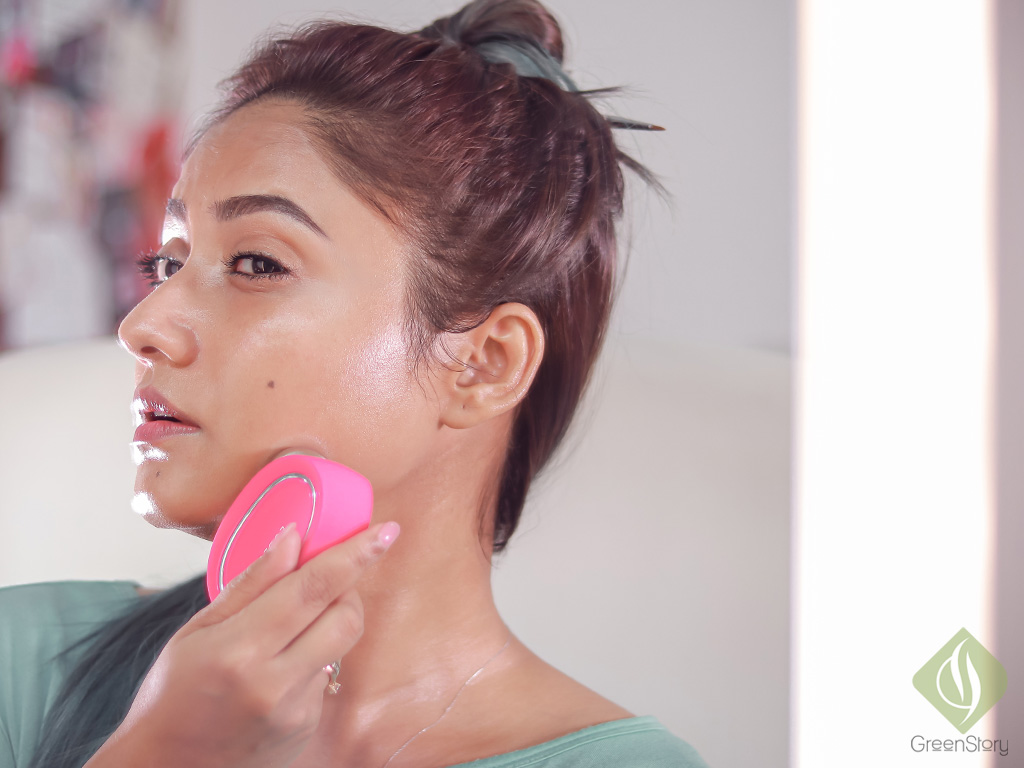 I real really wish that I had taken a before picture at the very first day I started using BEAR. Sigh, I didn't!
I've been taking a microcurrent facial session every other night. By these three weeks of using I somehow feel my jaw-line has sharpened a bit. Especially if I look back to my post-pregnancy Jawline, fluffed up like a fluffy bread haha! I've been doing my regular workouts though, and on a journey of getting back to my pre-pregnancy shape but hey, jawlines just don't get firm like magic.
Are you wondering if this beauty device is really working for me?
There is definitely some magic of BEAR and the Microcurrent Treatment. It did tighten up my skin to some extent till now. Yet I'm actually looking out for more firmness. I assume that will take a while as in the learning curve of my facial muscles so I can apply the device in the right way when I'm using it without the app.
One thing it did for sure is replaced all the face rollers that I've been jugging with all these days!
Yes, I'm being blunt with my opinion. Those face rollers and guasha stones (jade and all) that I did invested my money on feeling like a waste after experiencing FOREO BEAR.
What you'll get in a new FOREO UFO box?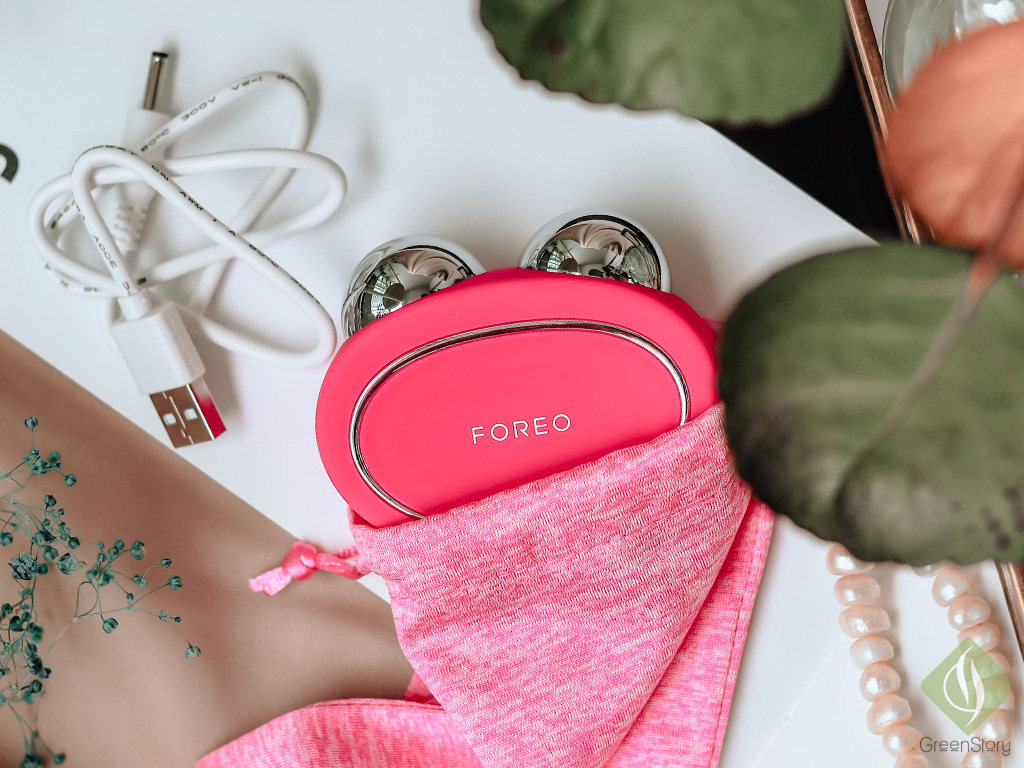 BEAR device
Plastic stand
Travel pouch
USB charger
Manual
SERUM SERUM SERUM sample
Is microcurrent treatment suitable for everyone?
Microcurrent is suitable for all skin types however according to my research there are some skin conditions for instance if you have severe acne, open sores, or medical conditions that include a metal in your body, shouldn't go for microcurrent treatment.
Plus if you are a mommy to be, definitely think this for the future when you're not pregnant. And for more detailed information you can always visit FOREO website.
Lastly,
you might be thinking, if the FOREO BEAR worth the money or not?
At Sephora Malaysia BEAR retails at RM 1380. Yes, It's a pricey device to have!
The question is, do you want it?
Do you want to have your microcurrent facial done at home and get that spa vibe with a less cut from your pocket? Do you want a continuous microcurrent treatment in your skincare routine that will actually benefit you with the time?
If your asnwers are YES then you sould be thinnking of investing on this device.
DO you own any FOREO BEAR (full size or mini)?
Tell me how it's working for you…
*** This content is a collaboration with foreo.com however I've shared what I experienced as I experienced it.