The way Bourjois describe their NEW Rouge Edition AQUA Laque…
[color-box]
ROUGE EDITION AQUA LAQUE
MIRROR-LIKE SHINE, INTENSE COLOUR & 10HR HYDRATION.
The non-sticky formula glides on easily, creating a water-light sensation on the lips. And what's more, it contains Nymphaea extract to smooth and moisturise. Available in 8 mouth-watering shades, from soft nudes to statement brights. THE AQUA FACTOR? Once applied, it doesn't run or feather so no need for a lip liner!
[/color-box]
Bourjois Rouge Edition Aqua Laque, yes guys, It's a new Bourjois lipstick! Couple of months ago Bourjois introduced their new range of lipstick called Rouge Edition Aqua Laque. If you reading me regularly then you already know I'm a big fan of their Rouge Edition Velvet Lipstick(review here…). I got so excited when I heard about Bourjois new lipstick launch 🙂 As soon as they were available in my nearest Watsons I literally ran in to the store.
[wp_ad_camp_4][/wp_ad_camp_4]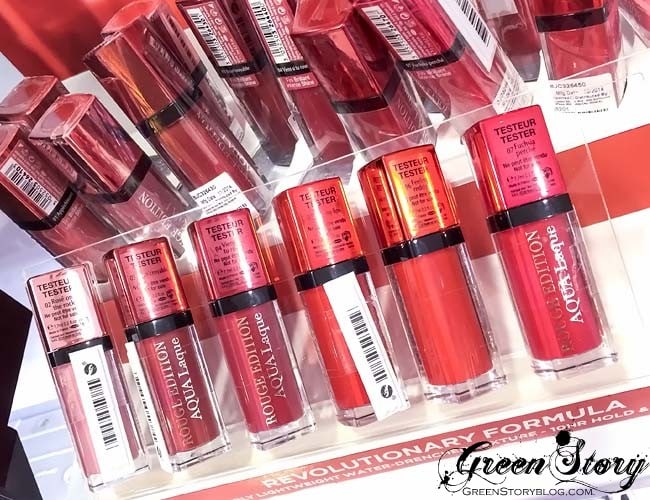 Bourjois Rouge Edition AQUA Laque comes in a similar packaging with sponge tip applicator like their velvet lipstick but this time the cap is shiny, sort of metallic in finish. The whole packaging is glass like plastic as before with consist 7.7ml of product. Rouge Edition AQUA Laque lipstick has eight variety of shade with nude, pink, red and coral tone.

They named as:
01 Appechissant
02 Rose On The Rocks
03 Brun Croyable
04 Viens Si Tu Roses
05 Red My Lips
06 Feeling Reddy
07 Fuchsia Perchie
08 Babe Idole
[wp_ad_camp_3][/wp_ad_camp_3]
Swatches below: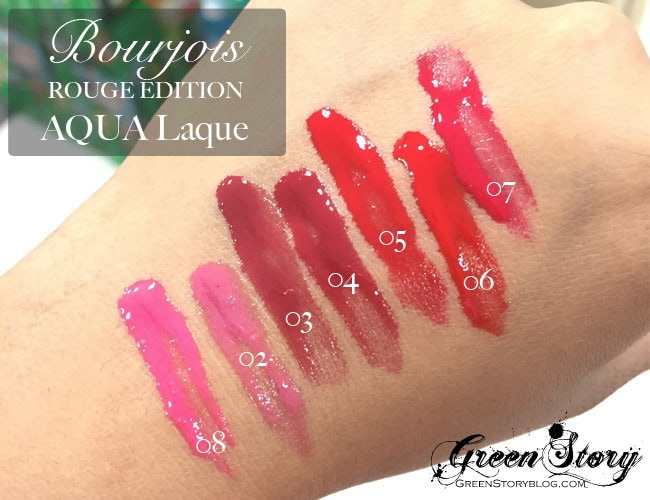 I swatch them in store, the shade '01 Appechissant' wasn't available there.
Now let me come straight to the point. Though Bourjois state them as 'Lipstick' but if I simplify them in a category then these Aqua Laque lipsticks are nothing but lipgloss with good color payoff. Their texture is quite sheer, thin, lightweight and not sticky at all. They all are very shiny, not that sparkly cheap kind of shine but looks like the shine we see in water. They all are nicely pigmented however only reds and pinks stains on lip a bit but other doesn't. They smells something sweet and soft unlike painty smell of Bourjois Velvet lipstick which I really like.
I usually do not like or wear lipgloss so I only picked one, 03 Brun Croyable, from the range so that I can actually try how they works.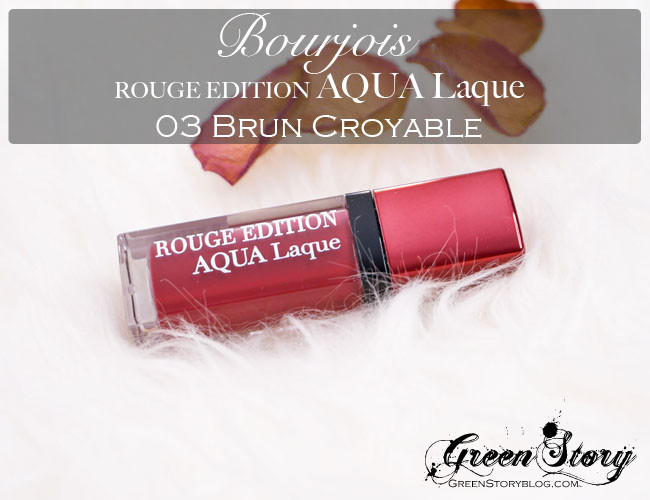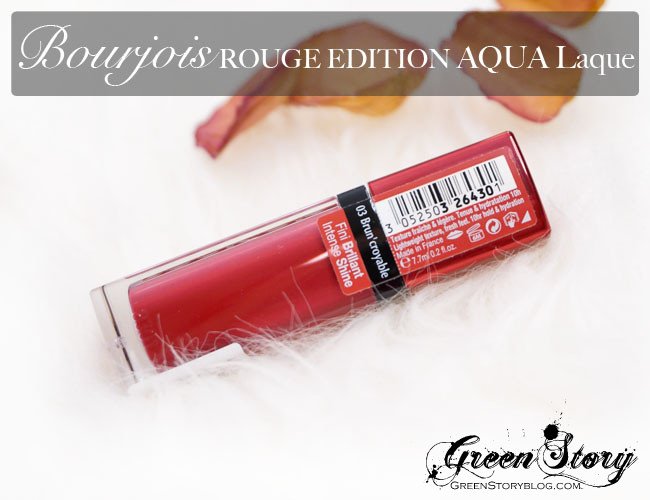 [wp_ad_camp_3][/wp_ad_camp_3]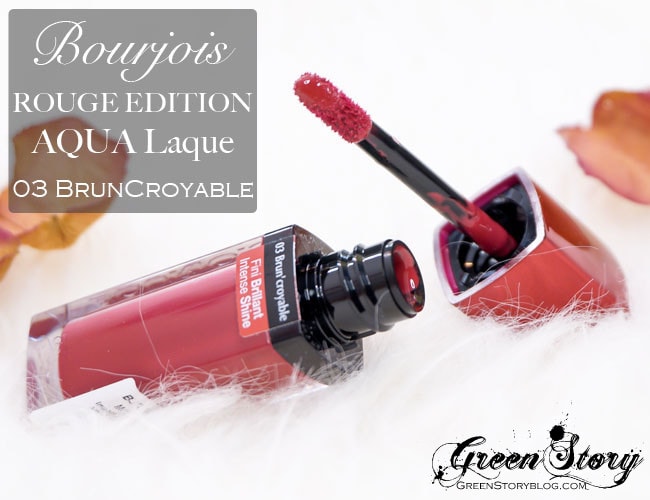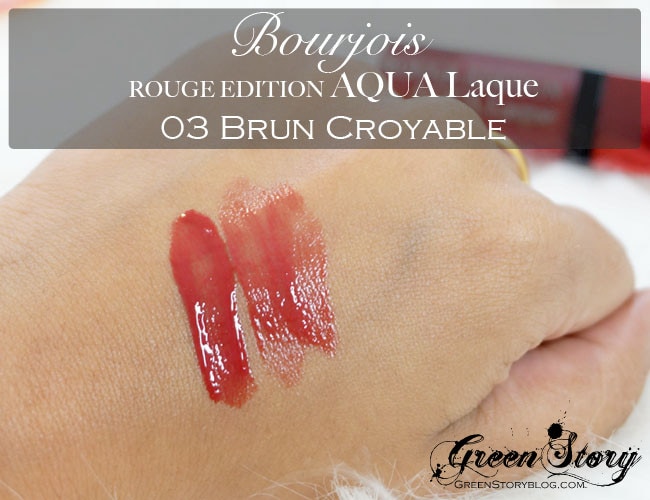 [wp_ad_camp_3][/wp_ad_camp_3]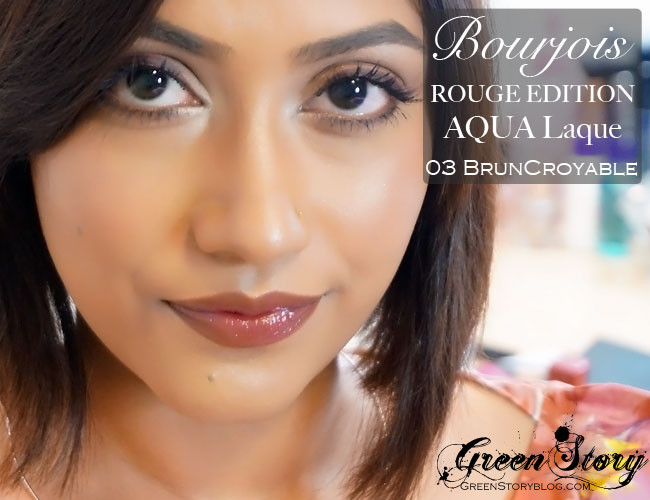 Bourjois Rouge Edition AQUA Laque in shade 03 Brun Croyable is almost a nude shade with red hue. It's more of a mature nude from the whole range. Once applied the shade tones down a bit. It gives an amazing cooling sensation in lip when applied, doesn't feel tacky or sticky but feels very lightweight and hydrating. They doesn't feather or bleed either but stays put all the way. Although Bourjois Rouge Edition AQUA Laque claims to give 10 hour of hydradtion but I found they don't really last long in lip. They are not transfer proof by any means so when you eat or drink they will be gone. Even when I didn't eat or drink I needed to re-apply within 2 hour. Other than that I absolutely love every fact about this lipstick(maybe I should say lipgloss).
Bottom line? I must say Bourjois again did a very good job providing a high quality lip product within a budget price. However, I would also like to mention that these lipsticks are amazing only if I take them as a lipgloss. I'm quite not agree mentioning them as lipstick. If you are a lipgloss person then you must try them and I bet you'll love them. When you are a lipstick person and love opaque layer of color for lip then you might get disappointed by Bourjois Rouge Edition AQUA Laque lipstick. Keep this fact on mind before buying Bourjois Rouge Edition AQUA Laque lipstick.
…So, have you tried any Bourjois Rouge Edition AQUA Laque lipsticks? I would love to know your thoughts on them. Do share your opinion in the comment box below 🙂

[wp_ad_camp_2]
[color-box]
Availability & Price:
Boots UK | Superdrug UK: £8.99
Watsons | Bourjois kiosk at Sunway Pyramid: RM42 to 45.50
[/color-box]
[signoff][/signoff]