It is definitely amazing if we can avoid squeezing our nose and chin to get rid of blackheads and whiteheads. No one likes that pain, right? What if I say, you can get rid of blackheads or any heads just using a pump of a product every night? Yes, my dear, bliv Off With Those Heads Sebum Gel got you covered.
[wp_ad_camp_4][/wp_ad_camp_4]
If you read GreenStory for a long time then you know that last year I've tried the Cellnique Skin Action Sebum Gel (review here). b.liv Off With Those Heads Sebum Gel is the same type of blackheads and whiteheads reducing product. The gel goes deep into the pore and soften the clog of the pores and balance the oil secretion.
Needless to say, as long as pores are clean and oil secretion is in control the skin will breathe like never before.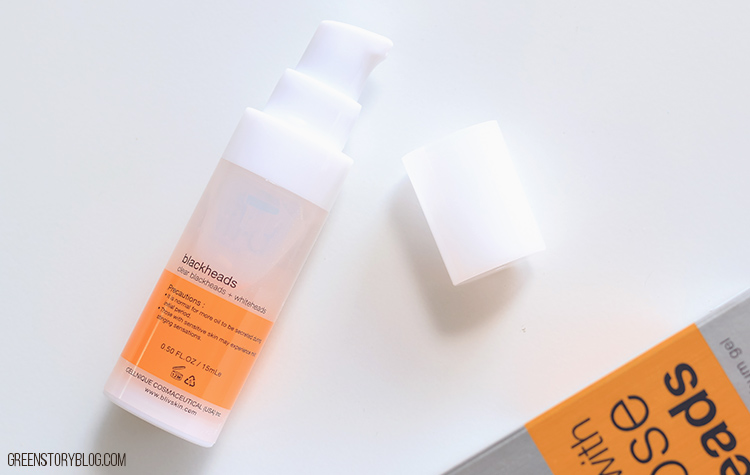 The gel has a lightweight and thin consistency. It feels water like and gives slightly cooling sensation when applied. Absorbs into the skin within in a minute. It doesn't feel anything once the gel gets absorbed. Thus it's easy to incorporate with other skincare product.
I use it in my T-zone area mainly at night, sometimes in my daytime skincare as well. When I started using it, in the first week, this sebum gel kept me in the confusion as my T-zone started to produce more oil than usual. It went so bad that I stopped using it after 3 days. Then in the second week, I started using it again but in the every other day. Then I noticed a change in oil secretion, it was in control. In the third week of using the sebum gel, my T-zone came back to fully normal.
b.liv Sebum Gel is mainly focused on getting rid of blackheads and luckily, I don't have blackheads. All I was experimenting for is my whiteheads which I have quite a lot. The product turned out to be effective after the 3rd week. I'm noticing a generous reduction of my whiteheads. Specially my nose is more even now. Additionally, there is a noticeable change in my pores (I have a few on the top of my nose), they seem to be in a good shape.
I didn't feel the need to squeeze my nose or chin for last 4 weeks. The way bliv Off With Those Heads Sebum Gel kept me whiteheads free I'm sure it'll work on blackheads as well. I, simply, like this product. If you're tired with pesky-heads then you should give this sebum gel a try.
[color-box]
Shopping Info:
b.liv Off With Those Heads Sebum Gel | RM99 for 15ml
Available at b.liv website
[/color-box]
*** This product was sent to me by b.liv Malaysia for reviewing purpose. However, my opinions are my own based on my experience.
[signoff][/signoff]