Don't we all know how beneficial coffee scrub is for the body? Especially when it comes to instant cellulite reduction? [That's a myth though in my experience. It only smooths out the skin by getting rid of dead cells. It can amplify the visibility of cellulite reduction only if you're in a healthy diet and following a regular workout routine.] If you go through Pinterest then you'll find thousands of homemade coffee scrub recipes. But rather taking all those steps of making the scrub what if we get it readymade?
I personally am a fan of all body scrub. If you've read my other post then you know my bath ritual is incomplete without a good body scrub. A readymade coffee scrub that has not only coffee but other good ingredients like coconut fruit, coconut oil, grape seed oil, dead sea salt, brown sugar, jojoba oil, vitamin E and etc – Body Breakfast Coffee Scrub. Yes, beautiful, I'm going to talk about why I've been loving this coffee body scrub nowadays!
Why I love Body Breakfast Coffee Scrub:
As I mentioned earlier, this Body Breakfast Coffee Scrub contains coconut oil and fruit (not the shell) crush, thus it smells heavenly. That's the first reason why I love it. Secondly, as because it contains various kinds of oils so it doesn't strip off the natural oils from the skin while exfoliation but leaves the skin extremely nourished. It feels kind even the day my skin is sorta sensitive. The scrub leaves my skin so soft that I barely feel the need to apply a body lotion afterward (but I do, can't risk dehydrated skin after all).
Salt (read about my favorite salt scrub) and brown sugar assure the maximum effectiveness of exfoliation as well as free the skin from any harmful bacteria. Coffee is, of course, the main source of caffeine and there is antioxidant as well. Caffeine and antioxidant help to visibly smoothen, tighten the skin. Over time they also help to even out the skin tone and fight premature wrinkling. There are actually a lot of skin benefits of using a coffee scrub but no bad side to mention.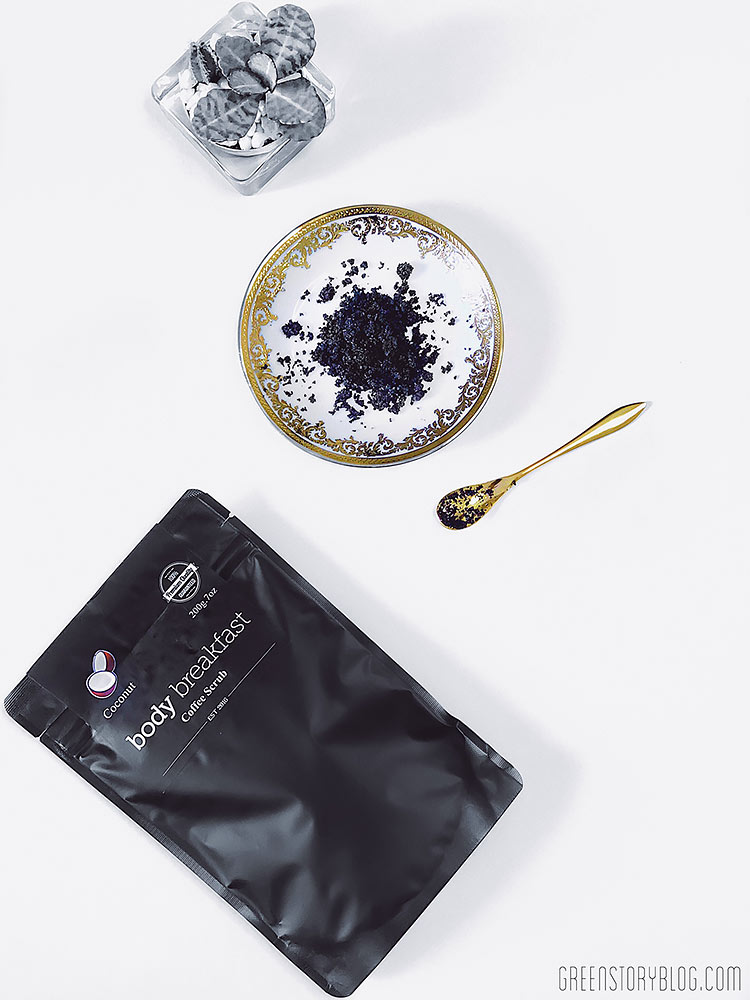 How I use Coffee Scrub?
Using a body at least once a week is a mandatory part of my weekly relaxing ritual or you can also say my bath ritual. To use a coffee scrub you must get into the shower because it's a bit of a messy job to do. I like to soak in the hot water first for 15 minutes or so and then I apply my body scrub. Massage my skin as long as I need and then just simply rinse off the scrub.
The day I use the scrub I avoid soaps or shower gels. I like to enjoy the natural smoothness and fragrance the scrub leaves behind as long as possible.
Nay (!) facts of Body Breakfast Coffee Scrub:
The ingredient list says that it has Arabica coffee powder, I feel the amount of coffee is quite low in this. Arabica coffee usually contains a lesser amount of caffeine. I would love the scrub more if it had more coffee in it.
It comes in a zip lock packet which I find hard to use and re-use without losing the quality of the product. I felt insecure and replaced the packet with a jar to keep the scrub in a good intact condition.
[color-box]
Shopping Info:
Body Breakfast Coffee Scrub | RM 51.50
Available at Hermo and Body Breakfast website
[/color-box]