I've been eyeing on I'm From skincare range for quite sometimes. Then late April got so happy when I was sent the newly launched Ginseng Serum by the brand IM FROM. I was using the Hadalabo Lifting & Firming Serum before that and I badly wanted a change.
This month of May I was living with this Ginseng Serum by IM FROM. And now, after using this for three weeks continuously, I think it's the time when I can share my Ginseng Serum experience with you guys.
First of all, I love the minimal packaging of this serum. There is nothing fancy but a simple seethrough glass dropper bottle with gorgeous brown serum in it. Minimal packaging and the look of the serum from outside kinda speaks that, "try the best I've inside me'!
What is this Ginseng Serum according to the brand IM FROM?
I'm From Ginseng Serum is an MFDS (Ministry of Food and Drug Safety) certified anti-wrinkle product. The serum Contains [6-year-old] 7.98% Ginseng Extract. Claims to increase elasticity, nourish and rejuvenate the skin. The serum is clearly suggested for middle age aka above 30 skin.
Ginseng is a very well known ingredient in anti-aging skincare around the world. It is slightly more popular in Asian countries, ancient Chinese beauty history says the Ginseng herb, 'the herb of youth'. This Asian herb is also known to even out and brighten up skin tone.
I did use products that have some sort of ginseng in them before. But I've never used a product that has this high concentration of actual pure ginseng extract in it. I'm sure you can already guess how excited I was to try out the serum.
Apart from the holy Asian anti-aging Ginseng herb, this new serum by IM FROM also contains vitamins, minerals, hyaluronic acid, and antioxidants.
Ingredients of I'm From Ginseng Serum:

Water, Red Ginseng Extract, Butylene Glycol, Betaine, 1,2-Hexanediol, Camellia Sinensis Leaf Extract, Glycerin, Panax Ginseng Seed Oil, Glycyrrhiza Uralensis (Licorice) Root Extract, Paeonia Albiflora Root Extract, Angelica Gigas Root Extract, Rheum Palmatum Root Extract, Angelica Pubescens Root Extract, Schizonepeta Tenuifolia Extract, Phellodendron Amurense Bark Extract, Hydroxyethylcellulose, Cyclopentasiloxane, Dimethiconol, Bis-PEG-18 Methyl Ether Dimethyl Silane, Ethoxydiglycol, Acrylates/C10-30 Alkyl Acrylate Crosspolymer, Tromethamine, PEG-60 Hydrogenated Castor Oil, Ethylhexylglycerin, Hydrolyzed Glycosaminoglycans, Hyaluronic Acid, Glyceryl Polyacrylate, Adenosine, Disodium EDTA, Fragrance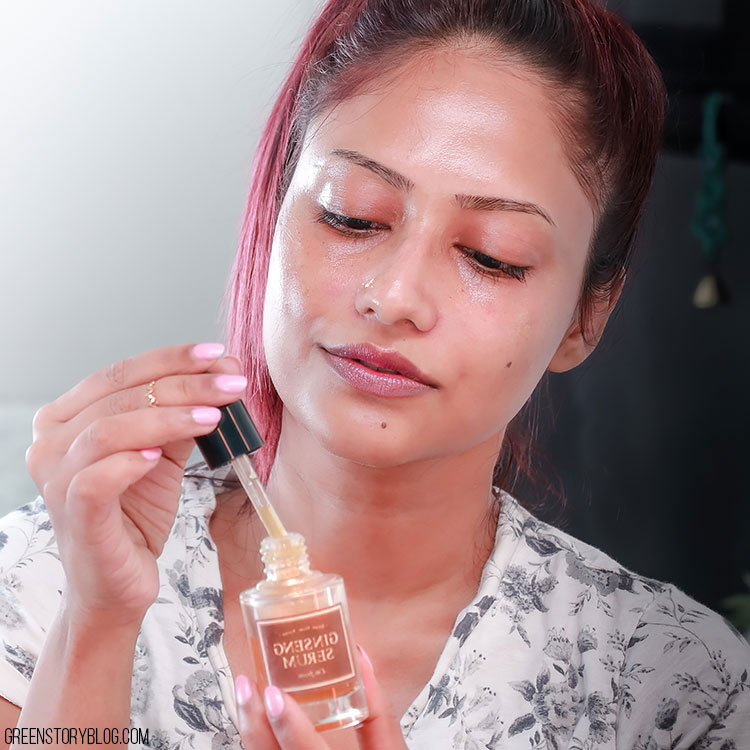 Are you wondering if IM FROM Ginseng Serum is appropriate for your skin and age?
I'm in my 30th right now and I've got a combination skin type. Honestly, I was slightly nervous at the beginning about this Ginseng thingy. The serum looks completely like honey from outside of the bottle. It gave me a feeling that it might be sticky. Thank goodness that it didn't turn out that way.
The serum has a nice consistency, not thick at all but a bit more than the line where I would call it thin. It smells something very soft and sweet and somewhat herby. I'm not sure how should I describe the scent but it's there but goes away when applied.
If you don't like fragrance in your skincare then you might not like it. In my case, I like things with a nice scent. Of course, I wouldn't tolerate a scent in my skincare which is strong like a perfume!
How I use Ginseng Serum by IM FROM?
I must mention, along with my combination skin type, the weather is always very hot here in Kuala Lumpur. I added the IM FROM Ginseng serum in my morning and basically daytime skincare routine.
The serum applies with ease but it feels a tad sticky (but not overly greasy and at a tolerable level) on the skin. After a few uses, I reduced the amount to see if I was using too much that was causing stickiness. That turned out to be the wrong thing I was doing!
In the beginning, I was using a full dropper when it gave me a sticky feeling. Then I started taking only 1/3 amount of the dropper and pat-apply it on my face. It felt better and non-sticky. I could easily reach for my moisturizer next.
It's good that IM FROM Ginseng Serum isn't any serum that would sting. For some unknown reason, I had this feeling before using it thinking about the C 21.5 Vitamin C serum. I am really pleased to find the Ginseng Serum as a very hydrating and moisturizing one. The serum makes the skin bouncy and soft almost instantly (I assume it's because of the silicon derivate, Cyclopentasiloxane).
After three weeks of use, I'm noticing that the serum is performing very well maintaining my skin health. There is no lack of hydration, haven't had any acne, bumps, rashes, or such either. Additionally, my makeup applies very nicely on top of this IM FROM Serum 😜 I like this serum!
However, about the anti-aging and wrinkle care benefits, I didn't see any visible difference yet when I'm almost half of the bottle. I suppose that will take time.
Do I recommend I'm From Ginseng Serum?
– I do. It's a good serum.
From my experience, I believe the serum will be suitable for all skin types if the weather is cold. On the other hand, it might not be suitable for overly oily skin and humid weather.
Have you tried IM FROM Ginseng Serum? Or anything else with Ginseng you love and recommend? Do share it with me in the comments below! I'm truly keen on trying more products with Ginseng. 
[color-box]
Shopping Info:
I'm From Ginseng Serum Serum | $25.92 for 30ml
[on sale right now]
Shop from Wishtrend Website directly. They always have a lot of attractive promotions going on and they offer international shipping with std and fast options.
BONUS: You can receive a 5$ coupon instantly if you use my code '146262906' upon signing up. Key in the Code when asked for 'SPONSORSHIP PROGRAM' code on the registration form.
[/color-box]