Pohela Boishakh(Bangla New Year) 2014 is just 2days away!! Are you ready yet?? Here is another look with bright gold and blue eyes for the event and specially keeping those in mind who loves to wear bold look. By the way, please do ignore my black-T, you just have to incorporate this look with a proper boishakhi costume like saree or Kurti anything you want.
[wp_ad_camp_3][/wp_ad_camp_3]
Lets Get in eye tutorial: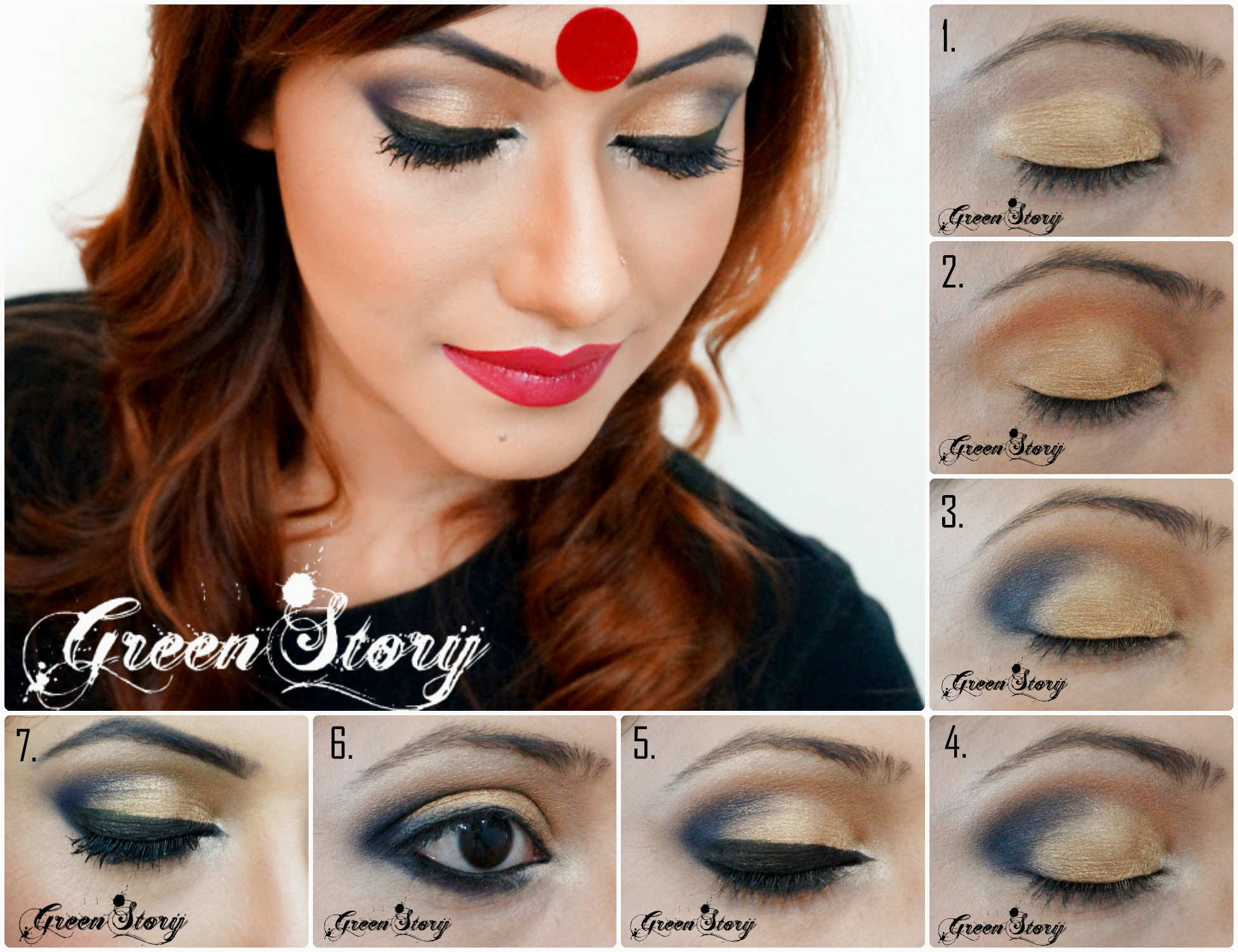 1. Prep your eyes first then apply shimmery gold shadow all over the lid.
2. Taking a warm brown shadow define your crease area.
3. Now with a deep navy blue shadow define the outer V of eye creating C shape.
4. Highlight your brow bone and tear duct area.
5. Draw a thick line in the upper lid. Do not wing it just smudge it in the blue shadow.
6. Tight line upper and lower lash line with a black kajal. Then smudge the kajal of lower lash line with that same navy blue shadow you used previously.
7. Lastly, clean off if there is any fall out of eye shadow. tend your brows, put on few coats of mascara and you'll be ready to rock.
[wp_ad_camp_4][/wp_ad_camp_4]

Product I used here:
*MUA face primer
*MUA pro base fixing mist
* MAC pro-longwear foundation NC40
*MAC pro-longwear concealer NC35
*ELF HD powder corrective yellow
*BH cosmetics 10color blush palette
*The Balm maryloumanizer
*Sleek ultra matte V2 for blue shadow
*MUA going for gold shaow palette
*Stila smudge stick waterproof eye liner
*Loreal double extend mascara
*BHcosmetics flawless brow trio
*MUA reckless and Ioni natural mixed on lip
[wp_ad_camp_5][/wp_ad_camp_5]
Hope you liked the look!
No matter what you going to wear in Boishakh do not miss to wear a red bindi/tip and colorful bangles. A boishakh celebration will be incomplete without them.  Early Boishakhi greetings to all of you and Guys, you can share your boishakhi look with me, I would love to see how you looked 🙂


[wp_ad_camp_2][/wp_ad_camp_2][signoff][/signoff]