When its about bright and glowing skin Vitamin C and Niacinamide is the TRUTH 🌞If you're someone who frequently suffers from acne breakouts and post-inflammatory hyperpigmentation (PIH), or you're someone like me who has a decent skin condition but struggle to maintain that even skin brightness then struggle no more. Klairs Vitamin C Serum and elmt Skin Illuminating Solution these two products together in skincare are your solution.
So I incorporated these two magic ingredients for glowing skin, Vitamin C and Niacinamide, in my skincare for a month now by layering ELMT Skin Illuminating Solution and Klairs Freshly Juiced Vitamin Drop respectively. Mostly in my morning skincare routine.
As I said before I have a decent skin condition with a combination skin type. I don't have a pore issue or acne issue but my main skin concern is staying away from dull skin and having that radiant, glowing skin all the way. These two Korean skincare products layered together have been truly helping me with my targeted result.
Klairs Vitamin C Serum AKA Freshly Juiced Vitamin Drop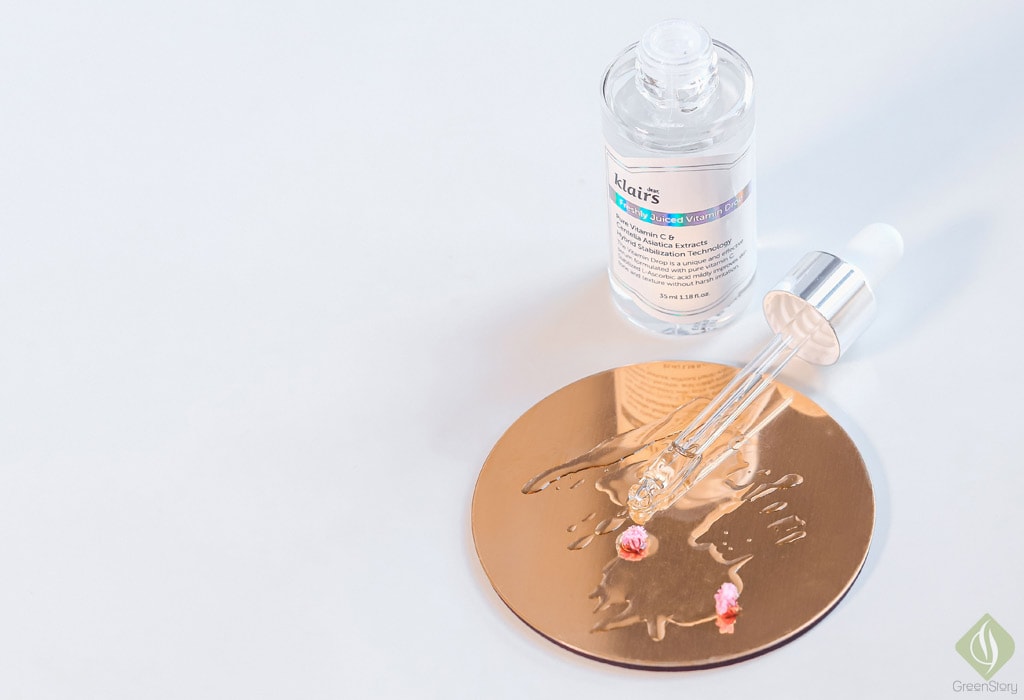 First of all, I love the Klairs Vitamin C Serum packaging. It's clean and the product inside is visible, unlike other vitamin C products.
Why so?
Klairs Vitamin C Serum is stabilized to be effectively kept safe in a clear bottle. Also, it contains only 5% of vitamin C. Although Freshly Juiced Vitamin Drop is a vitamin C serum it's not entirely one. It contains other beneficial ingredients that work in conjunction to accelerate Vitamin C, e.g. Centella etc.
Ingredient list:

Water, Propylen Glycol, Ascorbic Acid, Hydroxyethylcellulose, Centella Asiatica Extract, Citrus Junos Fruit Extract, Illicium Verum(Anise) Fruit Extract, Citrus Paradisi(Grapefruit) Fruit Extract, Nelumbium Speciosum Flower Extract, Paeonia Suffruticosa Root Extract, Scutellaria Baicalensis Root Extract, Polysorbate 60, Brassica Oleracea Italica (Broccoli) Extract, Chaenomeles Sinensis Fruit Extract, Citrus Aurantium Dulcis (Orange) Oil, Sodium Acrylate/Sodium Acryloyldimethyl Taurate Copolymer, Disodium EDTA, Lavandula Angustifolia (Lavender) Oil, Camellia Sinensis Callus Culture Extract, Larix Europaea Wood Extract, Chrysanthellum Indicum Extract, Rheum Palmatum Root Extract, Asarum Sieboldi Root Extract, Quercus Mongolia Leaf Extract, Persicaria Hydropiper Extract, Corydalis Turtschaninovii Root Extract, Coptis Chinensis Root Extract, Magnolia Obovata Bark Extract, Lysine HCL, Proline, Sodium Ascorbyl Phosphate, Acetyl Methionine, Theanine, Lecithin, Acetyl Glutamine, SH-Olgopeptide-1, SH-Olgopeptide-2, SH-Polypeptide-1, SH-Polypeptide-9, SH-Polypeptide-11, Bacillus/Soybean/Folic Acid Ferment Extract, Sodium Hyaluronate, Caprylyl Glycol, Butylene Glycol, 1,2-Hexanediol
Now Klairs Vitamin C serum is not any water-like serum, It has a lot of oil ingredients in it and it's oily on the skin. Well, not that heavy oily-oily but more of a lightweight dry oil texture, or it's more appropriate to say it has a squalene-like texture. To be very honest I would probably love this Vitamin Serum more if it wasn't oil-based.
The serum glides smoothly over the skin and gives a kinda warming sensation upon application. It doesn't tingle, sting, or anything later other than that initial warmth for a few seconds. The good part, the serum absorbs fast into the skin. The oiliness also goes away when I apply moisturizer over it.
ELMT Skin Illuminating Solution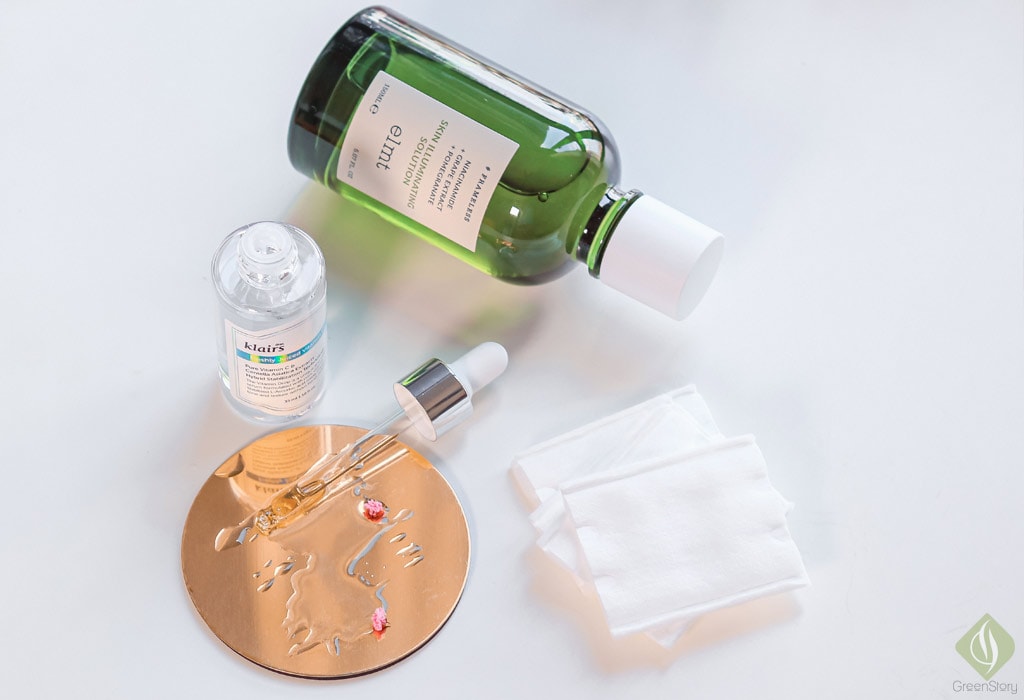 This is the 3rd elmt product I'm using at the moment. Read my reviews on the other two elmt Solutions if you haven't yet. It's more of a minimalist skincare line that is quite impressive. As much as I love the elmt exfoliating solution I'm loving the Skin Illuminating solution as well.
ELMT Skin Illuminating Solution promises radiant and glowing skin because of its 10% Niacinamide content and Greape+Pomegranate extract that boost the effect of niacinamide.
INGREDIENT LIST:



Vitis Vinifera (Grape) Fruit Water, Butylene Glycol, Niacinamide, Water, Glycerin, Dipropylene Glycol, 1,2-Hexanediol, Hydroxyacetophenone, Trehalose, Vitis Vinifera (Grape) Seed Extract, Panthenol, Punica Granatum (Pomegranate) Fruit Extract, Xanthan Gum, Allantoin, Resveratrol, Cyanocobalamin
It's a clear, colorless, and fragrance-free toner that is almost water-like and gives a pleasant "slip" upon application applied. Also, it doesn't feel anything heavy or sticky on the skin thus making it very pleasant to follow with the next skincare step right away.
You might think this higher niacinamide percentage of the toner might cause irritation however I haven't had any issues with my daily use. I in fact felt it to be very gentle. With or without layering the Klairs Vitamin C Serum on top, my skin has been acting very well with ELMT SKin Illuminating solution. Skin feels clear and breathing right after the application.
Although it has a 10% of Niacinamide in it it's a toner so I personally don't expect much of a spot removing the effect from it but yes with other concentrated products this niacinamide toner does help to get clearer skin.
I haven't been using this only with the Klairs Vitamin C Serum But also at night with my retinol product.
YES,
niacinamide works complementary way with retinol products. Because it's a toner with niacinamide it makes it easier to layer under the retinol. I love ELMT skin illuminating toner for this fact. After all, not many toners are available there with this high percentage of niacinamide, and the niacinamide, serums are definitely heavier than a toner.
How have I experienced This Duo of Klairs Vitamin C Serum and ELMT Illuminating Solution While Layerd?
This is how my routine was for the past month (mostly)…
Morning:
1. Cleanse – been in a rotation with Drunk Elephant Beste No. 9 Jelly Cleanser, Simple Micellar Cleanser, Pixi Beauty Glow Mud Cleanser, and COSRX AC Calming foam cleanser.
2. Tone – the ELMT Skin Illuminating Toner
3. Serum – Klairs Vitamin C serum. One dropper gives me the right amount for my whole face and neck. Yes, I don't skip my neck ever with any skincare products.
4. Moisturize – (been altering between Mamonde Floral Hydro Cream, Origins Original Skin Matte Moisturizer, and Nutox Youth Restoring Moisture Emulsion)
5. Sunscreen – COSRX Aloe Soothing Sunscreen or Mad Hippie Daily protective serum (SPF 30+) when I'm feeling like skipping the moisturizer part and I know I'll be home all the away from the sun.
Night:
1. Cleanse (Same as morning)
2. Tone – the ELMT Skin Illuminating Toner
3. Serum – HadaLabo H.A. Supreme Vita Serum or the Filorga Time Filler Intensive
4. Moisturize – Drunk Elephant A passion every alternative day, Loccitane Immortelle Divine in between
5. Eye Cream: Filorga Global Repair Eye and LIps
6. Face oil to seal all the deal – Sunday Riley LUNA Sleeping Night Oil (Absolutely love using this face oil for years now)
***Note: Wishtrend recommends the layering process other way ways, I mean the Vitamin C Serum First and ELMT Solution after. But I use the ELMT as my toner.
Now the overall result has been great. My skin has been doing really good lately. It's not dull, it's radiant. Last week I went to Khiels 1-on-1 skin session and had my skin analyzed (yes you know everything if you've seen my insta stories) and the result was amazing. The hydration level of my skin is perfect with a strong skin barrier.
That means, fresh and GLOWING skin!
Seeing the result I was so happy how my skincare effort has been paying off!
*** Do keep in mind that skincare results are always different for everyone.
Now there are a couple of questions that get asked a lot of times,
1. When Should I use Vitamin C Serum, in the Morning or at Night?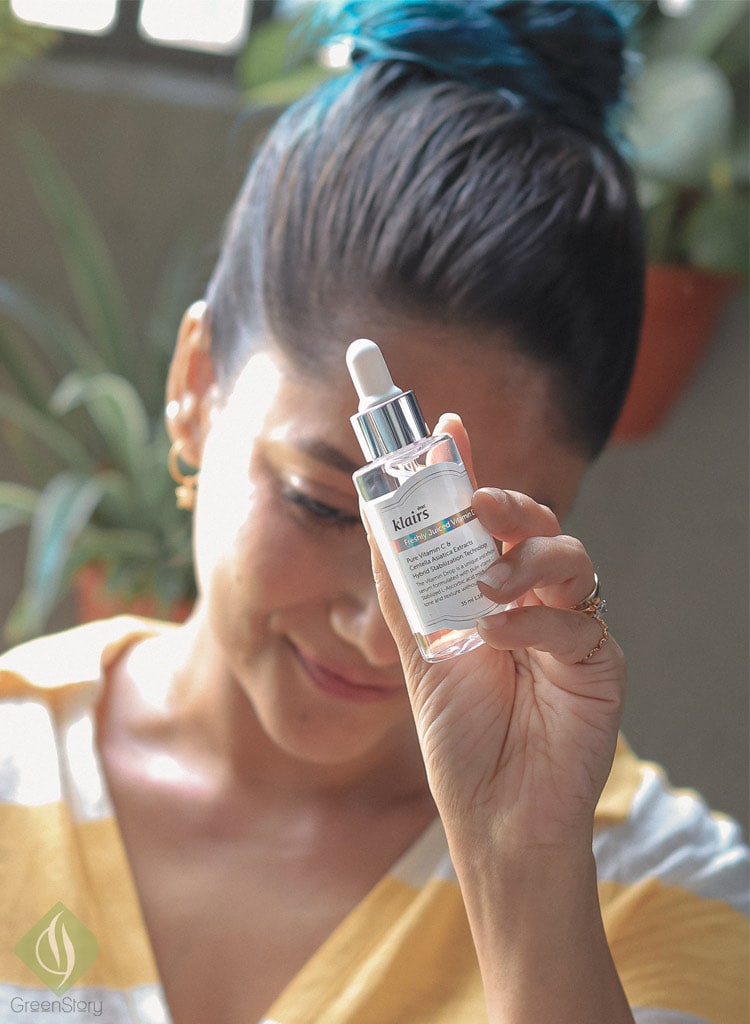 I prefer and recommend vitamin C serums in the morning.
It's just a vitamin C serum that prevents skin from sun damage and protects free radicals while, of course, layer with sunscreen. A vitamin C serum mainly boosts the effect of sunscreen.
Although, you can definitely use Vitamin C serum both in the morning and evening. There is no rule.
2. Is It Safe to Use Niacinamide and Vitamin C together?
Yes. There was a controversy however it has been cleared by researchers that niacinamide and Vitamin C causes no problem if layered together. In fact within my experience I found, if layered, it helps to boost the brightening effect and helps to get rid of acne or any spots faster.
2. Can I use Klairs Vitamin C Serum( or any Vitamin C serum) twice a day?
Yes, in terms of low percentage Vitamin C serums like this Klairs Freshly Juiced Vitamin Drops.
For a higher percentage serum e.g. Pure Vitamin C 21.5 it is safe to use once a day. At least my skin prefers it that way.
NEVER forget the sunscreen when using VITAMIN C or NIACINAMIDE
or practically anything else, just NEVER FORGET USING SUNSCREEN!
Tweet
PS: Vitamin C is acidic. If you're a first time user, use it slowly. Perhaps every other day and gradually increase to daily applications. This will help with any unexpected skin condition.
Have you tried any of these K-beauty products? How was your experience with them?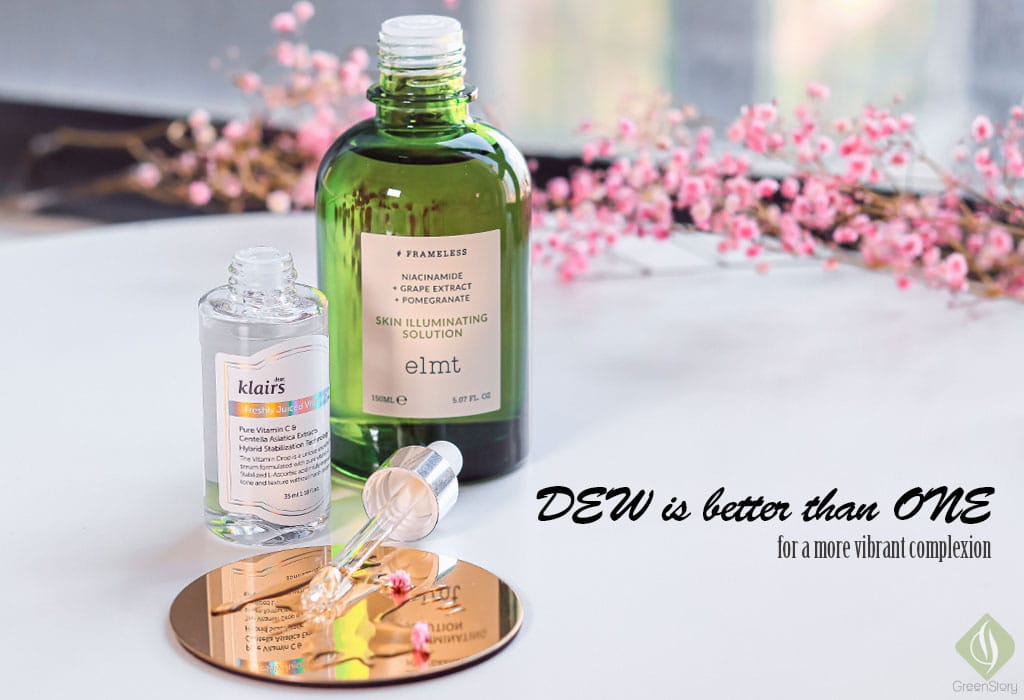 *** This content is a collaboration with WISHTREND. However, I've shared what I experienced as I experienced it.