Kind of almost suddenly I realized that this year I have got a major change in my whole skincare routine. Didn't happen overnight though! Since I stepped into my 30th I started growing interest in luxury skincare products. Right now dominating part of my day to night routine is all luxury skin care products and I (freaking) like it!
I have combination skin, guess you know it already! I'm not acne prone or so and my skin acts normal most of the time. However, since May '18 I and my skin was going through a roller coaster. I was expecting and then lost hope. Mental and physical stress went at its peak. In between, I've also fallen in love with some luxury skincare items that's been saving my skin. I love this part of beauty the most, it's like a meditation that helps you to de-stress from the pain of life.
Anyways, as I was going through my skincare and thought I must share with you guys about my current HG skincare products. Also, you guys have been asking me about my day to a night skincare routine. So, here you go!
There are a few of I've been using for years and my must-have skincare products. A couple of them I've started using since last month. A part of them I've been using for a couple of months.
Herbivore Jasmine Green Tea Balancing Toner | RM 169.00
Been a month I have been using this toner and using it like crazy. As because it's a mist toner, I use mostly this during the day to water my thirsty skin. If you're a Jasmine fragrance lover you'll surely love it. Then again, might not like the green tea's bled with jasmine fragrance. I do like it and it smells strangely refreshing to me. Also, the toner really helps to hydrate skin and keeps it away from dullness.
First aid beauty Charcoal Cleanser | RM 113.00
Charcoal craze is still going strong in skincare, no? It is indeed a good ingredient to suck out impurities from the skin. It is almost a cream like a cleanser but not, this cleanser doesn't lather up either. This Charcoal Cleanser by First Aid Beauty turns out to be a very good one to maintain my skin when it is sensitive or having breakouts. I use it day to night and anytime I want to use a cleanser.
FFOREO LUNA 2 | RM 900.00
Just recently shared a post talking all about this cleansing device by FOREO, have you read? LUNA 2 has been a major love recently to deep clean my skin and to give me a quick anti-aging massage right after the cleansing process. Oh yes! it's a 2-in-1 skincare device that gives anti-aging massage too. I don't use this for cleansing in my morning skincare routine but to give me the anti-aging massage after using Noni Glow face oil on my skin. LUNA 2 helps my skin absorb any face oil so much better. It also assures the maximum benefit of the product with FOREO's signature technology T-sonic pulsation.
Other than that, in my nighttime skincare, LUNA 2 is a must. I use it religiously to deep clean my skin at night. Whether I'm wearing a ton of makeup or it is just sunscreen I need to take off, LUNA 2 does it all for me in 2 minutes. Oh, by the way, the blue color of LUNA 2 is specially made for combination skin type.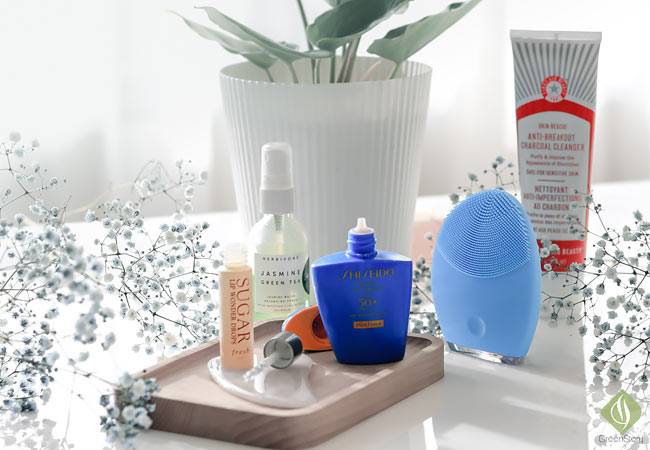 Kora Organics Noni Glow Face Oil | RM 240.00
This is a rich face oil with antioxidants and fatty acid. It's rich with a number of organic oil and Nonfruit extract but this oil is lightweight enough to use in a hot Malaysian climate. I've been enjoying it in my morning skincare routine where everyone like it in their night skincare. As I said earlier, I apply Noni Glow oil and take a quick anti-aging massage with LUNA 2 before my moisturizer. Really helps me to glow up, especially if I'm doing makeup afterward. I do also use it the day I skip retinol/acid products in pm skincare to soothe my skin with its nourishing formula.
Peter Thomas Roth Hungarian Thermal Water Mineral-Rich Moisturizer | USD 58.00
Name of this PTR moisturizer though, such a mouthful! Just like the name, it's a full-splash of water on the skin. I need to write a different post about this moisturizer to explain why I've been loving. For now, I will just tell you this Peter Thomas Roth moisturizer a savior (for any skin) who lives in a super dry and hot climate.
Shiseido WetForce SPF 50+ | RM 165.00
This lightweight sunscreen is one of my old favorite, been using it for years. The WetForce is a water-resistant sunscreen formula that leaves no white cast. I love it when I'm going out for a rough day or going for a swim. For a normal day at home, I use a regular sunscreen like the Murad City Skin Age Defence, Dr.Jart+ Sun Fluid or else.
Fresh Sugar Lip Wonder Drops | RM 115.00
This is fairly new products by Fresh, kind of an instant lip treatment by Fresh. I like all their Sugar lips treatments but this one felt like a magic potion for lips. This live-on type lips drop just instantly revive my lips to normal no matter how dry my lips are! I have also been loving it to wear underneath my matte lipstick. Throughout the day the Fresh Sugar drops work as a barrier between the lipstick and my lips.
Dior Addict Lip Glow | RM 127.00
Favorite since Dior lip balms are available here in Malaysia. I like the original and matte glow formula more than the holographic ones. It's not a lip balm to give you all the lip care but I like it as my go to and as a base for my lipstick. I like their color revive fact and they're kinda delicious.
To talk about all-in-one intense lip care I've to tell you what I've been loving…
Philosophy Kiss Me Tonight | RM 56.00
This delis pot of lip treatment I go through like a pot of jam! I eat my lips at night?! Maybe it's the KISS (as it named) wink-wink! This is my trusty night time lip care buddy and I'm yet to find anything that can replace it.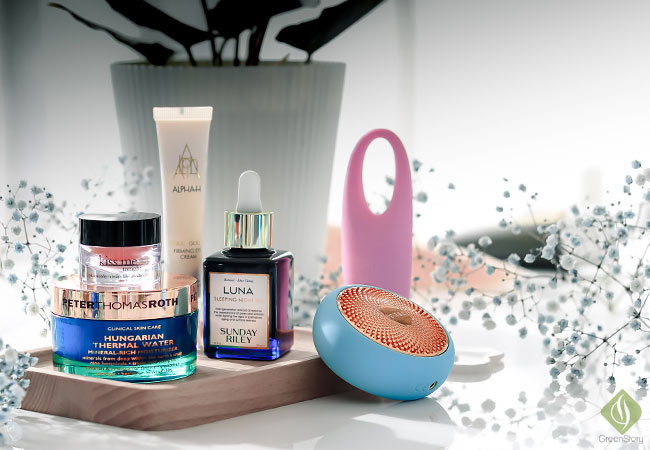 FOREO UFO Smart Mask | RM 1251.00
The star in my must-have luxury skincare product list is UFO Smart Mask by FOREO. This is not our regular sheet masking thingy in any way. I would be stupid if I compare it with a sheet mask just because this works with a sheet mask eventually. Yes, there is a sheet mask with Korean formulated essence that benefits me as well. But what I love about UFO is it's main features, the Thermo-Therapy and LED Light Therapy.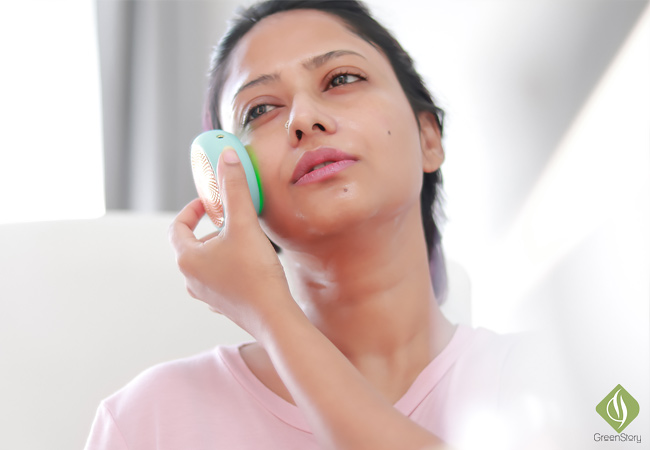 I've been addicted to UFO mask ever since I got it. In the beginning, every night I was taking a UFO mask therapy! The heat therapy with pulsation AKA 'Call It A Night' is my favorite. Kinda going overboard with the good feeling, you can say. Thank GOD I got me into control and not I'm using UFO mask bi-weekly now.
I shared a detailed post about my experience with FOREO UFO earlier, Have you read? Frankly, peeps, if you're planning to invest on a skincare device I suggest you keep UFO in mind. You won't be disappointed!
Alpha-H Liquid Gold Firming Eye Cream | RM 286.00
Glycolic acid toner by Alpha-H is my old favorite. Then, I got familiar with the Firming Eye Cream at Sephora Press Day a couple of months ago. To be true, after a long time I've fallen for an eye cream. I use it in my day to a night skincare routine. Love how nourishing the cream is and how cooling the applicator is!
However, at night I skip using the attached applicator and take a 1-minute eye massage with my…
– that calls the name of my next must-have luxury skincare product, keep reading!
FOREO IRIS Eye Massager | RM 419.00
I bought this Eye cared gadget by FOREO last year on a whim but never regretted. In a minute it gives me that proper eye massage that I was never been able to do with my fingers. Plus IRIS also has this two mode, Spa which is a professional massage type and Pure mode that replicates the regular human (like what I or your fingers would do) type.
IRIS majorly helped me to keep my stress out of my eye zone throughout these stressful months. Due to the loss I mentioned earlier, my insomnia went to its peak, there wear some miserable teary nights and what not! It has been crazy; like this moment I'm doing beauty routine and then the next moment I going mad over sadness. But I can bet there was no eye bags, no dark circle. And till date, nothing you can read here on my face unless you dig deep in.
Thanks to modern beauty technology! I'm an introvert person and I hate it if my face shows any of my emotion unless happiness!
By the way, do let me know if you guys want me to write a dedicated post on IRIS describing how I actually use it and else.
Sunday Riley Luna Sleeping Night Oil | USD 105.00 / SGD 148.00 / coming early '19 in MY
This face oil is the newest product in my pm skincare. Been around a tad more than two weeks I think. I still don't know why exactly Luna is called a sleeping oil. It surely doesn't help sleeping like my holy grail this works Power Sleeping Spray (damn! I need to share about this with you guys very soon. That's a magical product for who want help with sleeping) would do.
Luna is the lightest (among the one I've experienced) anti-aging oil with the retinoid.
I've been really enjoying the way it smells. Is it Blue Tansy alone or other ingredients too?
– I'm not sure.
This face oil is a genius one to calm the skin down, especially when your skin goes red. Also visibly helps to revive dull skin. I'm yet to decide on the anti-aging fact, will let you know soon.
That is it for today!
Hope you guys enjoyed getting a quick insight about all these pricey but the best skin care products I've been loving! If you want to know anything more or want me to write a post please feel free to ask.
Plus, I would love it if you recommend me your luxury skincare favorites that I should give a try 🙂
Get commenting below.