Another impressive drugstore anti-aging skincare range I've been trying out for a couple of months now – Nutox Youth Restoring skincare range! I've received a full set (five products, including day cream, cleanser, and lotion) of new and improved Nutox Youth Restoring Skincare. Have been using these two so far,  Nutox Advanced Serum Concentrate and Night Repair cream.
Are you on my Instagram? I talked a bit about Nutox in my insta-stories when I received them. Later posted a quick update with all other evening skincare products.  Have you noticed that? I was supposed to write about this Nutox Skincare long ago but you know that moment when the love for a product is so high and so you keep thinking, 'yeah I'm gonna write about it real soon'. Furthermore, I've been taking a lot of holidays past months – been kinda soul searching! Sorry for the delay in sharing!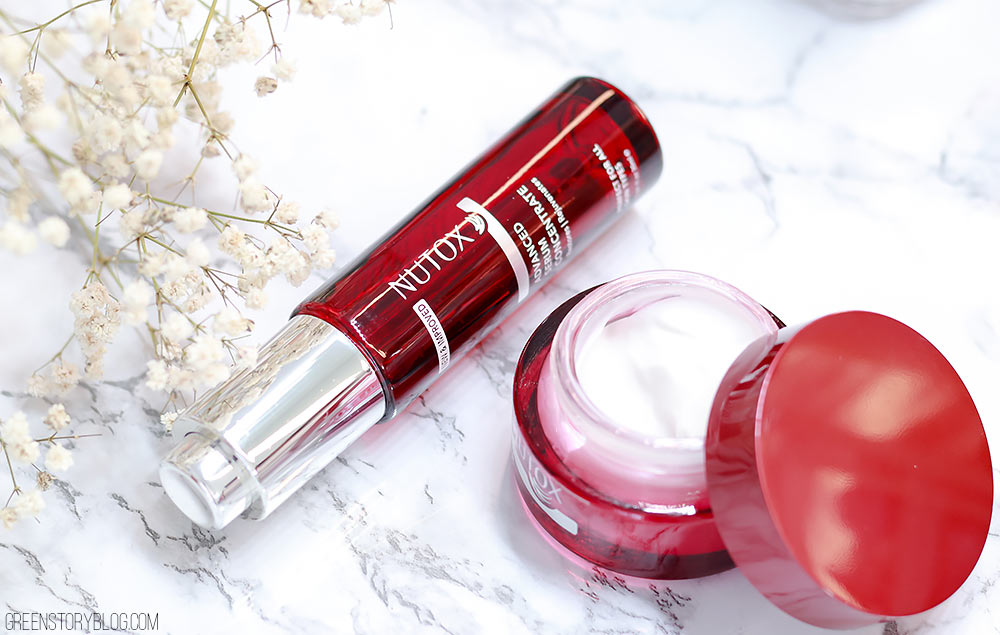 Packaging wise, they are very decent and well made. They give a glass feeling, I'm not sure if they are glass or just some heavy glass-like plastic. I gotta drop them on the floor to be sure which I haven't done yet… 😅!
I like the slim and slick size of the serum packaging with a glass dropper. I'd really appreciate if the cream jar came with a spatula or such to scoop out the product.
I appreciate 3 key facts of Nutox product:
Paraben Free
No Mineral Oil
No Colourant
Nutox Advanced Serum Concentrate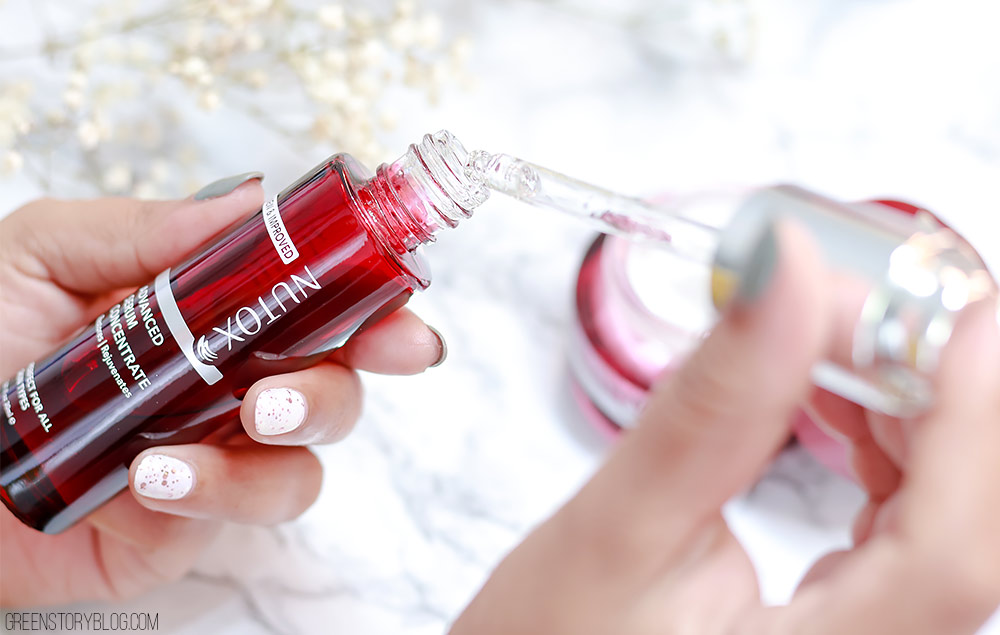 Ingredients:
Water, Butylene, Glycol, Polysorbate 20, Maltodextrin, Glycerin, Swertia Chirata Extract, Undaria Pinnatifida Extract, Avena Sativa (oat) Kernel Extract, Tremella Fuciformis (mashroom) Extract, Propanediol, Evodia Rutaecarpa Fruit Extract, Fructan, Yeast Beta-Glucan, Swiftlet Nest Extract, Tropaeolum Majus Flower/Leaf/Stem Extract, Fragrance, Phenoxyethanol, Ethylhexylglycerin, Acrylates/C10-30 Alkyl Acrylate Crosspolymer, Triethanolamine, Tetrasidum EDTA
Nutox Advanced Serum Concentrate focuses on two key feature, Actigenic+, and B'Nest Collagen. Utilizing the powers of Macro Algae and Indian Gentian Extracts, Actigenic+ is an epidermis regeneration system that significantly firms up the skin, resulting in a more youthful complexion. The formula claim to dramatically reduce the effects of aging like fine lines, wrinkles, and loss of firmness.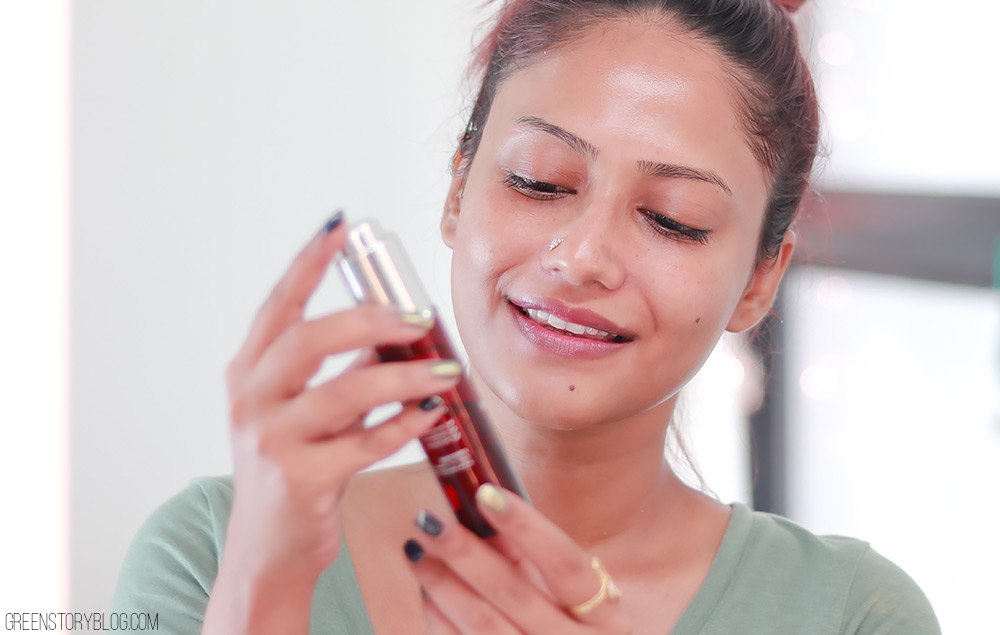 Nutox Advanced Serum Concentrate is not as watery as a regular skin serum but a tad thick in consistency. However, it doesn't feel thick on the skin but absolutely lightweight, glides on easily and gets into the skin within a second. Has no greasiness, skin feels supple and nourishes instantly.
The serum has a sharp floral (jasmine-like) scent in it. Which I didn't like at the begging but got used to after a while. I'm not a fragrant-skincare hater but it's definitely something to note.
I've been using it mostly in my daytime skincare routine also sometimes at night. After cleaning my face I opt for an exfoliating toner (Clinique Clarifying Lotion or Paula's Choice 2% BHA Toner) first. Then I use this serum and later follow up with other targeted skincare product (for night time) and moisturizer. I'm about to finish the bottle very soon. I've been enjoying every drop of it mainly because it gives an amazing plump feeling to the skin. Which means, keeps my skin hydrated properly. Also didn't cause any trouble to my skin.
On the press release there is a pretty strong claim about this serum – 'Look your youngest in 7 days' which felt a bit too mouthful! Aside from how the serum was helping me to balancing my skin I didn't really find it that magical. I wasn't having any bad skin situation either to notice any drastic change. Perhaps it was doing such things, I don't know, it's hard to say!
All the marketing speak aside, what I believe after this long trial, it's a good anti-aging serum that does things it's supposed to do. Maintain and balance without irritating the skin. It keeps me feeling comfortably hydrated all day long. It also goes nicely with other skincare products or under makeup.
Nutox Night Repair Cream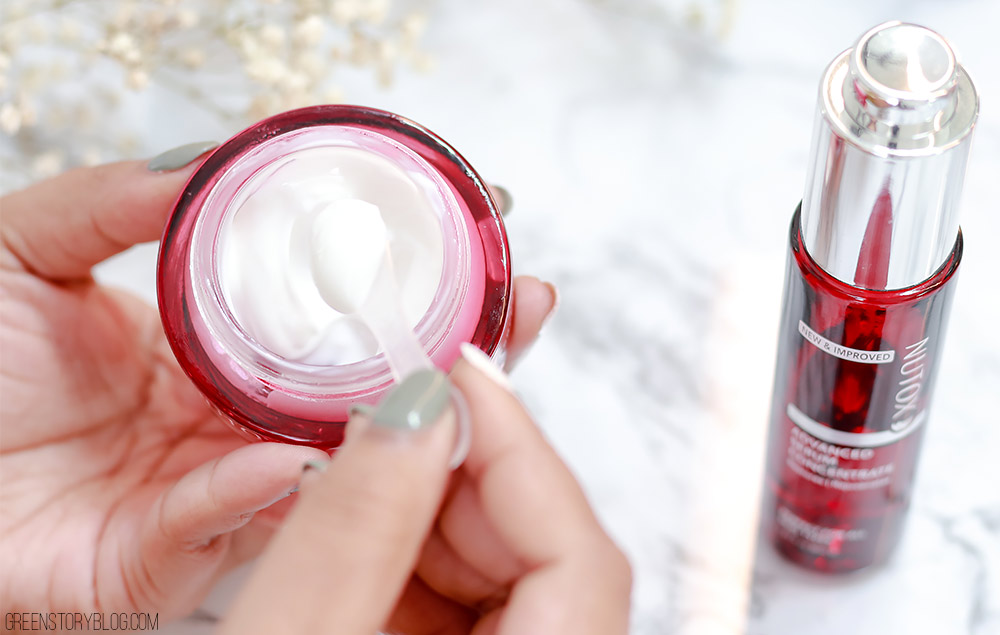 Ingredients:
Water, C12-15 Alkyl Benzoate, Phenyl Trimethicone, Glycerin, Sodium Polyacrylate, C18-21 Alkane, Trideceth-6, Caprylic/Capric Triglyceride, Undaria Pinnatifida Extract, Tapioca Starch Polymethylsilsesquioxane, Evodia Rutaecarpa Fruit Extract, Yeast Beta-Glucan, Hydrogeneted Soyabean Oil, PEG-40 Hydrogenated Castor oil, Ammonium Acryloyldimethyltaurate/VP Copolymer, Sodium Lactate, Sodium Gluconate, Sodium PCA, Urea, Trehalose, Polyquaternium-51, Sodium Hyaluronate, Cyclomethicone, Propylene Glycol, Lecithin, Alcohol Denat, Disodium Phosphate, Tocopherol, Citric Acid, Ascorbic Acid, Ascorbyl Palmitate, Disodium EDTA, Triethanolamine, Fragrance, Tremella Frciformis (mashroom) Extract, Tocopheryl Acetate, Swiftlet Nest Extract, Chamomilla Recutita (Matricaria) Extract, Phenoxyethanol, Ethylhexylglycerin, Tetrasodium EDTA, Arbutin, Linolenic Acid, Rutin, Ubiquinone, Resveratrol, Artemisia Capillaris Flower Extract, Actinidia Polygama Fruit Extract, Magnesium Gluconate, Algae Extract, Cichorium Intybus 9 Vhicory) Root Extract, Maltose.
I'm going to rave about this Nutox Night Repair cream straightforward with my full conscious. I like this night cream!
If you look at the ingredient list you'll see a lot of active hydrating properties are there which intrigues me the most. There is also vitaminC (Ascorbic Acid) and other skin brightening properties that are helpful to even out the skin tone. I was skeptical at the beginning seeing a few oils in the ingredient list thinking it might fell greasy. I'm glad it didn't turn out so!
It has a similar scent as the serum but not that strong. The texture of this cream is rather thick but sinks right into the skin without leaving any sort of residue. It leaves my skin super smooth and somehow silky afterward. To my surprise, I found that this cream actually helped me to calm down my skin in those nights when my skin was going through a sensitivity issue.
In a nutshell…
My skin likes both of them Nutox skincare product. I can't say if they work exceptionally, but they are a very nice basic skincare serum and moisturizer to incorporate in your skincare, that is affordable and does what it says. I believe they'll be suitable for normal to oily skin types very easily. The vastly dry skin might need something additional to balance out the dryness.
Have you tried any NUTOX skincare? What are you favorite serum at the moment?
[color-box]
Shopping Info:
Nutox Advanced Serum Concentrate | RM79.90 for  30ml (often on sale)
Nutox Night Repair Cream | RM54 for 30ml (often on sale)
Available at all major pharmacies, supermarkets, and hypermarkets nationwide.
[/color-box]
*** These products were sent to me complimentary for reviewing purposes. However, all thoughts are my own based on my own experience.