I got this product recently. I was a bit upset when i saw lots of bad review around the web about this one. I was pretty sure that this must be totally waste of money. But i thought to give it a try at-least.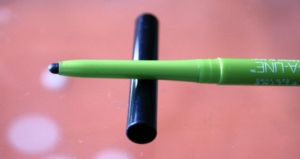 1stly, as Maybelline claims, this eyeliner gives super smooth and precise application and yes, it is true. Pigmentation of this liner is awesome. I got the ebony black shade n its really gives that Black i wanted. For its smoothness, i'll say, this is the perfect liner you want for your waterline. Another good thing is, its totally not allergic..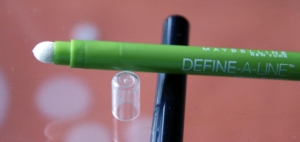 It has got a 
smudge tip
 with it… 
isn't
 it good???
Like everyone says, its smudges like crazy. I think, Its not any waterproof liner and because of its smoothness its easily smudges if you wear it alone. In one hand, it is good if you wanna create a smoky look and don't want any harsh line. Other hand, its not gonna be a good choice for those who wear liner alone.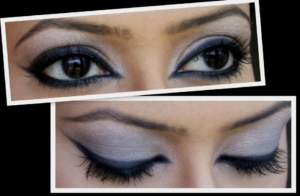 the way i wore Maybelline define-a-line eye liner
I didnt find any liner yet which doesn't smudge at all if you wear it alone, i mean, without patting shadows over it. If you pat shadow over this liner aswell it doesn't smudge at all. If you didnt knew that trick hope that will help you from next 🙂
And, people says that Its doesnt have staying power, i'll say its not true because it works for me. It does stay all day long like i wore this for 6/7hr and it was the same as i applied.
After 5hr of application…
does it look smudgy or fade in anyway??
Lastly, I wanna say, this liner is not that bad the way people says. Its cheaper than other liner of Maybelline and it pays off i think. Eventually, to create smoky line this is a must have i think.
But Peeps, um recommending it that doesn't mean you have to believe on me. i'll suggest you to decide by yourself what you want.
If you're using Maybelline define-A-line eyeliner, let me know how you using it and what you think about it.
note: if you wondering, I got my one from Priyo. Its worth 286/-. price varies on shops.