I bought this product few months before..and thought i defiantly need to review this product but somehow couldn't manage time…
Got it from Bodyline. Its worth BDT 450/- to 550/- . don't remember exact price as if its been long time. shade i got is 004 medium deep, appeared to have the perfect match for my skin as its has yellow undertone.Its pen form packaging looks pretty handy to me and it smell almost nothing.
For me, This is the best concealer I ever got in BD. Best thing about it is its light and thin texture and not even watery. Its brush tip makes it very easy to apply without wasting. this concealer blends perfectly and doesn't settle on fine lines at all. Moreover, it last through the day in my combi skin with a hydrating finish and without giving any cakey or greasy feeling. It has got medium coverage. Do cover redness and random light spots brilliantly. it gives skin a bit of dewiness aswell, sometimes.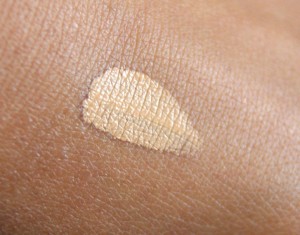 shade 004
This product is as good as i can wear it alone with a touch of translucent powder and don't even feel like to apply foundation. In this hot summer mostly i avoid foundation and just go with this concealer alone which keeps me fresh, natural and completely happy all the day.
At the end, i'll say, its a product worth buying and i couldn't find anything against it. If you haven't tried it yet, give it a try.
***If you using it let me know whats your opinion 🙂