…another successful DIY of mine. Just made this yesterday. My Thanks to all those you-tubers who vloged their hard work and creativity as I learned this DIY process from youtube.
I thought to make a tutorial post about this DIY Ring Organizer but it was super hard to make and get the perfect piece. I totally messed up in between and even don't know how did I finish it! ;p ..just made it somehow. That's why I'm not able to post detailed DIY.
Though, I'm including some details that might help you…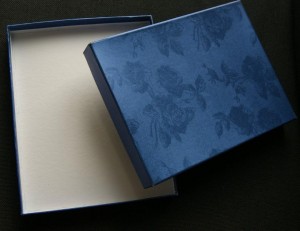 box i used
things you'll need: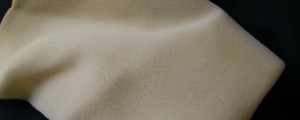 5mm foam
a box, can be any box but needs to be hard enough to stay in shape and to carry all your rings.
any kind of fabric by what you'll cover your box.
glue to fasten fabric with the box. you can use fabric glue or super glue. but applying glue would be easier if you use a glue gun.
foam to fill the lining for rings. I used 5mm foam
some ribbon or lace to ornament your box
 [wp_ad_camp_3][/wp_ad_camp_3]
process:
ribbon n fabric
1st, measure fabric according to the box measurement as you can cover the whole box (both body and lead)
cover up the box, use glue to attach the fabric.
measure width of your box and cut out pieces from foam and fabric according to this measurement.
now make rolls using foam and fabric. those are gonna go in your box to make a partition for your ring. The thickness of rolls will depend on your assumption. attach them into the box with glue.
your main work should be done by now.
Its time to ornament. use anything you like…might be lace, ribbons, buttons or stones…
AND… hopefully, you are done making your ring organizer.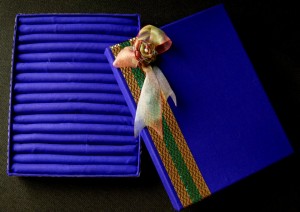 I hope you like the post. …your opinion is highly appreciated and don't forget to follow 🙂
[wp_ad_camp_2][/wp_ad_camp_2][signoff][/signoff]