Do you shop online? I know I know, who doesn't? When shopping online, what if I say you can save a lot of your money by getting direct cashback along with some more deals/discount coupon? EXTRA SAVING sounds always good, inst it? Did I already got your attention??? If yes then let me tell you more of this amazing news.
I wish I myself knew about this a bit earlier so I could save some money yet better late than never! Last month I found ShopBack, a cash back site that offers you a percent of your money when you shop from their listed shopping site. Their service is available here in Malaysia, Singapore, Philippine and Indonesia. The good part is you don't have to be worried about their site listing because ShopBack already has listed all those shopping site (over 300 local, regional and international merchant like Booking.com, ASOS, Luxola, Groupon, Zalora, Althea, Air Asia, Sasa etc) that you can possibly think of.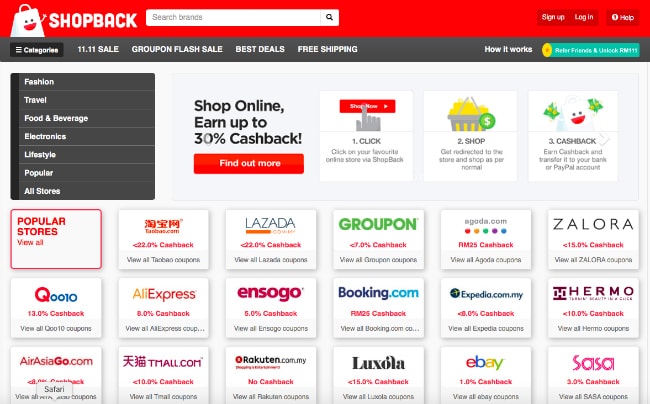 The first question that can come to your mind, 'How does it work?'
Keep Calm, it is super easy, you just have to shop through ShopBack. To sound more precise, you just have to click and to go your desired shopping site via ShopBack then do your shopping as usual then sit back and relax. A portion of the money that you already shopped with will be added in your ShopBack account within 48 hours(as they claim). Later you can withdraw that in you preferred bank account, that's it! Sounds exciting and easy enough?
There is no limit to the cash back you can earn, the more you shop the more you can earn. Moreover, you'll be getting all the usual deals, flash sale notification and coupon codes offered by your favorite site.
[wp_ad_camp_3][/wp_ad_camp_3]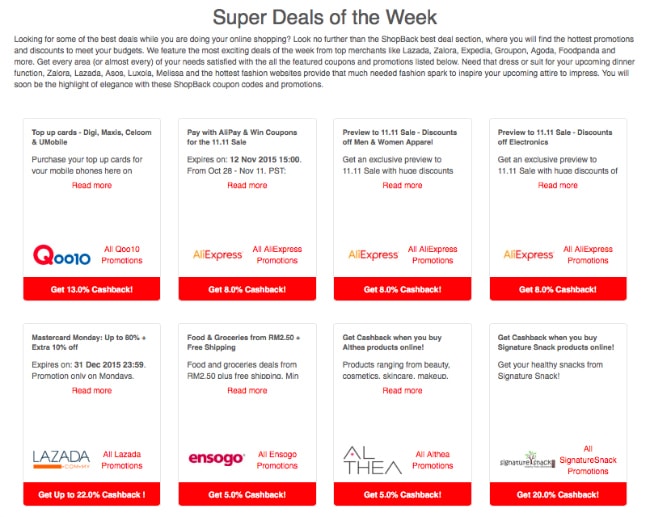 The SopBack website offers the easiest navigation so you won't feel lost anywhere while trying to find some good deal. Top sale/discounts/cashback offers are always flashing in the home banner. However, if you're interested in digging down best deals offered by every site then you must navigate to the Best Deals page (picture above) and enjoy the best deals on your online shopping.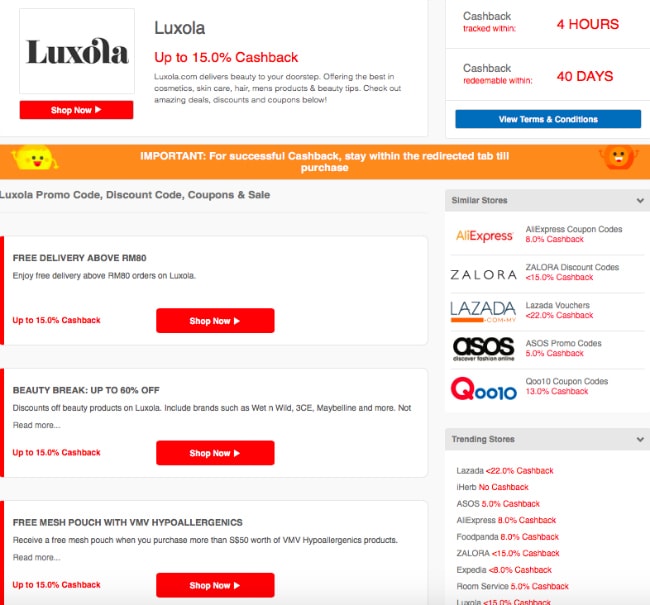 Where you shop the most? For me its Luxola (makeup shopping from Luxola started way back in 2014 you probably read that in my previous post, and that never stopped), Zalora(for clothing I recently started shopping here and it seems to be quite a nice experience so far), Althea(I told you about this in my previous post, getting Korean skincare product with the best price never been so easy until I discovered Althea) and a few other sites. I'm uber happy to see everything is listed in ShopBack already so from now I can save some handsome amount of my money while shopping my necessary stuff.
For example, you can get cashback and promo codes from shops like Luxola, if you visit Luxola page at ShopBack you'll see a list of all available discounts/coupon code plus what percentage of your money you can actually get back after shopping.
I guess I already gave you a clear picture of ShopBack and how easy it is to work with.
[wp_ad_camp_4][/wp_ad_camp_4]
Let's come to the most crucial question, which might have already popped up in your mind!
Is it legal and safe?
ShopBack says,
[color-box]
ShopBack is a registered business in the USA & Singapore and commits providing a secure platform for your shopping pleasure. We specialize in helping customers save when they shop on eCommerce websites in USA, Europe, and Asia. To date, millions of customers worldwide have saved millions more per year shopping online with similar cashback systems.
[/color-box]
In my experience, yes it is safe. I couldn't find any glitch till now but already seeing a few bucks in my ShopBack account :p
Apparently, ShopBack is a great site for getting daily coupons and cashback. Needless to mention, I'm feeling greedy (!!! to be honest) enough, can't wait to do my next shopping via ShopBack and see the growing balance of cash back. Sharing is caring; I care for you so I had to share this with you so you can also save money while shopping online 🙂
*** I was humbly invited by the company to share my thoughts. However, that doesn't influence my opinion in any way.
[wp_ad_camp_2][/wp_ad_camp_2][signoff][/signoff]