First, I have to admit I was kinda off from blogging for the last couple of months. So many of you were asking when I'm going to post reviews of this or that, but seriously these months were hectic and advance apology, might be irregular up to next month. Yet I'll try to blog as much as I can. Sooner or later will post everything according to your request 🙂
I have reviewed Sigma Mascara Collection in my previous post, in the line today's post is about Sigma Standout Eyes Gel Liner Collection.
I have been using them for two months now and pretty much done with experimenting in every aspect of these gel liners. I love the shade range of this collection, a black, a couple of browns and a few eye-catching hues.
If you are a makeup lover then you definitely love liners and can't deny that a good gel liner is always a must-have. I myself have a weakness for gel liner, I like to try every kind of gel liner and when it offers color variety it is better for me! Yet obviously I also look for a good quality that makes it easy to work with.
Sigma Beauty offers 6 shade in their gel liner collection. They are:
Wicked – A deep black
Stunningly Ladylike – A deep brown with strong red undertone
Liberally Toasted – A pure warm brown
Standout Peacock – A vibrant peacock blue
Royally Striking – A violet with a blue undertone
Unexpected – A flat gray with a hint of a green undertone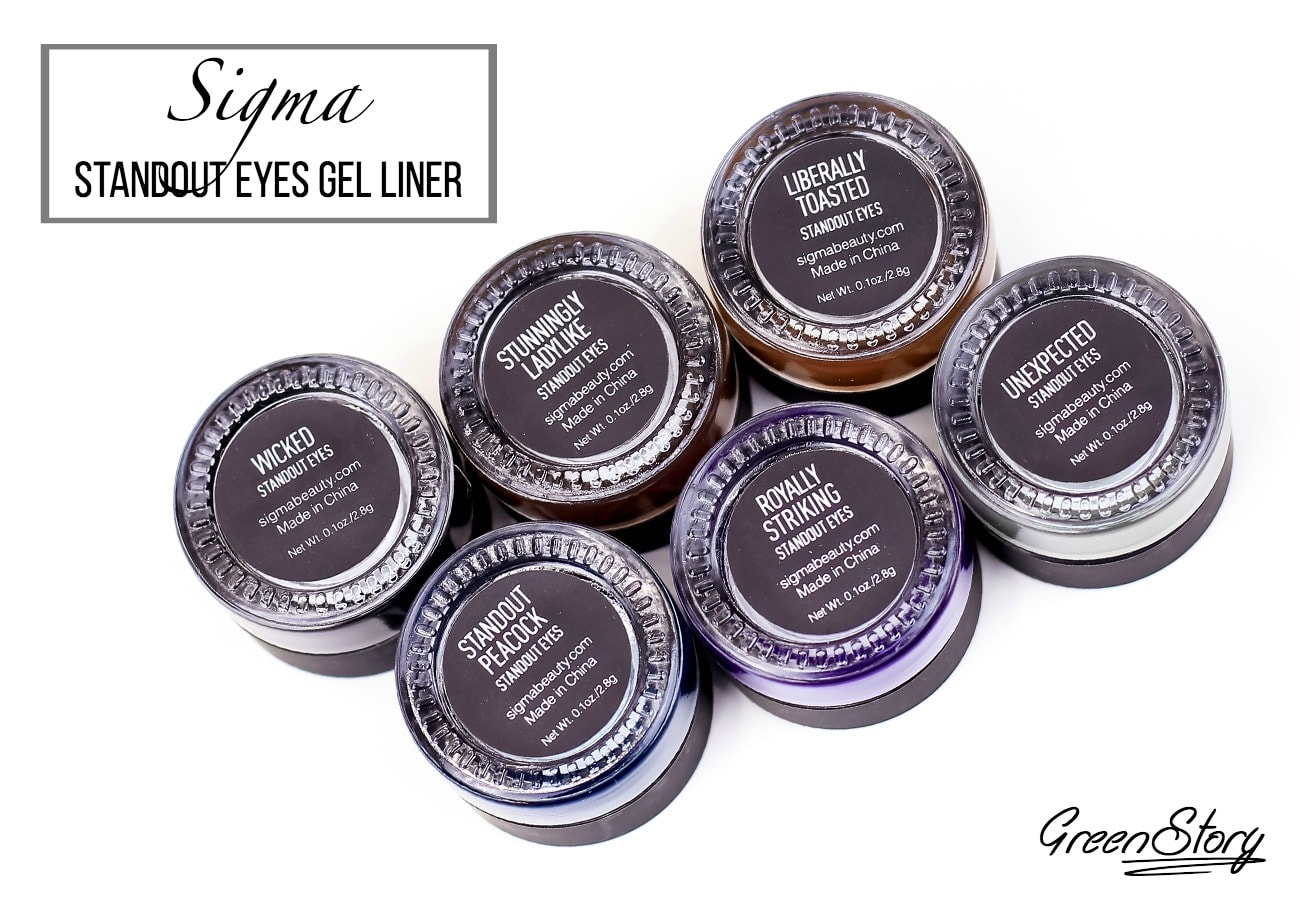 They come in a sturdy little glass pot with a plastic screw-lid just like most of the gel liner pot available in the market. The packaging quality is up to the mark and fully airtight so the product didn't dry out (I did experience this issue earlier with other gel liners) in the pot. Each pot offers 2.8g of product, quite a lot I think, which will last forever.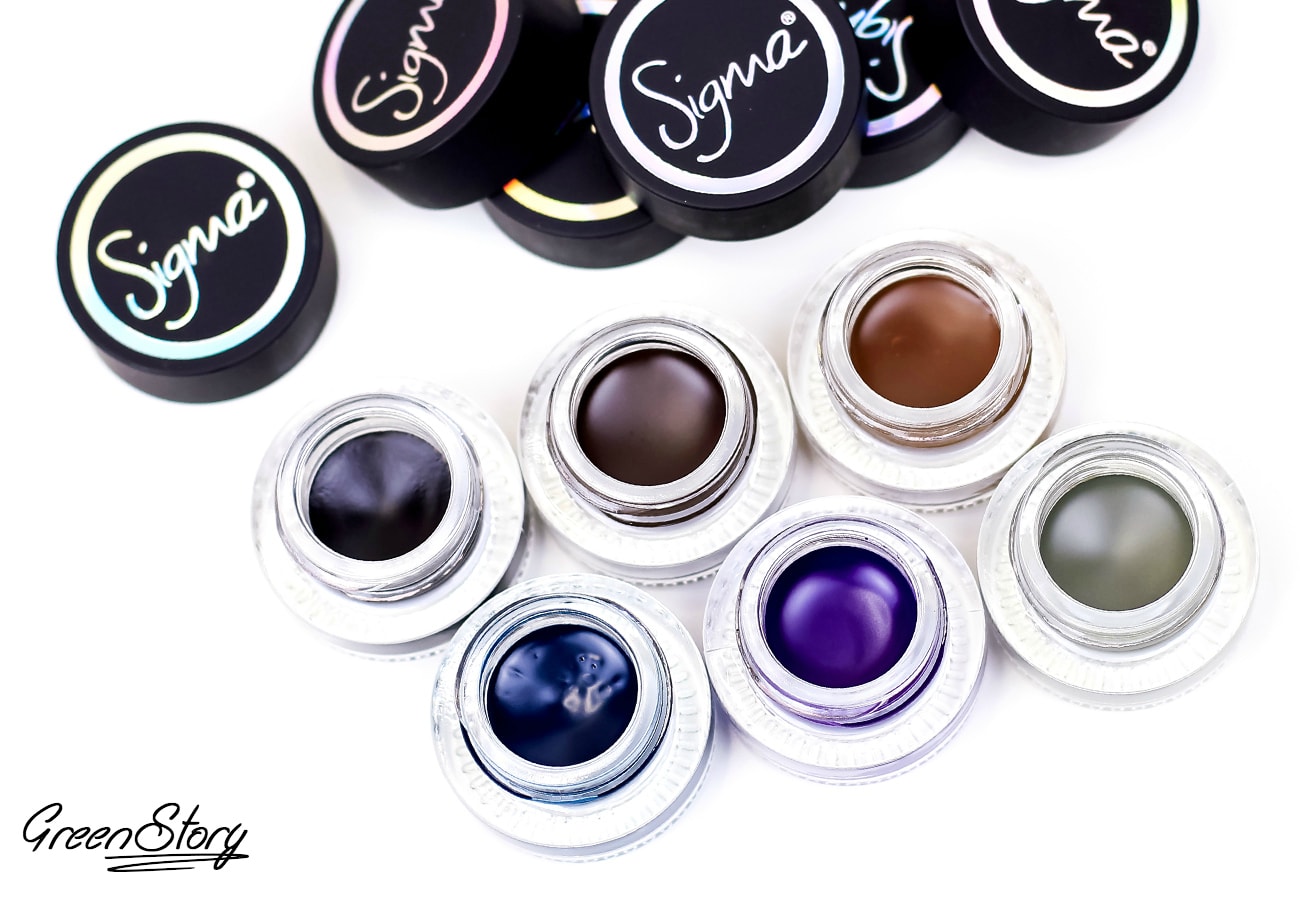 To talk about the product quality, all of them have a creamy texture and matte finish. They all glide on smoothly. However, all of them don't apply with full opacity. To be more specific, Standout Peacock and Royally Striking doesn't come opaque in one swipe like the other four, they need two/three swipe aka more product and more work. Other than that all of them are flawless and very easy to apply.
Sigma claims that these liners are long-wearing, I completely agree with that from my experience. Sigma Standout Eyes Gel Liners stays put, doesn't fade away until you remove them. But yes if you rub them then they flakes. They are waterproof so if you need them removed you'll need a proper remover. They take a bit of time to get fully dry so if you want to smudge your liner you have that freedom.
Sigma Standout Eyes Gel Liner swatches below:

So far I wore Sigma Standout Eyes Gel Liners in many different ways and they never disappoint me. They didn't cause any sensitivity issues either. For the price and quality, I found them competitive with other high-end gel liners. A black liner is always my favorite, other than that Unexpected and Liberally Toasted is my favorites here in this whole collection.
I'm a big-time Sigma brush fan (read my review on Sigma 3DHD Kabuki Brush) and it feels like slowly I'm also becoming a fan of their makeup line. If you haven't tried these gel liners yet you must give them a try.
By the way, I'm keen to know what is your most favorite gel line? Let me know in the comment box below.
[color-box]
Price and Availability:
Get them from Sigma Website | $14
Use the code 'GreenStory' for a 10% OFF sitewide.
[/color-box]
***Product was sent to me by the company. However, that doesn't influence my opinion in any way.