I wasn't going to write/share about Too Faced The little Black Book of Bronzers because initially I bought this just to add in my collection. This collectible book of Bronzer by Too Faced launched around a year ago (a bigger size one with all full-size product, as far as I know) in the USA, they happened to launch it here in Malaysia just right at the moment. I had to have this in my collection because it comes with all bronzers by Too Faced in a pretty book shape, the price point is also good for all those 8 bronzers. All them bronzer here are definitely not appropriate for my skin tone, but I'm a makeup-holic, additionally I had a 15% off SephoraMY BlackCard perk so you can guess why it was a must have for me!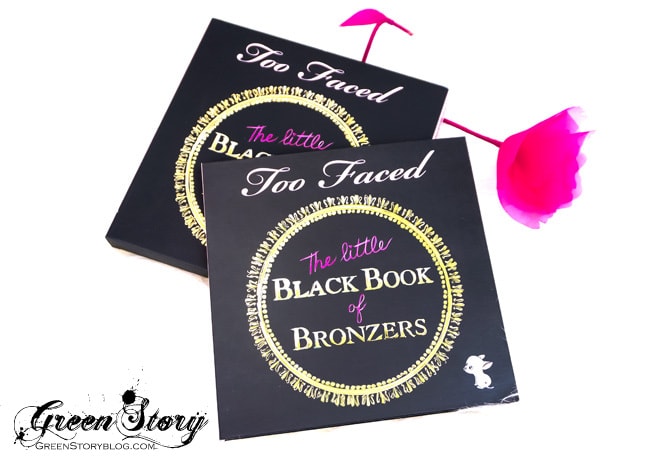 As I said before I wasn't going to write about this but actually could resist sharing some views and swatch so my reader (you) us can find it useful if they want to purchase the single product.
[wp_ad_camp_5][/wp_ad_camp_5]
Too Faced The little Black Book of Bronzers comes is cardboard book shape packaging, it's thin and very lightweight with magnetic flap closure. There is some cute and girly illustration with the opener part, also some guidance how you can incorporate these bronzers with every mood/occasion.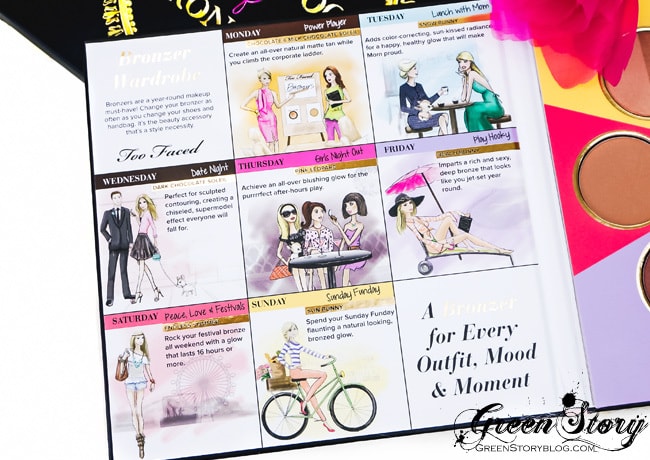 Outer box of the book has all the ingredients listed for each individual bronzer.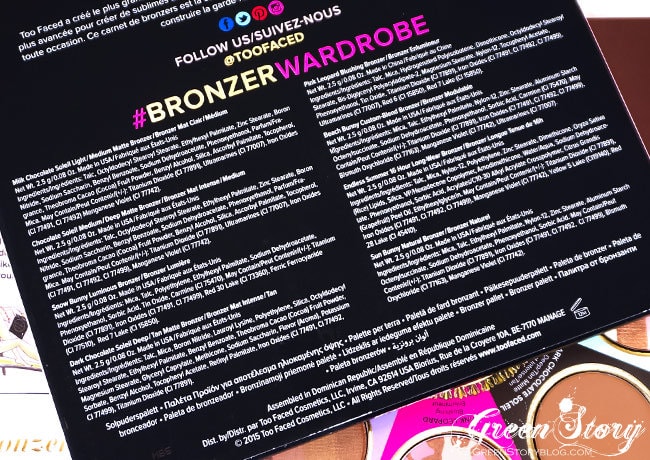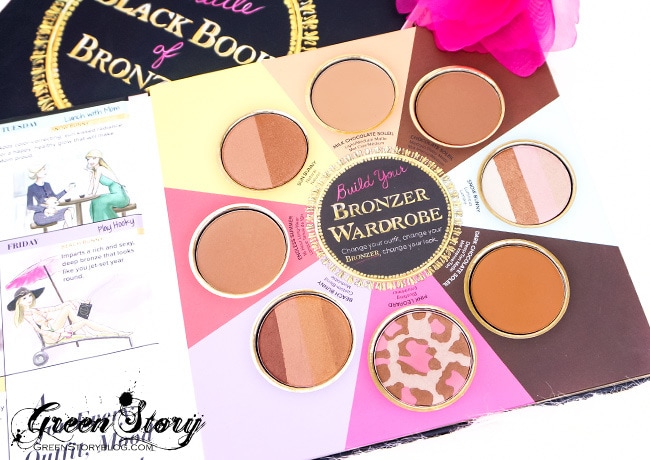 Too Faced The little Black Book of Bronzers comes with total eight of Too Faced bronzers. Each pan consists 2.5g of each product and they resemble exactly the original product (just in small size).
[wp_ad_camp_3][/wp_ad_camp_3]
They are (clockwise from top)…
Milk Chocolate Soleil – Light/Medium, Matte


A lighter version of Chocolate Soleil that creates a more subtle, all-over warmth, perfect for those with lighter skin tones.

Chocolate Soleil – Medium/Deep, Matte


Antioxidant-rich, cocoa powder infused matte bronzer that works on all skin tones, perfect for everyday contouring and creating an all-over deep tan.

Snow Bunny – Multicolor, Luminous


Four luminous shades blend together for just the right amount of sun-kissed, natural radiance.

Dark Chocolate Soleil – A New Shade, Deep/Tan, Matte


A darker version of Chocolate Soleil that's perfect for more sculpted contouring, creating a more dramatic, deep matte bronzed look.

Pink Leopard – Blushing Pink, Luminous


A trio of skin-brightening and bronzing pigments that combine for a glorious all-over glow.

Beach Bunny – Custom Blendable multi-shade, Luminous


Custom-blend bronzer combines four sun-kissed shades for a skin perfecting, summertime tan any time of year.

Endless Summer – Light/Medium, Matte


Stay all day universal bronzer creates a lit-from-within bronzed glow that lasts 16-hours or more.

Sun Bunny – Duo Tone/ Natural, Luminous


Original bronzer features slight pink undertone in the dual shade palette that mimics the flush of a real tan.
[wp_ad_camp_4][/wp_ad_camp_4]
Swatches of Too Faced bronzer's: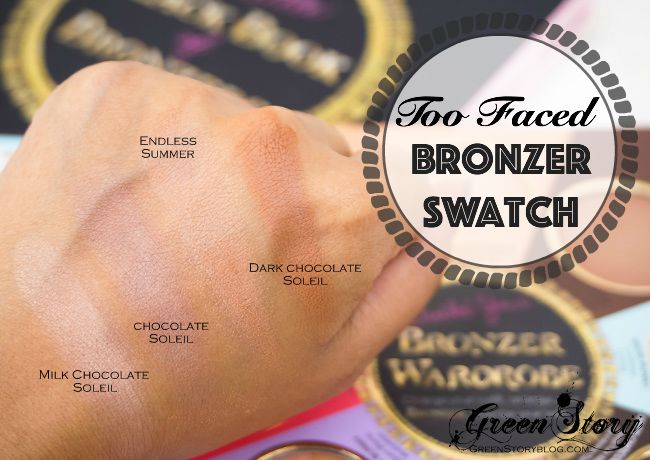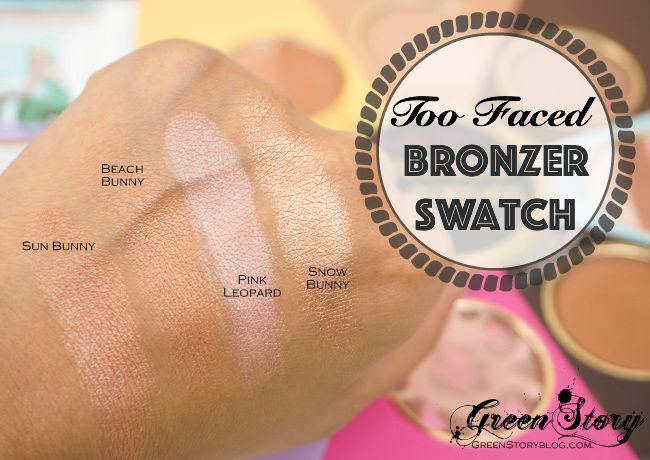 There is actually 7 bronzer and Pink Leopard is actually a very soft pink blush or can be used as a highlighter.
If you notice, Milk Chocolate Soleil, Chocolate Soleil and Endless Summer are almost invisible in my tan skin (ref: NC42) tone where The shade Dark Chocolate Soleil is quite vibrant but it has strong orange undertone. I absolute love all those luminous shade here, Sun bunny and Beach bunny is a perfect bronze shade however they look almost identical. My favourite from this palette has to be Snow Bunny, it gives a soft bronzy shade while mixed all shade together. For my skin tone I think Snow bunny can be a nice highlight shade that gives a bronze glow, summer perfect material!
Honestly, I didn't want to touch and use this palette but after swatching them just I can't wait to wear them.
[color-box]
Shopping Info:
Sephora – $49 | RM185
Beauty.com – $49
Macy's – $49
[/color-box]
Have you tried any of Too Faced Bronzer? Which one you love the most?



[wp_ad_camp_2][/wp_ad_camp_2][signoff][/signoff]