I remember that day when I first thought to buy some Makeup Geek eyeshadow. It was uber confusing, there was is so many beautiful shades, but I wanted few and most essential ones. After going through lots of research, I picked 6 shade as my first Makeup Geek purchase. After that, I didn't stop, I bought more and I want to buy all of them, crazy but Makeup Geek shadows are that good!
[wp_ad_camp_3][/wp_ad_camp_3]
Why am I rambling?
Today's post is a guideline (based on medium brown skin tone; eg. NC42) specially for those first time Makeup Geek eyeshadow buyer who are tussled in confusion which one to pick. I accumulated 12 Makeup Geek shadow from my collection as 'Must Have' which you may grab in your first purchase or may be later. You need these shades in your collection because they are the most functional shades, from everyday look to super smokey glam look, you can cover all with only these 12 shade. Not only about Makeup Geek, even if you don't have much eyeshadow and you want to have some good and functional shade in your collection then you should have a look at Makeup Geek and of course here in my guideline.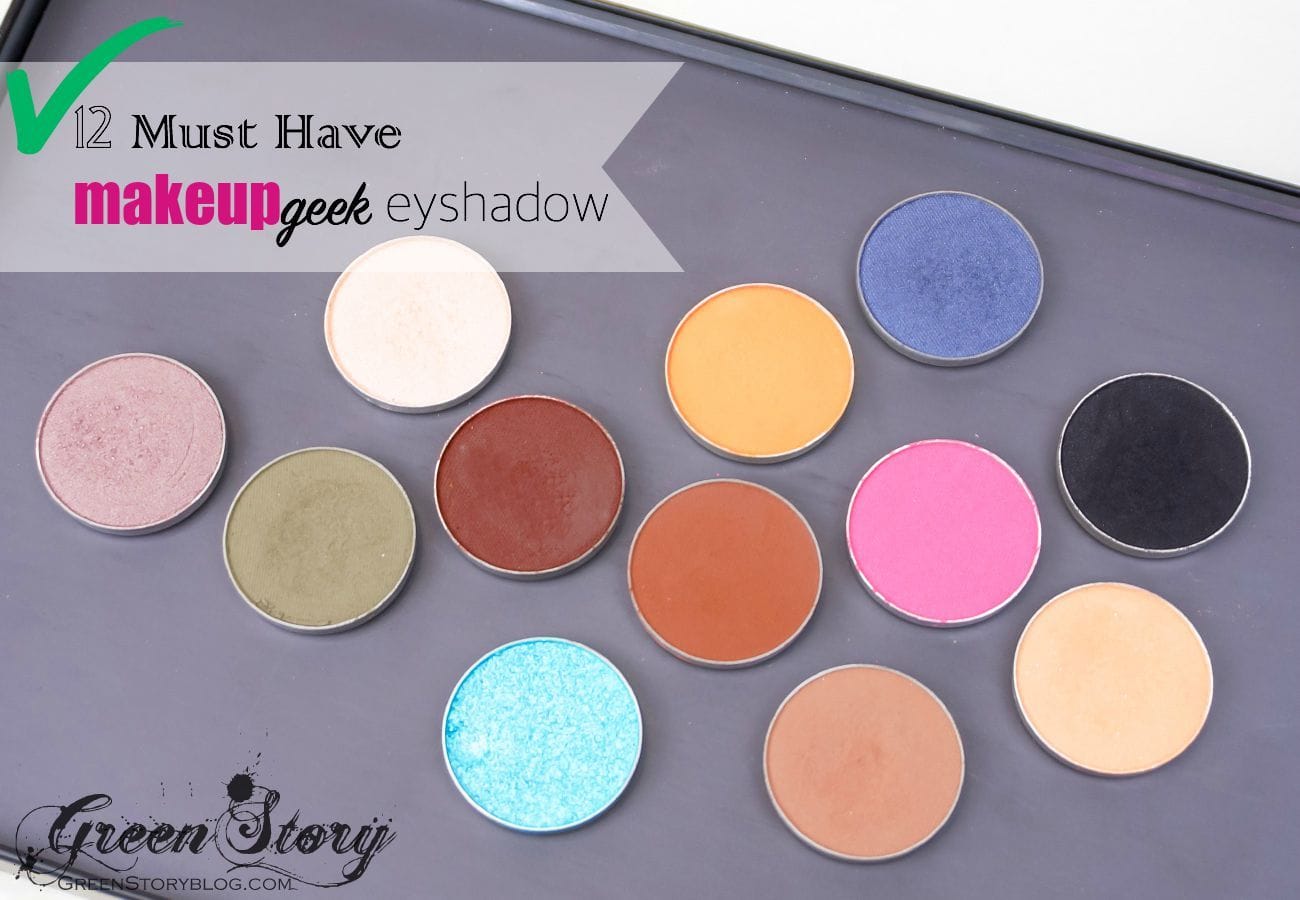 You already had a glimpse (the picture above) of the shade I'm gonna talk about now let me talk about them one by one…
Latte:
A light to medium brown with red undertone and matte in finish. A great shade for making the transition between two colors or you can use it alone as a base. In medium brown skin, it doesn't show up much but creates beautiful depth. Latte is one of those shade that I use regularly to define my crease.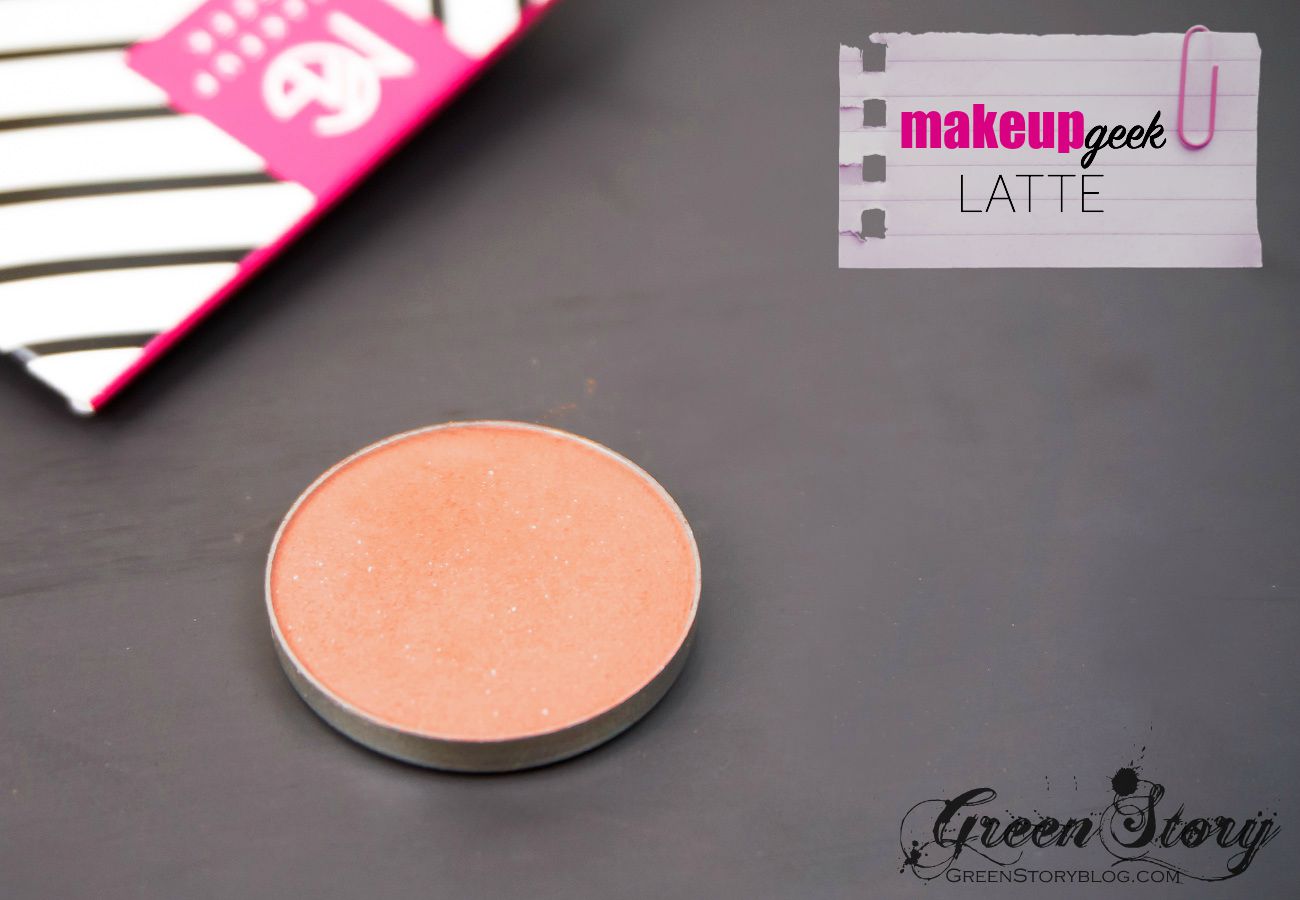 Creme Brulee:
A matte warm but soft brown. Appears lighter thank Latte in my skin. An absolutely perfect shade for transition and blending out harsh edges of other colors. Also can be applied alone as a base color. Creme Brulee doesn't help to create depth in crease much, but I swear by this shade for blending crease and lid shadow together.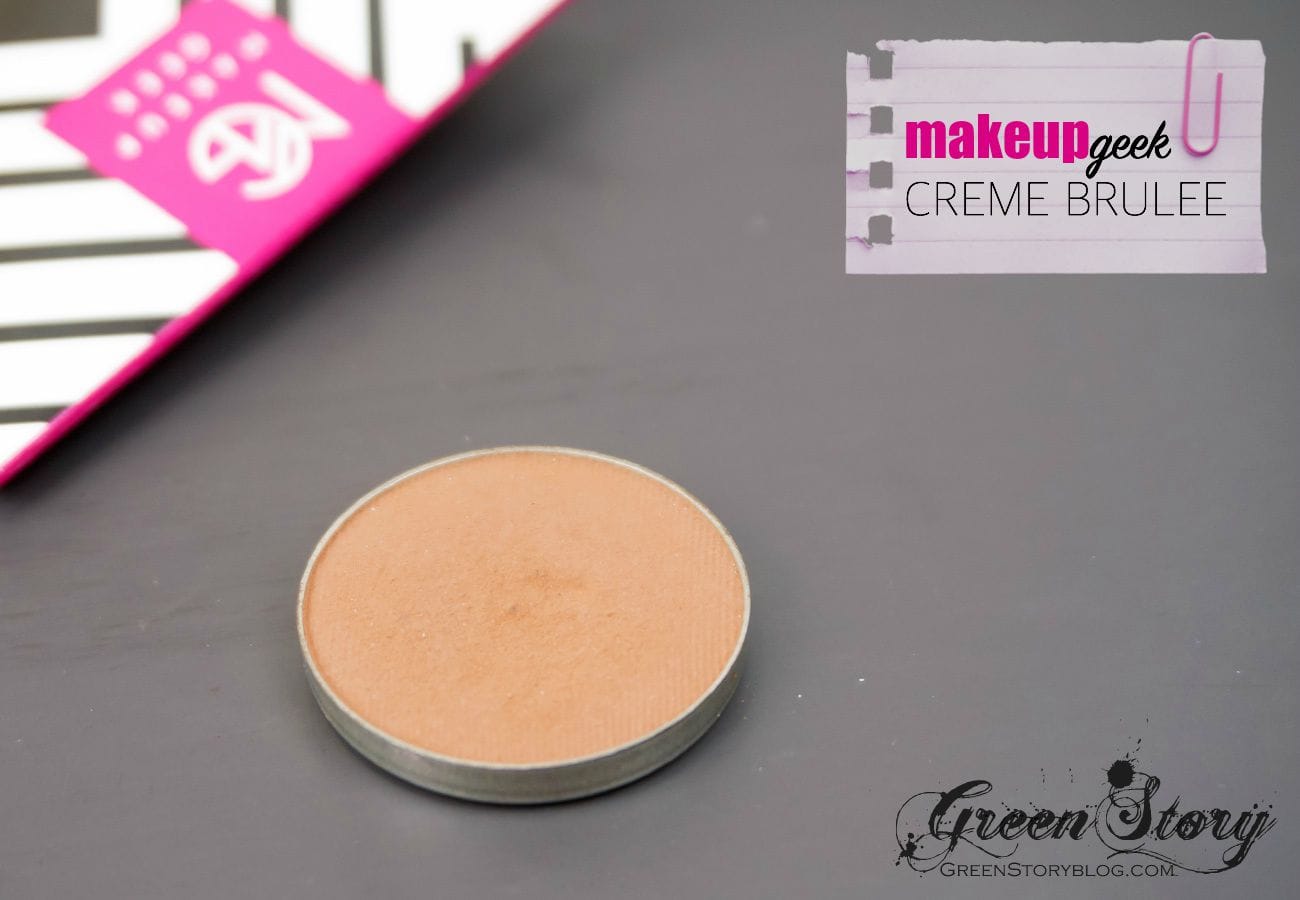 [wp_ad_camp_4][/wp_ad_camp_4]
Cocoa Bear:
A matte, dark brown with strong red undertone. Cocoa Bear is insanely pigmented shade, will appear with full opacity in any skin tone. A great brown shade for creating any smokey eye look. I also recommend this shade if you just want some deep brown hue in your lid or may be in lower lash line.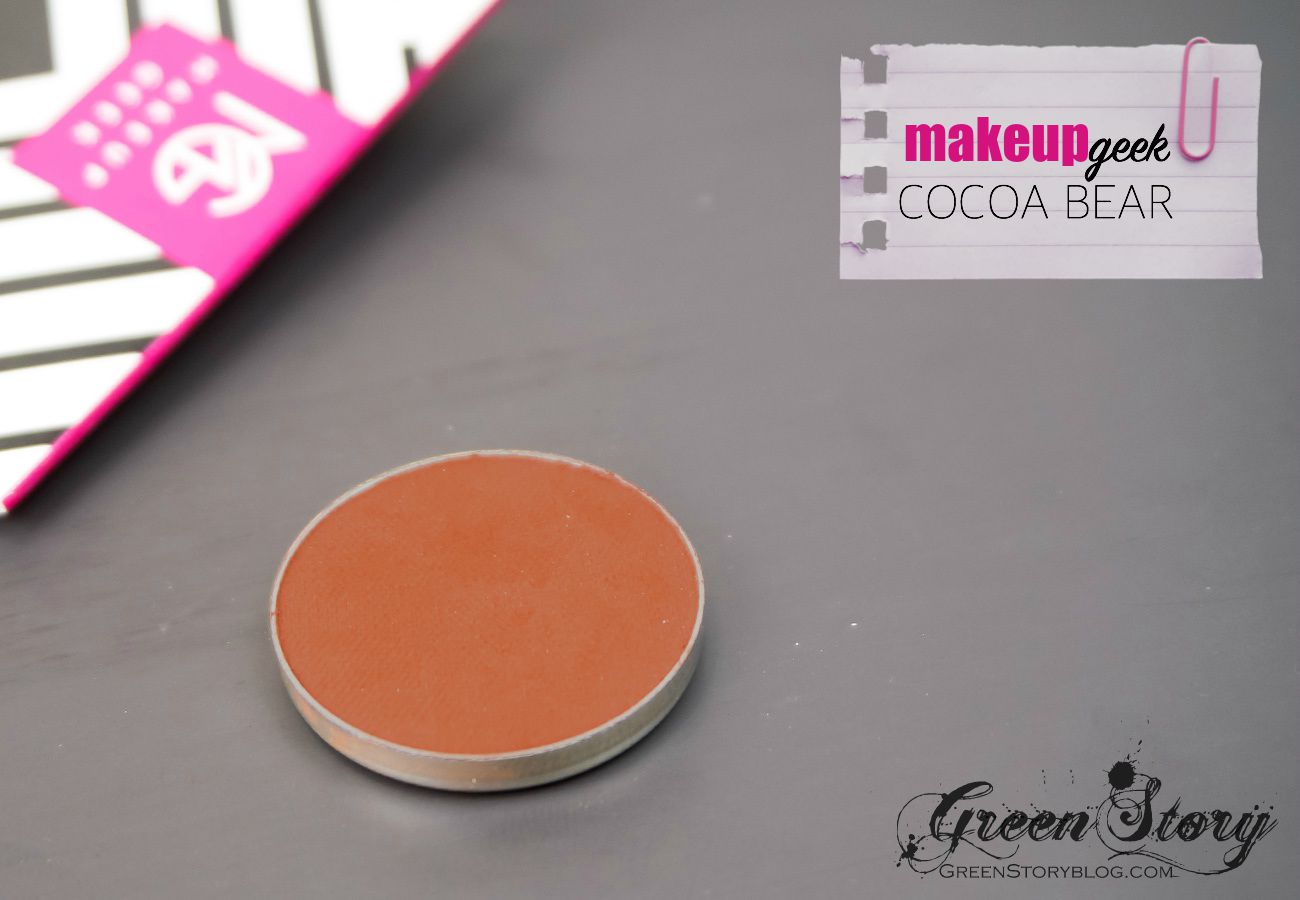 Bitten:
A dark deep maroon red but an off shade, matte in finish. This is my most favourite shade among all Makeup Geek eyeshadow I own. Bitten is a unique shade of maroon. It looks fabulous when applied in lower lash line to create some shading as well as if you want some red hue in your crease area. It also looks fantastic with some black, like a black smokey eye or bitten as a base lid color and black in the outer part.

Twilight:
A shimmery rosy shade with the purple hue. This can be worn alone for an everyday look or incorporated with another color for some glam look. As because it is shimmery but not chunky, it give a healthy glow to the lid. I love to use Twilight as my go to lid shade paired with Latte in the crease for every day.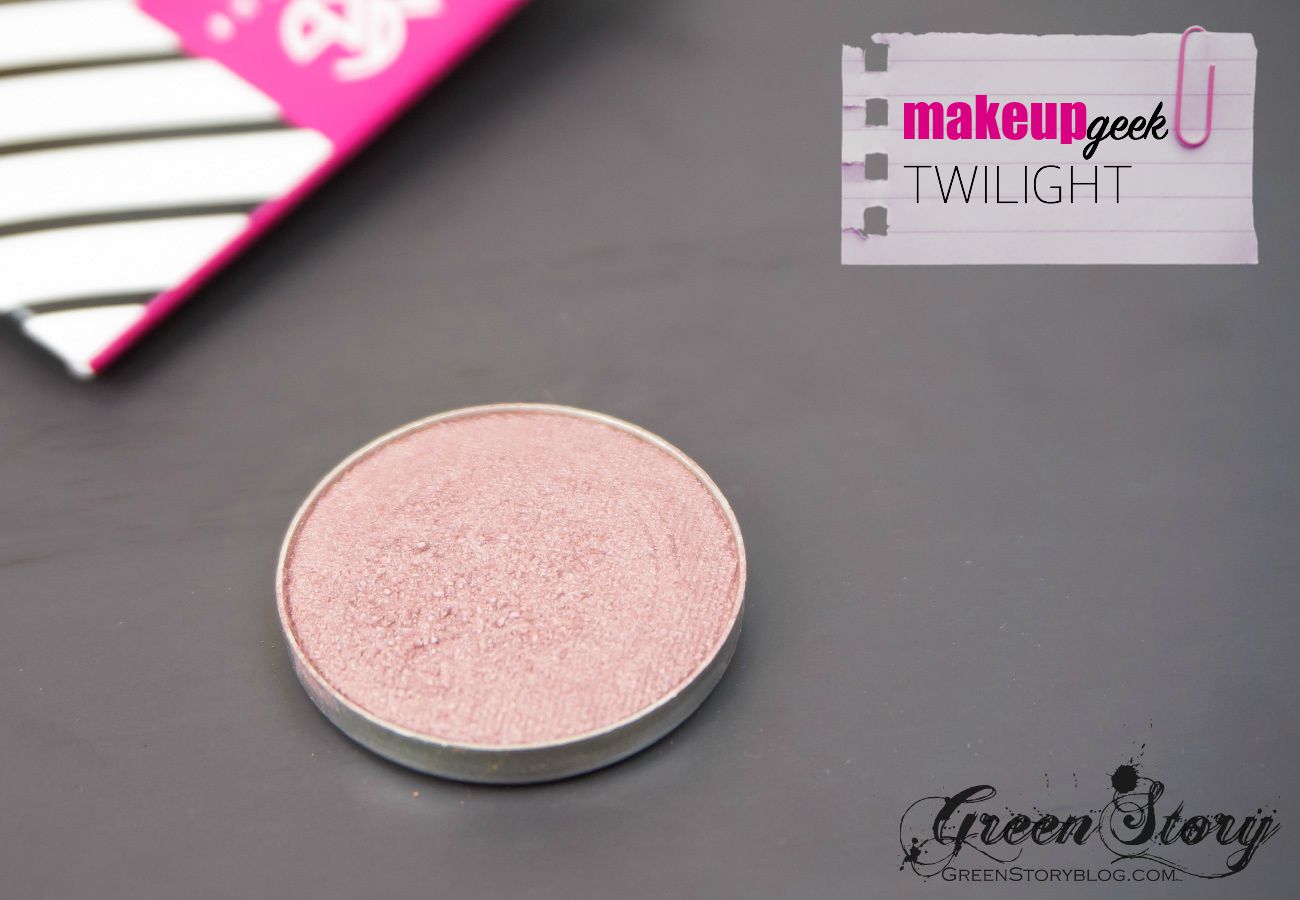 Shimma Shimma:
A soft Champagne shade with the metallic finish. The best shade for highlighting the brow bone, tear duct, also you can use it as your face (bonus) highlighter. A highlight shade is a must for a complete eye look and so the shade Shimma Shimma. It is metallic but don't be afraid it is not tacky, it looks so good when applied. 

Swatches of the shade (one swipe with no primer):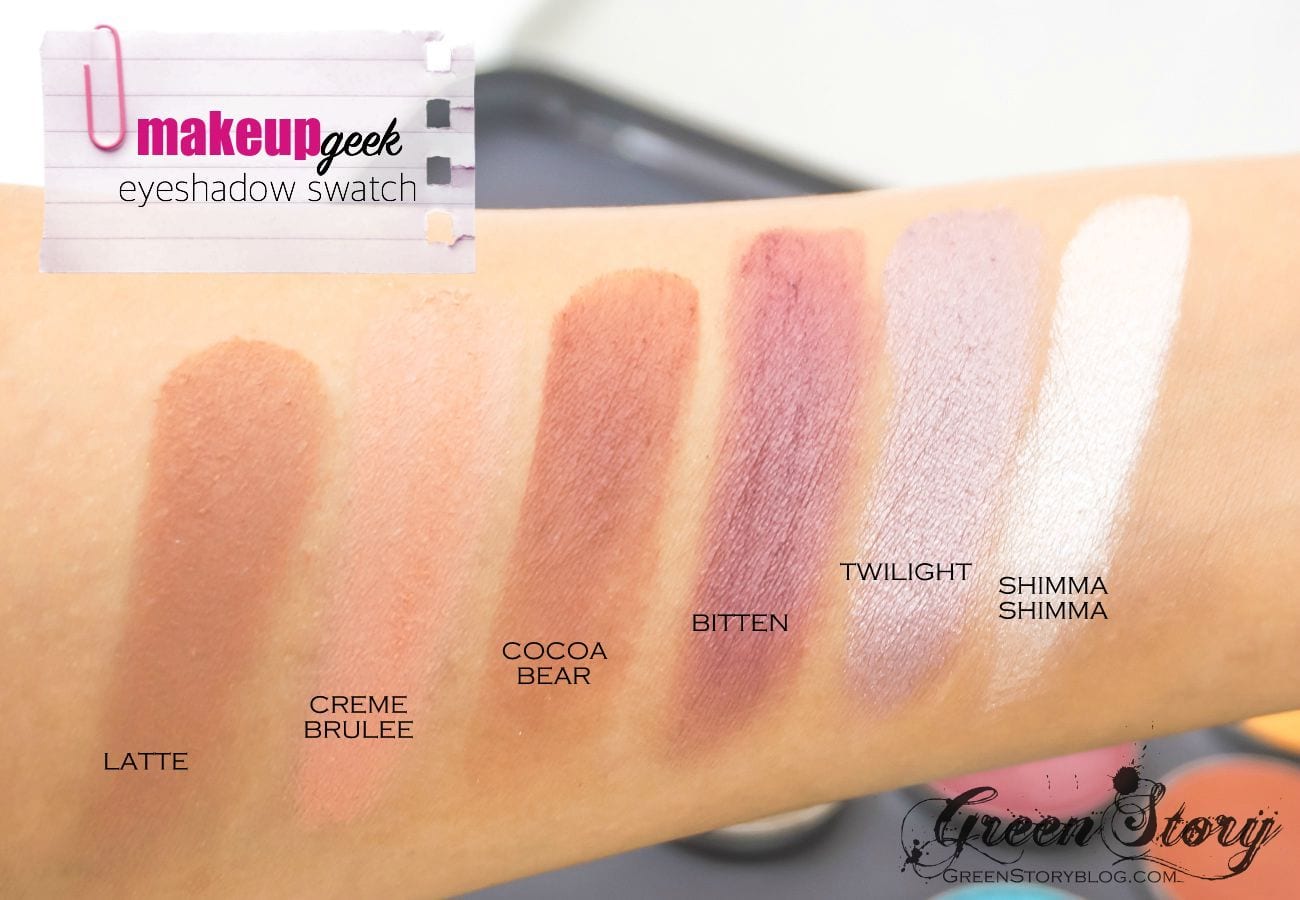 [wp_ad_camp_5][/wp_ad_camp_5]
Pegasus:
Pegasus is from foiled (intense metallic finish) eye shadow range of Makeup Geek. It's a bright but softer shade of aqua. Everyone needs to have a bright popping color in their shadow collection, isn't it?  Thus, I added Pegasus in my 12 Must Have. It's intense metallic finish and insane pigmentation will blow you off as well as create a different dimension in any eye look. A lovely shade for any accent eye look.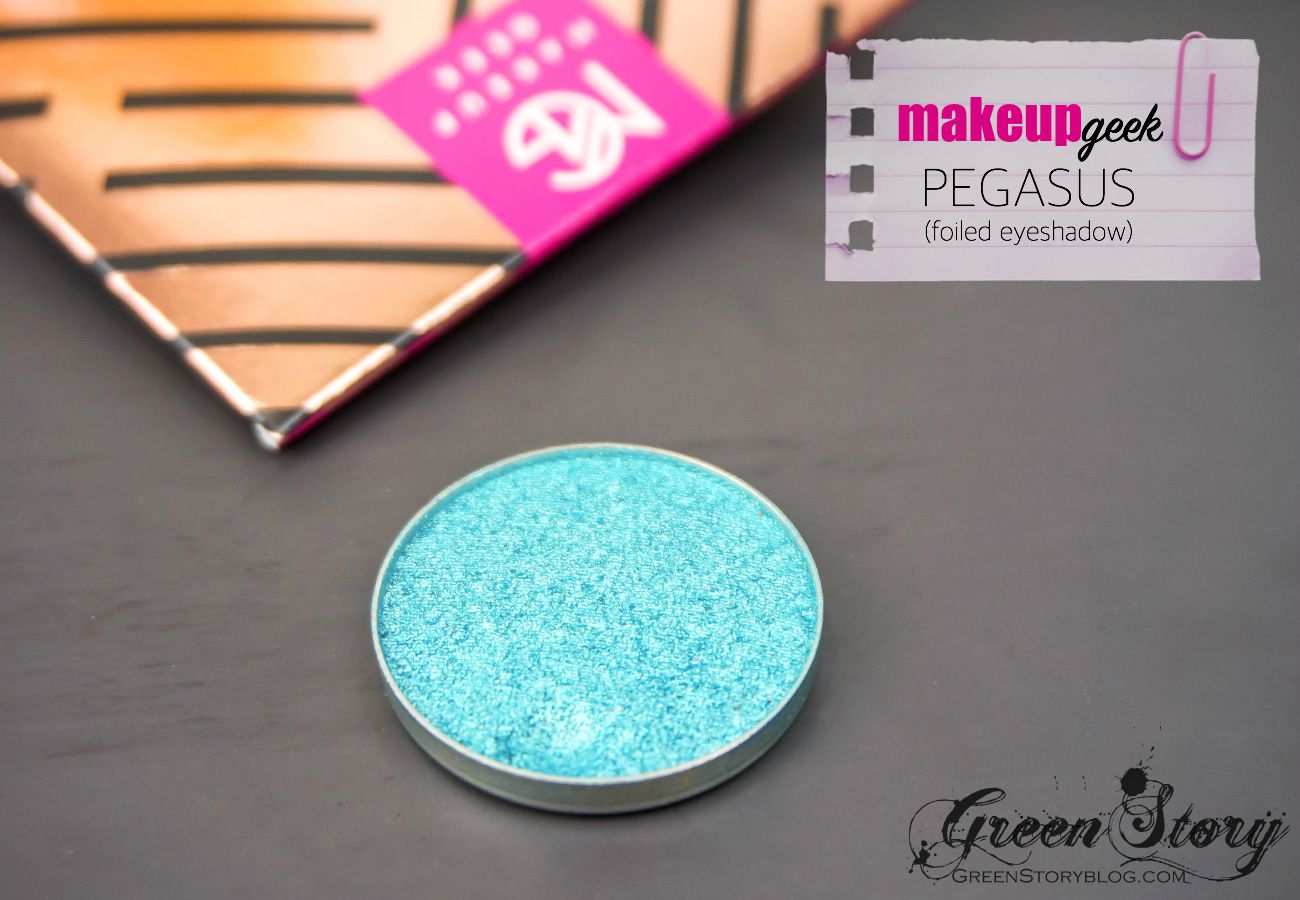 Simply Marlena:
We are talking about 12 Makeup Geek Must Have and I certainly cannot skip this beautiful pink shade called 'Simply Marlena' which is named under the name of the beautiful lady, the owner of Makeup Geek, Marlena Stell. I won't deny because of the name I hold a secret soft corner for this specific shade, apart from that this is a great shade as well.
It's matte initially, but there is some smooth sheen in it. It looks like a bright pink, but it appears muted when applied. Simply Marlena looks lovely if worn alone, as well as a perfect shade to create some dramatic look.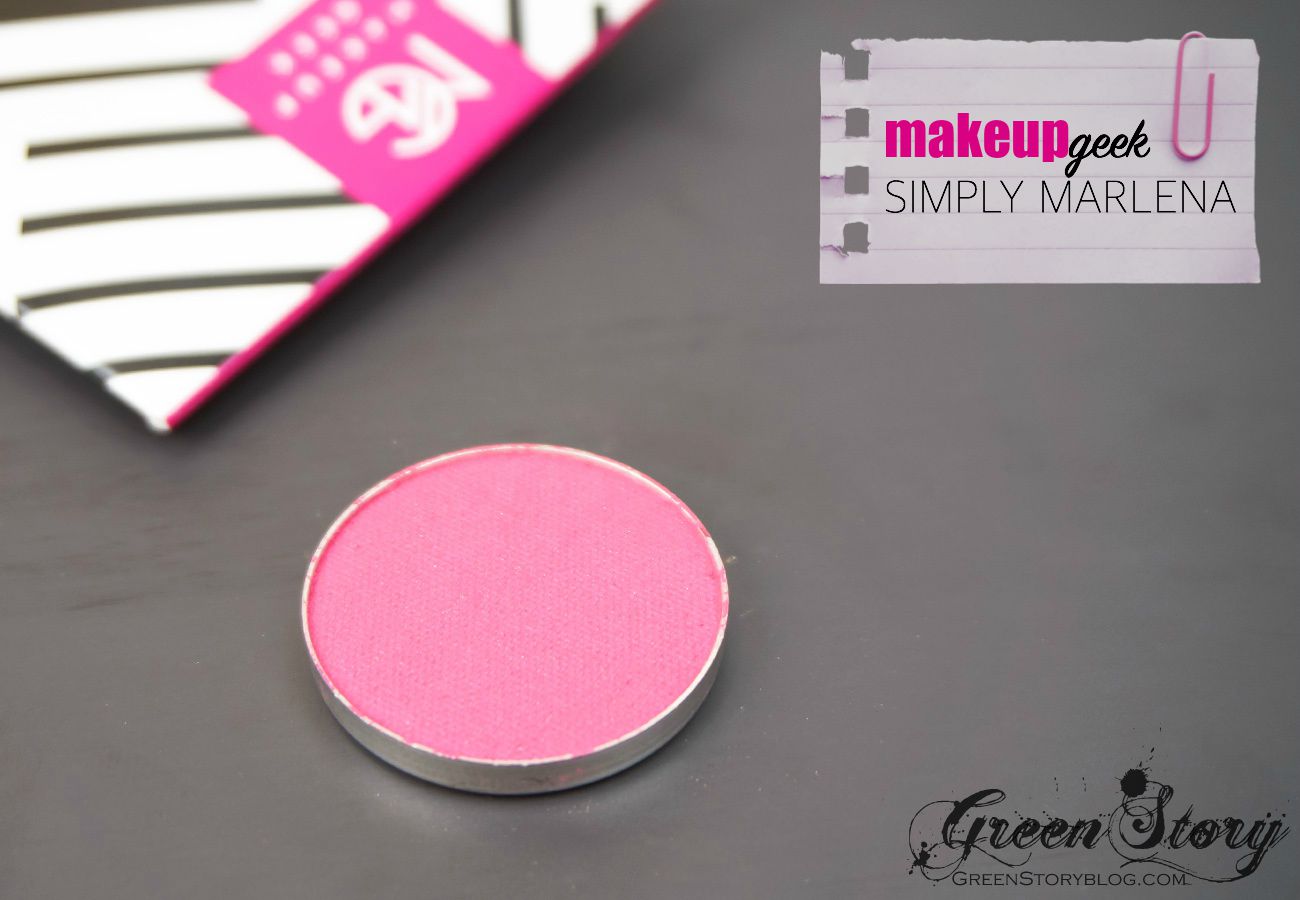 High Tea:
It's a quite new shade in Makeup Geek shadow range. A unique earthy tone, they say it's a medium brown with gray undertone, but I'll say it has strong olive hue with that gray undertone. I love to wear this shade in my crease are mostly but also wear it whenever I feel like to wear some soft earthy look. If you mix it with a bit of Bitten it creates an awesome shade for lower lash line.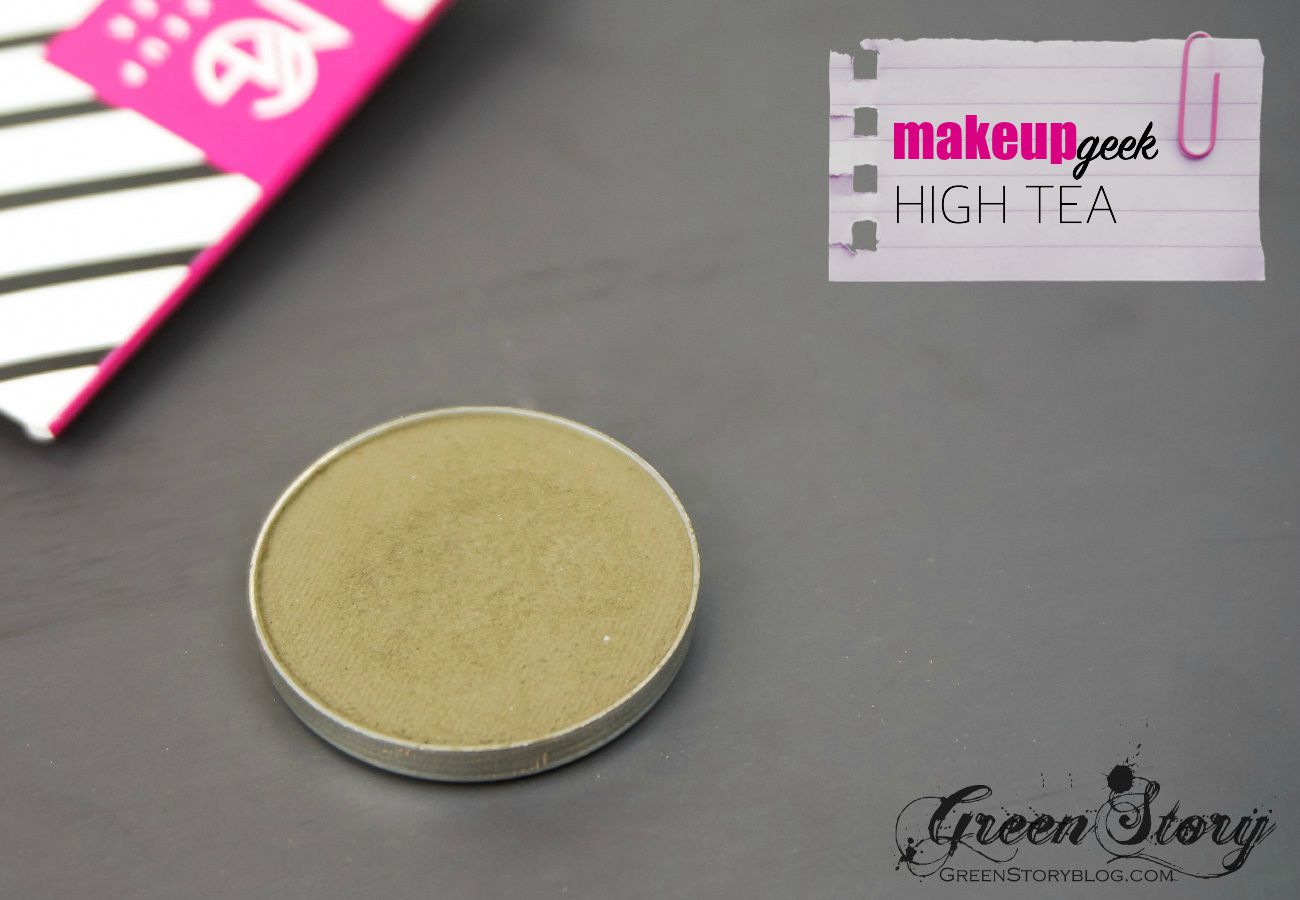 [wp_ad_camp_3][/wp_ad_camp_3]
Chickadee:
A matte, soft yellow-orange shade, almost leaned to the peach color. You might think how come an orangy color can be functional in daily use. Well, this is that one shade which will create dimension in your look. Suppose, you are creating a blue and black eye look, blend them with Chickadee where blue and black meets and you'll see the transitional magic. I also love Chickadee for an everyday look, I apply it over Creme Brulee in my lid to brighten up lid area even more.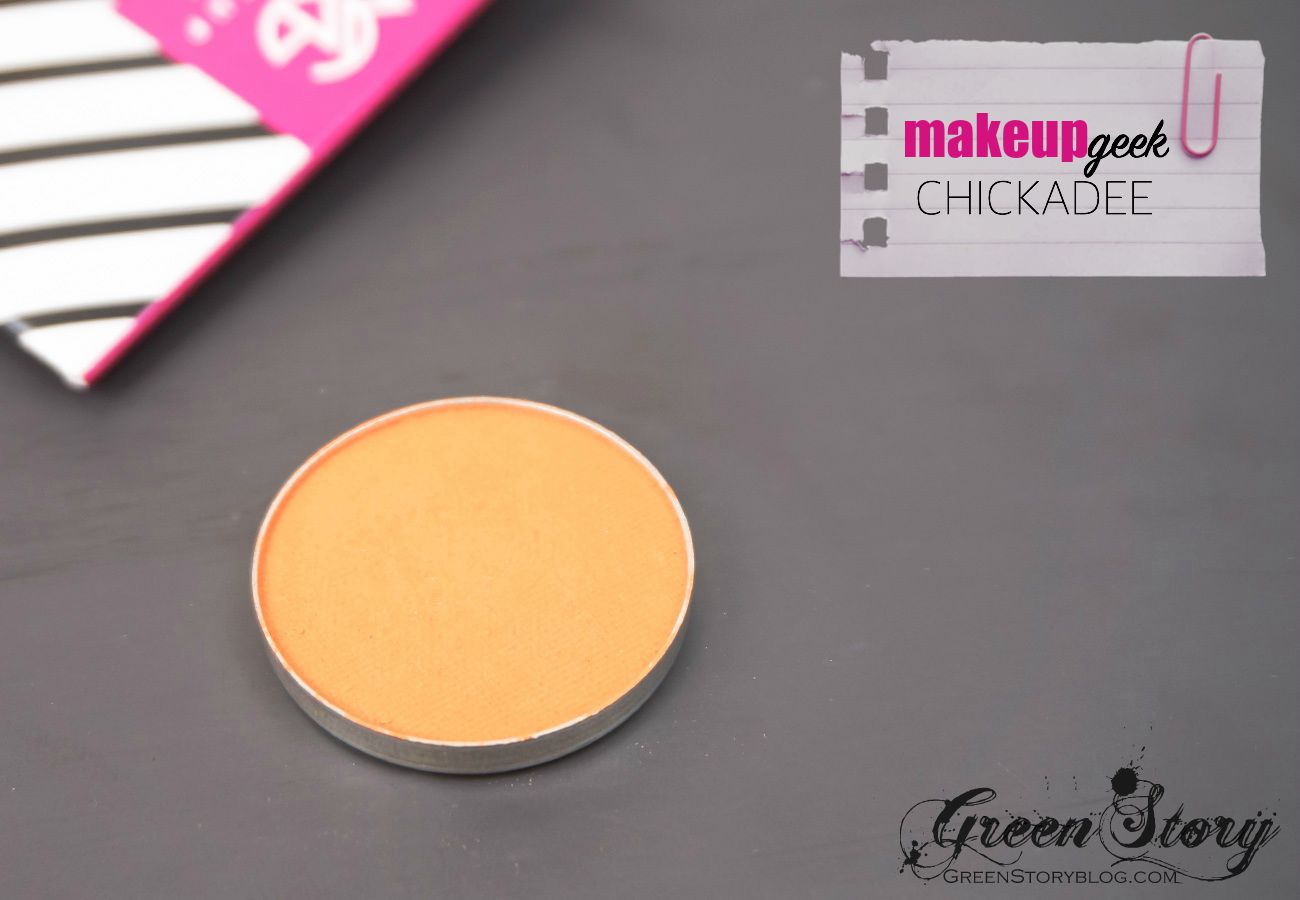 Nautica:
A dusty midnight blue with a soft shimmery finish. This also one of those popping shade that you want to have in your collection. Who doesn't love a good blue color, additionally Nautica it a very subtle blue that can be worn anytime anywhere if you can incorporate it with an appropriate look.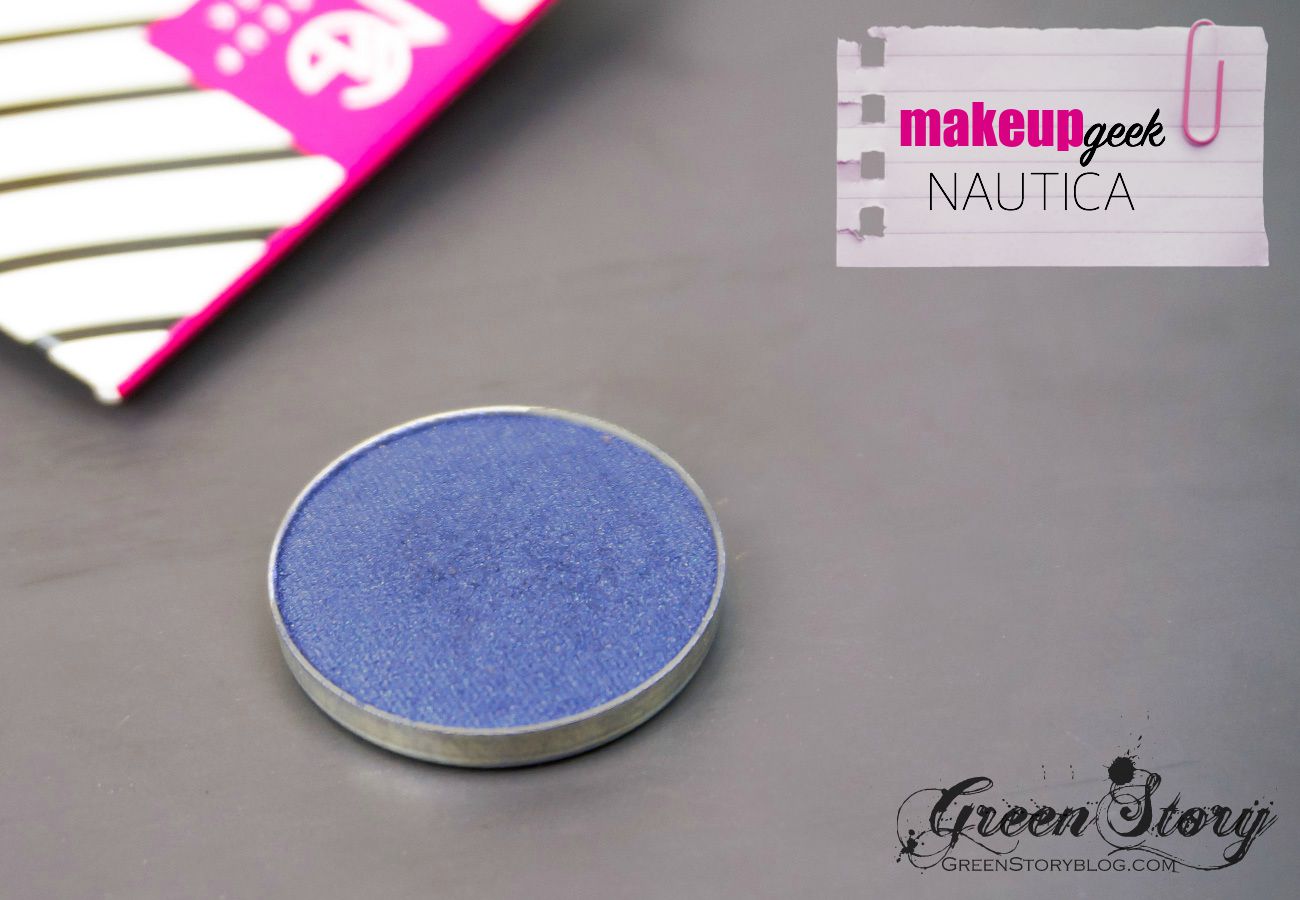 Corrupt:
An intense matte black and the blackest black shade ever. Girl, trust me, you got to have this black in your collection. This is the perfect black shadow I've ever came across. And you know there is infinite possibilities of using a black shade. What I do with Corrupt, well, I do everything… from creating a smokey look to lining my eyes.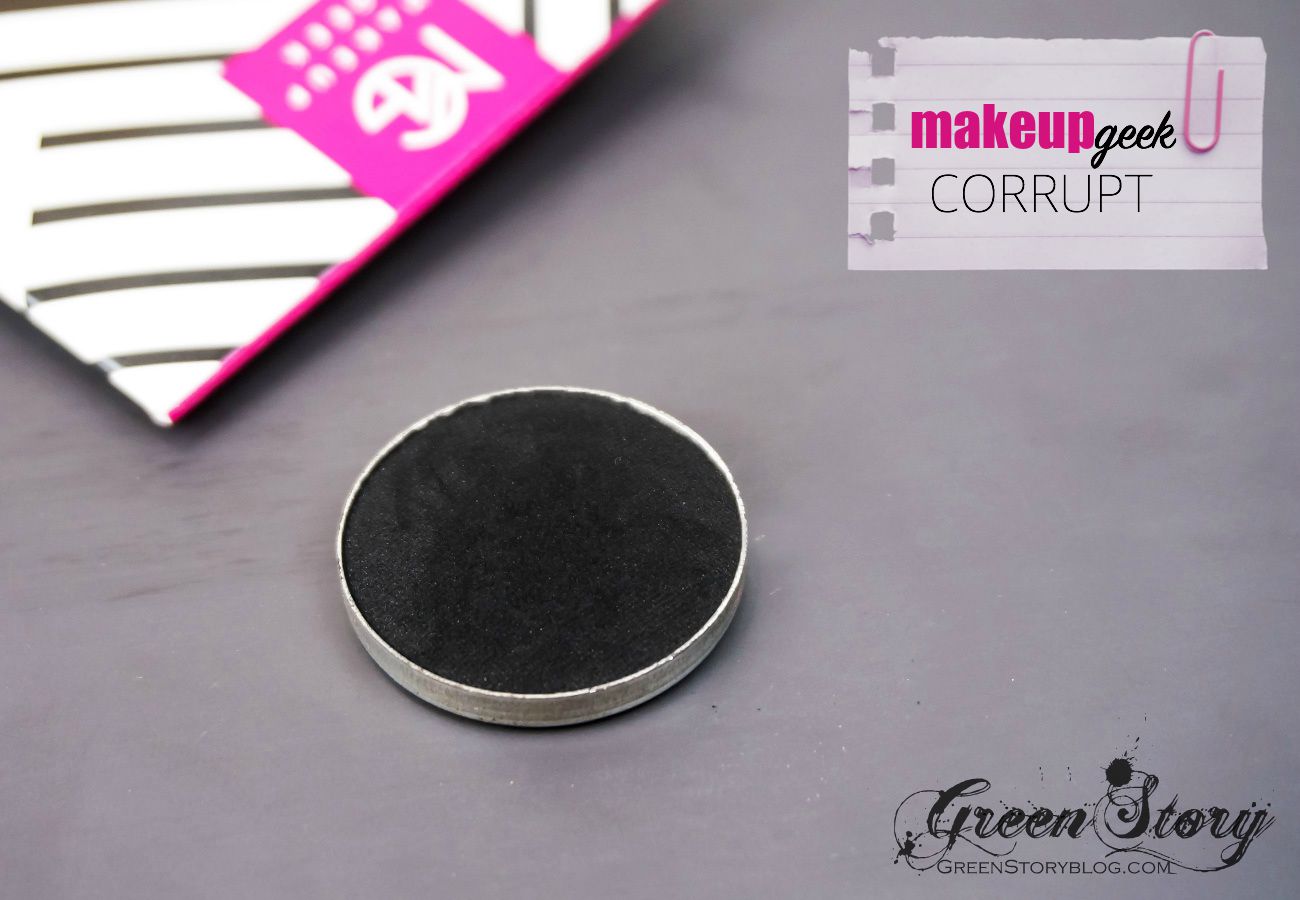 Swatches of the shade below (one swipe with no primer):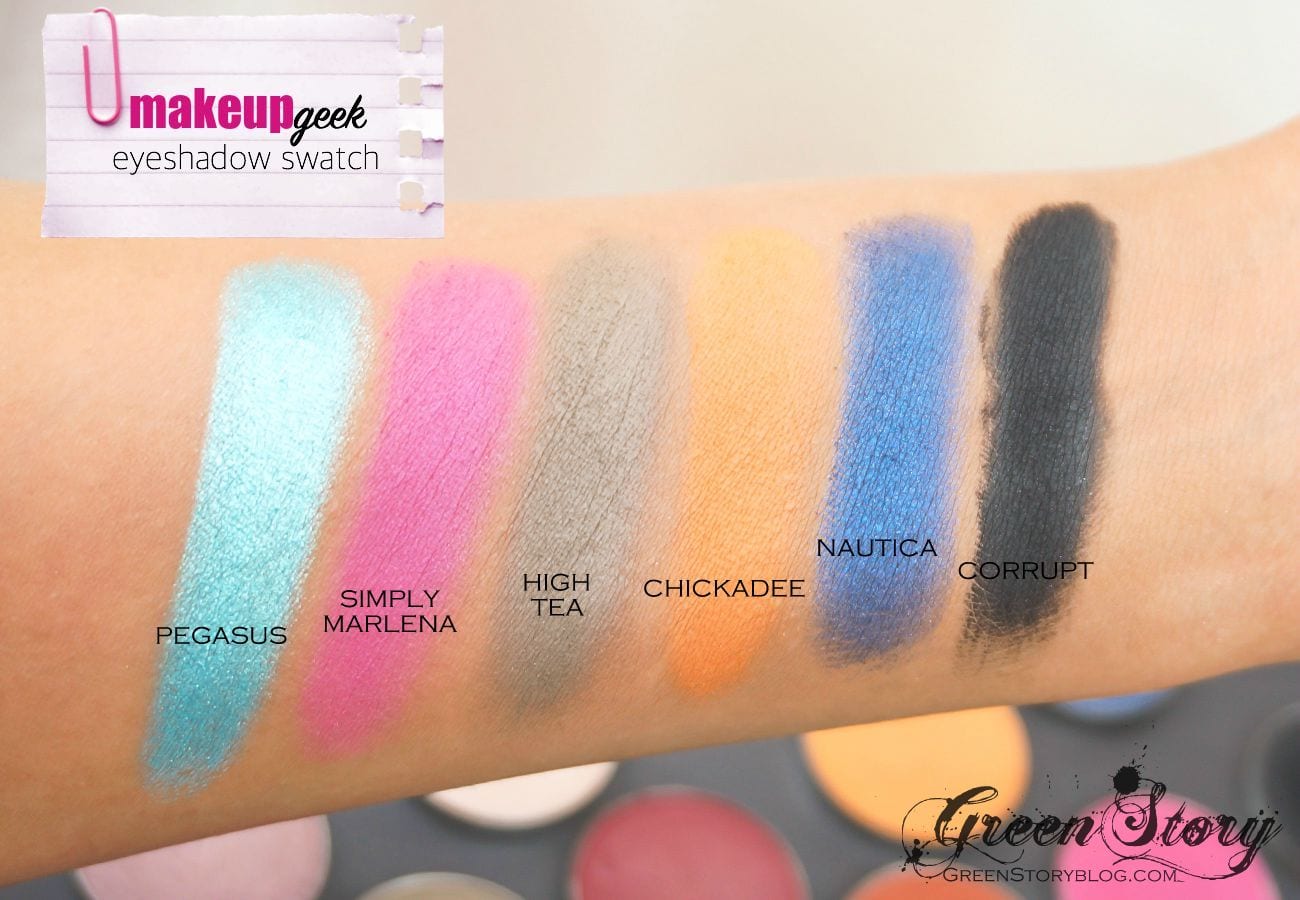 [wp_ad_camp_4][/wp_ad_camp_4]
Now if you have these 12 shade in your collection you won't possibly need any other shade yet of course there is no limit of desire when it comes to eye shadow colors.
If you are thinking of the overall quality of Makeup Geek eyeshadows then let me tell you, they are amazing. Each and every one of them is beautifully pigmented, buttery smooth, blends seamlessly and stays put for long. You may use shadow primer underneath for more opaque application. Moreover, they are pocket-friendly.
[color-box]
Shopping Info:
Normal shadow pan cost around $6
Foiled shadows are priced at $9.99
You can shop them from ▶️ makeupgeek.com
MakeupGeek also offers international shipping with reasonable shipping cost.
[/color-box]
Hope this post will help you with your eyeshadow purchase decision.
Do you own any Makeup Geek eyeshadow? Name your favorite shade in the comment box below… I would love to add that in my collection if I don't have that yet 🙂

[signoff][/signoff]