This is my happy time of the year! Why? …because, it's a beach holiday time and tomorrow I'm heading to Bali, Indonesia. It's been a year we went somewhere out of the country. You can guess right how excited I am? Me and Mr. husband both are pretty much bored with regular life and didn't want to skip this year's summer holiday. So we took time and planned a 7day trip to Bali, away from work and everything, just relaxing by the beach enjoy as much as possible. Yes, expect me to be off here in blog for the next week because I'm still not that blogger who will schedule post 😛
So before starting my trip I wanted to share with you guys my five beach holiday essential that are must have to me for a beach holiday. Obviously, I'm taking a shit load of things with me apart from these five but these are the things that I can't think of skipping. Not only for the holiday but I adore these 5 products in my daily life as well. That's why I call them my beach holiday essential.
Without any further talking let's get into my 5 Beach Holiday Essential…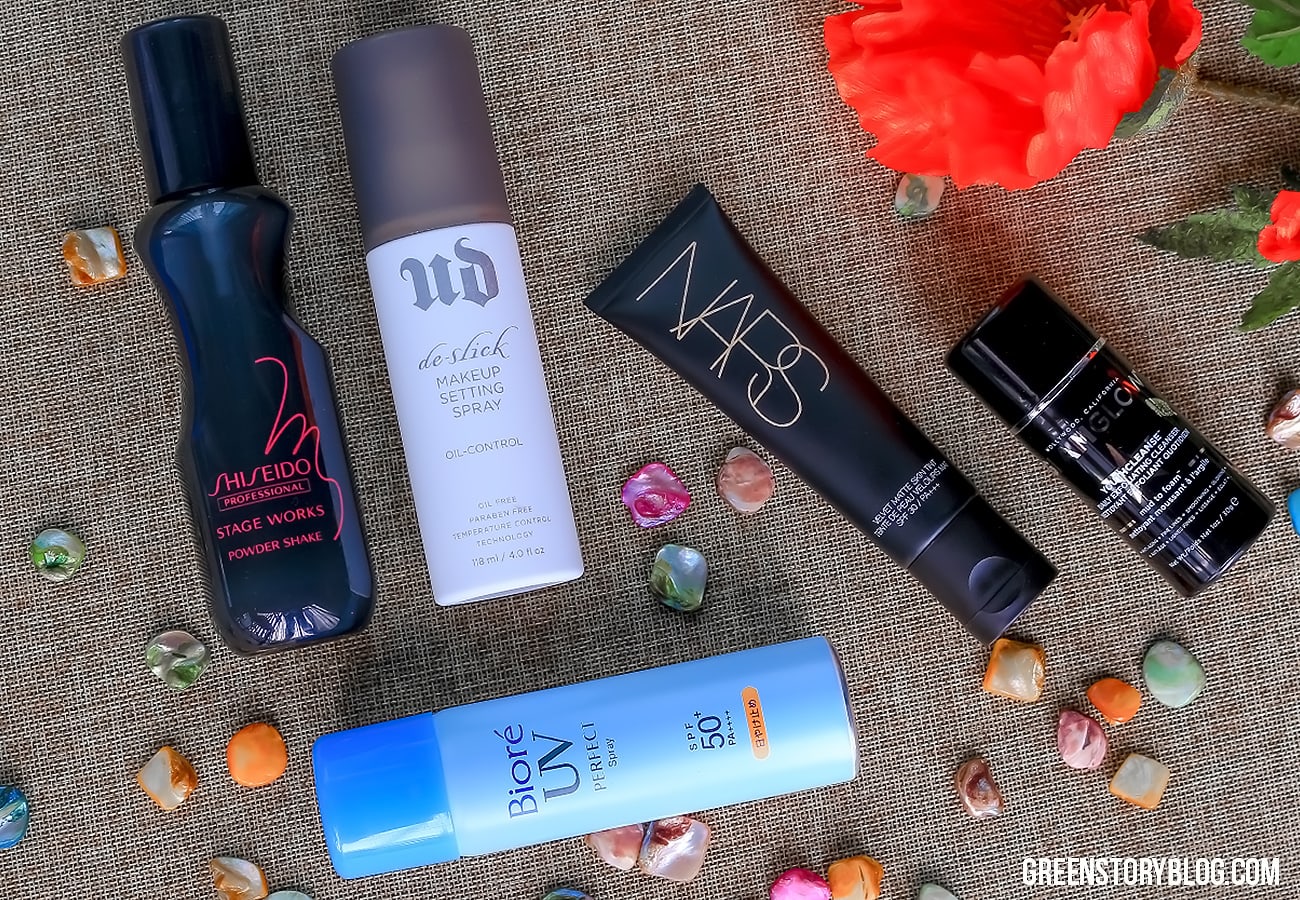 ShiSeido Stage Works Powder Shake |

RM80
Where beach-holiday meant to wear beachy-wave hair but this time I'm planning to carry my natural hair texture which is plan straight. Due to color and bleach, I have pretty bad hair condition now so I'm avoiding heat or any strong hair product as much as possible. Shiseido Powder Shake has been a life save and a go to hair product since last year when my hair stylist introduced it to me. It's a lightweight solution of powder that helps to give hair volume boost as well as a bit of hold and texture. But the best part is hair remains natural looking after using it with that added volume and texture, prevent frizzy locks and no crunchiness or else. You literally can't tell if you're wearing any powder spray.
However, using this product in a right way might be a bit tricky. You just need a few spritz and you're done. Over spraying with make your hair tacky.
Urban Decay De-Slick Makeup Setting Spray | (shop here)
Without any doubt, I'm a big fan of Urban Decay All Nighter Makeup Setting Spray. You must have seen me using it in my makeup tutorials. De-Slick comes along with that in my favorite list. This one especially meant to control oil. As because this is summer now and weather in Bali will be pretty hot I'm totally expecting some oil-flood and sweat. So as a precaution/solution my Urban Decay De-Slick makeup setting spray is a must have on my beach holiday essential list.

Nars Velvet Matte Skin Tint |

(shop here)
I'm planning not to wear any heavy makeup this time throughout my holiday. I want to look relaxed and casual all the way and want to spend as less time as possible on makeup but enjoy my time. So rather taking any of my favorite foundation I'm taking my recent favorite Nars Skin Tint/ BB cream with me. This has a velvety matte finish which doesn't dry out skin but gives a glowy look, also keeps skin oil free for quite long. Plus point, Nars Velvet Matte Skin Tint has SPF 30/PA+++ in it which makes it as a perfect base product when you'll be under the sun.

GlamGlow YouthCleanse Daily Exfoliating Cleanser |

(shop here)
I've been recently trying out this GlamGlow Cleanser and needless to say I've been loving it a lot. It cleanses so well also gives a mild exfoliation. Thus, in the morning, you get a fresh face to work with and at the end of the day, it removes all the dirt or dead skin cells from the face.

Biore UV Perfect Spray |

RM40
Heading for a beach holiday and there is no sunblock in my Beach Holiday Essential list? Is it even possible? Biore has always been my favorite brand for sunscreen. The one I regularly use is Biore UV Aqua Rich Sunblock. Considering the ease of application I'm taking the spray version of it with me, so I can carry it with me to the beach and spray it all over whenever I want. Biore UV Perfect Spray has SPF 50+/PA++++ in it,  protects from sun damage gives no white cast, completely oily or grease free.
[wp_ad_camp_4][/wp_ad_camp_4]
So those are my 5 must have as beach holiday essential. Do you spot any favorite?
Though I haven't had many difficulties to sort out my essential but not I'm tussled up sorting out other skincare in a travel jars and, needless to mention, there is other makeup as well. I want to be so relaxed but I find this is the hardest thing to sort out minimal makeup …haha!
So beautiful, that's it for today! will be back writing from next week. Nonetheless, you can stay is touch with me via my FB and Instagram. Defo I'm gonna post some snaps from Bali! If you have any query feel free to drop me a line in the comment box below 🙂
[signoff][/signoff]