I have been looking for a full coverage foundation and wasn't intended a bit to check on the Too Faced foundation. I was literally looking forward to trying the new MAC and MUFE foundation. But that day I visited Sephora to pick up some random stuff and randomly swatched this new Born This Way Foundation. The shade 'Honey' matched my skin beautifully yet I was careless, the SA handed me over a sample pot to try out at home. Next day, I had an event to attend and I thought to try that sample for the day!
The first stroke I applied I was impressed by then with the coverage and amazing blend-ability! Throughout the event, I was complimented on my makeup a couple of times and one of my friends literally asked me about my foundation! I got pretty surprised and couldn't wait to look at my face, but the event was going on so haven't had a chance to look at my face :p
I got back home after 6/7 hours and girl! …my makeup looked amazing after all those hours and at the end of the day, I knew that I have to get this foundation. Hence, the next day I ran into Sephora and got myself a bottle of Too Faced Born This Way Foundation. However, I picked the shade Sand for me finally… will explain to you why in a bit… keep reading!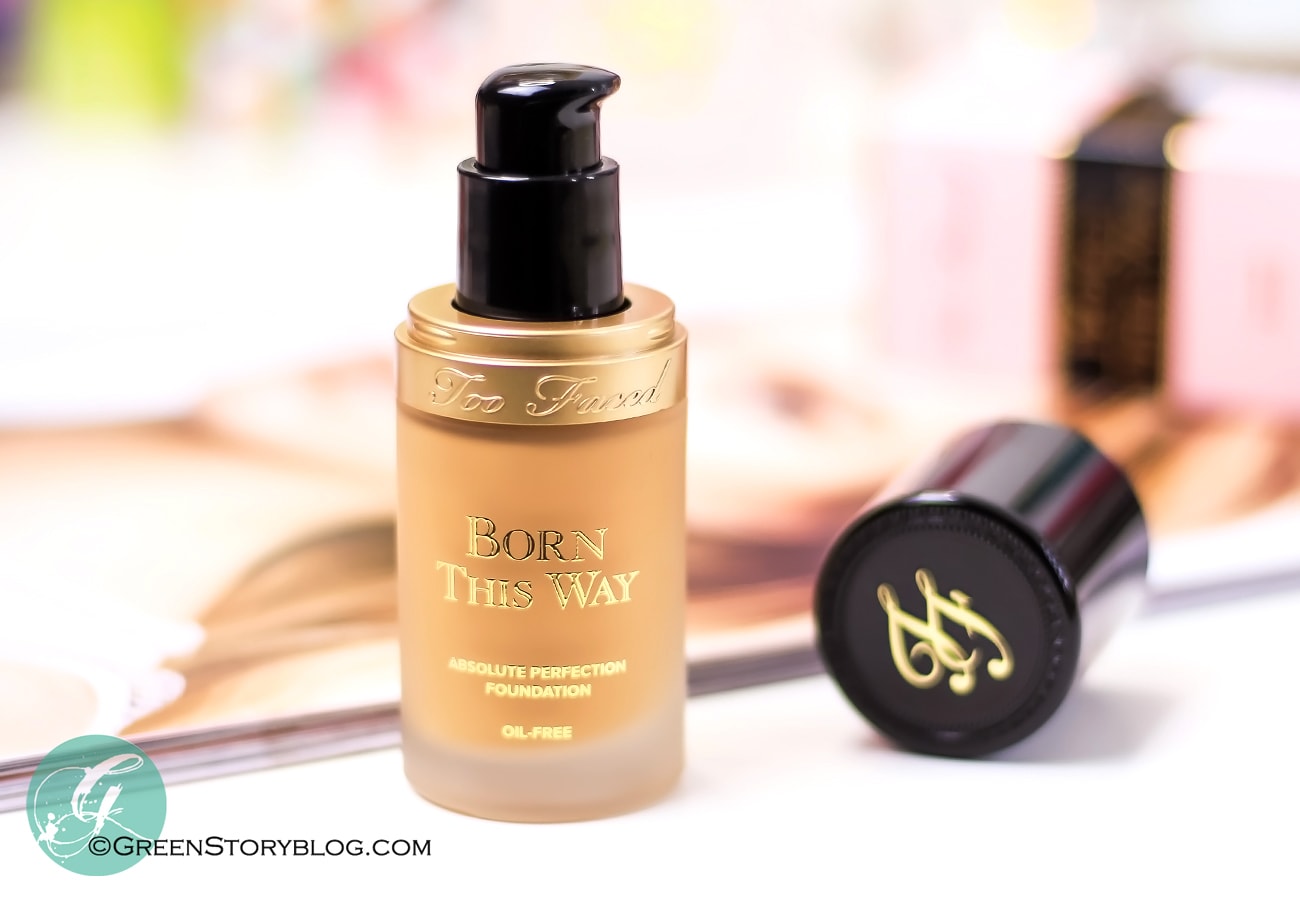 Too Faced say's about Born This Way Foundation:
[color-box]
Born This Way is an oil-free foundation that masterfully diffuses the line between makeup and skin. For coverage so undetectable, you can't see the makeup and you can't see imperfections—all that's left is naturally radiant skin that looks like you were Born This Way. This foundation is infused with a potent combination of Coconut Water to naturally replenish moisture levels; nature's resilient Alpine Rose to brighten the skin's appearance and promote elasticity and Hyaluronic Acid for a smoother, more youthful appearance.
KEY FACT:
Medium-to-full undetectable coverage
Coconut Water helps delicately replenish skin's moisture levels without overhydrating—for the look of radiant skin
Infused with the resilient Alpine Rose to brighten the skin's appearance and promote elasticity

Hyaluronic Acid helps balance skin for a smoother, more youthful appearance
[/color-box]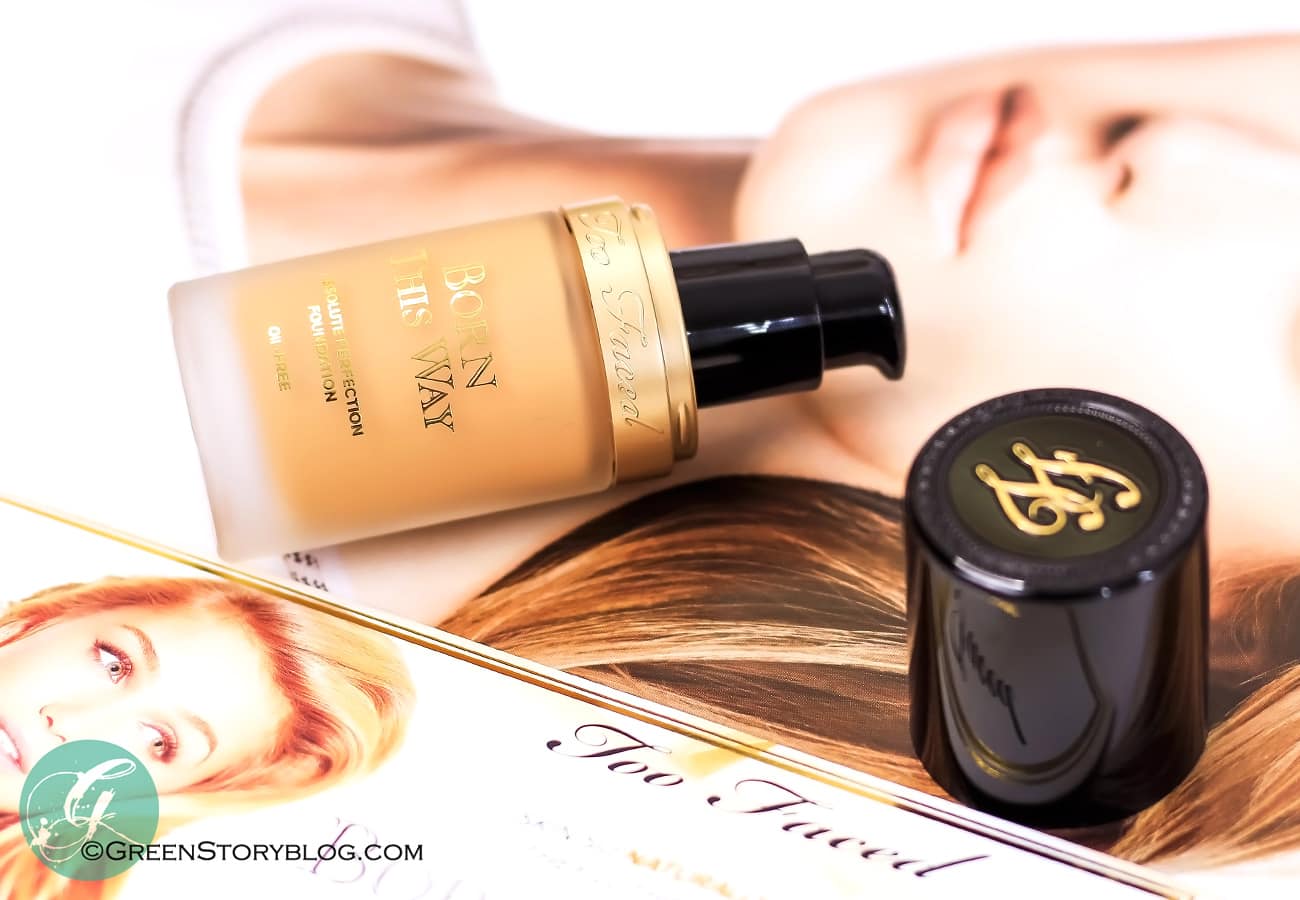 My experience with Born This Way Foundation:
I absolutely love the frosted glass bottle with a gold accent design of Too Faced Born This Way Foundation. The luxurious bottle also comes with pump dispenser to make your life easier. The bottle offers the standard amount of product which is 30ml. The product has mild fragrance in it, I'm not really sure how it is like, might be the smell of coconut water.
Too Faced currently offers total 12 shade variety of this foundation and there are more shades coming in this fall. In currently available shade range, there aren't many options for darker skin tone or with the cooler undertone but it's good to know that they'll add more of these soon.
As I mentioned, I color matched with the shade Honey initially but when I tried it at home I noticed that this foundation gets noticeably deeper once it dries or sets into the skin. It's nothing like oxidizing, but I guess it's the character of this foundation. Therefore, I picked up the shade Sand for me. When applied 'Sand' appears brighter on my skin but after a while, it turns into the perfect match for my skin.
Yes, Too Faced Born This Way Foundation Oxidizes!
Because this foundation tends to get darker after a while so this does create a bit confused while choosing the shade. Have a closer look at the swatches below. I included wet and dry both state of them to give you a better understanding.
Apart from the color inconsistency, I found the oil-free, lightweight, buttery smooth texture of this foundation very pleasant. The foundation glides on skin effortlessly, sits and blends with a seamless finish. The coverage it gives is mind-blowing. It gives medium coverage at the first layer and with a second layer, I get the fullest coverage.
It's not fluid but quite thick to touch thus works best with the finger or a beauty blender, a regular foundation brush tends to leave a streaky mark. However, my Sigma 3DHD Kabuki brush (review HERE) seems to work perfectly with this foundation. The finish it gives is very natural looking and dewy, holds up without fading till the end and gives extremely lightweight feeling even when I wore a couple of layers to achieve full coverage.

If you care about Born This Way foundation ingredients,
Honestly, I don't care much. Actually, I don't feel anything different because it has coconut water, hyaluronic acid. The foundation keeps my skin hydrated while wearing. Moreover, it didn't give me any breakout so far.
Overall, I'm completely sold and really appreciate the way Too Faced Born This Way foundation works on my skin. Needless to say, this is definitely my new HG foundation. I highly recommend this if you're looking for full coverage but the most natural looking foundation that doesn't feel heavy on the skin. Also has added benefit and appears beautifully in real life as well as in photos.
If you're a fan of natural coverage then you must check my review on Dior Nude Air Foundation. Also if you're looking for a full coverage drugstore foundation read my thoughts on Rimmel London Lasting Finish 25hr Foundation.
By the way, I'm keen to know what is your HG foundation?
[color-box]
Price & Availability:
Available at Sephora Malaysia for RM135 and elsewhere $39,
[/color-box]