Hello Beautiful Reader,
We are here at the edge of 2014 now. You must be busy planing 31st eve! 2014 has been a great year for me with of course some ups and downs yet at this end it feels like the year has just flown by.
In this last post of the year 2014, I'm featuring my five Beauty Favourites of the year. It wasn't easy to pick five product only. I have tried lots of beauty product this year and so many of them become my favourite. Products I'm going to mention in this post are extra special because I have been using them continuously throughout the year and never really looked for their substitute.I haven't got time to write about these particular products previously so though this is the right time to feature them.So, My Five

Beauty Favourite of 2014 are…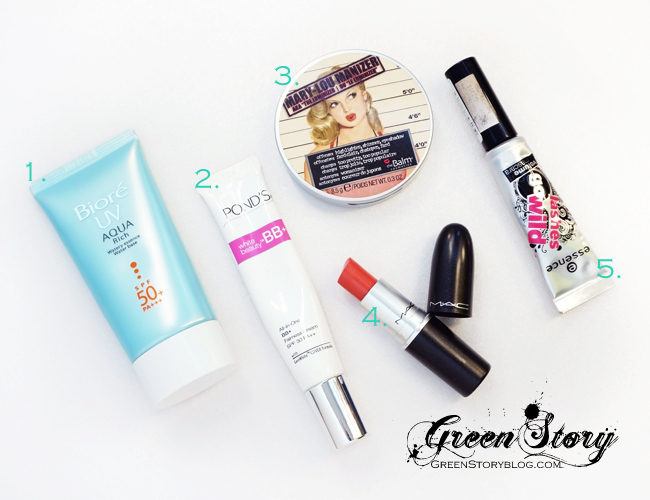 1. Biore UV Aqua Rich Sunblock:
This is a water based sunblock with SPF 50, PA. Biore UV Aqua Rich Sunblock is the best-found sunblock for me till now. Every sunblock I used previously use to leave a white cast and greasy residue. This is the only sunblock I found that doesn't leave any white cast or makes my skin greasy. It's watery thin formula absorb into the skin so quickly and leaves skin supple afterward. Great to use before makeup as well. And top of everything effectively protect skin from sun damage. It's been a complete year that I'm using and loving this product.
2. Pond's White Beauty BB Cream:
Pond's White Beauty BB Cream formulated with Pond's GenWhite Cover Formula and has SPF 30 PA in it. This is another best of the year for me. It has medium consistency and provides a bit more coverage than other BB cream available in the market (in my experience). Gives matte finish; blends easily and has quite good lasting power. One drawback that it comes in one shade only which might not go with darker skin tone. However, It was my staple all over the year for go to makeup.
[wp_ad_camp_4][/wp_ad_camp_4]
3. The Balm MaryLouManizer:
This is a highlighter that I can't live without till now. It gives a subtle highlight to skin that I believe will match any skin tone.If you don't want soft finish then the good news is it can also be build up to that supper hi-lighted point if you want to. Love, Love Love this product and I'm sure I'll be loving it next year as well.
4. MAC Lipstick Crosswires:
This lipstick is literally my most used shade not only in 2014 but ever since. I still couldn't find the reason why I love this shade so much! It's like my Rainy Day lip shade. I mean whenever I get confused and don't like any shade to wear I just reach for Crosswires. It's a soft coral, sometimes feels pinky, nude shade that pleased me always with any kind of look.
5. Essence Lashes Go Wild Mascara:
I used up three tubes of this mascara over the year and now I'm in the fourth one. So, you can guess how much I like this mascara. This mascara has uniquely shaped wand that helps to give volume and length at once. Not waterproof, I don't like waterproof mascara, but doesn't really budge without makeup remover. Doesn't clump lashes and stays put till you remove. It's a Budget mascara that meets my every requirement.
[wp_ad_camp_3][/wp_ad_camp_3]

***Ummm… there is one more thing that I want to feature! But that's not product related but all about beauty!
Earlier this month I joined a facebook group named POP OF COLOR. It's a Bengali community for all beauty enthusiast and even if you are a blogger or YouTuber. If you are into beauty and makeup then you'll find so many like minded buddies there. You can get info, share your beauty thoughts, seek answers for your beauty related question and so on. Overall, this group is a total girly place full of beauty lovers.



---
---

At the end of 2014 I thank you all,
my reader, follower, subscriber and even if you are ghost reader 🙂
Thank you and a heart full of gratitude for being with me, inspire me and support me to come this far with GreenStory.
Wish you all A Happy New Year!



[wp_ad_camp_2][/wp_ad_camp_2][signoff][/signoff]