Hello Everyone!
As March is at its end its time to share my beauty favourites from the month, those all beauty products that Ive been loving specially in this month. Though in this month it was tough to shortlist them but finally I ended up picking six beauty product as my ultimate pick of march.
[wp_ad_camp_3][/wp_ad_camp_3]


Lets start talking about them…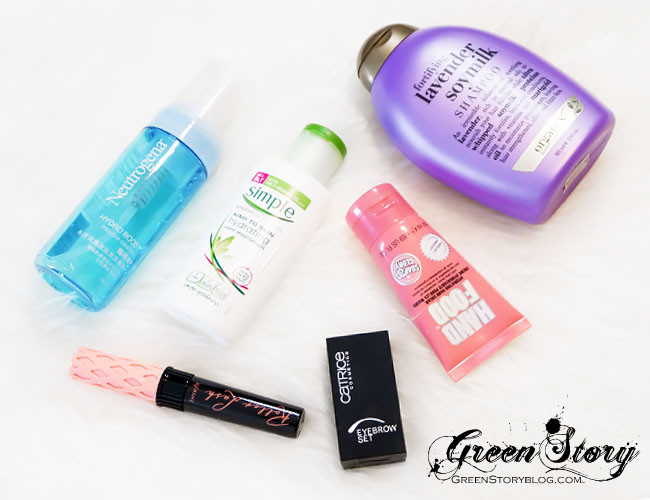 Organix Fortifying Lavender Soymilk Shampoo(40RM):
If you are reading me regularly then you know since I'm here in Malaysia I've been struggling keeping my scalp oil free until I started using this shampoo. Organix Fortifying Lavender Soymilk Shampoo just blown me off with its goodness from first use. My hair never felt so good and squeaky clean before. It smells so fresh and its gel like texture gets into every hair strand without any effort. It makes my hair completely frizz and oil free, restores amazing healthy shine every time I was my hair using this shampoo. I'm already in my second bottle and I'm sure its gonna be a repurchase over and over.

Neutrogena Hydro Boost Mousse Cleanser(30RM):
Last couple of month my skin was acting very unusual. I was having sensitivity issue, rashes and acne. I couldn't use my regular OXY Pure White Facewash(read here…) anymore, I had to find something that is mild and kind to skin. I got happy from the first use of Neutrogena Hydro Boost Mousse Cleanser. Its a gel based cleanser but when you dispense the product out it comes as foam. The product is really mild and hydrating to skin as well as cleanse nicely. If you have sensitive skin issue I definitely recommend this yet if you have normal skin then this cleanser might be a bit too mild for you.
[wp_ad_camp_4][/wp_ad_camp_4]
Simple Kind to Skin Hydrating Light Moisturiser(20RM):
A budget moisturiser packed with all that goodness you need. I can't explain how much I have been enjoying this moisturiser. Its so refreshing, hydrating, non-greasy and of course kind to skin as it claims. I think this is a very much suitable moisturiser for every skin type.

Soap&Glory Hand Food:
Who doesn't love to have soft and moist hand? And for that a hand cream is must. This month I have been loving Soap&Glory hand cream for my hands. Its has that buttery smooth texture and soothing smell, works excellent on keeping hand plumped. Apology that I forgot the price.

Catrice Eebrow Set(18RM):
This brow kit comes with two shaded of brow powder, a small spoolie brush and a tweezer. I loved it more for the shades it contains, a deeper and a lighter brown that is not red-ish but perfect for brows.
[wp_ad_camp_5][/wp_ad_camp_5]
Benefit Cosmetics Roller Lash Mascara(95RM):
I have been madly loving this mascara ever since I was introduced. In my experience, no mascara has given this kind of lash lift that it gives. Im literally forgetting my lash curler these days. Click (here… and here…) to read full review on Benefit Cosmetics Roller Lash Mascara.


So, those are a few of my favourite products from the month of march. If you want to know a little more details of any then let me know. Also get involved in the comment box below and let me know what you have been enjoying in March 🙂



[wp_ad_camp_2][/wp_ad_camp_2][signoff][/signoff]