Hello there,
Today I'm doing a highly requested post about how to contour and highlight you face. I'm not any expert on contouring and highlighting. There is lot more tricks and ways to do that. Today I'm showing only basic procedure. If you are new to this then you can certainly achieve a good result by following and practicing my shown steps.
[wp_ad_camp_3][/wp_ad_camp_3]

Product I've used here:
*Flormar pretty compact blush (bronzer) in shade P114
*Flormar pretty compact blush in shade P113
*MUA undress your skin shimmer highlighter.
……..you can use any product of your choice.
To start, I must mention what actually contouring and highlighting is. After applying foundation, your face gets a whole even canvas which means you face looses its natural dimension. Where contouring and highlighting is the technique to bring back your face structure, dimension, and light effect.


Let's start with the process…..
Here's my even and flat face after applying foundation.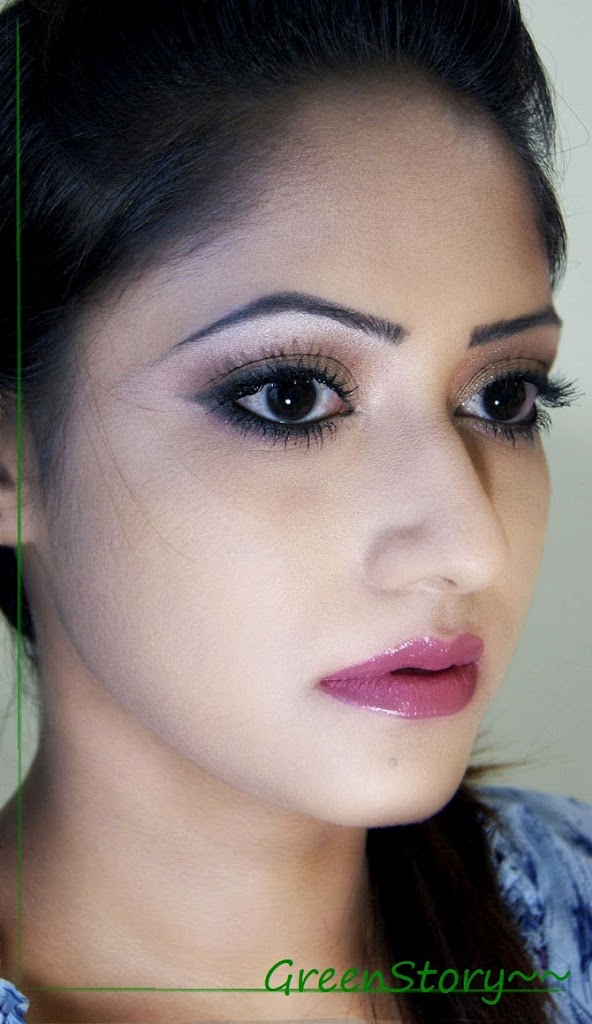 Step 1:
Take your preferred brush and bronzing/contouring powder.
Apply it just in the line of your cheekbone. It should start from the top of your ear and finish in an angular line toward in your lip end. But do not apply close to your lip, just stop in a middle way.
This will add depth and shadow to your face and lift up your cheekbone.
Blend it nicely.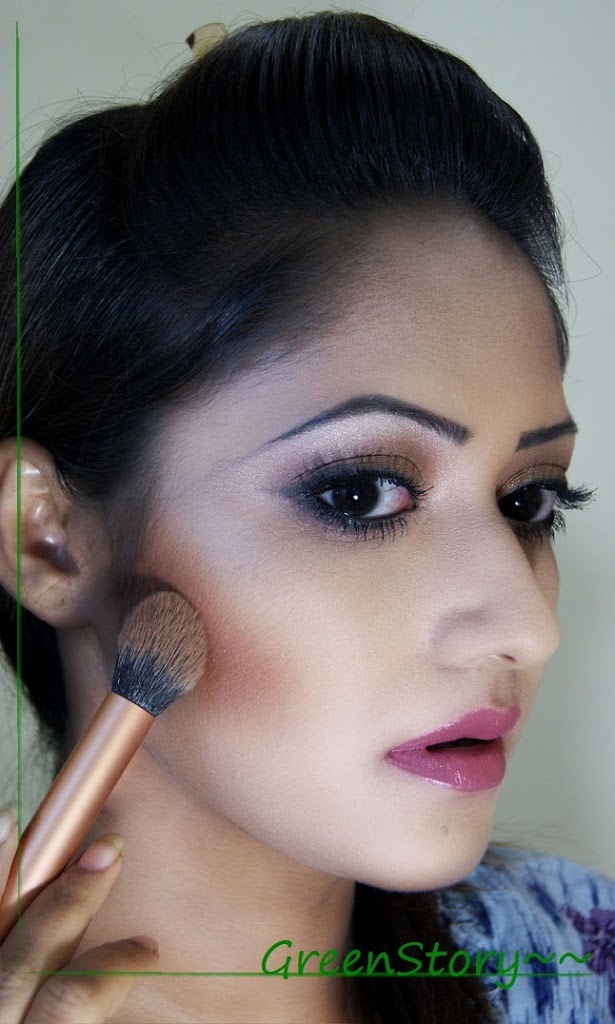 Step 2:
Using same brush and powder touch up your hairline
starting from top of ear and up to top of your forehead.
Make sure you blend it well.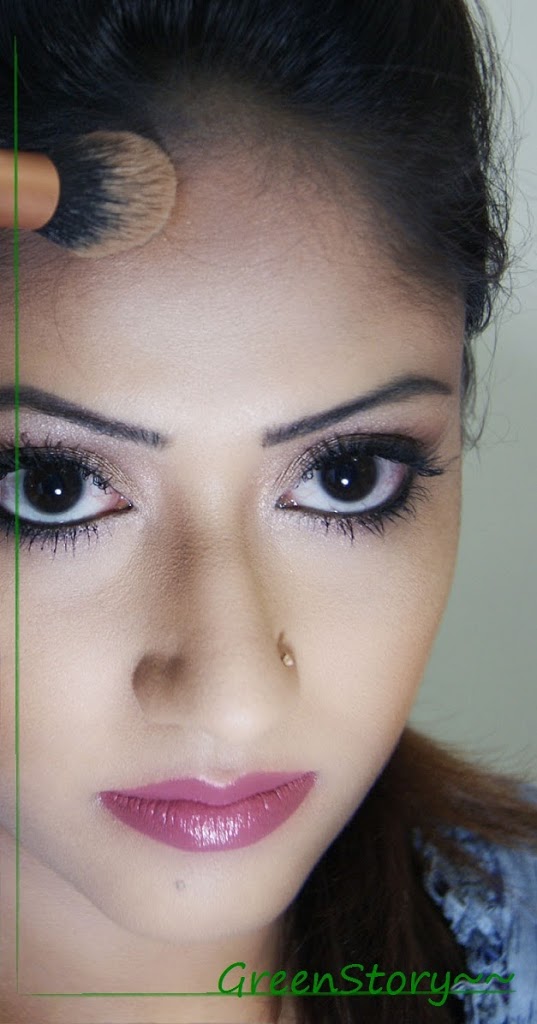 Step 3:
Fill the side of your nose leaving the bridge. This will lift your nose.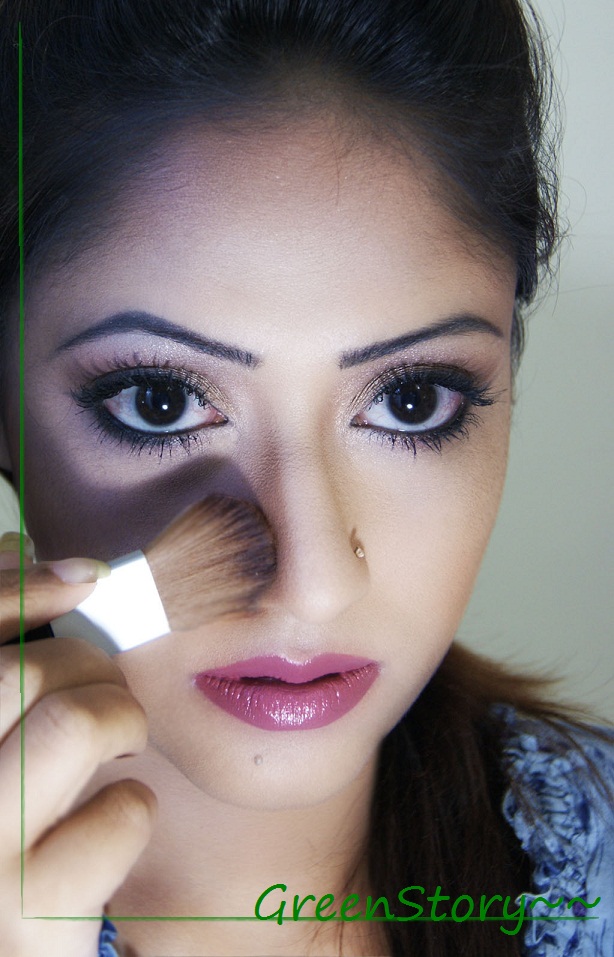 Step 4:
Using the same brush sweep your bronzer under the jawline up to the end of your ear.
Also, apply some following your neck bone.
This will give a sharp look at the end of your face.
Moreover, if you have double chin this trick will help you to cover that.
Now your contouring is done…..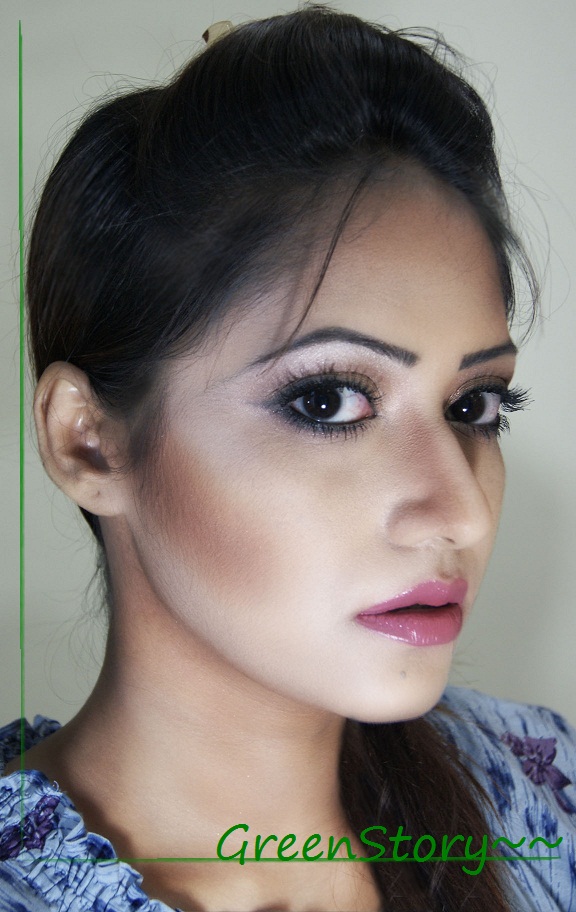 you can definitely see from the picture how contouring created dimension to your flat face.
[wp_ad_camp_4][/wp_ad_camp_4]

Step 5:
Time to get a blushing cheek.
Take your blush powder and brush, here i prefer an angled brush, sweep that in apple of your cheek connecting to you cheekbone. Blend it well with your contouring section.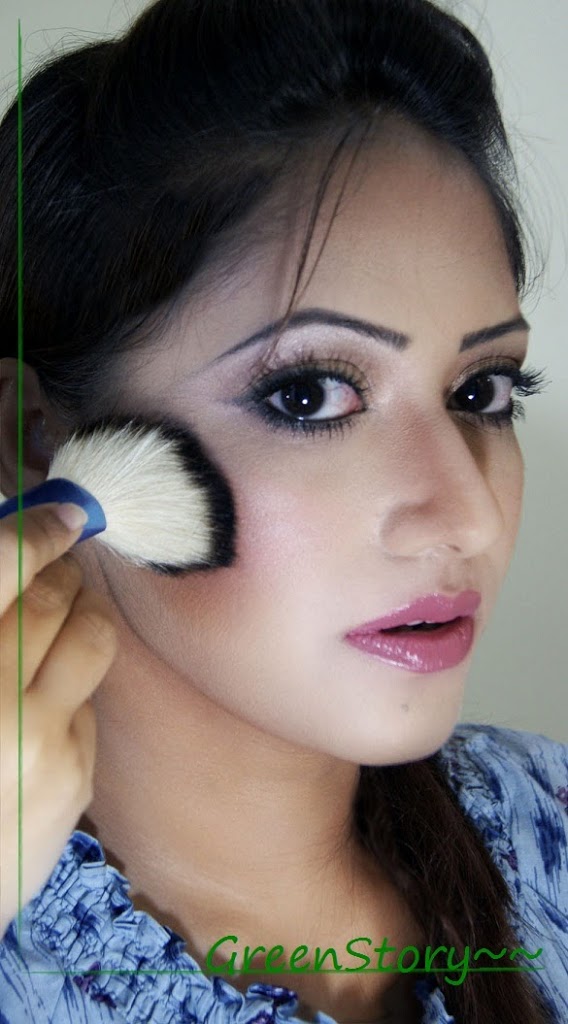 Done with contouring and blush 🙂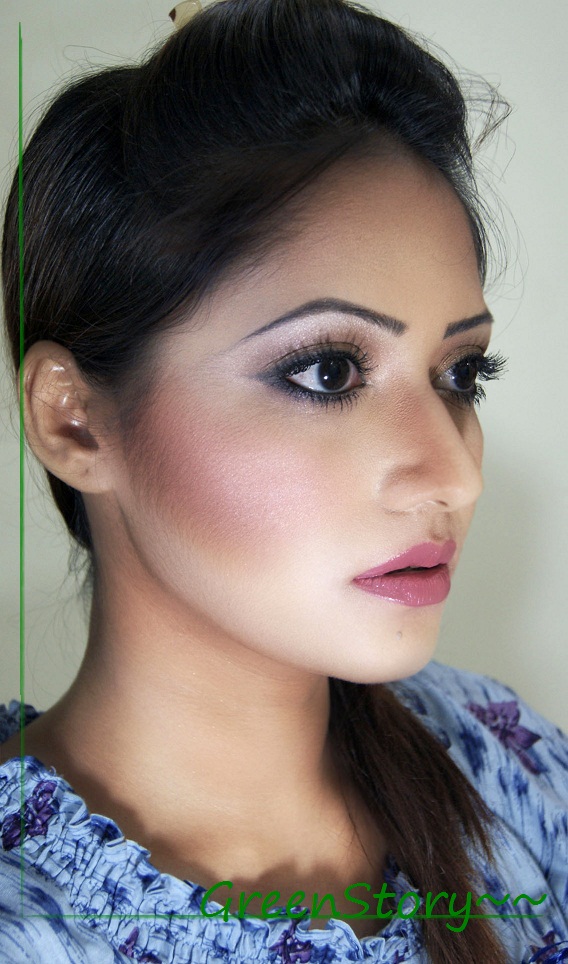 [wp_ad_camp_4][/wp_ad_camp_4]

Step 6:
Time to light up and define the high point of your face.
Take your highlighter and a brush to apply that, pat and blend high point of your cheek and bridge of your nose. You also put some in high point of your forehead and in cupid bow of your lip. But to me that's totally optional.
Remember, do not get much close to eyes when you applying highlighter otherwise your under eye imperfection area will be highlighted.

You are done and here's the finished look 🙂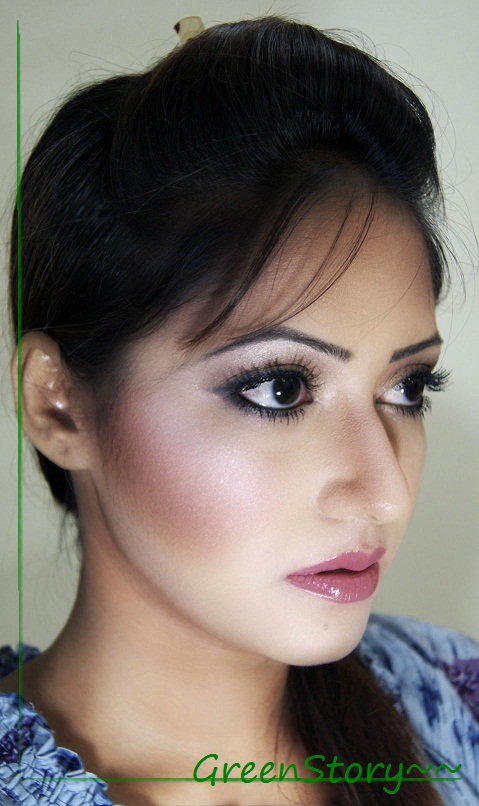 Take a look at the before and after picture again… Can you detect any difference?
Yes, the difference is huge. In before pic, face look so flat and boring!
After contouring and highlighting face looks totally glam up!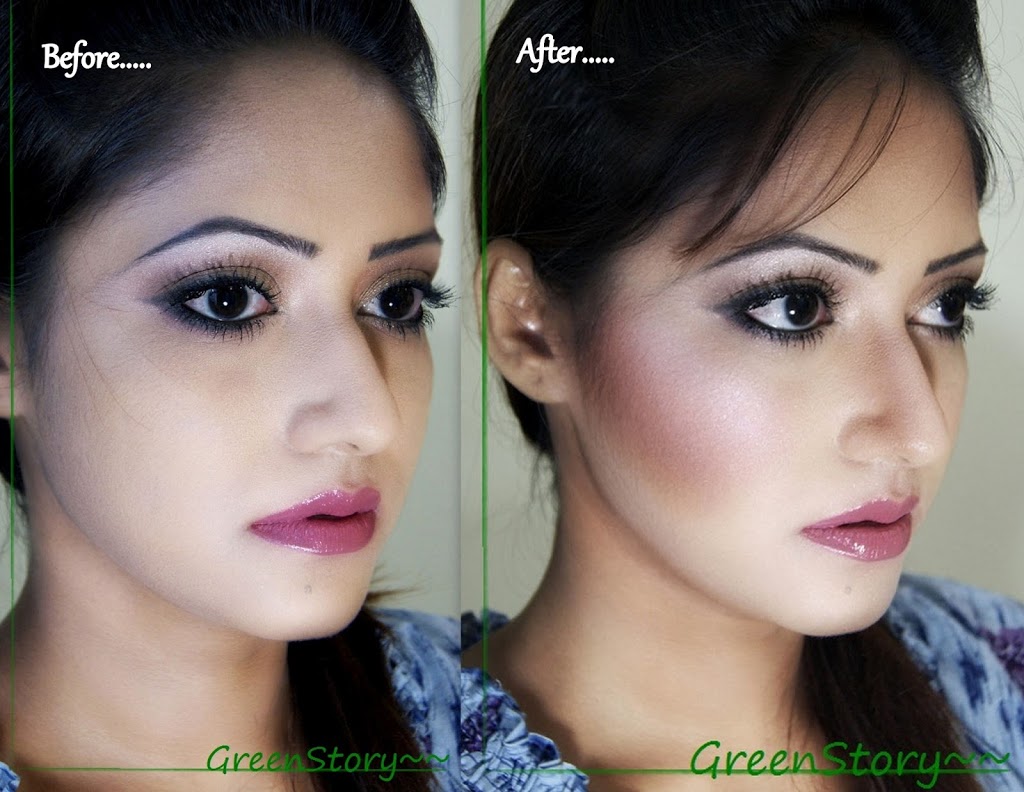 [wp_ad_camp_5][/wp_ad_camp_5]
***note that,
I did way to dark contour and highlight than normally I would do, so that it shows up in the picture. Do not go overboard with your contour and highlight.
In my suggestion,
when you picking your bronzer pic just two or three shade dark color than your skin tone.
For highlighter don't just go for something white.. pick one following your skin tone. Like if you are white or whitish then you can easily go for anything with white of pink undertone. Girls with dark skin or yellow undertone, I think yellow/gold tone based highlighter is best for them.
Keep in mind, highlighting doesn't mean whiten up your face but add glow/light to your face.

This tutorial was just a basic process. Hope my post help you a bit.
Do not forget to post your comment, opinion and queries in the comment box.
[wp_ad_camp_2][/wp_ad_camp_2][signoff][/signoff]