The first skincare line by elmt, promises EFFECTIVENESS. elmt is a new, new skincare brand by Wishtrend that was just recently launched, has 4 skincare solutions [skin toner to say it simply] in their line at the moment. I was trying out two of them, elmt Advance Calming Solution and Gentle Exfoliating Solution for the past few weeks.
& so here I'm…
to share my user experience with you all.
elmt Advance Calming Solution ꧂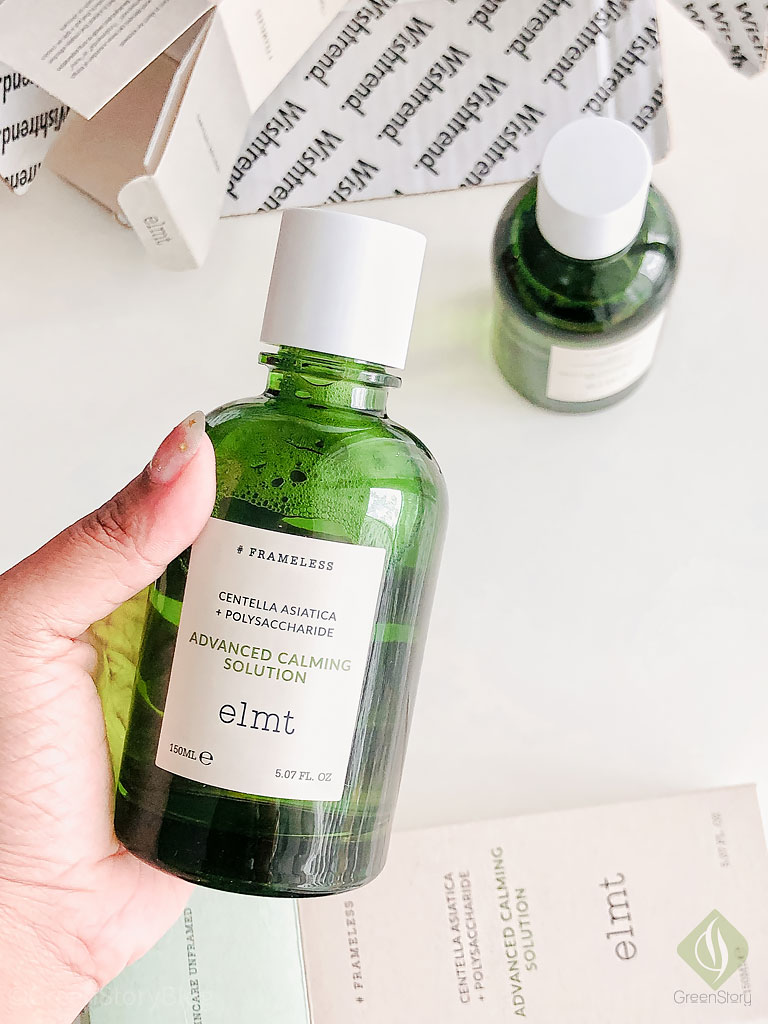 It's a hydrating solution that heals and soothes the skin. Enriched with more than 59.12% Centella Asiatica extract, known for its skin reparative properties. Not only that but there are also ingredients like snow fungus-derived polysaccharides.
INGREDIENTS:
Centella Asiatica Leaf Water, Water, Centella Asiatica Leaf/ Stem Extract, Butylene Glycol, Glycerin, 1,2-Hexanediol, Dipropylene Glycol, Hydroxyacetophenone, Propanediol, Pullulan, Trehalose, Panthenol, Biosaccharide Gum-1, Allantoin, Pentylene Glycol, Tremella Fuciformis Polysaccharide, Ethylhexylglycerin, Centella Asiatica Root Extract.
My Experience with The Advance Calming Solution
I love lightweight toner. elmt Advanced Calming Solution gave me the instant feeling of a quick rejuvenating splash of water on the face. After 2 weeks of use, I found out it's not only an instant skin rehydrating toner but does a lot more than that.
This solution feels sorta slippery on the skin yet it's not anything heavy feeling. Good enough to provide the adequate amount of hydration skin needs after the cleanser. Neither anything too much to step forward to the next skincare products.
I prefer Advanced Calming Solution in my morning skincare routine, right after my cleanser.
I've been loving it the day I do my skin peel treatments. This solution helps to reduce the redness after I do my skin peeling and works better than some of the other skin calming products I've been using lately.
Contained ingredients of The Advance Calming Solution, Centella Asiatica Leaf Water, Centella Asiatica Leaf/ Stem Extract & Centella Asiatica Root Extract; which are is familiar for their calming properties, which were obviously working well on my skin.
elmt Gentle Exfoliating Solution ꧂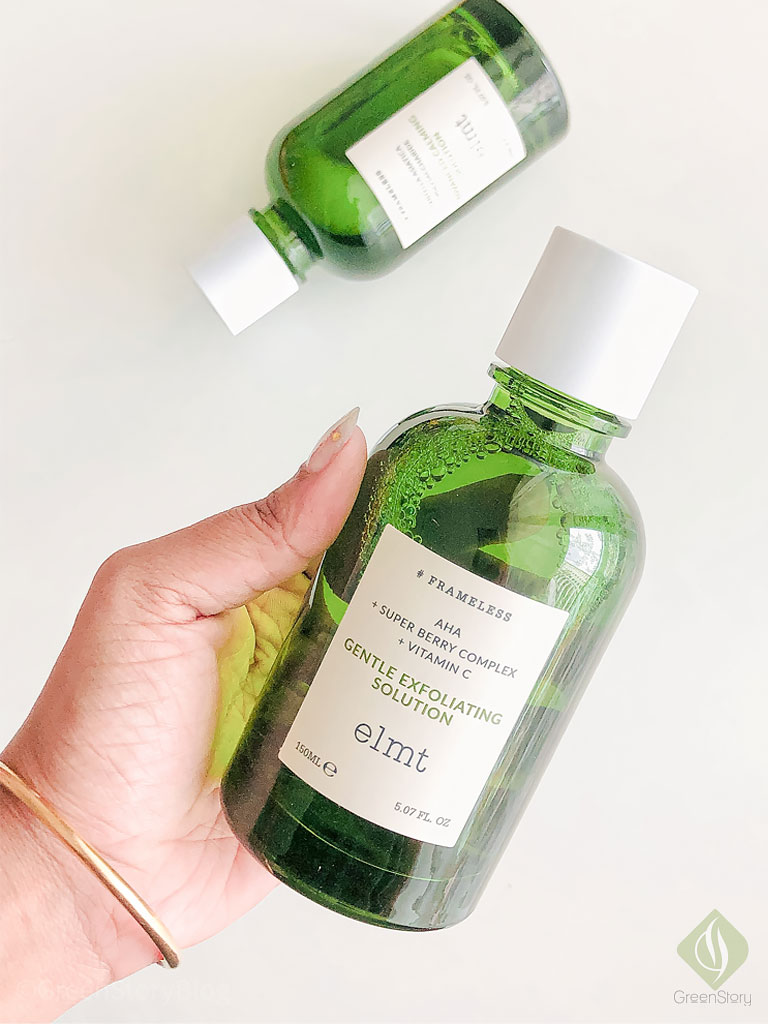 It's a gentle but active exfoliating toner and my most used among the two of elmt solutions I've been using. This one is enriched with AHA, vitamin C, and an antioxidant-rich super berry complex (49.02% blueberry and raspberry extracts), which reduces inflammation and irritation, while also promoting cell turnover. 
INGREDIENTS:
Vaccinium Angustifolium (Blueberry) Fruit Extract, Water, Glycerin, Butylene Glycol, 1,2-Hexanediol, Dipotassium Glycyrrhizate, Trehalose, 3-O-Ethyl Ascorbic Acid, Rubus Idaeus (Raspberry) Fruit Extract, Lactic Acid, Glycolic Acid, Panthenol, Allantoin.
My experience with elmt Gentle Exfoliating Solution:
I've been using elmt Gentle Exfoliating Solution every night for the past 2 weeks approximately. Also used it sometimes during the day after I washed my face. It's a simple and gentle exfoliating toner so I didn't worry much.
For instance using lactic acid, glycolic acid, etc (ingredient list above) might feel concerning during the day but elmt Gentle Exfoliating Solution is also packed with other hydrating and soothing ingredients that stabilize the formulation. And there is always sunblock to protect the skin.
Regardless,
do a patch test first as everyone's sensitivities are different, so what might technically be mild, may not be for some people.
Luckily, the solution turned out pretty mild for my skin as I've experienced it. I haven't experienced any tingling sensation, redness, or any other kind of skin discomfort.
With that being said, I did not notice much of an instantl exfoliating result on my skin. nonetheless, using it regularly has helped my skin to keep my pores clear, and skin smooth and supple during the time.
There is one thing I want to mention, elmt Gentle Exfoliating Solution gets sticky on the face after few seconds. It absorbs quickly and the skin feels nourished after the application but leaves a sticky residue. I'm honestly not a fan of that feeling. However when I go over my next skincare step that stickiness doesn't feel bothering anymore.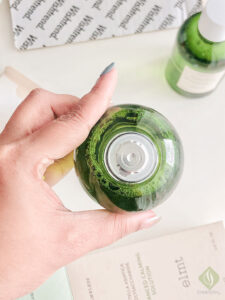 The basics | packaging, Texture and etc of elmt Solution
Both of the solutions come in a 150ml bottle green glass bottle. The whole packaging is simply a minimal aesthetically pleasing.
Both solutions are clear in color because they have no artificial color in them. Has no artificial fragrance, but it does have a very mild almost undetectable natural fresh scent of the ingredients.
Texture-wise, both are watery and lightweight yet they are a tad different from each other.
Please keep reading as I talked about the texture in my detailed experience below.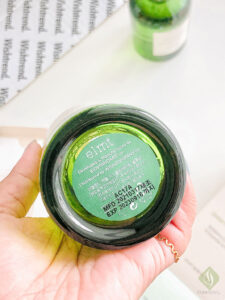 How I use elmt Solution within my combination skincare routine?
My general way of layering skincare products is cleanser > toner > essence (if any) > targeted serum > moisturizer > face oil.
For their charecteristic I treat these elmt solution as toner.
Many like to use their toner with their hands. I don't, for watery stuff particularly. I prefer to using cotton pads. It feels mess-free that way and also adds physical exfoliation to boost the effectiveness of the product.
I wet the cotton pad wit the solution and swipe allover my face. While my face is still wet I followup with the next skincare products.
You might be wondering if I have tried both of the elmt solution together or not?
In my morning routine, I use the straight after applying the elmt Gentle Exfoliating Solution, however, for my night routine, I apply the Advanced Calming Solution on its own as my toner step. I found that when I use the Advanced Calming Solution on its own, I can layer as much as I want on without it getting sticky, however, when I apply it over the Gentle Exfoliating Solution, my skin does feel sticky until it fully absorbs, because of this I definitely prefer to use them separately and will do so from now on.
Which elmt solution I would recommend?
Both of them actually nice. I have nothing to complain about.
However, having thirty-plus skin I love exfoliating products more. It meets the need of my everyday skin exfoliation regimen. Thus the elmt Gentle Exfoliating Solution is my personal favorite.
I would recommend this Exfoliating Solution to anyone looking for a very mild, gentle exfoliating booster that will help towards the skin's natural cell turnover process. Don't expect immediate results with this one, but be patient and you'll eventually start reaping its benefits.
For the elmt Advanced Calming Solution,
it is a product that every skin types can enjoy and it's good to have something calming to the skin available in the skincare shelf.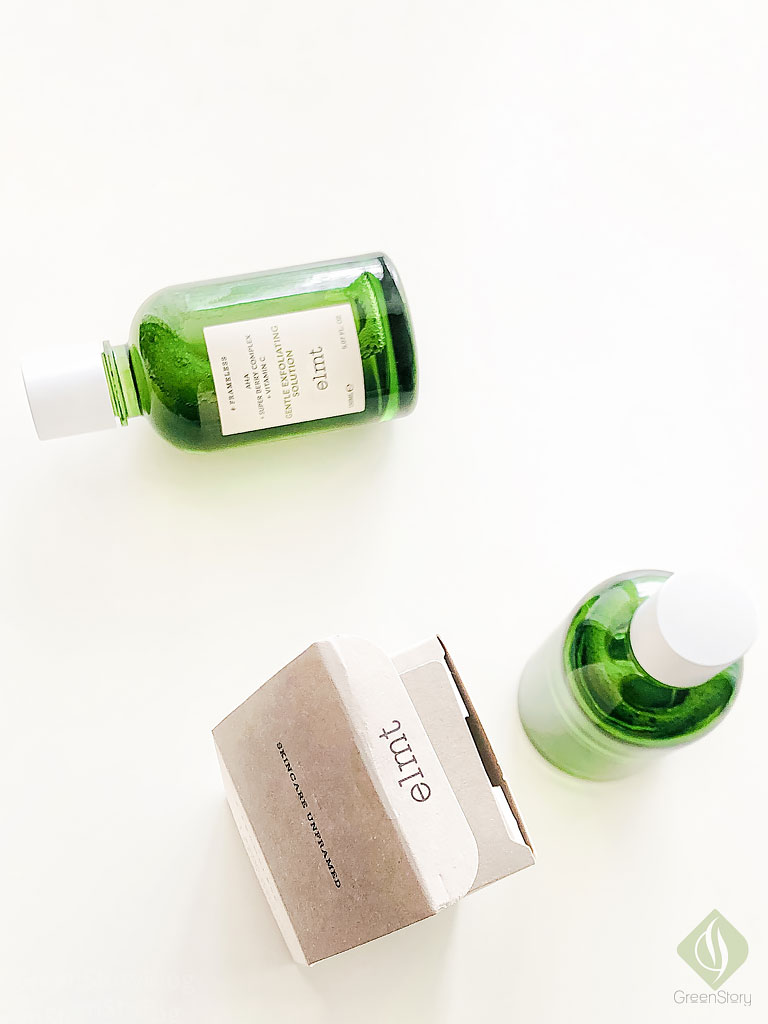 Quick list of

elmt solution

Yay and Nay fact:
YAY
NAY
1. easy to incorporate into routine
2. Lightweight
3. Works just they says
4. No silicone oil, artificial fragrance, and artificial coloring.
5. Cruelty-free and vegan-friendly.
1. both of them are very mild formula so works slow.
2. not enough to call these skincare essences or replace a targeted serum.
Have you guys tried the elmt solution? These two, Advance Calming Solution and Gentle Exfoliating Solution, or any of the other two they have in the line? Let me know how was your experience in the comment below.
Also if you have any questions about these two elmt solutions I've used, feel free to ask.