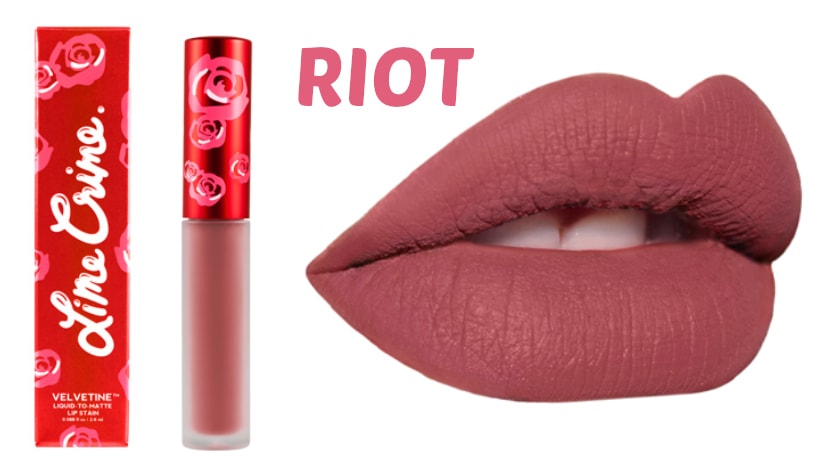 Today's post is about Lime Crime Riot but its quite different than usual because its a DIY post. If you are a makeup fanatic then I'm sure you'll find this post interesting and helpful.
Ever since I saw this visual above of Lime Crime velvetines called 'Riot' I was completely obsessed with it. I definitely want to buy one but till now purchasing one hasn't been convenient for me.
Earlier this week I was just randomly looking at my previously owned Lime Crime velvetines Suedebery and then suddenly a thought popped up in my mind, 'why don't I mix some lipstick and try making the shade Riot'. So right away I was off to make my own Riot!
[wp_ad_camp_3][/wp_ad_camp_3]
I did researched a lot on web, found that the original Riot doesn't really comes off exactly like the visual, it varies on skin tone. I love and wanted the shade in the visual regardless of how the Riot actually appears on peoples lip.
Therefore, after four hours of experiment I came up with the shade below….
The shade I made is pretty close to the visual of Riot. Needless to say, it's not possible to make exact same shade with limited resource and they also looking tad bit warmer and lighter in the picture here than real. However, at the end of everything I'm supper happy and satisfied with the outcome. I'm satisfied more because I was able to keep that liquid lipstick formula in this mix.
[wp_ad_camp_4][/wp_ad_camp_4]
Here is how the custom mix 'Riot' looks in my lip…
So, what you think???
Yes yes… I know you must be wondering how and with what I made this shade! No worries, Obviously I'm writing this post mainly to share that.
My mother mixing shade was, the velvetines I was looking at and got the entire mixing idea from, Suedebery. The velvetines tube you seeing in the picture was actually my Suedeberry. It was almost 3/4th full. I mixed three/four wand of Stila Patina liquid lipstick with Suedeberry first. The base shade alike Riot came up in fist hand but that was a bit pinky and light. Then slowly I started mixing LA Splash Untamed liquid lipstick(click here for review) with that Suedeberry+Patina mix to make the shade richer, I kept adding Untamed until I got the the depth of Riot. And then… Viola!
[wp_ad_camp_5][/wp_ad_camp_5]
I took all pictures in sunlight so the lipstick looks a bit warm but whatever it is I'm really loving the shade and literally wearing it everyday since I made it. As because I mixed only liquid lipstick so the formula is performing pretty good aswell, If I don't eat oily food then it last until I take it off. However, I still want Lime Crime Riot and hopefully will get one soon and then I will be able to compare between the mix I made and the original.
Do you own Lime Crime Velvetines Riot? Do let me know how you loving that and what you think of my custom shade 🙂



[wp_ad_camp_2][/wp_ad_camp_2][signoff][/signoff]