Anti-Aging and Magic Blur, both of them are definitely two attractive terms for a skin care item. Revitalift Magic Blur Anti-Aging skin care range is almost a new launch by Loreal Paris here in Malaysia. As far as I can remember this range is available here since July'15.
This range of product is focused on giving you an instant effect by blurring your facial lines or pores, also claims to provide anti-aging benefit in long term use. I was tempted, skeptical and excited to reveal the goodness of these products when I got them in hand few weeks back.
Let me tell you in details how was my experience with them.
[wp_ad_camp_3][/wp_ad_camp_3]
Loreal Revitalift Magic Blur Anti-Aging Moisturizer:

The hot-red glass jar and metallic shiny lid makes it a luxurious packaging that you would love keep in the top of your dresser. The Jar comes with 50ml of product, I would really appreciate if there was a spatula to maintain hygiene.

Loreal Revitalift anti-aging moisturizer claims to reduce the look of lines, wrinkles and pores instantly and also reduce their appearance over time. The Opti-Blur technology of this cream diffuses light on skin to immediately blur lines and pores. Key ingredient Pro-Retinol A fights the sign of aging for a younger-looking skin over time.

Let me describe you the facts in a simpler way.
First of all, this moisturizer has a smooth, slightly sand like, thick texture. Applies and blends into skin beautifully and gives a perfect matte finish. It does give blurring effect on skin instantly also makes the skin surface extra smooth. It mattifies skin completely and that last for long yet surprisingly doesn't dry out skin.
I felt this moisturizer creates a veil/layer on top of skin, quite similar like a foundation primer, once applied your skin will be matte and oil free for long time, facial lines will be less visible. However, the cream actually doesn't get absorbed into the skin like all other moisturizers will do. I had a look on the ingredient list, found that it has silicone in it which clearly describe why it acts like a veil.
[wp_ad_camp_4][/wp_ad_camp_4]

I'm a fan of regular moisturizer and love that pumped and hydrated feel on the skin, I don't really mind a bit of shine on skin when I'm home. At the beginning when I was trying Loreal Rivitalift Magic Blur Anti-aging moisturizer I actually liked the mattifying effect on my skin. But within few days I realized it is not really keeping my skin hydrated so I was re-applying within 2 to 3 hour which is unusual for me.
[wp_ad_camp_1][/wp_ad_camp_1]
I also tried to use it underneath my makeup. If I was directly applying foundation over the cream then it was working great but when I tried to apply foundation primer over the cream, face and eye primer both, the moisturizer ( or I should say the veil) comes off/ crumbles like crazy. I prefer my makeup not to look matte but dewy so I had to use some illuminating primer and there the cream was a turnoff.
To be honest, I don't hate the cream but I couldn't love the cream either. It definitely failed to replace my regular moisturizer, but I do use it over my regular moisturizer when I'm home because I'm loving that blurring effect if gives. A good part to mention, it didn't give me any break out so far.
Point to be noted, I have a combination skin and I don't mind shine on my face, but I know many of you out there who dies for matte and shine free skin. In a nutshell, this is the moisturizer for you if you love matte skin all the way, also for those who has super oily skin.
[wp_ad_camp_4][/wp_ad_camp_4]

Loreal Revitalift Magic Blur Anti-Aging Eye Cream:

I have been in search for a good eye cream for long and currently I'm actually liking this Revitalift Magic Blur eye cream by Loreal Paris.

Loreal Magic Blur Anti-Aging eye cream also offers the same technology, Opti-Blur, like the Revitalift Magic Blur moisturizer, but the key ingredient here is Caffeine. Along with blurring out the lines this also claims to diminish the dark circle.
[wp_ad_camp_5][/wp_ad_camp_5]

This eye cream comes in a sleek tube packaging that has pointed tip which makes the application mess free. The tube looks almost like a fat pen and offers 15ml of product in it.
The product has the similar silky smooth texture like the face moisturizer, but it's quite thin than the other one. It applies beautifully and visibly blurs out fine lines under the eyes.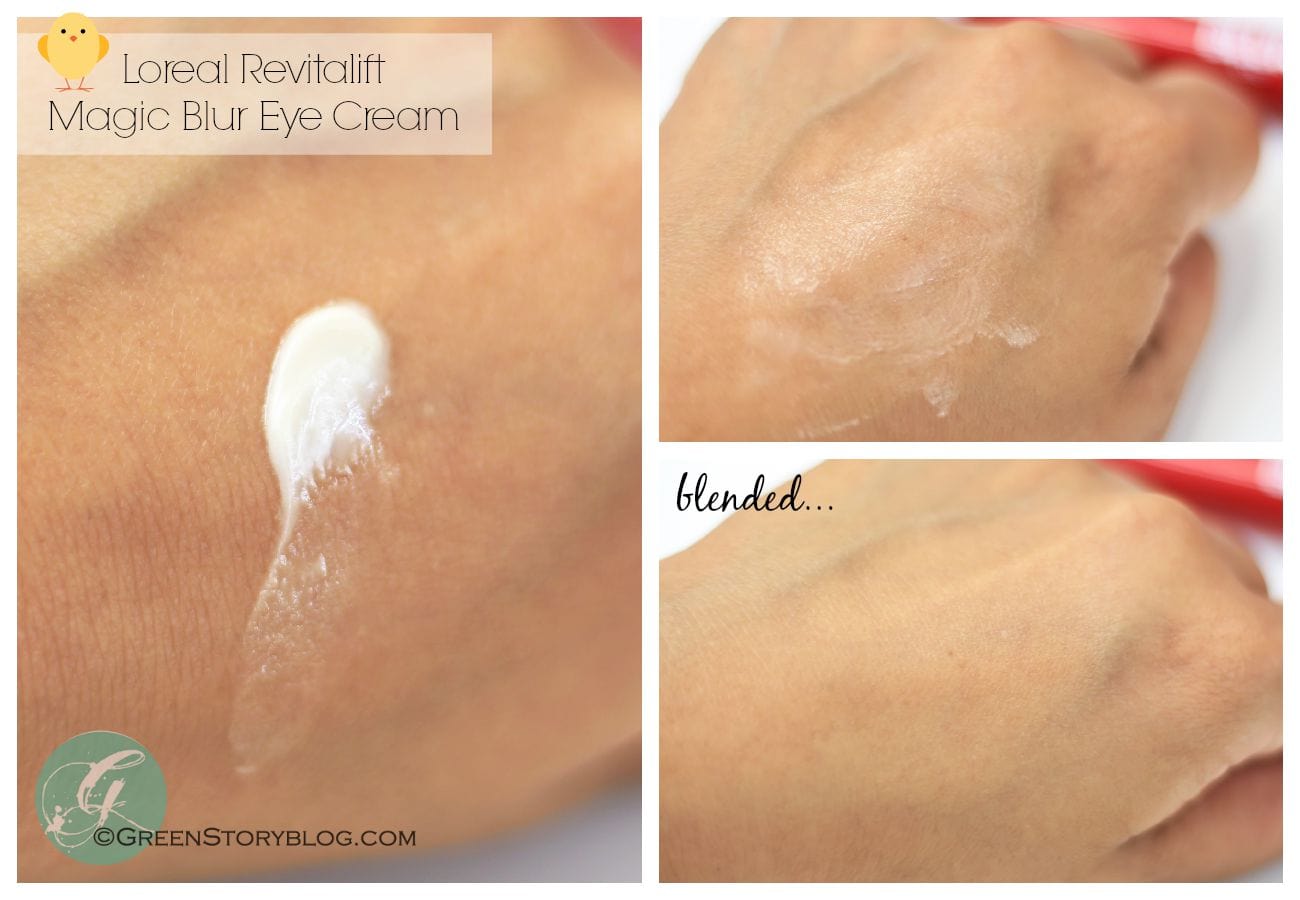 Although the eye cream has the similar texture like the moisturizer, but this one does get absorbed into the skin. This one also mattifies the skin without giving any dry feeling. This also performs well under makeup. I don't have any dark circle or much puffiness around my eyes so I couldn't determine anything on that fact, yet it surely gives an instant effect of reduced fine lines.
I have pretty dehydrated under eye area. Although this eye cream is a mattifying one, but somehow my under eye area doesn't feel dehydrated while using it. haven't found any turnoff for this cream, I'm loving it at the moment and also hoping that it will work on reducing my fine lines in long term use.
Do I recommend Loreal Rivitalift Anti-Aging Magic Blur eye cream? Yes, I do… if you are looking for an eye cream that is matte and you're up to hiding your fine lines then you might want to give this a try.
[color-box]
Price & Availability:
Revitalift Magic Blur Moisturizer | Watsons | Guardian | RM65
Revitalift Magic Blur Eye Cream | Watsons | Guardian | RM57
———-
Loreal Revitalift Miracle Blur Instant Skin Smoother | $25 (Shop Here)
Loreal Revitalift Miracle Blur Instant Eye Smoother | $25 (Shop Here)
***I believe the same product available in international market by the name – 'Revitalift Miracle Blur'
[/color-box]
*** Product was sent to me by the company. However, that doesn't influence my opinion in any way.
[wp_ad_camp_2][/wp_ad_camp_2][signoff][/signoff]