Do you remember my Online Haul from Lush UK? Got this LUSH Angels On Bare Skin Cleanser that time. Took me a while to open the jar and start using it among all the other products. But this 100g pot been lasting me for really long. Actually, it requires a very little amount to wash the whole face and I use it only in the morning. I still have another month of supply left in my pot.
If you're familiar with LUSH then you already know that all their products are made of all natural ingredients. If you're new to LUSH then this cleanser might feel a bit messy to you, only because it is very natural even the way it works.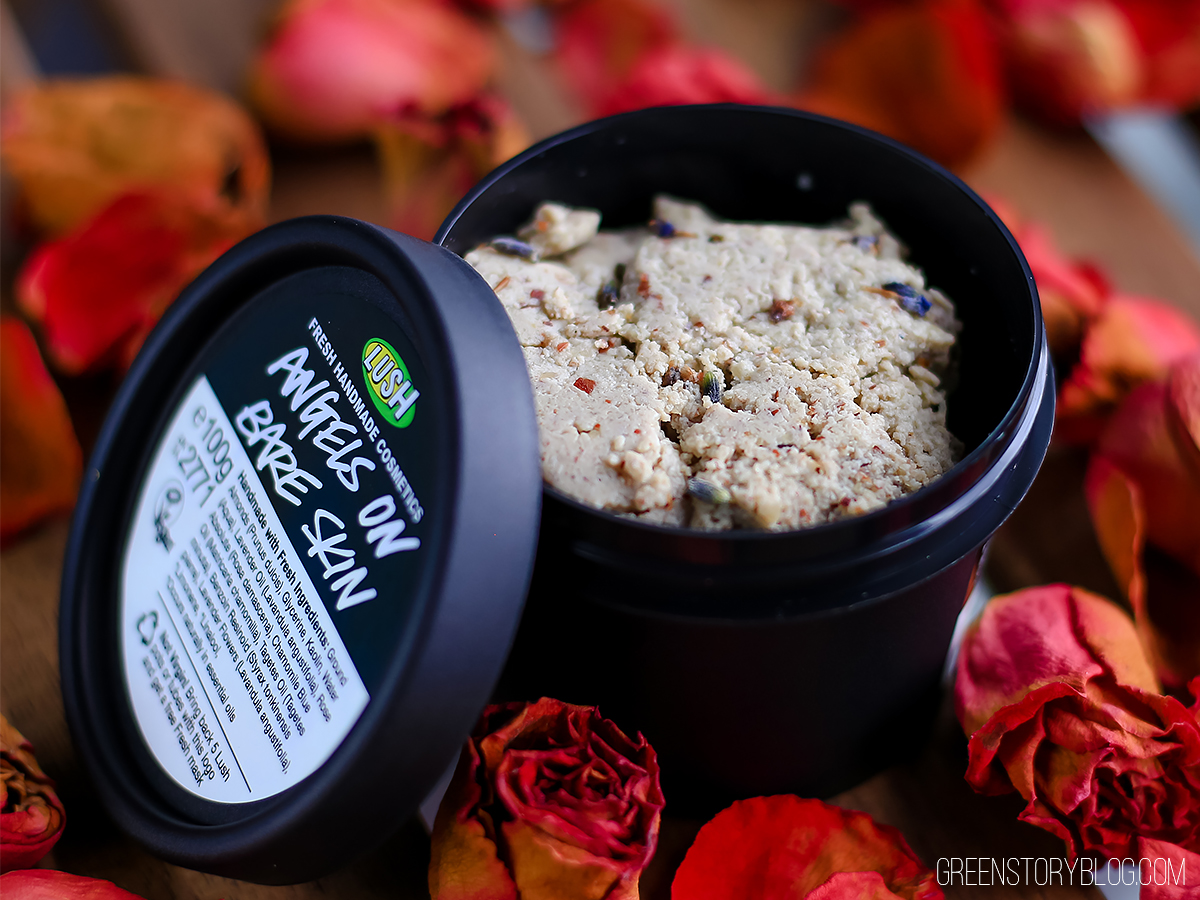 List of ingredients:

Ground Almonds, Glycerine, Kaolin, Water (Aqua), Lavender Oil, Rose Absolute, Chamomile Blue Oil, Tagetes Oil, Benzoin Resinoid, Lavender Flowers, Limonene, Linalool.
[wp_ad_camp_3][/wp_ad_camp_3]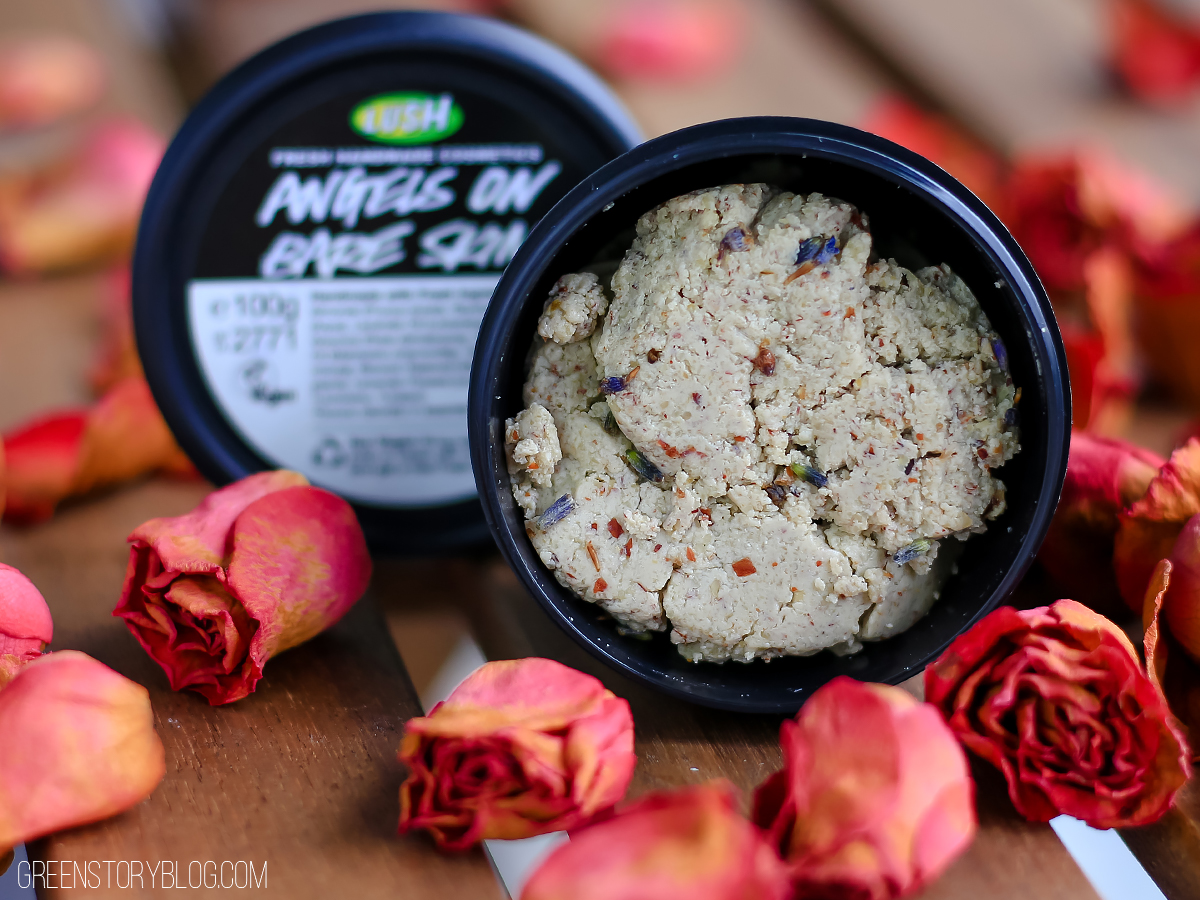 LUSH Angels On Bare Skin is a clay-based (kaolin) cleanser. There is also a visible amount of ground almond and a bunch of lavender buds which makes this cleanser a great natural exfoliator as well. The product in the pot feels like cookie dough and its smells kinda cookie dough with a hint of lavender and of course there is the scent of almond. The scent is not strong but very fresh and nature-like. Absolutely love it!
I use this cleanser in the morning only. To activate the cleanser I take literally a pea (or two) size of product and few drops of water in my palm. mix and make a generously thick paste. Once the product is in contact with water it melts easily and forms milky kinda paste. You can control the consistency of the paste just the way you want. I wet my face beforehand and then apply the cleanser paste. I take a full minute or so to massage my face then rinse off and pat dry. Follow up with my toner and moisturizer.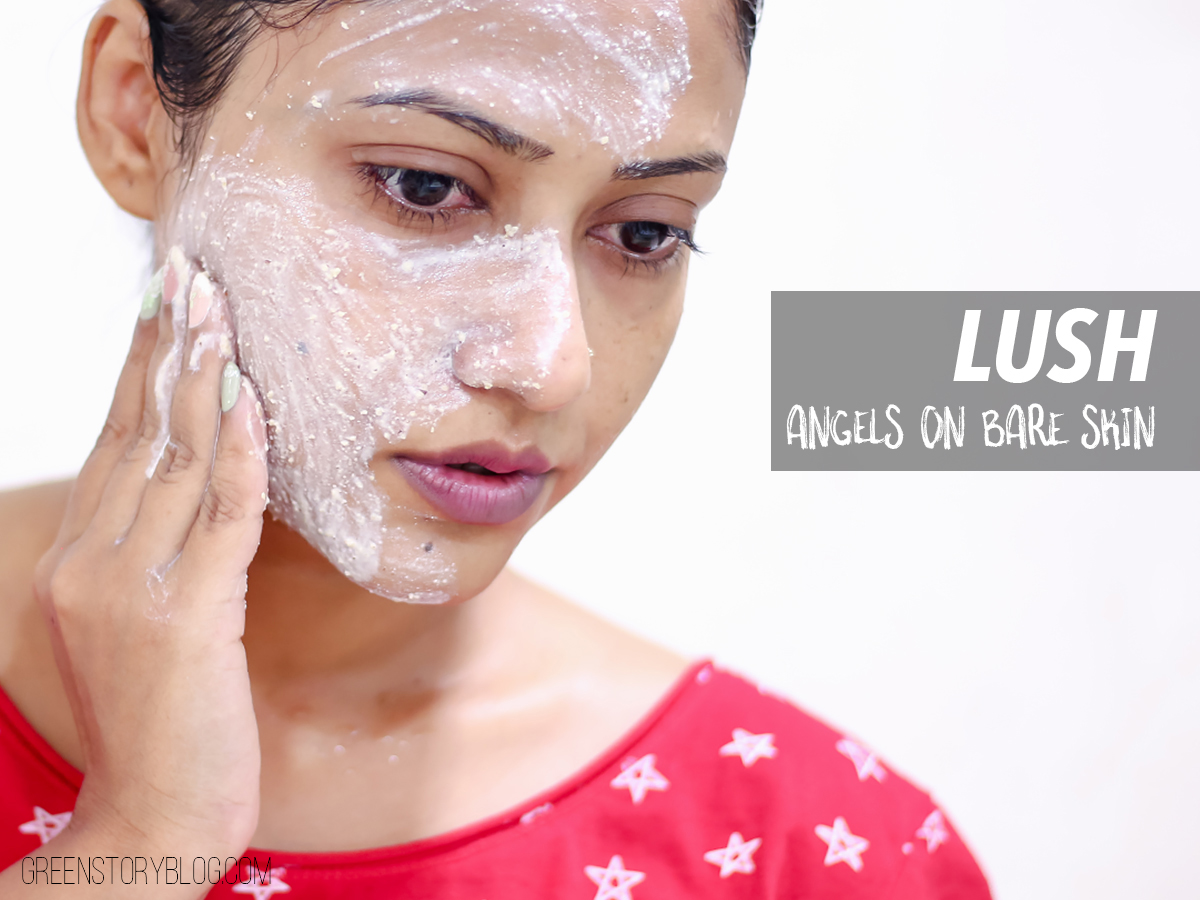 LUSH Angels On Bare Skin is an excellent natural cleanser and exfoliator at the same time. It effectively cleanses dirt and oils from my morning face leaving skin soft and supple, lifts up my mood at the same time. There was never been any dryness or skin issue occurred by this cleanser.
However, LUSH Angels On Bare Skin is a just natural cleanser and falls in the grade 'super mild'. I must admit this not any nearly effective cleanser for the other time of the day. It's completely unable to cleanse even light makeup from the face. In the morning we usually don't have anything in our face apart from the residue of serums or sleeping mask. So for that time we can actually love, rely and get benefited by some natural cleanser like this one.
Another part, this is also a great one for the body. When I take a bath I love to enjoy its creaminess and gentle exfoliation. I personally enjoy its natural goodness every time I use this cleanser. I don't mind to take the hassle of mixing it and all but I find it kinda indulging on natural goodness. This is a great product for them who loves a natural product and can relate to my thinking. Additionally, I think this is a good cleanser for sensitive skin that can't stand harsh chemical.
[wp_ad_camp_4][/wp_ad_camp_4]
Have you tried this LUSH cleanser? How do you find it? Any other favorites by LUSH? Let me know in the comment below 🙂
[color-box]
Shopping Info:
LUSH Angels On Bare Skin | £7.25 for 100g
Available online or in store.
[/color-box]