Guilty, but I confess, I'm a late sunscreen user. Yes, I've been using sunscreen since I was teen but was never been regular which I should've been. Therefore sunspots are my permanent beauty mark and maybe those premature lines on my face as well. Better late than never, for 5/6 years now I do maintain the habit of using sunscreen.
Enough of intro… What I want to share with you guys is about the Murad City Skin Age Defense Mineral Sunscreen.
Earlier this month I was introduced to this City Skin Age Defense Mineral Sunscreen. It's a newcomer in Murad Malaysia. Been trying it out ever since I got it.
What is Mineral Sunscreen?
There are two types of sunscreen; Mineral, and Chemical. Will talk about Chemical sunscreen some other day because I'm a fan of mineral sunscreen all the way. Let me tell you a bit about mineral sunscreen today…
Mineral sunscreens are those which contain active mineral ingredients, such as titanium dioxide or zinc oxide. Those active minerals act as UV filters that reflect, scatter and block the sun's rays. These sunscreens are also known as Physical Sunscreen or sunblock in general.
The best part of a mineral sunscreen is it protects from the sun as soon as it's applied, you don't have to wait for it to activate. Lasts longer when in direct UV light, but NOT when if the skin to get wet or sweat. Friendly for sensitive skin and less pore-clogging.
Ingredients of Murad City Skin Age Defense Mineral Sunscreen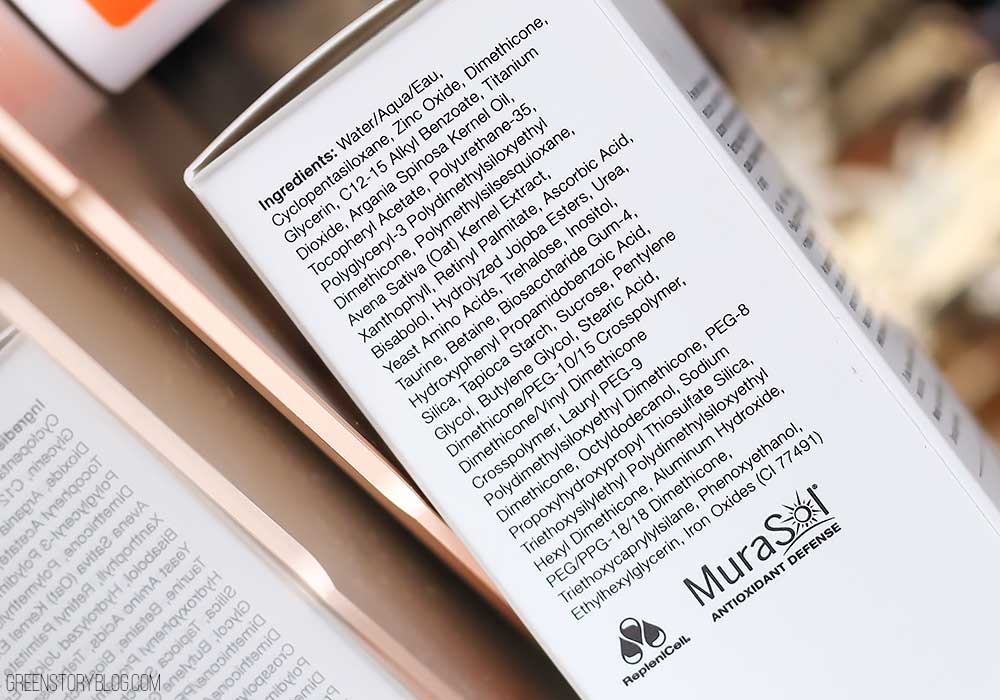 Murad Claims…
Shields against 89% of blue light from devices. [research result]
Protects from 96% of pollution. [research result]
Polymer matrix acts like a breathable "second skin" and blocks the adhesion and penetration of toxic environmental aggressors. This advanced ingredient creates a barrier on the skin to atmospheric pollutants like carbon particles, heavy metals, and chemical pollutants.
Vitamin C helps brighten skin, even tones, and correct sun damage.
Lutein and Iron Oxides enhance broad-spectrum protection, adding defense against, blue light, and infrared radiation.
Safe for sensitive skin and fragrance-free.
Peach color-correcting tint brightens skin tone and boosts radiance leaving no white residue.
Lightweight, mineral sunscreen absorbs quickly.
My experience with Murad City Skin Age Defense Mineral Sunscreen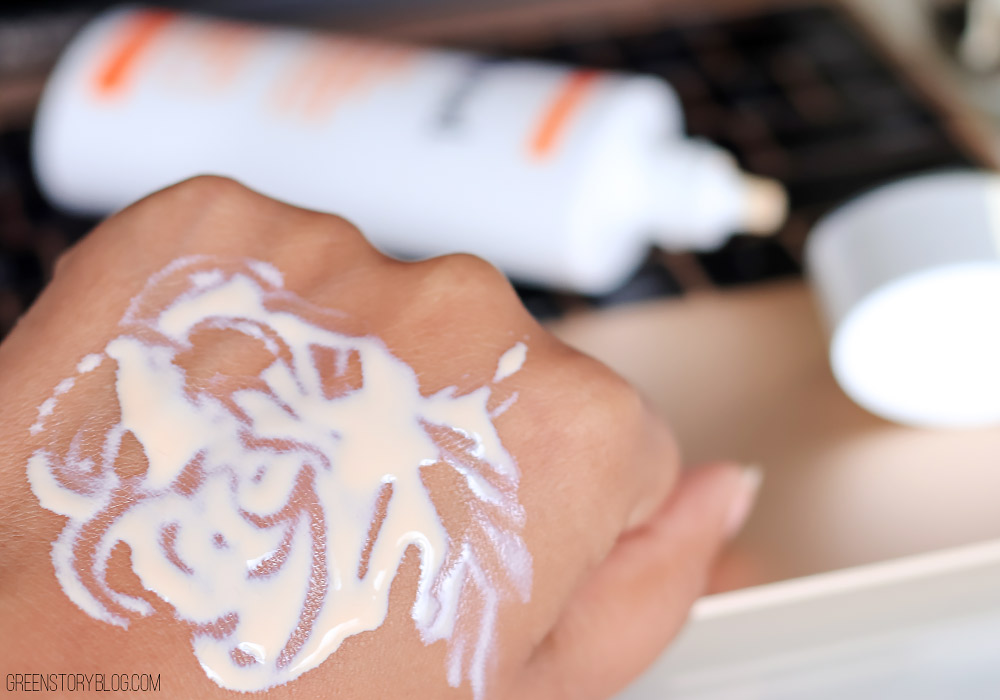 Broad spectrum SPF 50 PA++++, all those usual sunscreen facts obviously it has to ensure high sun protection. I always get a sunscreen-like scent (I don't know how to describe it) in every fragrance-free sunscreen which I dislike about sunscreen the most.
I always get a sunscreen-like scent (I don't know how to describe it) in every fragrance-free sunscreen which I dislike about sunscreen the most.
– Did you get what I mean?
I fell in love with this Murad sunscreen at first use because for the first time I didn't detect that sunscreen-ish smell.
I was skeptical about its being tinted (swatch in the picture above), felt it's gonna give me a color cast or such. But the tint pleasantly blends with the skin color leaving no cast. Moreover, the tint gives an illusion of even and bright skin tone just the way it claims.
I love the fact that this sunscreen gives a matte finish after application. Those who have oily skin gonna fall in love with this sunscreen in no time. Absorbs into the skin in no time. Also goes under my makeup very nicely.
Note that, it's not a waterproof formula. Which makes it quite a convenient one for daily use. Less effort while cleaning the face at the end of the day.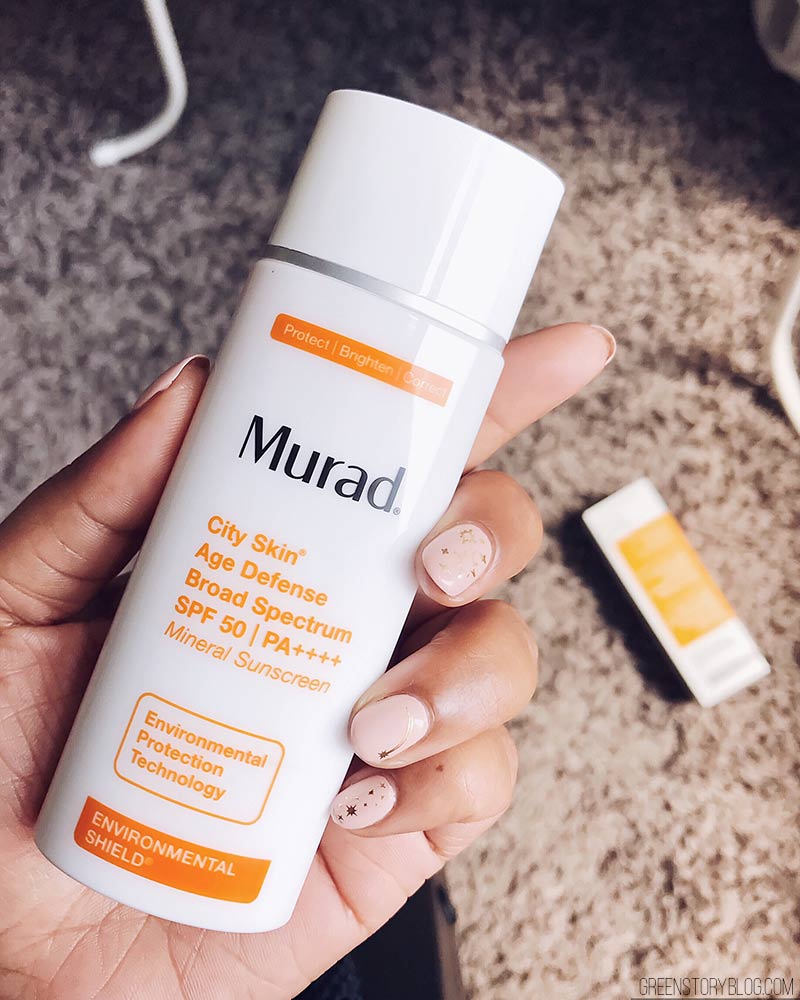 Packaging-wise, it's a minimalistic one like all other Murad product. I always appreciate when a brand cares about the product and its formula more rather than fancy packaging.
Murad City Skin Age Defense Mineral Sunscreen retails for RM298 [50ml]. Honestly, this is the most pricey sunblock I've used so far but for the quality, I've become a fan already. Looking at the price, I'm using it on my face and neck only and the others, a tad less pricey ones I've, going on my hands and body. Fortunately, a little goes a long way so this 50ml bottle gonna last for quite a while.
Although sunscreen is the most important part of proper skin care, however, I'm not shy to say that a pricey sunscreen itches my heart, lol! Where I never bother to spend money on makeup! Sad but trust me I'm trying to change my habit and upgraded my sunscreen products from usuals since last year. So the price point, I suck it up!
Anyways, the gist is, Murad City Skin Age Defense Mineral Sunscreen is a good one to invest your money on. You won't be disappointed for sure. It went on my repurchase list already.
Have you tried Murad Mineral Sunscreen? What is your favorite mineral sunscreen at the moment?