Earlier this year, around February or March, Nars introduced their new base product, Velvet Matte Skin Tint with SPF 30 PA+++. I have been away from BBcreams or skin tints for a long time now. When I saw this new release by Nars I was intrigued to give it a try. As because Nars Velvet Matte Skin Tint contains SPF thought it would be perfect for everyday use.
It's been around two months of using Nars Velvet Matte Skin Tint, I build up a serious love-hate relationship with it. There are these days when I love it effortlessly and some days when I end up hating it.
Am I sounds confusing?
Actually, this skin tint turned out to be a real tricky product to use for me. After two months or so I finally get a hold on how I can properly use it so I don't end up hating it during the day.
Before talking about my experience let me give you some general intro about the product…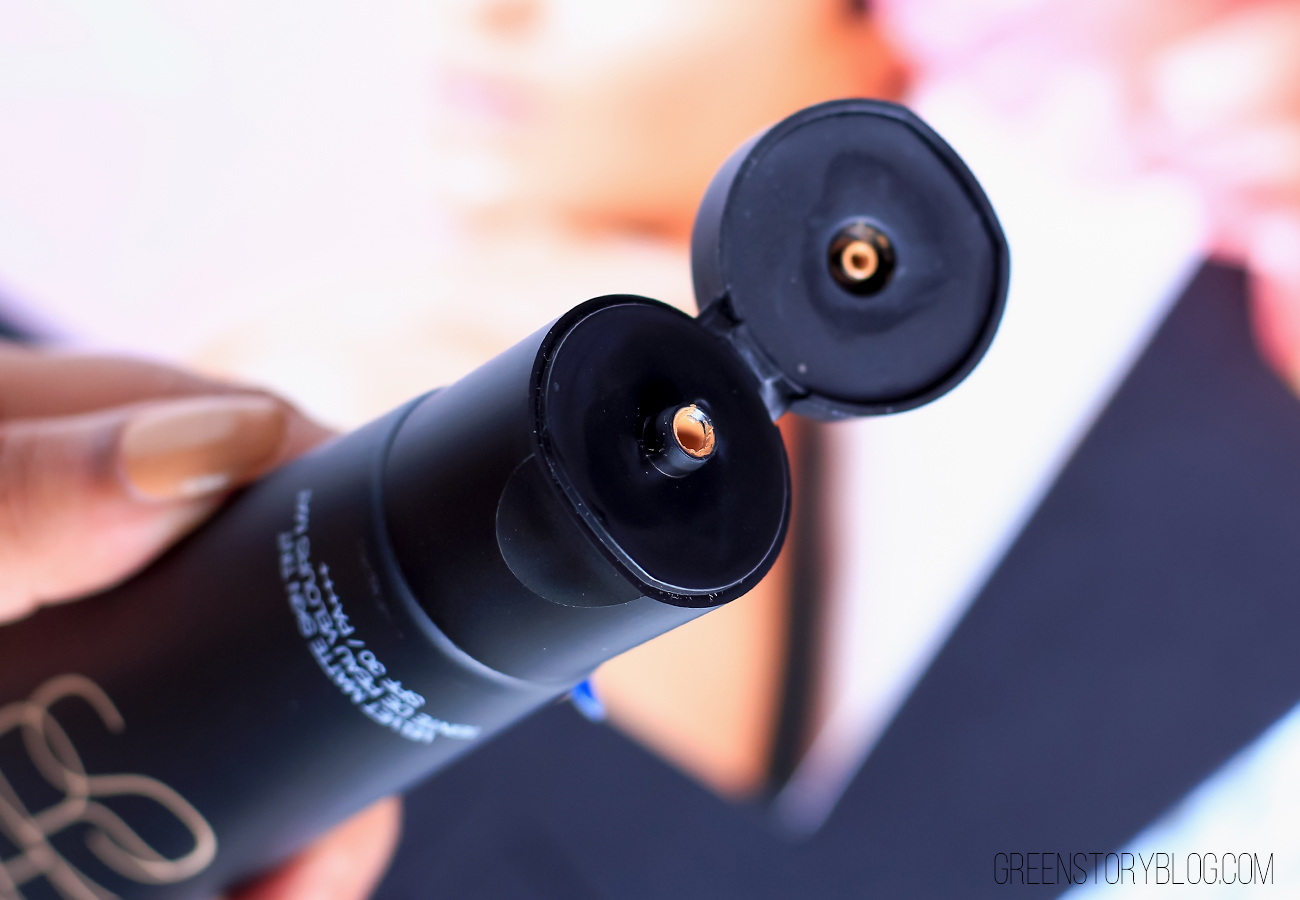 Packaging Of Nars Velvet Matte Skin Tint
Nars Velvet Matte Skin Tint has a nice and sleek black matte tube packaging just like all other Nars products. The actual product is almost mousse-like so with the tube packaging it's easy to dispense the product. The tube contains 50ml of product which is a lot compared to the standard amount (30ml) of makeup base product available in the market.
The packaging tends to get dirty and catch fingerprints so easily, happens with all other Nars product, I don't really mind that I kinda got used to with this issue of Nars packaging.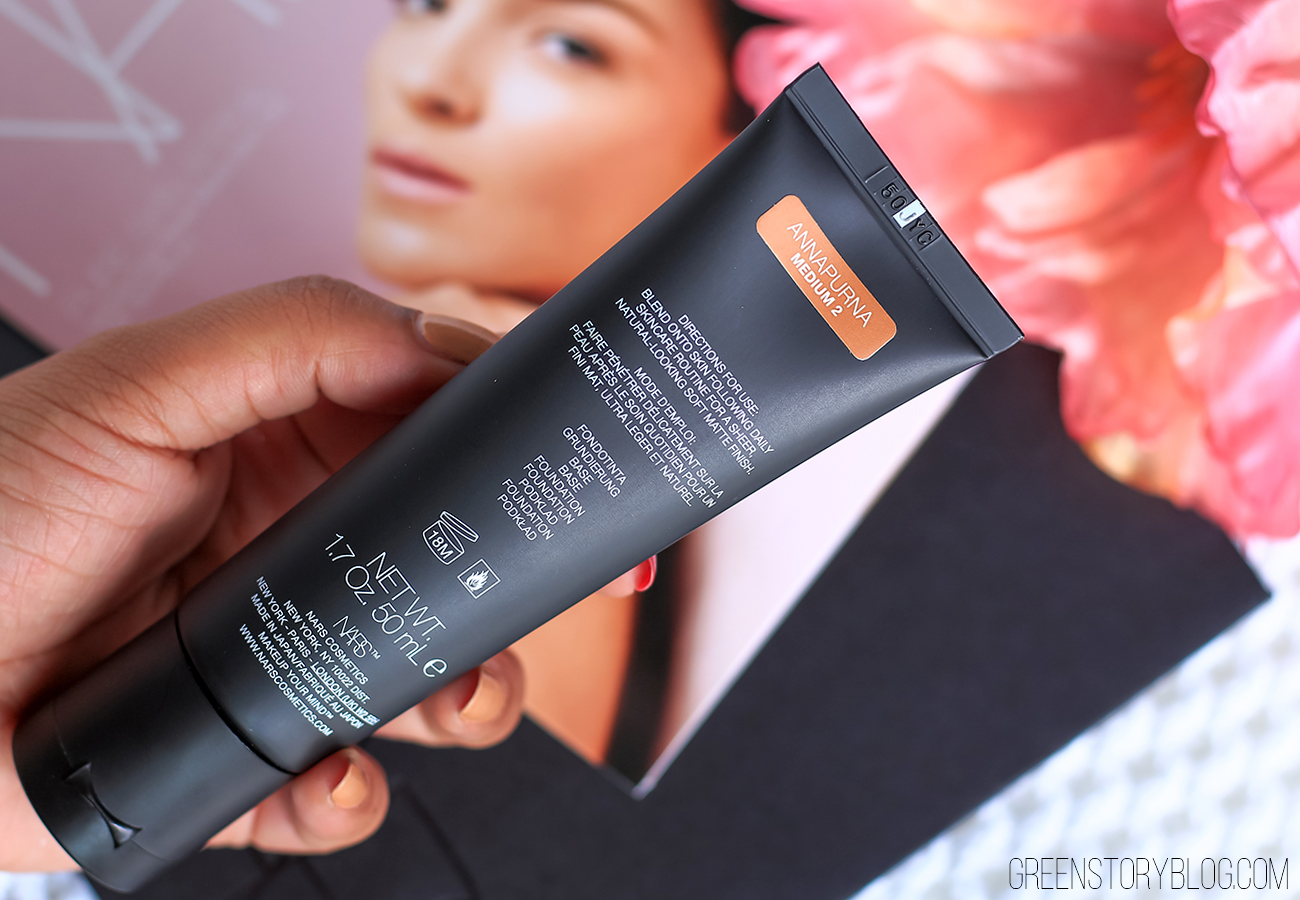 Colour Range of this Nars Skin Tint/BB Cream
There are 12 shades available in the market but Nars Malaysia only had 9 of them as far as I can remember. I matched myself with the shade Annapurna (Medium 2). I would probably get the shade medium 1.5 but that swatched on my skin quite pinkish and pale. Although medium 2 definitely has a strong orange tone I thought I'll be able to manage it.
The shade medium 2 is the closest one to my skin, it matches me well except for that orange tone which bugs me sometimes. Good thing it doesn't go more orange over time because it doesn't oxidize.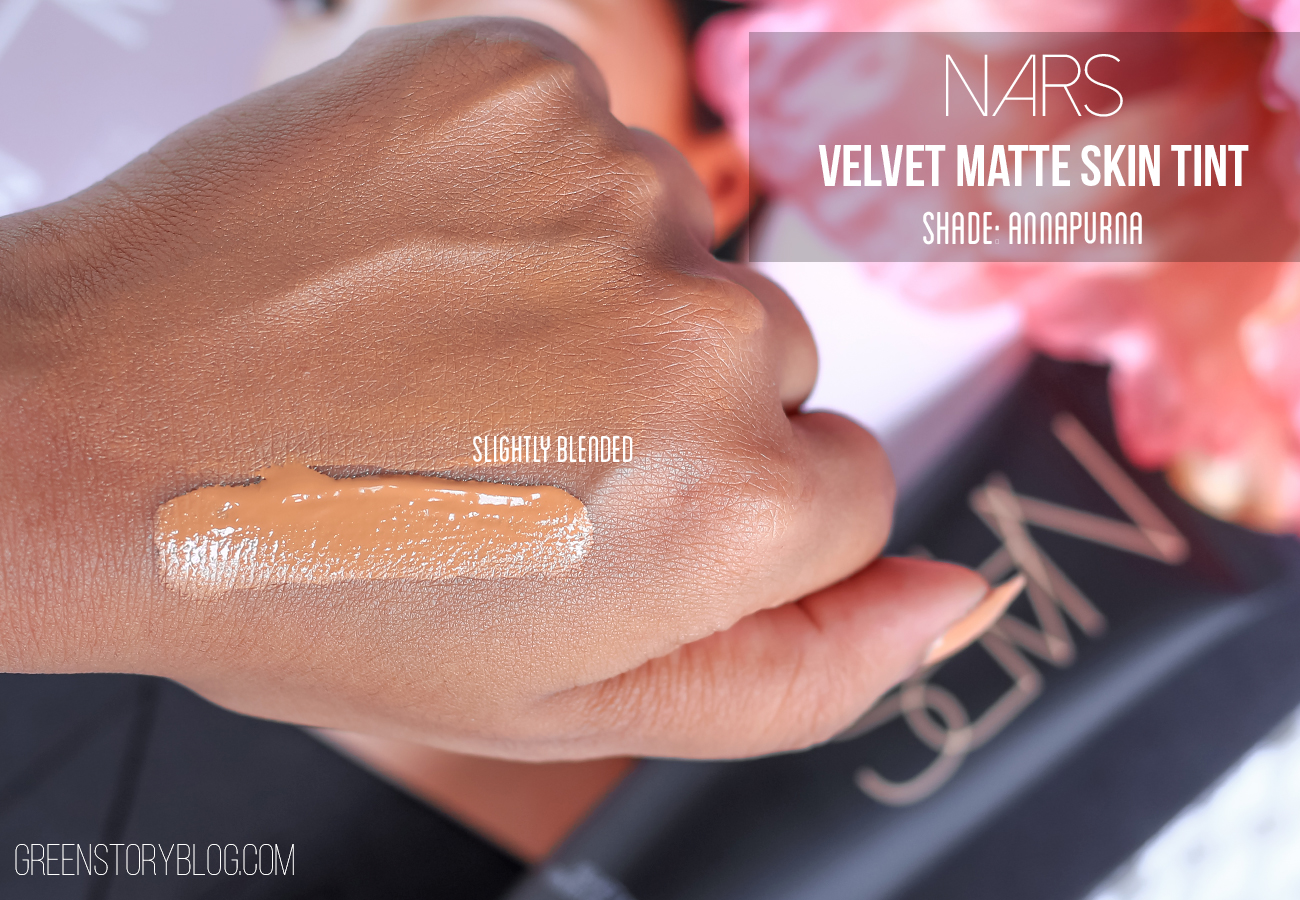 My experience with Nars Velvet Matte Skin Tint
Nars Velvet Matte Skin Tint has a mousse-like texture, glides on and blends effortlessly, has no artificial scents in it, the lasting power is very satisfactory. The oil-free velvety formula gives a nice semi-matte, healthy finish to the skin and keeps skin oil-free for 5-6 hours even in the most humid weather.
I took Nars Velvet Matte Skin Tint with me during my Bali holiday as my beach essential and this product didn't fail me at all. The sun protection in it did protect my face from sun damage and the oil-free long-lasting formula it beat the heat of Bali, kept me fresh throughout the day.
As I mentioned before I have a love-hate relationship with Nars Velvet Matte Skin Tint main reason behind that is to apply the right amount. It gives a light to medium coverage and not buildable even a slight bit more by any means. If you layer it up it'll end up being blotchy and cakey.
The product gives a nice tint, one layer is enough to cover redness and uneven skin tone. If you want to cover up your dark spot or undereye circle then follow up with a concealer.
How is the Nars oil-free BB Cream formula holding up?
Because of its formula, Nars skin tint doesn't require powder to set on the skin. I've combination skin type and I'm normally used to set my base with powder. Sometimes I also layer up powder in my t-zone to prevent further oiliness. That method of mine didn't work with Nars Velvet Matte Skin Tint.
As because it doesn't require powder to set this when I was layering powder to set the base it was turning cakey within an hour. I made some changes to my routine. Started applying just the amount of product I need, cover-up further imperfections with a concealer. Later set my t-zone only with just a touch of powder leaving the rest powder-free. This makeup trick quite holds up so far to keep skin fresh day-long.
To conclude my thoughts about Nard Skin Tint,
I find Nars Velvet Matte Skin Tint applies best with the finger but I'm not good at applying foundations with the finger so alternatively, a beauty blender is the best tool for me.
Overall, I do like Nars Velvet Matte Skin Tint and it is my go-to face product nowadays. I love how it stays put in the hot weather without sliding off. However, but because of its slightly overpowered slightly orangy tone, I'm probably not going to make a second purchase.
Have you Nars Velvet Matte Skin Tint? How do you feel about it?