Very recently I was introduced to Orgga Skincare. A Malaysian Skincare brand that claims to be all-natural and organic. Initially, I thought it's a Halal certified brand. I have been wanting to experience the 'Halal Beauty' aka halal skincare and cosmetics for a while so decided to give Orgga a try. However later I realized they're not labeled 'halal' but cruelty-free and natural.
I have no idea why my brain tried to relate to the 'halal' term with Orgga Malaysia. Perhaps because I see this term a lot around me lately. The term "halal" which is mainly for food is also nowadays focused on our lifestyle aspects; for instance, halal makeup, halal nail polish, halal perfumes and so on.
Do you wonder…
What is Halal Skincare aka Halal Beauty?
Halal skincare or Halal Beauty products are those that are products permitted under Shariah law and must fulfill certain conditions. Mainly these products have natural plant-derived ingredients, are free from animal by-products (e.g. Gelatin Lanolin, collagen, etc) or alcohol and are paraben-free. Also free from any ingredients derived from pigs, dogs, dead animals, blood, and animals that were not slaughtered as per Islamic Sharia Law.
In my knowledge, Malaysia emphasizes on 'Halal Beauty' a lot and has the largest market for 'halal cosmetics' or 'halal skincare' at the moment. I also read it somewhere that the scholars of the Malaysian National Fatwa Council (MNFC) have issued a fatwa stating, "Use of all cosmetics and skincare products which contain ingredients from impure animals are haram for a Muslim."
Things to note,
Halal Skincare or Halal Beauty Products does not mean a vegan product. Vegan products are all animal-derived ingredients and are made strictly from plants, minerals, and other safe synthetic ingredients. Where halal beauty products can have animal ingredients that are 'halal'.
Anyhow,
Let's talk about how I've been experiencing Orgga skincare products…
Orgga Rose Otto Nourishing Face Mist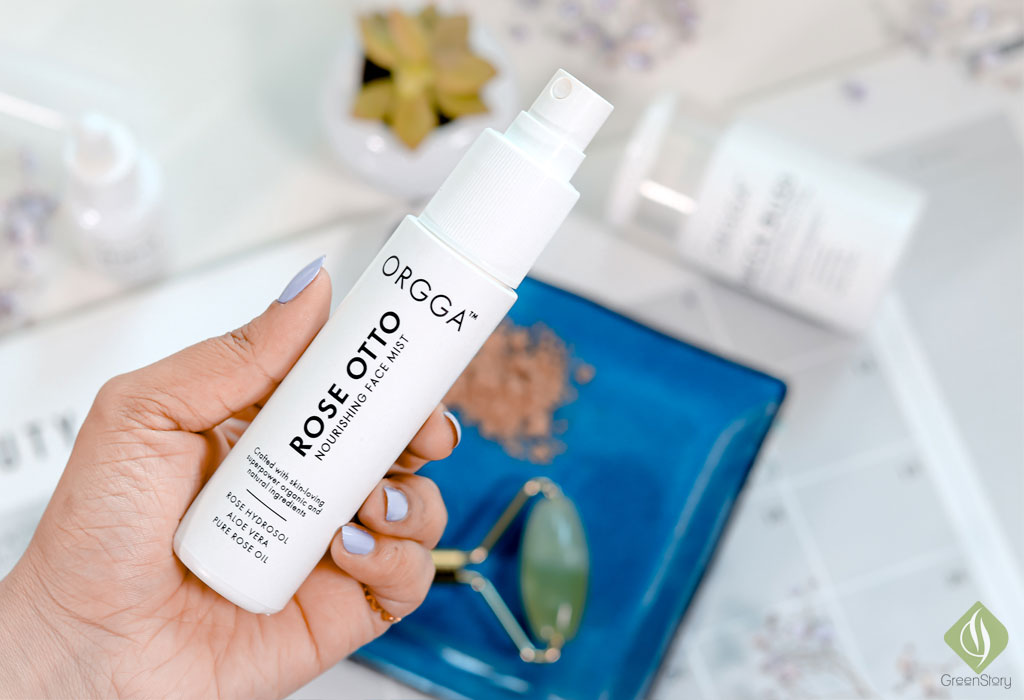 This Rose mist contains not only rose hydrosol but also aloe vera, a couple of berry extracts, pure rose oil, and few other natural goodnesses. It indeed feels nourishing and refreshing on the skin. As recommended I have used it with Lindo Beauty Oil and also alone. Love using it both ways.
To use the Rose Otto Face Mist with the Lindo Oil I spray a few spritzes right before the oil and then massage then into my skin together with the help of the Jade roller. Sometimes I do use my hands only and skip the roller. The mist thins down the oil a bit and helps the oil to get into my skin faster.
This face mist smells like all other regular rose face mist, I mean smells clean rose. The smell of it sorta reminds me of my other favorite rose mist by Melvita, in case you've tried that one! I really enjoy it using during a hot afternoon to hydrate my face. in fact, among three Orgga Skincare products, this Rose mist has become my top favorite.
Bacca Bliss Daily Cleansing Powder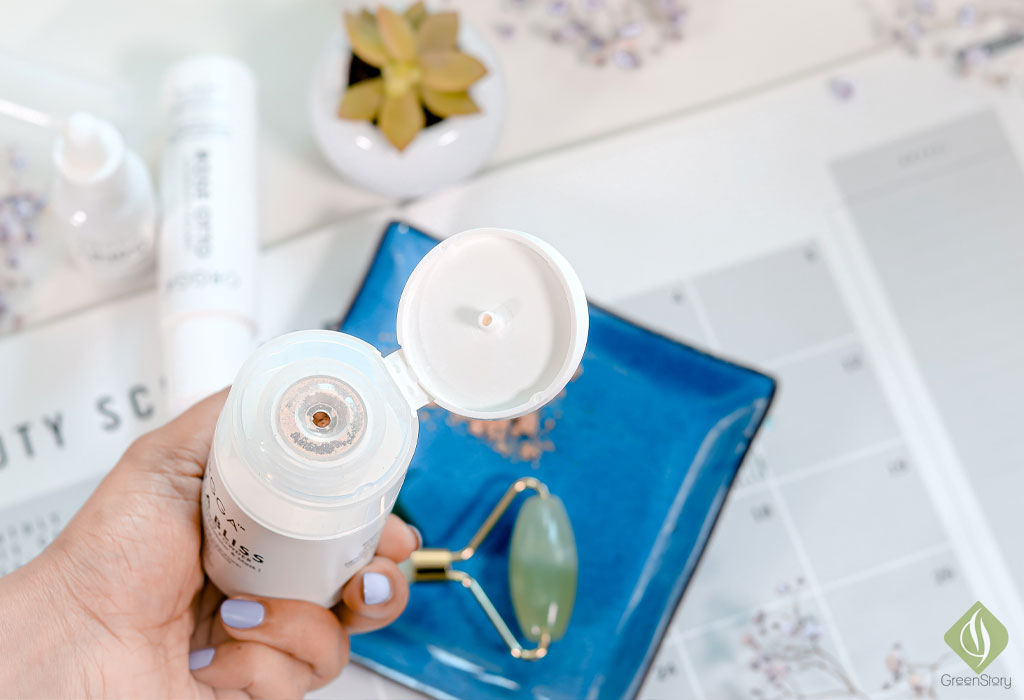 Initially, I had the highest hope for this powder cleanser call Bacca Bliss thinking how much I like Wishtrend Green Tea Powder Facewash!
Bacca Bliss is a clay-based cleanser but also has a few types of flour in it. Those flour ingredients has an overpowering smell and I simply couldn't like that. This Jar packaging of it also has an issue with its product dispense hole. Mine at least doesn't dispense the powder through that whole. Every time I need to twist open the whole lid.
Would you like this much difficulties in the morning from a face wash?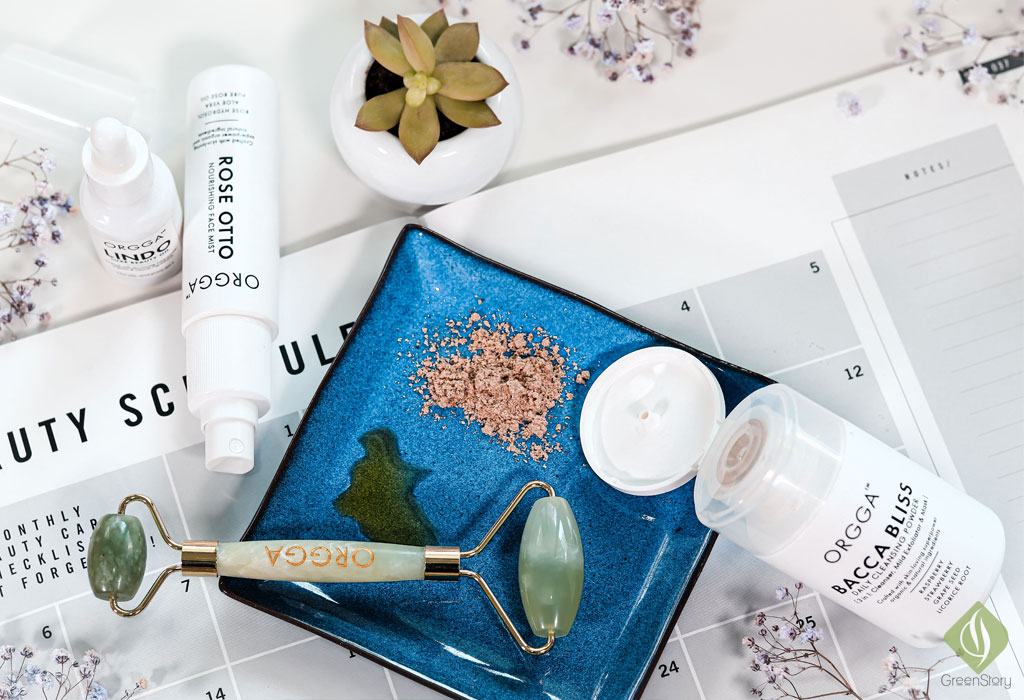 Orga claims this face wash to be a 3 in 1 product; Cleanser, Mild Exfoliator, and Face mask. As because it failed me as a cleanser I tried to use it as a face mask. Used it by mixing with the Rose Otto Face Mist and sometimes with my Soleil Toujours Aloe Antioxidant Calming Mist.
For me, Bacca Bliss works well as a mask, this way I could smell the flour in a tolerable way. Plus I could see the effects of clays in it. Kinda like my refreshed and supple skin after a DIY masking session with Orgga Bacca Bliss.
Lindo Luxe Beauty Oil by Orgga Skincare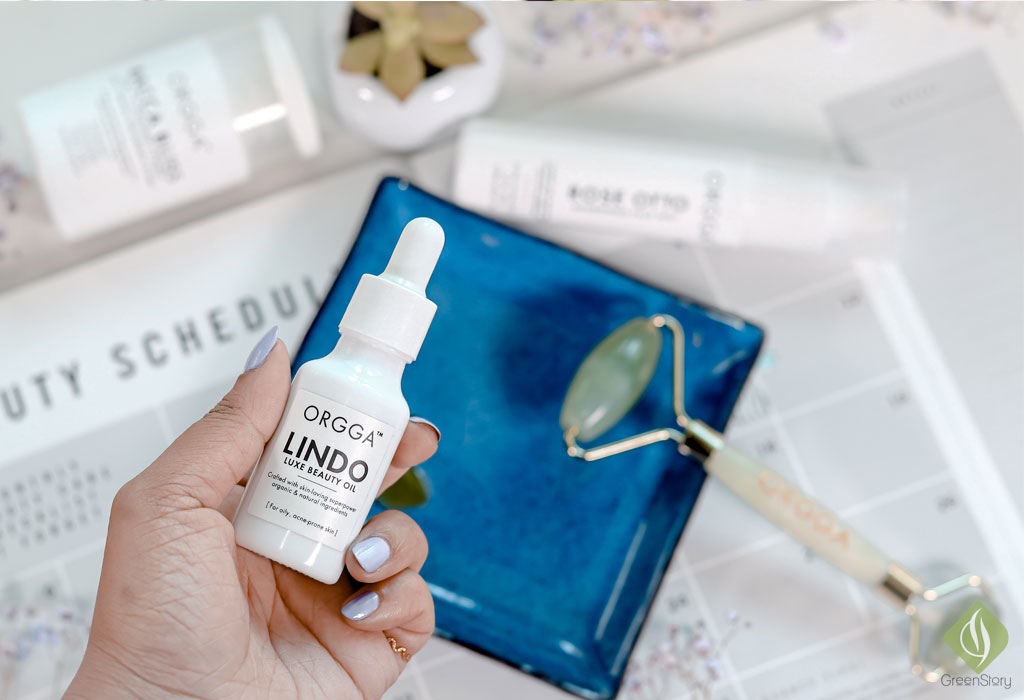 That's why probably they say, don't judge a skincare product without using it!
Being blunt, before using any of these Orgga Skincare products I had a minimum interest in this beauty oil. Since I gave Lindo beauty Oil a try my point of interest took a 90degree turn.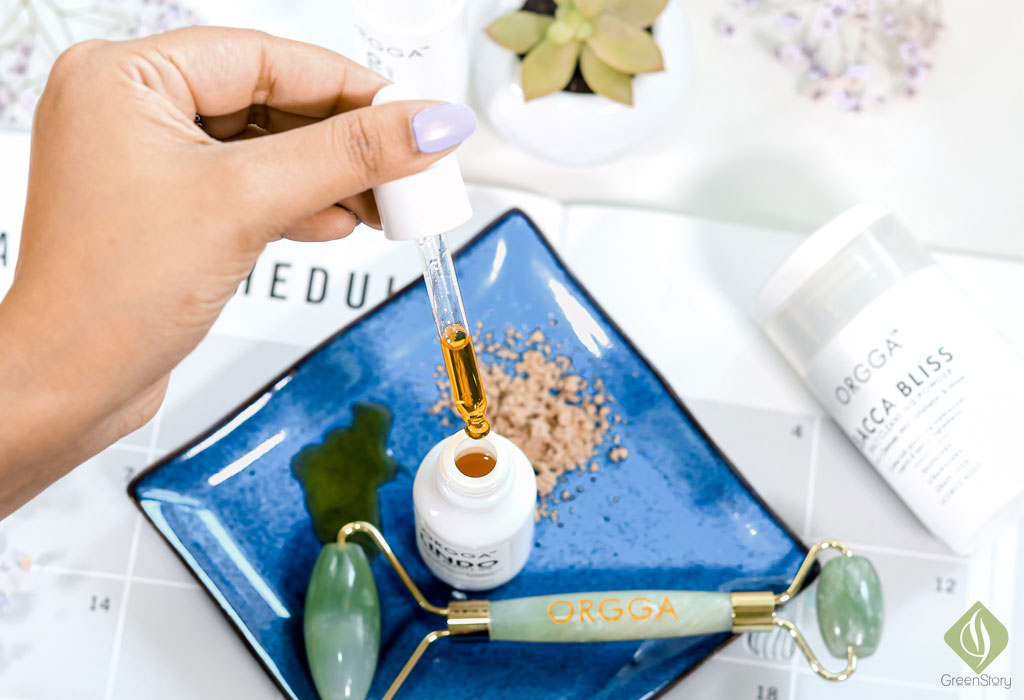 Looking at the ingredient list of Lindo oil, it is a mixture of quite a number of skin-beneficial oils. Orgga product doesn't have added fragrance in then yet this oil smells amazing. Texture-wise the oil is slightly on the thicker side compared to most of the beauty oils I've tried so far. Sorta reminds me of Tarte Marakhuja oil texture, maybe a tad less thick than that one though.
I've been using Lindo Beauty Oil, mostly, in my pm skincare routine and in a two different way.
The regular way is, I apply my targeted serum first. Right now using Murad Vitamin C Serum and then my Hada Labo Plus moisturizer. As the last step of applying skincare products, I will warm up the oil in my palm and then dab it on my face. It seals down all the other products I've applied before.
2ndly, after my toner I spray the Orgga Rose Mist (or any other mist that I'm trying right now) and put a few drops of Lindo Oil over the mist covering my face and neck. Then with the help of the Jade Roller massage my skin for a good 5 minutes or so. After that, I follow up with a moisturizer.
Either way, this oil has been feeling great on my skin. Every morning I wake up with soft and nourished skin and I definitely love it.
Orgga Jade Stone Face Roller
It's a dual-sided face roller as you can see from all the pictures above with very decent quality to the stone. To compare, the weight of the whole Orgga Jade roller is identical to my Herbivore Jade Roller. The color of the Jade isn't that like Herbivore though.
The major difference I found is my Herbivore face roller doesn't create any funky noise (that clash between the metal attachment and the stone) while I roll it on my face but Orgga Jade Roller does. Otherwise, It does all the job a Jade Roller would do.
Orgga Jade Roller priced at 90rm where a Herbivore one costs 130rm. Would you consider the noise fact of it looking at the price you'll pay?
My overall experience with Orgga Skincare isn't really bad. Love their simplistic packaging and straightforward products however, I think they are a bit on the pricy side. If you're a fan of natural skincare products then you'll definitely like Orgga.