Pixi Tonic AKA skin toner by Pixi Beauty has been one of the most hyped product among the skincare lovers for the past years. I'm sure you guys are also aware of these Pixi Beauty tonics as well. I've started using my first Pixi beauty Glow tonic from 2016 as far as I can remember! In the beginning, Pixi Beauty had only the Glow Tonic and then they expanded their tonic range. So far I've used their Retinol Tonic, Rose Tonic or Vitamin C Tonic along with the Glow Tonic, of course!
Do you wonder how these Skintreats tonics worked and turned out the best on my combination skin?
– Keep reading to know my experience with all of them and you'll find your answer as well.
Pixi Beauty Retinol Tonic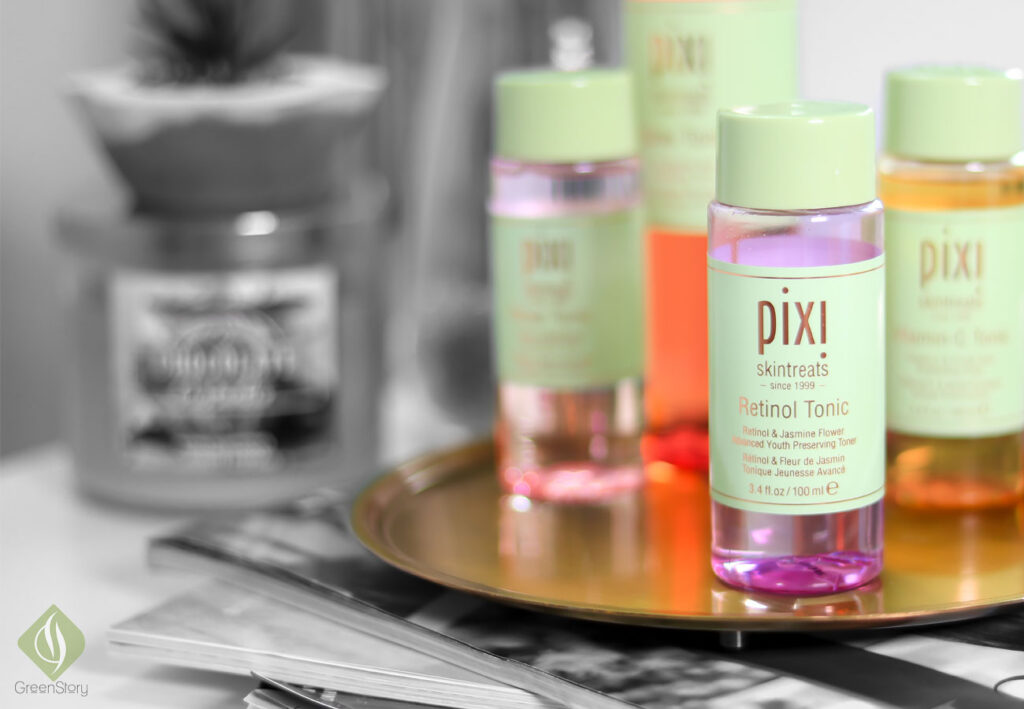 Let's talk about the Retinol Tonic first. A toner infused with retinol is a very unique thing considering there isn't much retinol toner available in the market. Since I got used to the ingredient retinol for my skin any skincare product with retinol highly attracts me.
Pixi Beauty describes the toner as "containing a time-release Retinol to help rejuvenate the skin for a natural glow. Powerful antioxidants and botanicals replenish the skin for a smoother, softer appearance while soothing sensitive skin."
I got my first Pixi Beauty retinol tonic from iherb because back then this particular toner wasn't available in Sephora Malaysia.
Pixi Retinol tonic is purple-ish in color to look at and the percentage of retinol is not mentioned in the ingredient list. The toner smells medicine-like but not anything overpowering in my experience. It feels watery to use and absorbs quickly. I use it in my pm skincare routine.
I've been using retinol products for a long time now. From my experience, I felt this toner has a very minimum amount of retinol in it. Thus the effect of this toner is not identical as well specially when this is the only retinol infused product within a full skincare regimen.
In my opinion, Pixi Beauty Retinol Tonic is a good option if you want everything retinol in your skincare regimen. This toner is also a good option if you just want to start with retinol skincare product. Because it's not anything harsh to the skin or so but very gentle on the skin.
Moisturizing Rose Tonic
Rose Tonic is the most gentle and moisturizing toner among all the Pixi tonic I've used. I could use it any time of the day. This one is Rosey in color and has a fresh scent of rose water.
Pixi says about their Rose Tonic, "Naturally soothing and rich in nutrients, this tonic helps to tone, balance pH, minimize redness and calm skin. Re-hydrates, replenishes and refreshes.
During my use, any visual skin change wasn't there but my skin always felt refreshed and conditioned after the use. I believe this rose Tonic is suitable for all skin types and for all the age group.
If you are up to a simpler skincare routine then Pixi Rose Tonic will the most suitable toner for you.
Pixi Beauty Glow Tonic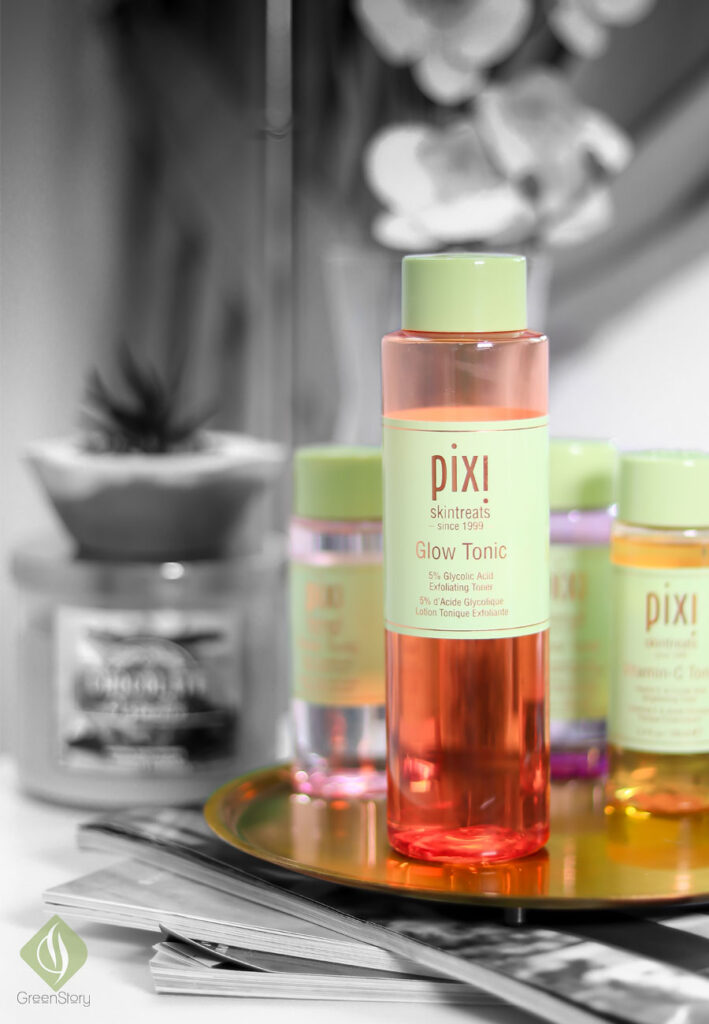 Ever since I started using Glow Tonic I wanted to write about it. Although you might have noticed me talking about this because I did share quick thoughts in my social media. I'm happy to finally write about it!
What is this Glow Tonic?
– Pixi Glow Tonic is an exfoliating toner that has 5% Glycolic Acid in it.
I like to use two types of toner in my skincare; a normal hydrating type in my morning skincare and an exfoliating toner in my nighttime skincare. For example, Rose tonic with Glow Tonic was in my morning-night skincare rotation for quite sometimes. I actually liked the combination of this two for my skin. However, you can certainly use the Glow Tonic in your daytime skincare regimen.
Pixi Glow tonic worked on me very well. It helps to maintain a cleared skin with unclogged pores. If you start with a dull skin then you'll notice a visible change within a few weeks or so. My skin feels breathable after every use. I also like how it smells, something very unique and kinda became my favorite over the years of use.
Regular skin exfoliation always improves skin tone and skin texture. However, an exfoliating toner only is not the way to get rid of any dark spot or pigmentation.
Wondering How would I rate Pixi Beauty Glow Tonic?
I've used quite a few Glycolic Acid toners so far. The Alpha-H Liquid Gold, a must mention, the best in my experience. The Ordinary Glycolic Acid(7%) Toner is my least favored. Here is something to note, I'm not mixing Glycolic acid with my other favorite toners.
Considering the price and effectiveness I bought Glow Tonic over and over. In fact, this is the one Pixi Beauty Skintreats that I'm a loyal customer of!
Vitamin C Tonic by Pixi Skintreats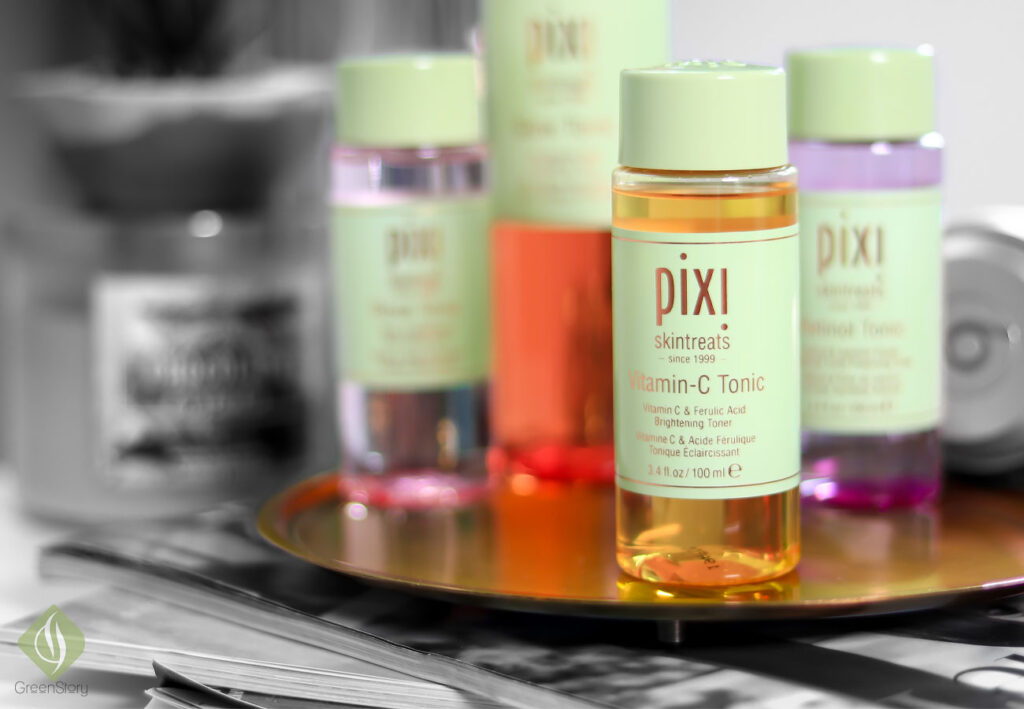 Vitamin-C Toner, who wouldn't like the sound of it? Vitamin C Tonic is fairly new in Pixi Strantreats and also new in my skincare regimen. It contains Vitamin C and Ferulic Acid in it however ingredient list doesn't mention a percentage.
I'm a fan of the lemony scent of Pixi Vitamin C Tonic. The orangy look of it somewhat feels good on my vanity as well. It's very nourishing on the skin, feels similar to the Rose Tonic. I've been using Sunday Riley CEO Glow Vitamin C face oil lately and I think Pixi Vitamin C tonic is going pretty well with it. Also, I'm liking it for am or pm both of my skincare routine.
To conclude my thoughts on Pixi tonics,
they all are great for the price and the way they work for my combination skin type. I reach for Pixi toners more than the other options available in the market because these feel safer for any skin condition. As mentioned before, the Glow Tonic is my top favorite and the Retinol Tonic is something I would choose as my 2nd favorite.
Have you tried these Pixi Beauty Skinteats? Which one is your favorite? Or, do you have any other favorite exfoliating toner that you would like to recommend?