Rimmel London, a new addition to Malaysia Drugstore Makeup! I've heard that Rimmel London was here in Malaysia before but for some reason they discontinued. I wasn't residing in Malaysia back then so I don't have a clue about that time. Regardless, I'm glad that Rimmel is now in Malaysia, in fact, with a bang!
Earlier February I had the privilege to attend the launch preview event of Rimmel Malaysia. The official launch party is scheduled coming 15th march. Unfortunately, won't be joining Rimmel this time due to some pre-fixed task. [Apology again, Rimmel London Malaysia, if you're reading this article].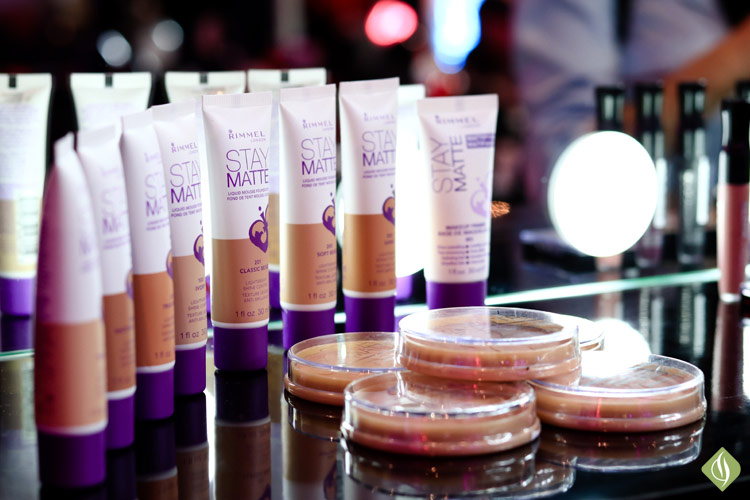 Although the official celebration is happening just now, Rimmel stepped into Malaysia end of last year. They were just silently setting up to sail for the big adventure!
You must have noticed Rimmel makeup shelves at Watson's, don't you?
In case you didn't know,
– Hello love, I'm here to share 🙂
No no, I won't get into drama but thought to share some general information; e.g. Rimmel Malaysia price list and a bit of my taste on them. Frankly, I'm excited about Rimmel.
There is a reason I'm excited about getting Rimmel available in Kuala Lumpur. First of all, Rimmel is totally my type of makeup brand. Apart from a few (plus another one now), Malaysian drugstore makeup brands ad I walk in a parallel line.
Rimmel London Foundations: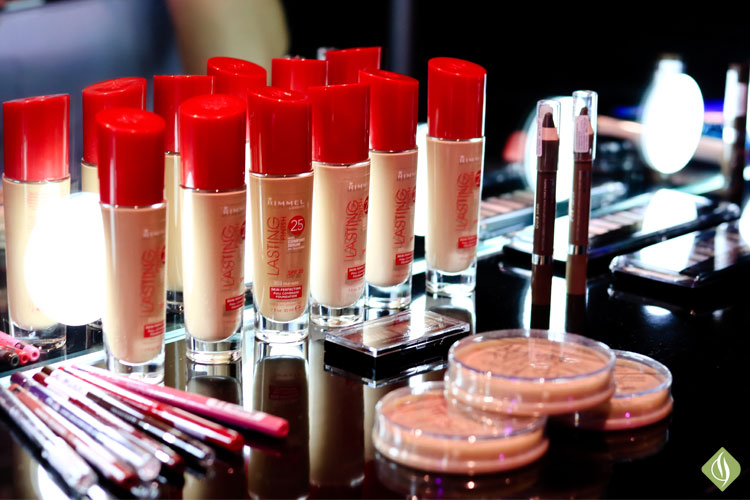 I started getting to know Rimmel Makeup back in my university days ('10) in the UK. Since then Rimmel 25 Hour Longlasting Foundation was my favorite for a really long time. I use to love the coverage of it and how it feels on the skin.
Later on, I tried the Rimel Stay Matte Mousse foundation. That got hyped right after the release. But as far as I can remember Stay Matte Mousse didn't work well with my skin (it was more on the dry side).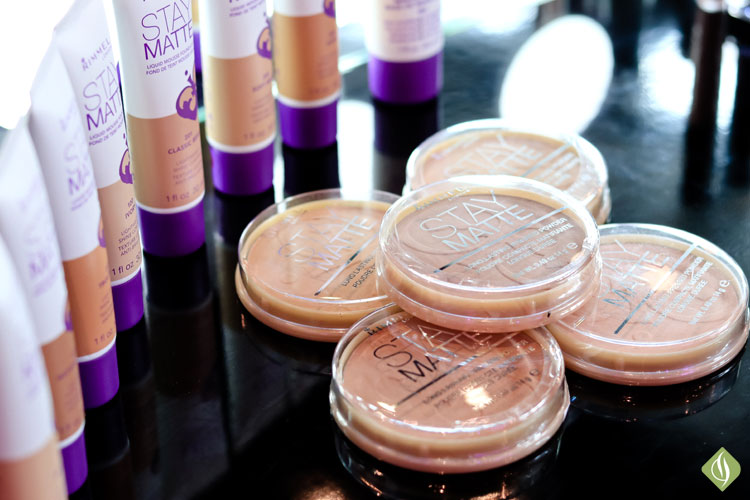 Needless to mention about Rimmel Stay Matte pressed powder. This powder was ever since a 'drugstore cult beauty favorite' and mine too.
To complete the complexion need there is also Rimmel Wake Me Up Foundation and Concealer. Suitable for those who like sheer and natural makeup. I haven't tried this range earlier. It's sad that even if want to it, can't. The shade range doesn't cater to my tan-skin (ref: MAC NC42, MUFE Y425, ELDW 4W2) shade.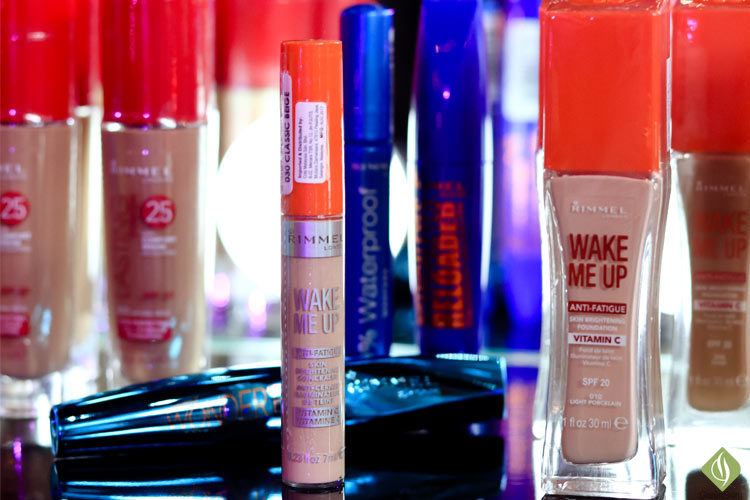 Rimmel Makeup Price List – Face
Rimmel Stay Matte Primer – RM 24.90
SPF15 BB cream, 3 shade – RM 18.90
Lasting Finish 25hr Foundation, 6 shade – RM 39.90
Lasting Finish 25hr Concealer, 3 shade – RM 26.90
Stay Matte Liquid Mousse Foundation, 8 shade – RM 26.90
Stay Matte Pressed Powder – 6 shade – RM 14.90
Rimmel Wake Me Up Foundation, 6 shade – RM 35.90
Wake Me Up Concealer, 3 shade – RM 19.90
Insta Fix & Go, 2in1 Primer and Setting Spray – RM 29.90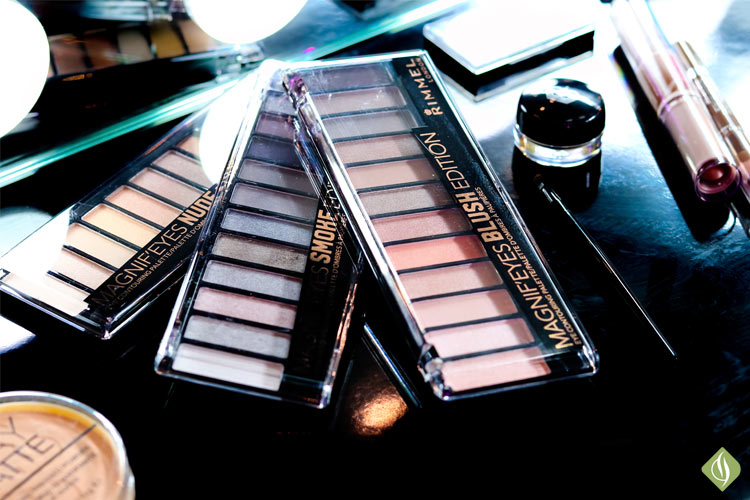 When it's about Rimmel London, I mostly attracted to their face makeup product. However, the variety of eyeshadow palettes looked pretty decent.
Rimmel Magnif'eyes Eyeshadow Palette – 3 variety; Nude, Blush, and Smoke – RM 59.90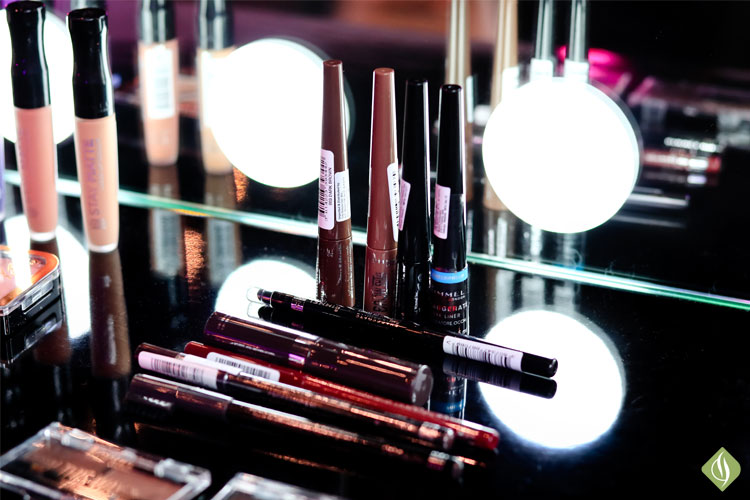 Not only eyeshadow palettes, I like the selection of Rimmel eyeliner, but mascara and brow products are also available in Kuala Lumpur from now on.
Previously I tried Exaggerate Waterproof Eye Liner, black. As I'm a 'gel liner person' now so totally looking forward to trying the Scandaleyes Gel Liner.
Rimmel London Brow products:
Brow Styling Gel – 2 shade – RM 29.90
Brow Pomade – 2 shade – 24.90
Eyebrow Sculpting Kit – 2 shade – RM 26.90
Professional Brow Pencil – 2 shade RM 10.90
Brow Shake Filling Powder – 3 shade – RM 22.90
Rimmel Eyeliner and Mascara:
Scandaleyes Waterproof Kohl Kajal – RM 10.90
Exaggerate Waterproof Eye Liner – RM 18.90
Exaggerate Waterproof Eye Definer – RM 14.90
Scandaleyes Gel Liner – RM 39.90
Scandaleyes Reloaded Waterproof Mascara – RM 29.90
100% Waterproof Mascara – RM 21.90
Wonder'full Waterproof Mascara with Argan Oil – RM 34.90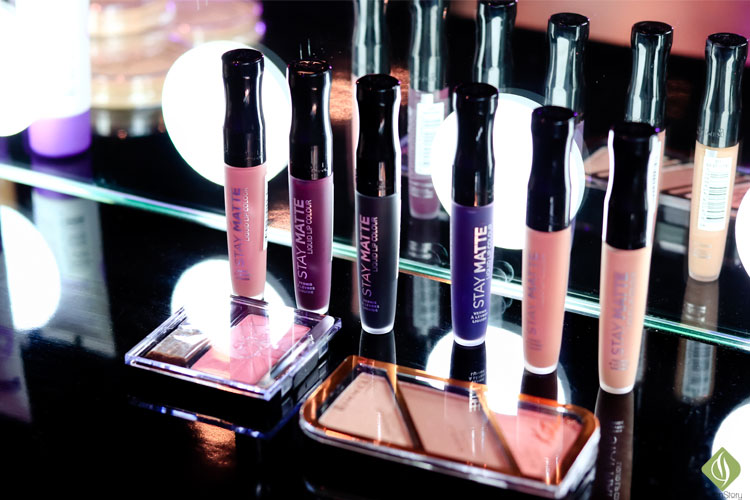 Rimmel Lipstick and Lipliner:
Stay Matte Liquid lipsticks were the hot cake at the Rimmel preview. I also couldn't resist re-apply sitting there. With the excitement, I forgot to take a picture of that Rimmel lipstick swatch, agh!
Stay Matte Liquid lipsticks has 15 shade variety; including pinks, reds, nudes, and striking show-stopping shades.
Retail for RM 24.90.
Exaggerate Full Color Lip Line Definer RM 26.90
Rimmel Provocalips, 5 shade – RM26.90
Normal mattes and cream lipsticks – from RM18 to RM22.90
Rimmel Highlighter, Contour, and Blush:
Lasting Finish Blush – RM 19.90
Kate Sculpting Palette – RM 29.90
Insta Duo Contour Stick – 3 shade – RM 24.90
Rimmel Insta Fix Strobing Highlighter 2 shade – RM 21.90
This Saturday I paid a visit to Watson's 1Utama to check how is the Rimmel store display. The range of Rimmel product is quite significant, spotted everything I was looking for along with a lot of new stuff. The price range of Rimmel makeups felt pretty reasonable to me. Not to forget, Watson's always having some kind of price cuts! Erks!
I spotted (and bought right away)Lasting Finish 24hr Concealer at the store. I can't recall it trying from the past. Didn't even notice that in the Rimmel Malaysia preview event. Considering how I like the foundation, the concealer was a must try.
Did you notice that I mentioned about makeup setting spray above?
In my calculation, Rimmel makeup setting spray seems to be the cheapest (not sure about Wet n Wild makeup setting spray. That is probably priced same or slightly less). The setting spray is also waiting to be tried and tested by yours truly 😉
I'm hoping these new Rimmel makeup product won't do any silly drama with me! I shall update you with a review post.
Have you tried Rimmel London makeup? Do you have a favorite that I might like as well?