Ever since I had my Lasik done I never wore any normal lenses but daily contact lenses have been my rigid choice. Why? Obviously, I couldn't take chance with my eyes and with a daily contact lens hygiene is always guaranteed. Each day I can begin with a clean, sterile-packed lens without thinking much, Daily lenses also save a lot of time, there is no headache of post cleaning and else.
Earlier in August '16 Bausch + Lomb introduced their new innovation, Lacelle Diamond Daily, a daily disposable cosmetic contact lens. Before telling you guys about the Lacelle Diamond let me tell you a bit about the company…
About Bausch + Lomb:
[color-box]
Bausch + Lomb, a Valeant Pharmaceuticals International, Inc. company, is a leading global eye health organization that is solely focused on protecting, enhancing and restoring people's eyesight. Their core businesses include ophthalmic pharmaceuticals, contact lenses, lens care products, ophthalmic surgical devices, and instruments. They develop, manufacture and market one of the most comprehensive product portfolio in the industry (more than 100 countries). Eye health brands such as BioTrue, PureVision 2 , Renu, SoftLens, Lacelle and many others are distributed by the Bausch + Lomb (Malaysia) SDN. BHD.
[/color-box]
[wp_ad_camp_3][/wp_ad_camp_3]
The new launch of Bausch + Lomb, Lacelle Diamond Daily, designed in a unique pattern that mimics the lights reflecting facets of a solitaire cut diamond. On top of that, it has a 13mm pattern diameter gives a larger and pronounced iris for a doe-eyed look. Every Bausch + Lomb product gets the utmost priority on stringent quality control and state -of-the-art technology. Thus the wearer can enjoy unrivaled product safety and absolute peace of mind.
To match individual preference Lancelle Diamond Daily Contact lenses offers 3 color variation.
Aqua Glacier

– Alluring aqua sheen that reflects a fun, approachable and refreshing personality.

Champagne Brown

– Instantly light up face with dazzling gorgeous brown providing a natural classy demure look.

Pink Rose

– For eyes with a scintillating sheen that is distinctively feminine. Pink Rose is a classic symbol of grace and gentleness.
My Experience with LACELLE Diamond Daily Contact Lenses: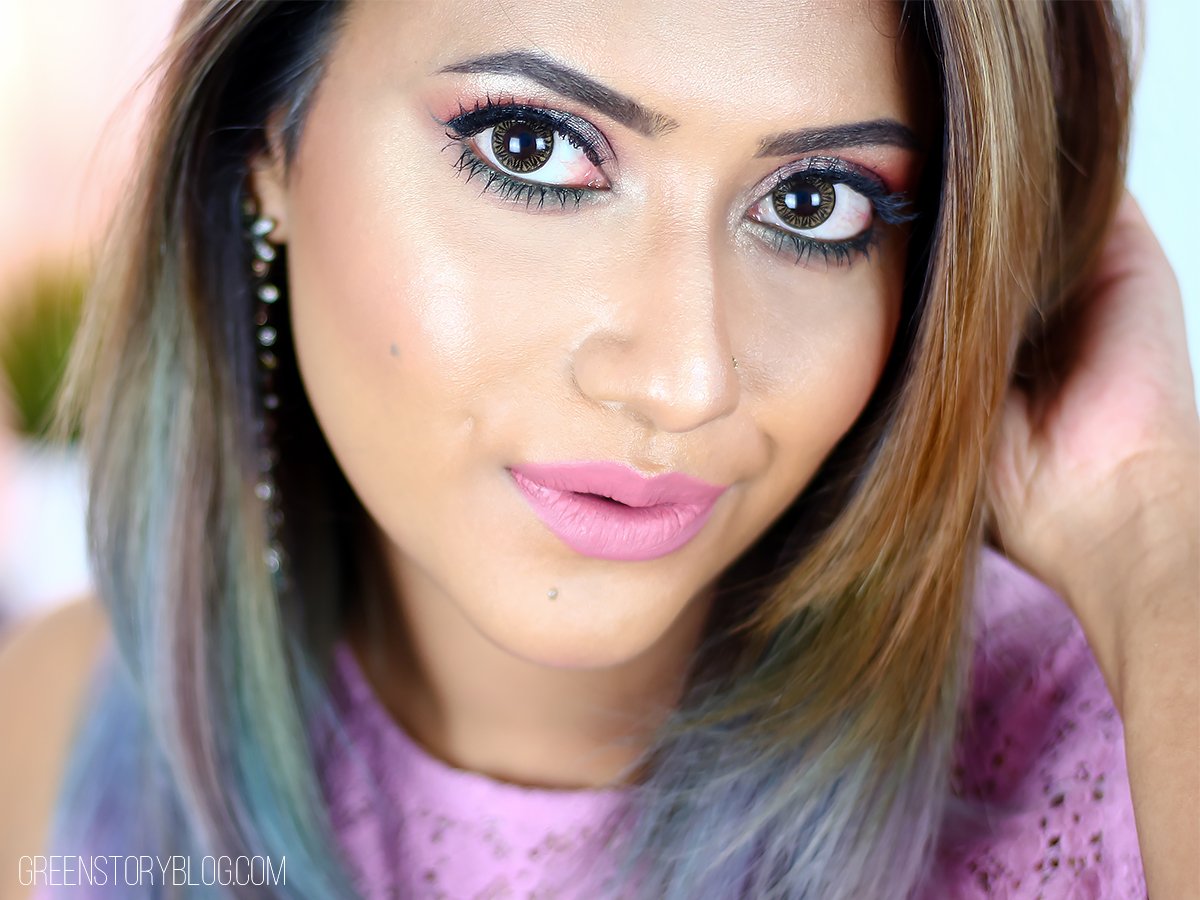 I got myself Lacelle Diamond Daily Champagne Brown (wearing in the picture above). Doesn't it look relaxed yet spectacular?
I've Zero power in my right eye but has -1 power in my left eye. Due to my Lasik surgery, my eyes are slightly dry. Usually, I wear daily contact lenses to maintain hygiene but I can't just wear any lenses. I pick lenses focusing on how hydrating they are. I've also experienced some lenses that don't even fit nicely in my eyes.
I was skeptical before trying out Lacelle Diamond. From the first wear, I knew I'll enjoy wearing them because it has a high level of water (55%) content. I've been wearing them for a normal day to day work and for any special event when I want to look a bit different. Apart from how beautiful they look, they fit my eyes nicely and hydrating enough for my sensitive eye. Moreover, doesn't occur any allergic symptom and I can wear them freely for 7/8 hours (for those long unplanned day). However, they feel a tad bit thicker than my normal (I'm more use to of a hydrogel material) lenses. I guess these aren't hydrogel material but luckily that didn't bother me much so far.
Major impressive part I notice that the lens actually makes my eyes look bigger (although I already have gigantic eyes :p ) because diameter (14.2mm) of these lenses are quite big than usual and I love it. I'm actually drawn to try out the color Aqua Glacier. For those who're fancy some beautiful, reflective and comfortable lenses, you must give LACELLE Diamond Daily Contact Lenses a try.
[color-box]
Shopping Info:
LACELLE Diamond Daily Contact Lenses | RM 42 (10 pieces/box) | RM 110 (30 pieces/box)
Available at all major optical stores, nationwide.
[/color-box]
*** PR Sample.
[signoff][/signoff]