June is here!!! Time literally flies…! Hope the month of May has been great for all of you 🙂 If you are a regular reader of GreenStory then you already know from the beginning of 2015 I have started writing on 'Beauty Favourites' segment. In every other month, I'm writing 'Beauty Favourites' featuring few of my favourite beauty products that I've been loving in past months. Last time I posted 'Beauty Favourites' on March'15 (click here… to read) and its the time for a new one 🙂
[wp_ad_camp_3][/wp_ad_camp_3]
I picked up six beauty product, that 've been loving constantly in April/May, to share with you guys. Unlike last 'Beauty Favourites' post I'm seeing that I picked mostly makeup item this time. I'm wondering if I have been too much into makeup lately… ha ha!
Burt's Bees Beeswax Lip Balm(RM30 approx):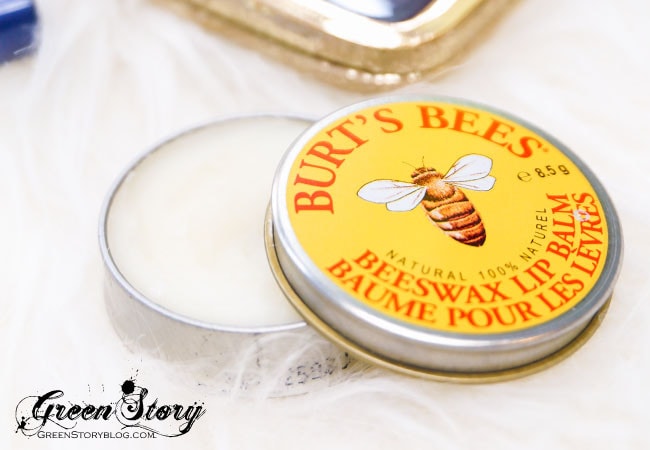 Absolutely loving this lip balm ever since I got it. I usually don't like anything with mint but surprisingly I'm completely in love with its peppermint tingling sensation. Burt's Bees Beeswax lip balm soothes and heals chapped lips fast and effectively as well as it seals moisture into lips for long. I'm using this tin version but they are also available in chapstick form. I highly recommend this product if you're suffering from dry lips.
Elianto Longwear Eyeshadow Sticks(RM30) | Blue: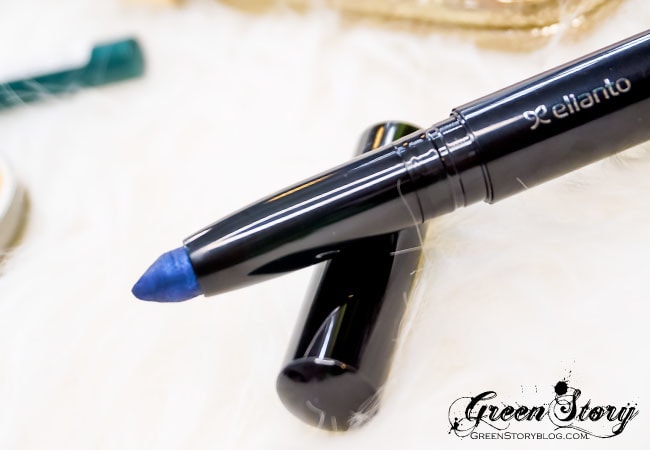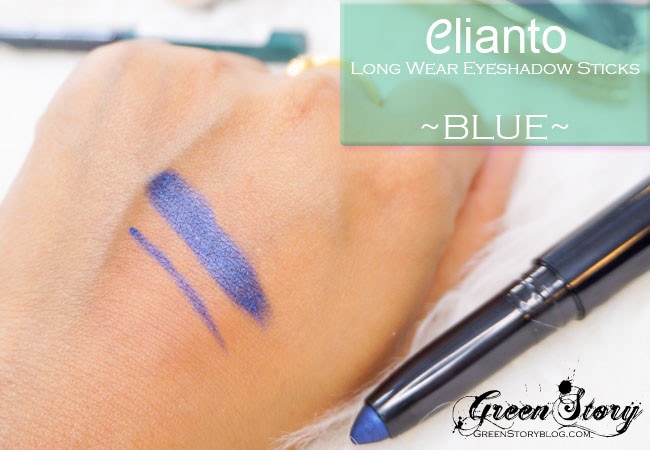 Elianto, a Malaysian home brand, last month launched a set of long wearing eyeshadow sticks. I've been using a full set of them in a various shade and this blue shade turns out my favourite. Elianto Longwear shadow sticks are actually eyeshadows in a twistable pen form which you can also use as a liner. This product is creamy in texture, well pigmented and long lasting. I've been wearing and loving this particular 'Blue' shade mostly as eye liner.
A detailed review and swatch of whole set is already up on blog, read that (here…) if you are interested to know more 🙂
[wp_ad_camp_4][/wp_ad_camp_4]
Makeup Geek Eyeshadow Pan($5) | Latte: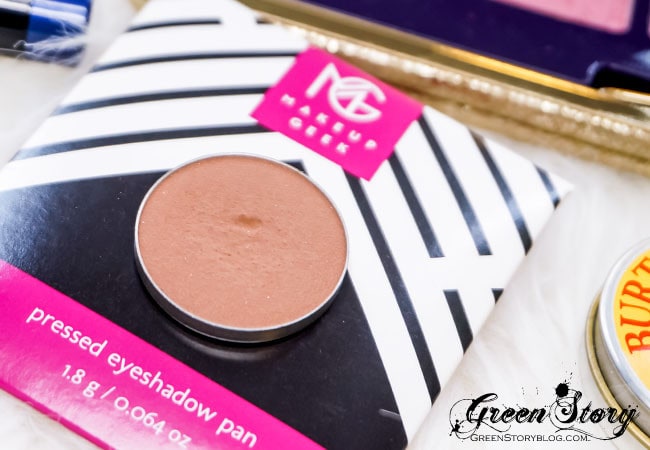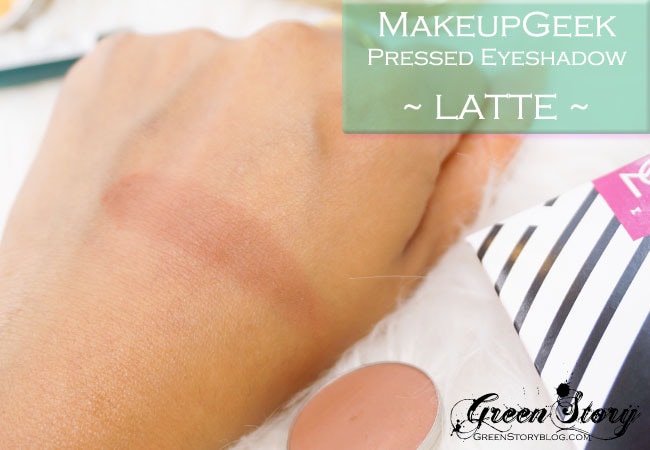 I don't have enough words to explain how much I've been loving this Makeup Geek eyeshadow in shade 'Latte'. Latte is a warm brown shade, slightly leaned into red hue, which is just beyond perfect as crease color, as well as a prime lid shade depending on personal preference. It's been performing as the best transition shade for my eye makeup. I was also reaching for this only whenever I wanted a neutral eye makeup. If you don't own this shade yet you must get it.
Essence Gel Eye Pencil(RM13) | Urban Jungle: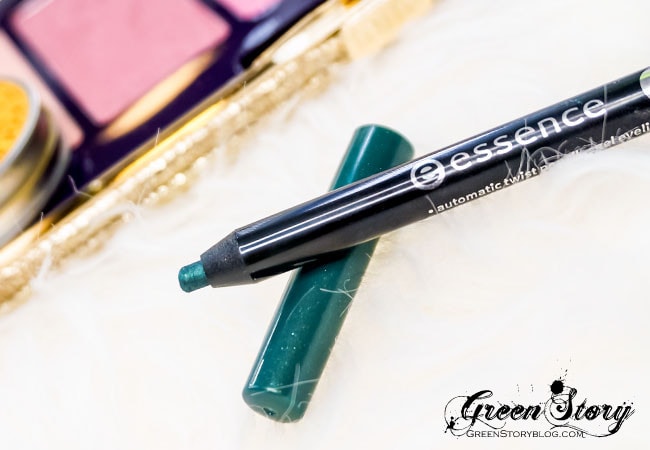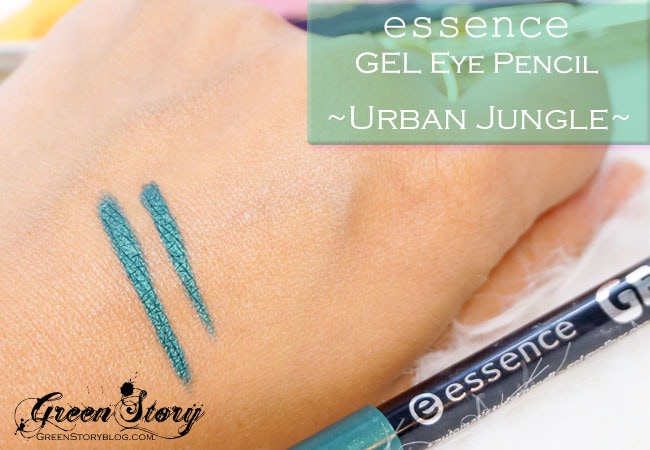 At the beginning of May, I almost accidentally noticed this eye pencil in Essence stand. Earlier that I was completely unaware of this gel eye pencil range by Essence. They have 5/6 shade in this range including this green(slightly teal) one. Trust me guys. I'm uber surprised of how good it is. Of course, I love the shade most and guess what, it is smudge proof once it's dry. So creamy to apply, how pigmented it is you can see from the swatch picture and this pencil is retractable. Best in price and best in quality, simply love this gel eye pencil.
I have a full review on this coming up soon, so keep your eye on!
[wp_ad_camp_5][/wp_ad_camp_5]
NYX Eyebrow Gel($6.99) | Brunette: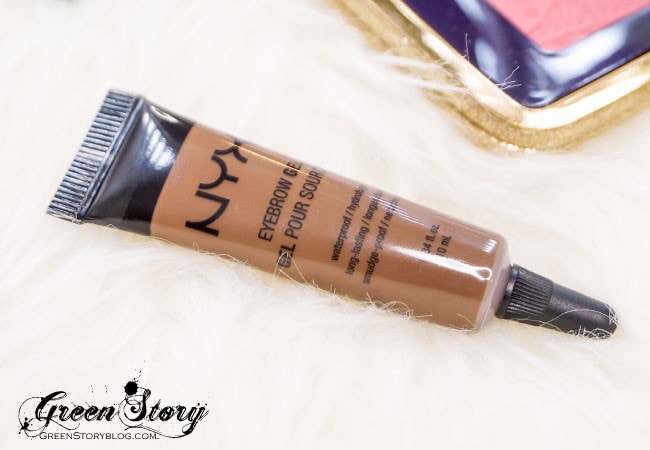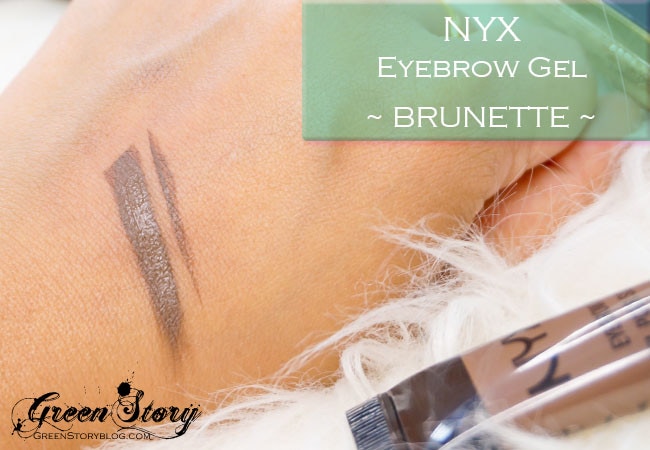 I'm using the shade Brunette in NYX Eyebrow Gel range, I found this is the perfect match for my brows. This brow gel comes in a tube packaging and of course in gel form. Very smooth, creamy and pigmented to apply and once it dries turns into matte texture and waterproof form. I've been really liking the product though I don't find the packaging friendly enough for a brow gel.
Tarte Pin Up Girl Blush Palette (RM165 | $42):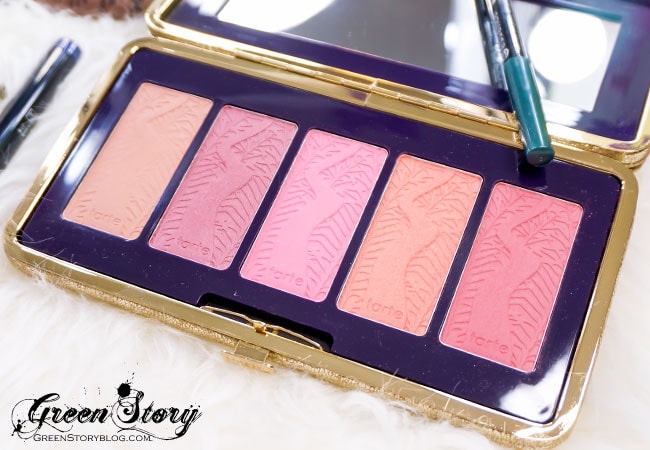 Got this Tarte blush palette long ago, during 2014 holiday season, and I don't have any idea why I never really talked about this. I have been loving this palette ever since eventually this was one of the best purchase from that time. Each of the blush shade here is well pigmented(you need just a little for one application), long wearing, matte and very smooth to apply. This palette is travel-friendly, also works great if you mix the colors together to create a new shade.

So, those are a few of my favorite products from the month of May. If you want to know a little more detail of any then let me know. Also get involved in the comment box below, let me know what you have been enjoying in past month and if you like this kind of 'favorites' post or not 🙂



[wp_ad_camp_2][/wp_ad_camp_2][signoff][/signoff]