Finally, I was able to manage time to write about my favorite foundation for daily wear! Yes, I'm kinda coming straight to the point saying that Urban Decay Naked Skin Foundation has been my favorite ever since I started using it. Sadly, this product is really underrated by people!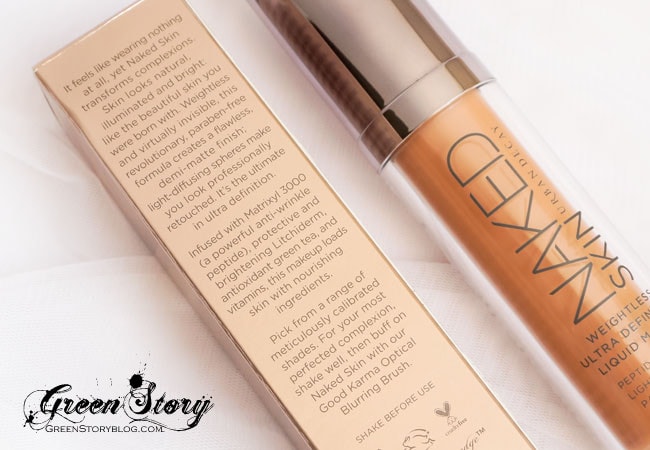 Urban Decay say's:
[color-box]
Coverage without compromise. Our weightless formula blurs imperfections for a flawless finish that feels invisible but looks professionally retouched. Whoever said 'you can't have the best of both worlds' never tried Naked Skin. Not only does our new light-as-air foundation give you the buildable coverage you desire – it also looks and feels like you're wearing absolutely nothing.
[/color-box]
Urban Decay Naked Skin Foundation also claims to be infused with so many good ingredients such as Vitamin E, Green Tea, Anti-ageing Peptides and so on. Getting anti-aging benefit from a foundation definitely tempting especially who is in their late 20's like me and started having those scary aging sign.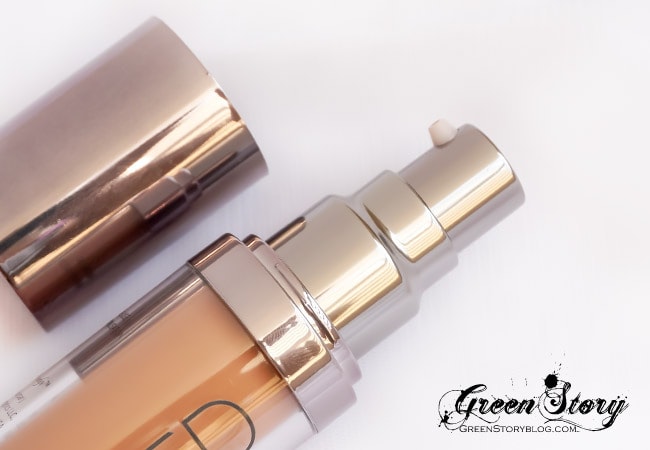 The foundation comes in a very classy glass-like plastic bottle. It has a pump to dispense product which I always appreciate when it's a foundation. A foundation with a pump makes it easier to maintain hygiene as well as it gives you more control on use. The bottle comes with 30ml of product which is pretty much standard for any foundation.
The best part about Urban Decay Naked Skin Foundation is it offers a huge variety of shade. There are total 18 shades in this range with the warm and cool undertone. So you can easily choose your shade according to your undertone.
My Experience with Urban Decay Naked Skin Foundation:
I picked the shade 5.5, it's in the cool undertone, which is a good match for my skin normally but in summer my match straight up goes to 7. Matching foundation and skin are confusing, you know right?!
So, let's talk about my experience with this foundation. I have been a loyal fan of this foundation for 8+ months now. Before getting Urban Decay Naked Skin Foundation I was in a search for foundation, which is mainly lightweight and thin in texture that I can wear every day. I used to wear BB/CC creams (Lakme, Garnier or Pond's) but got bored. I wanted a foundation that can make my skin looks like skin but more healthy. Appreciate the fact that I don't have problematic skin and there aren't many things to cover. A bit of concealer in more than enough! I ended up buying this one almost at own risk because no one seems to talk about this one much! Luckily it turned out as perfect as I was expecting.
Urban Decay Naked Skin Foundation has fluid texture, almost runny, has no fragrance in it, blends effortlessly, and gives the demi-matte finish. This foundation gives light coverage initially but buildable to full coverage.
One layer of this foundation blur out minor spots I've and I can layer up to three coats for heavy coverage without being cakey. Demi-matte finish means it's not matte at all but not dewy either. Sets into the skin within a minute but I prefer to use powder on top as I have combination skin. For its oil-free, water-based formula it doesn't feel greasy on skin yet gives a beautiful healthy luminous finish after a while.
What I love the most is this foundation is seriously lightweight, lighter than anything I've used before and it's long lasting. I even wore this during travel, 6hr flight plus four more hours here and there yet my foundation didn't budge at all! It also doesn't cling to dry patches but makes those areas look better.
Hands down, Urban Decay Naked Skin Foundation has been performing as my HG foundation even when I was having sensitive skin issue!
Primarily this is a foundation for those who don't have a lot of skin issue. It has been great for my combination skin; I believe it will work great on normal to oily skin as well. I found this foundation best applies to a buffing brush or dense sponge-like Real Techniques Miracle Sponge. You just need to shake the bottle well before use so that the fluid and pigments are evenly mixed; that is actually a rule for any fluid foundation. Do I recommend? Absolutely, without any doubt!
What is your Holly Grail lightweight foundation for daily use?
[color-box]
Availability:
Sephora: $39 | SGD62 |RM175 (approx)
[/color-box]